Solar energy and environment WordPress themes are introduced for eco – energy, solar and renewable energy audits, ecology and alternative energy or power businesses.
It's a widely known phenomenon, that WordPress generates templates and categorized themes based on easy to use and follow backend and the most intuitive theme structure to be customized and used for any kind of individual or corporate undertakings.
Hence the themes proposed in this article are programmed to grant everyone with the most effective working and viewing experience, and besides, the whole process of their installation and activation will not be overwhelming and will not take too long to bother you.
The functional and operational characters of those solar energy and environment WordPress themes will be beyond the bounds of your expectations so that you can review each of them and decide to use it as a corner – stone of your solar energy – related online performance.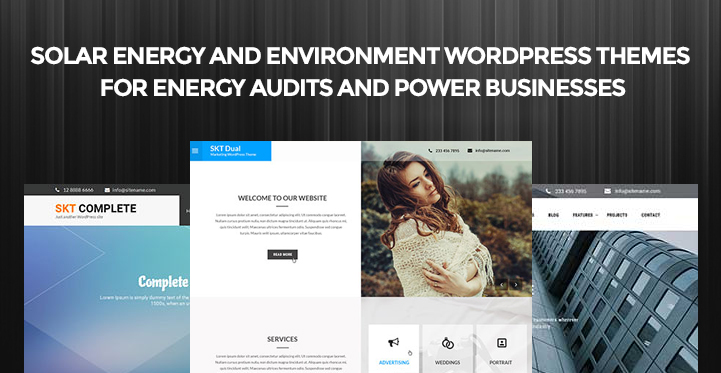 Thus, if you are a relevant expert in the energy industry, energy audit or electrical contractor, what is left to you is to choose the best variant pursuant to your website overall destination and visions and easily aim at a target audience from all over the world.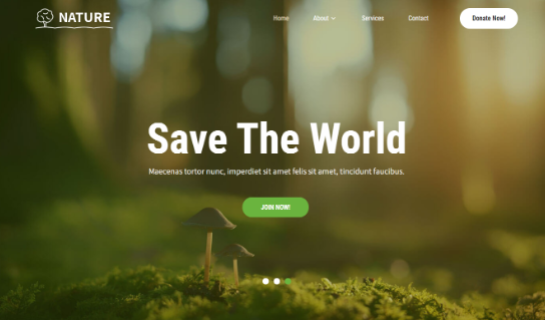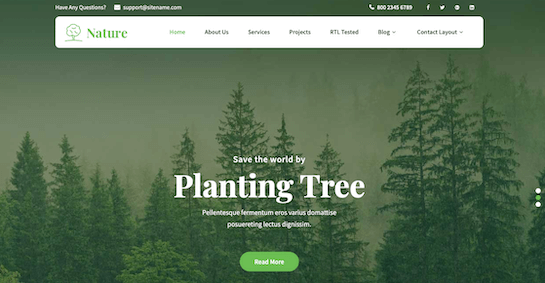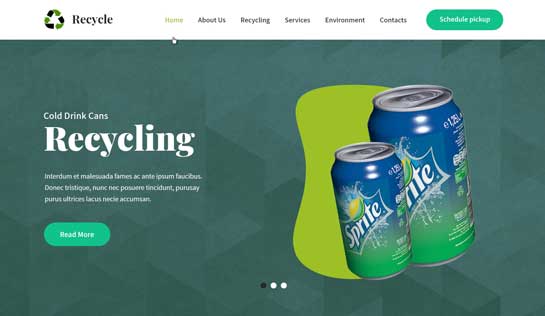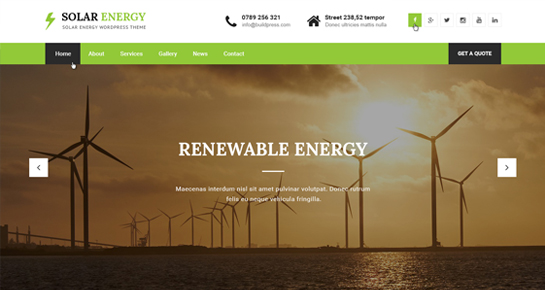 If you have not tried Solar Energy yet then it's your time to try out some amazing premium features. These extraordinary features will give you a better chance to enhance the look and feel of your website.
The solar energy and environment WordPress theme is customizable from each corner to get uniqueness in terms of design. You can give a try on customizing layouts, colors, widgets, elements, etc. full-width box and full-screen layout are supportable with this template.
You can even change the header and footer look by changing the footer widgets and position of menus as you need.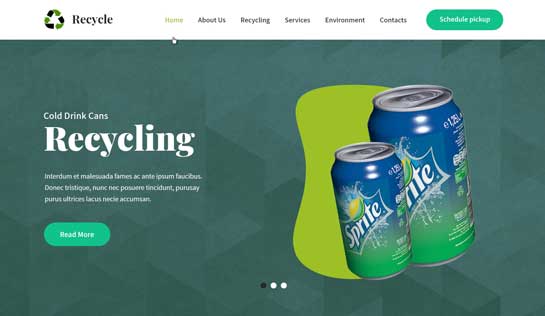 SKT Recycle is a solar energy and environment WordPress theme that is right fit for green businesses, waste management companies, pollution blogs, and other environment-related niches.
This template has loaded with some premium features and options for customizable. If you install the demo content of SKT Recycle then you will get access to more than 3 slider images you can add more if you want.
Slider images can be replaced with videos, animations, contact forms, Google maps, or any other type of content. You can add submenus to the menu options to create some more inner pages.
If you are a premium member of this theme then you will get free customer support for the next 1 year that is essential for the smooth working of your website.
Easily editable and controllable, SEO – certified and totally customizable, SKT Dual is considered as one of the most practical and exercisable premium – class power and energy – related website building and arrangement material.
This fully functional, yet cost effective product will help you keep your customers in the main focus, so that they won't be irritated by the heavy loading of your content or turbulent browsing experience
With SKT Dual, your content can be viewable on all the hand – held devices, since this template celebrates totally responsive web design layout and lets all his device and mobile users enjoy a stunning web browsing experience.
Complete Pro comes to environment WordPress themes will immediately grab your attention with its amazingly structured theme appearance and inner functionality, which both are brought to completeness and perfection by the sophisticated authors of the theme.
You can fulfill your life – long desire of proceeding with an establishment and management of a stable and consistent website catering to your logically grouped and served solar energy content, researches, services, novelties or whatever you are dealing with.
Established on clean codebase and responsive layout, your website will suffer minimum changes and resize when viewed and read on mobiles or tablets, as well as will get in front of your potential audience thanks to its SEO advantages.
Powered to celebrate resourcefulness and adaptability throughout the whole theme when someone is trying to create the needed posts and pages, add or remove some elements and features, better its capacities or expand the operational framework by adding diverse applicable extensions and plugins.
Hence, together with this top – quality solar energy and environment WordPress themes you can easily showcase your rich experience in residential, commercial or other solar systems.
Offer your numerous services, ranging from solar audits, solar design, build and installation, complete solar electric solutions for diverse purposes, solar panel installation and maintenance, etc.
What is more striking is that you will have all the chances to build your own store in the online environment and sell your diverse applications, like solar power, solar thermal, solar pool heating, etc.
If you are a home and commercial energy audit company and want to create a quality content to attract potential groups of people and deliver that content in combination with the most interesting design and graphical touches, then Luxury Watch is exactly for you.
This purpose – built template with ultimate general – purpose toolbox will prove you how the increased traffic can move around your energy – related web pages and how you can benefit from the most flexible and intelligent characters of the template to tweak and personalize it as per your wishes and principles.
If your primary goal is to give rise to a challenging online model, which will stand out for its energy and exactness, authenticity and credibility, Condimentum with all its might and main is at your full disposition to take care of your energy and power business profile.
Mobile visible and friendly system is integrated within this amazingly launched solar energy and environment WordPress theme, so that every web admin will be able to ensure the impeccable look and visualization of the site content and features seen on any small, medium and large screen.
Moreover, this easy to drag – and – drop website builder includes beautiful nivo slider on the homepage for the high – resolution images, lots of shortcodes for easy content arrangement, as well as SEO and plugin compatibility.
Creating and manipulating your solar energy, power or environment website with Welder as one more checked and accomplished template will be a breeze.
While being totally manageable and suitable for usage, this solar energy and environment WordPress theme will allow you to embody and externalize your web outside and inside from the comfort of the dashboard under your total distribution.
Mobile version of the theme with minimum alterations, easy to use color wheel, diverse page templates, standard pages, plugin support and much more are inherently embedded to the theme to let your creativity and professional approach shine through.
From conceptually unique design and outlook to irreproachable constructive saturation, Exceptiona is a businesslike environment and energy – based WordPress – authored template, which functions on the beam and is ready to promote your content through all the online channels in leaps and bounds.
This strongly recommended product leverages feature – rich toolbox with all the primary theme controls and essential features to present your utility – scale solar energy and environmental services with a focus on public, social and environmental standards.
As well as by prioritizing of solar energy effectiveness through your pages and publications, so that all your PC and mobile user followers will take your professional approach towards your business into account.