Rural locations are amongst the best locations to spend an ideal life. It is not cluttered with technology everywhere and keeps itself distant from the fast-paced world.
It is a reflection of a calm and measured surrounding. Despite this, there are hundreds of activities both commercial and creative in rural locations.
They are inseparable and an essential part of earning for the entrepreneurs and organizations operating from there. Technology has made connecting with clients easier and this makes it feasible for every rural activity to be connected to the world.
In this read, we have complied with Rural WordPress Themes of various niches for online representation on a website.
Rural WordPress Themes For Corporate Sector and Rural Society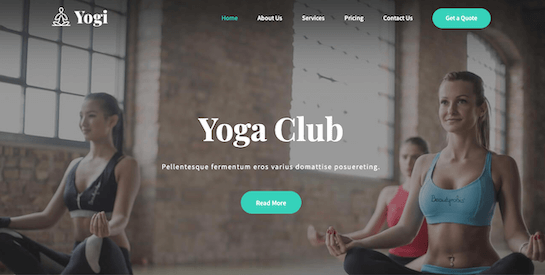 The fitness of the body and mind is the most important when it comes to rural demography. Such activity is yearned by millions of individuals around the globe and needs a digital representation. Yogi Pro is an ideal choice for featuring your and the organization's expertise regarding such activities.
It is responsive and can be accessed easily from any device, screen, or browser around the globe. You can easily upload any type of content according to the demand of the audience. It is SEO-friendly and has also passed the Google mobile-friendly test.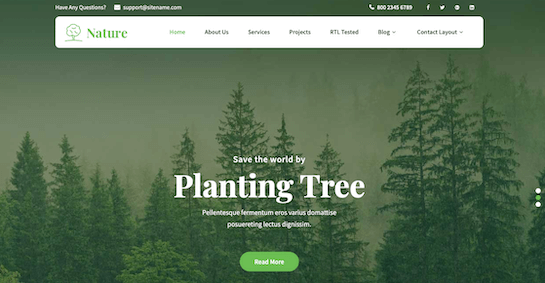 Nature One Pro is amongst the best Rural WordPress themes and a perfect solution for a responsive website. If your creative activity or commercial business is related to nature then this design helps you in reflecting on the natural colors. The pre-built template can be directly used for any of the sections or pages.
Modification and customization of any section is easy and quick. For spam protection, the contact page section comes with a captcha code. You can easily translate it to the desired language to target a specific group of audience and also set up an online store.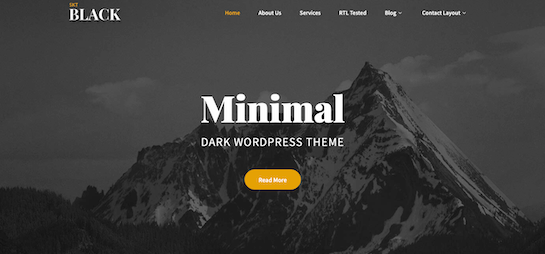 Dark backgrounds are inevitable for featuring exquisite pictures and keeping them alive. SKT Black Pro is coded and crafted by professionals and is a multipurpose theme. It can be an ideal choice to feature rural products and services with a minimal and classic design.
It is retina ready and a color-changing theme. To support the aesthetics of the default layout and colors, 5+ graphically mature templates are included with it. You can add as many icons as required because you have access to the icon pack. You have to just add and edit the work as it comes with preloaded shortcodes and homepage.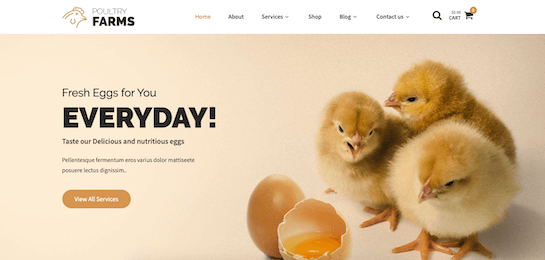 All the Poultry related demands of the world are fulfilled by the hard-working team in the countryside. Keeping this in mind Poultry Farm has been created and it one of the best Rural WordPress themes. It can spread, feature, and enhance the poultry activities of your firm.
High nutritional value products can be easily sold by setting up an online store. It comes with a one-click installation and has a responsive feature for running a blog. The international structure and animation effects help in driving more organic traffic to boost your business.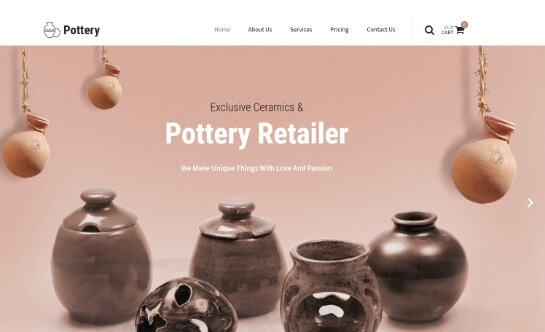 Pottery is an art of the skilled and it is tough to find the same in the chaos of the cities. SKT Pottery can be the best choice for featuring your Pottery art and products related to the same. It is a fresh, clean, and aesthetically appealing theme. You have the choice to use unlimited colors depending upon your design style.
The entire website and its file is translation ready for targeting a potential audience. Functionality, as well as backup plugins, are compatible. Six-page basic demo content is provided by default with the package and can be used on the website.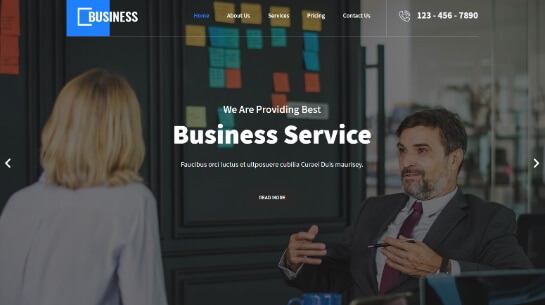 Are you intending to promote your business and looking to develop a website? Local Business Pro is next in the list of Rural WordPress themes. It is a perfect match to feature any kind of business online and is power-packed with all the essential functionalities.
For audience engagement, social media icons and call to action buttons can be added quickly. For more attention to information, service, and products it comes with simple action friendly layout. Fonts can be easily changed and it comes with an in-built slider. It is compatible with shortcodes, WooCommerce, and multilingual plugins.
Yoga is a skill, activity, and hobby. If you are looking for a dynamic audience engagement related to Yoga then this is a theme for you. With a broad vision, you can manage to spread the power of Yoga to people around the world. You can easily manage this theme all by yourself and re-conceptualize each of the sections.
It comes with an easy backend option so that you can manage and control access. You can conveniently create a pricing/subscription table and booking forms on the website. In fact, a pre-built pricing page is available by default for modification and use.
Ele Nature is next in the list of Rural WordPress themes. Using it will be great for home-based natural products or gardening business. Apart from that it is solely focused on nature and has the potential to represent other niches as well. It is created with elementor page builder which assures reliable functionality and design.
As a part of the documentation, a guide is provided with information on all aspects. It is an ideal choice to attract audiences with organic interests in products, services, and information. You can set up an online store, make contact forms, and start a blog.
Medicare Pro is a responsive wellness WordPress theme with professional animation effects. It can be used for online medicine practice, organic pharmaceutical industries, herbal products, etc. It is compatible with all kinds of page builder so that the modification and customization task becomes easy.
It also comes with a blog section and an exclusive blog feed to keep the audience updated. The slider is present and works fantastically with efficient slider plugins. It is multilingual and translation ready to meet the demands of our client. You can easily set up a galley and upload unlimited photos of the product and its process.
Next in the list of Rural WordPress themes is Adventure. Adventure enthusiasts are longing to visit the rural side for various activates. If you are in the operations of promotions business of the same then this theme is exclusively for you.
All kinds of adventure sports can be highlighted here and merchandise can be sold online. It has been encoded with at least 600 social icons and is social media-ready. Informative and technical blogs can be easily set up. It comes with a sleek design and the backend is coded effectively.
Meditation is an activity of achieving soothing peace and calmness of mind. The initial phase of meditation can be best executed in the countryside. The Mediation Pro theme is exclusively developed with a focus on featuring information and techniques of meditating. It can be used for your studio or individual purpose.
All prerequisite SEO standards have been followed in the coding process. Layout, fonts, functionality, and other elements can be tweaked as required. Visually engross the website with the help of banners, sliders, videos, images, etc.
All organic products are always close the nature. Therefore, next in the list of Rural WordPress themes is the Organic theme that can be used in various niches. The setup process is easy, quick, and well-documented. Fresh Organic products can be showcased on a website and sold by setting up an online store.
It is HD ready, multilingual, and easily translatable. Blogs can be set up for active user engagement and can also be shared on social media. The comment section has also been integrated and coded with precision.
When it comes to landscaping and gardening activities this is the best theme. It comes with five unique footer and header variations. By default it is SEO-friendly and for further improvisation, plugins can be installed. Contact, Portfolio, WooCommerce, and other essential plugins are also compatible.
Standard features like slider, team members, gallery, etc. are included. For pages and posts, you have eight different options to make a selection. The user interface and navigation are simple and effective. Animate columns can be set up and responsive videos can be added without any difficulty.
It takes years of skills to develop a perfect WoodCraft and to feature the same effective Rural WordPress themes are required. This responsive theme is coded to care for compatibility in various devices and browsers. It can be used to feature furniture stores, antique wood remaking, and similar activities by skilled craftsmen.
It is lightweight and comes with a well-documented setup process. Header, footer, and slider can be managed with different variations. All cache and functionality plugins are supported. The scripts are less and templates are all SEO friendly.
Farming is an activity that can only be conducted in rural locations with sufficient land and water facilities. This theme is exclusively dedicated to farming, farmers, and activates related to it. It can also be a significant choice for featuring organic food-related businesses.
It is simple and easy to handle theme, with no experience or technical knowledge. Multifunctional design, shortcodes incorporation, and free installation are some of its peculiar features. Customization for all sections, layout, fonts, and color is possible. A blog can be set up for uploading press releases, information, and articles.
This is a one of its kind and unique WordPress theme for making a website. Use this theme for promotion activities like horse riding, horse barns, and stable services, caretakers, etc. Horse riding is considered to be a royal sport and requires a definite skill set.
It has been looked forward to the rural demography for such happenings and it has been considered during the development phase. Make a fully-functional, responsive, fast, SEO-friendly, and attractive website using this theme. It supports all kinds of screen resolution and can be translated as required.
Next in the list of best Rural WordPress themes is Charm which is a multipurpose blogging theme. Your idea, stories, thoughts, letters, articles, blogs, and one-liners related to nature and rural geography must be portrayed beautifully. Charm can do it easily with minimal design and powerful functionalities.
This helps in diverting user attention to the content of your blogs in an elegantly framed display. All kinds of the contact form, subscription, tabular, and WooCommerce plugins are compatible. There are also considerable options for selecting a layout that best suits your audience and writing.
This is a multipurpose WordPress theme can be used to feature all kind of creativity, activities, and business occurring in the rural side. It comes with a wide range of layout and freedom to add, remove, and modify colors. The slider is replaceable and shortcodes can be used to add animation blocks.
It is also possible to add different banners in the inner pages depending upon the content. In addition to documentation, exclusive support is also available if you are stuck anywhere. The layout selection is also available for blogs.
Are you looking to develop a gallery featuring different segments of rural geography, demographics, and activities? Well, this theme will be a match made in heaven for your purpose. It is a fully responsive gallery WordPress theme for making elegant pictures based or portfolio websites.
Opacity and color across all segments can be managed and changed. The footer comes integrated with 50+ social icons for making active engagement with the audience. The wonderful feature of the photo album is also provided. It is checked for SEO compatibility and the use of shortcodes.
Last in the list of best Rural WordPress themes is SKT Recycle. It is a dynamic and green business WordPress theme. It comes with extraordinary features and is considered as most engaging. Webpages can be customized in minutes and it comes with integrated Nivo Slider Plugin.
You can also make use of a huge collation of Google fonts for modification purposes. The customer support is quick and productive. The custom widget helps in integrating content and ideas. It is also possible to integrate the countdown widget depending upon the requirement.