In this article, we are going to take a look at the best property management WordPress themes engineered for real estate agents, and realtors, brokers and mediators, movable property and real estate listings and directories, property management agencies, etc.
Whether you are a third party property manager offering diverse services or a property investor with an intention of earning more on your investment, setting up your business in a virtual domain should be one of the primary tasks to complete.
Needless to say that having a strong digital presence is also compulsory for real estate and property sale and rental businesses and listings to get more exposure online and to find their potential clients and purchasers.
With all kind of the above mentioned property related businesses in our mind, we have compiled the list of the most practical property management WordPress themes to rise above the modern competition and dominate in your specific field of operation.
All of those real estate and property management WordPress themes are blisteringly quick and smooth in performance, as well as responsive and intuitive in customization.
It means that all of them are easy to modify with their unlimited inner features and management settings to give your website the look and functionality it deserves.
What are property management WordPress themes? Just like you manage properties for your clients, these themes manage the overall performance and impression of your business.
Despite knowing this, it still remains a curiosity of what actually these themes do? Without the need for any coding they enable you to create a personalized, SEO optimized, and aesthetically pleasing online presence.
Different aspects of property management are taken into consideration and only then a theme is developed. Hence, your entire task of creating a magnificent web presence is simplified when you use them.
To ensure that you only select the best we have compiled some of the best themes of the industry here.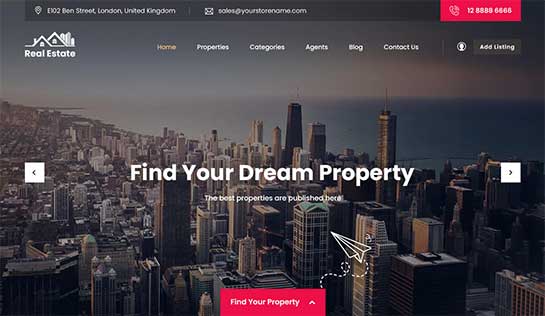 Real Estate is the next highly competent and time checked template you are welcome to check from our list of the top quality property management WordPress themes. Pick this responsive and mobile optimized template and be sure it will give your digital profile a big boost.
Choose the best property listing type to go well with the overall design of your site and enable your clients to use extensive search options to find the offers matching their financial means, preferences, needs and more.
Although this template is well thought out and managed so that you can use it without any changes, you are also capable of altering the deployment of sections, adding or removing them to properly host your web content.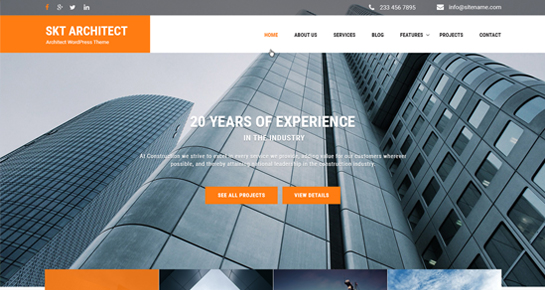 This is one of the finest themes that is being used by architects, engineers, and corporations across the globe. It is basically an amalgamation of functionalities and appearance.
The pre-developed design has been configured to fit perfectly in this niche. Hence, additional efforts for designing can be avoided. Also, modifications of all kinds in all elements are possible.
Moreover, Google Fonts are integrated by default, and Google Maps can also be integrated to guide the audience with the exact location.
Photographs of the properties and all the details relating to the same can be included. Plugins of all kinds including WooCommerce are compatible which makes it the best.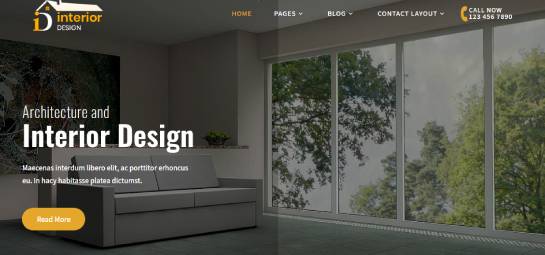 When it comes to property management WordPress themes then SKT Interior is an inevitable option. One can use it to create a dynamic website related to building agency, interior designing, architecture, engineering, etc.
Without any doubt, the pre-developed template and the functionalities will do complete justice to this niche. Researched development of all elements ensures that the design and layout remain professional and emits positive vibes.
The SEO has been optimized which ensures positive search results rankings. Modifications of all kinds are permitted and a one year support is offered by the developers.
All the images used in the default pages can be utilized in the main website as they are copyright-free.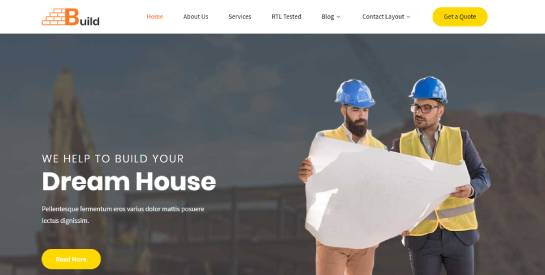 Build is a special inclusion in this compilation that helps you in creating a mesmerizing first impression for your clients.
The credibility, trust, and professionalism that clients are looking for in architects, builders, and building firms can be achieved with this theme. The layout, structure, and design are created by experts and have no room for errors.
You can modify it to match the overall values of your brand. Additionally, it is translation-ready, SEO optimized, and responsive across devices and screens.
You also get to select from multiple menu options and there is no technical requirement for making changes. Extensive documentation and one-year customer support enable you to remain miles ahead of your competitors.
One of the finest options in this collection of best property management WordPress themes is Home Decor.
For interior design studios, interior designers, architects, and professionals with similar niches this theme can create a stunning website. The base color has been kept to white while the rest of the elements are in vibrant colors.
Depending upon your needs you can choose to modify any segment that is required. When it comes to functionality it is translation-ready, HD-ready, retina-ready, and has a one-click demo import option.
You can also add a range of third-party plugins for SEO, WooCommerce, and other applications. Google Fonts and social icon packs are incorporated by default to offer you a stunning modification experience.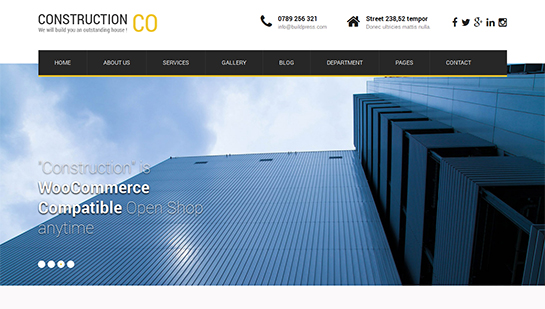 Your quest for a powerful and vibrant theme that can hold considerable traffic and still perform perfectly, ends here. SKT Construction Pro has been coded by experts with the aim of resolving the issues faced by property owners and agencies.
Here you can easily list out all your projects along with their photographs and specifications. The overall layout of the website is well suited for any construction company but it can be modified as required.
Additionally, you can add client testimonials on the default sliders, sections, or on a separate page. You will never face the deficiency of features and the overall navigation and user experience have been sorted.
SKT Stone Pro is a special inclusion in the property management WordPress themes compilation. If you are an individual, agent, agency, or corporate looking to create an out-of-the-box website then this is your theme.
The core value of this theme is to project, highlight, and feature unique projects with their perfectly aligned layout and structure. The default template is mesmerizing and completely customizable.
You have the liberty to change, add, remove, and personalize everything that you like. You can also run a blog and an e-commerce store with this theme. External applications of all kinds are supported without impacting the website speed.
Décor is a simple, minimalistic, yet powerfully performing theme that can be used by individuals and firms managing properties.
You can use it for creating a website related to the construction business, interior designing, home décor products, home décor setup, etc.
It has been crafted with perfection to ensure that all aspects reflect elegance and thorough professionalism. According to your brand buildup, you can make all kinds of changes.
Standard pages are offered by default and WooCommerce compatibility has also been tested. Including client testimonials, company history, previous projects, awards & recognitions, and everything else is quick & easy.
A simple user interface has been configured so that the audience does not face any trouble exploring.
One of the key factors for evaluating a property is the kind of décor that it has to offer. People around the globe are investing heavily in the kind of living space that they want to be surrounded with.
Hence, WoodWorks is an integral part of this property management WordPress themes compilation. You can easily include all your products, projects, and specials.
WooCommerce support ensures that you can sell all those products globally through an e-store. Complete support is provided by the developers for one year and extensive guiding documentation is also offered.
Lastly, all trusted external applications can be added manually and through shortcodes also.
WoodCraft is another similar inclusion in this compilation which aims to perfectly project various interior and exterior products for properties.
Additionally, it can also be used for creating a website related to agencies or business that is linked to building or deals with property.
The overall aura of the pre-developed template is towards the wooden interiors and exteriors of an asset. Everything related to the same can be highlighted in the best light without making major changes.
The template is HD-ready and has been tested for responsiveness. Default photographs can be used by you directly as they are copyright-free and multiple options for menu selection are also offered.
It takes a vision to create a website that includes multiple properties. Single Property is one such theme that comes with a researched layout and design.
This makes it perfect for agents, business dealers, and builders to showcase their best properties to the audience. The layout and structure have been coded magnificently and a full room is offered for all kinds of modifications.
The overall color tone has been set on a lighter shade but you can conveniently manage to modify even that.
When it comes to features and functionality it is equipped with all basic features and advanced ones like RTL support and WooCommerce compatibility.
The final theme in this compilation of property management WordPress themes is Windows and Doors. For firms that have immense experience in the niche of constructions, buildings, windows, doors, and other accessories, this is the theme.
This is because it has the potential to provide you with the right structure to showcase all your projects and achievements. The user interface ensures that the potential audience never faces any problems during the visit.
To ensure comfortable exploring, the navigation has also been simplified and Google Fonts are integrated by default for excellent typography. Manage and modify everything along with superior support from the developers for one year.
Stunningly complete and well formulated, Contractor Pro is one of the niche specific brokerage and property management WordPress themes to serve any kind of relevant business needs.
This child template comes with all the first aid properties and management options to enlist all the available movable property and real estate offers, add their descriptions and prices, images and photos to give your website visitors the information they need.
From uniquely stylized layout and graphical solutions to the accurately managed homepage areas and sections, Contractor Pro is a visual pleasure.
Homepage fullwidth slider is also added to the homepage for the presentation of hot offers and services, events and any other noteworthy information.
The responsive and flexible nature of the theme with cross browser compatibility will make your website perfectly tailored to the needs of your audience and its representatives, from desktop users to mobile owners.
Accommodation is a multifunctional and well crafted template of WordPress authorship to cater to multiple real estate and property based websites and blogs, directories and listings, long and short time rental offers and services, property management activities and much more.
The simple and elegant face of the theme can be productively contrasted with the best visual images and color combinations to welcome your web visitors, clients and partners.
On the whole, Accommodation is the triumph of the use of the latest web design and development technics which are guaranteed to provide the best output and results, SEO rankings and boosted traffic.
In this relation, the theme is packed with SEO friendly coding and SMO controls to bring people from search engines as well as from social media platforms, translation ready for reaching out the international client base, as well as plugin compatible for commercial and other controls.
If you are looking for a really valuable template that will be flexible and resourceful in all its appearances and performances, look no further than Car Rental.
This bewitchingly beautiful and ultimately controllable website grants you with manageable styling and typography, color schemes and buttons deployment, section controls and content categorization, etc.
Otherwise stated, you are the one to create and confirm the final form and function of your property management, sale or rental business profile without touching a single line of code.
With Car Rental, you can also manipulate other inner settings and features, extend your site's working capacities with relevant shortcodes and plugins, translate its content into as many languages as needed or schedule future posts to keep your site active around the clock.
Condimentum is one more clean and crisp, visually easy to follow and read template you can find in the repository of property management WordPress themes.
The visual touches, colors and design solutions are done with an emphasis on simplicity and legibility. Of course, you are free to add your own color combinations and typography controls to make it more pleasing.
From financial and accounting services to property management offers and consultation, real estate agency profiles and blogs, any kind of relevant information can be well laid out on Condimentum.
Users are much attracted by the sites that are easy to navigate and access by their mobiles and smartphones. Condimentum shares 100% responsiveness to prove your web users are satisfied.
SKT Biz Pro is a serious looking and business centric template of SKT production to focus not only on the unbeatable operation of your real estate or brokerage website, but also on its aesthetic.
The clean and white based design of this shortcodes supported and fully modifiable template is likely to be well received by the audience of all kinds and ages.
This professionally developed property management profile comes as a unity of all the necessary tools and modules to generate more lead and revenue.
Additionally, you can make your profile more powerful with shortcodes application, standard pages control like blog for more dynamic results, search engine and social media optimization enhanced by the relevant plugins, etc.
In this 21st century, businesses have shifted heavily from the traditional world to a more advanced and modern world which is known as the online market.
If as a businessman, you are failing to cope up with the ever growing internet, then you must prepare yourself to fall behind your competitors soon enough.
The most common feature in this digital and online market is connecting your business offerings to your potential consumers via websites. Without a website, your business has very less exposure in the online market.
Whether you are a real estate agent, a broker or a property manager it is very important for you to generate more and more real estate sales and leads to sustain in this cut-throat competition.
And this can be easily achieved by showcasing your business offerings with the help of a stylish, optimized and content-rich website.
Nowadays owning a domain and running a business website is quite affordable and easy to maintain with the help of a popular and widely accepted content management system known as WordPress.
There are various themes available for real estate businesses that are highly optimized and can be customized by anyone even if he or she is not a coding expert.
These property management WordPress themes are fairly very simple and flexible to adapt and use. It's actually the game of anyone to build a perfect looking website for customers who are searching for a new house or apartment.
These property management WordPress themes come with a built-in search engine optimization features that will act as a marketing tool for building up your website's rank in search engines like Google, Bing, etc. With the introduction of different types of plugins, WordPress became the widely accepted CMS.
Plugins are pieces of software that are used to add new features or functionalities to your website. Suppose you want your customers to schedule a visit to one of your apartments listed for sale, then that is also possible by using the contact form plugin in your website.
Again, if you need to show your customers a brochure of properties available for sale in PDF format, you could do that by using the PDF viewer plugin.
Now, if you want to spread your business and increase your sales by pulling customers from various aspects, social networking will be the best way to deal with it.
For this purpose, you could use Social Media buttons that are also available with these themes which will greatly act as a marketing tool to expose your business to a larger market base.
One of the smartest features of these property management WordPress themes is that they are highly responsive, which means anyone can access these websites from any device and there will be no compromise is done on the smooth user experience.
You could even design your website by customizing the colour, header, footer, background and the menu of your website according to your needs to give your viewers a top notch experience in exploring through different pages of your website.
In a nutshell, a property manager's business relies on the hope of converting potential customers into a sales lead.
So, if you want to look promising into the eyes of your customers then all you need is to design a powerful and impressive website with added functionalities using these property management WordPress themes so that you can make a strong grip in this cutting-edge competitive market.
FAQ
What are SEO-friendly themes and why are they important?
When you have an SEO optimized theme for your website then it is ranked higher by the search engines. This means that more organic traffic is driven to such websites.
The flexibility of the theme to enable the search engines to crawl in with simple navigation and the quality of content on the site are amongst the important factors for maintaining a good website SEO.
How to handle WordPress property management theme customization?
Managing and executing customization becomes extremely simple with the above-mentioned theme thanks to Page Builder and customizer.
The page builder and customizer helps in making all kinds of changes without knowing how to code. Additionally, with the help of external plugins and shortcodes missing functionality can also be added.
Can we edit Property management WordPress themes in Photoshop?
Technically all modifications, customizations, and personalization for a WordPress theme cannot be directly done in Photoshop.
Either through coding or with the help of other programs necessary changes can be done in the theme. In case you have a design in Photoshop then that can be converted and used in a theme by the developers.