This time let's delve into the basics of orthodontist WordPress themes specifically thought out to cover the needs of orthodontics and other medical branches online.
From general medical and health – centric topics to narrow – specialized medical care and service provision, everything can be fully uncovered with those templates.
Independent medical websites and doctor profiles, health and medical newspapers and online magazines, online laboratories and diagnostic centers, online health – relates symposiums and webinars have conquered the world – wide web.
And this ever – growing popularity of doctor and medical – based content in the digital platforms does not evoke a gram of surprise.
Health is the most valuable asset for every single individual and the guarantee of his comely life.
Therefore, millions of people worldwide exercise all the information and communicative channels to absorb all the details catering to their health or specific problem.
In this relation, the global networking system is one of the easy to reach and surf mediums to get in touch with relevant specialists and book an appointment from the comfort of your home.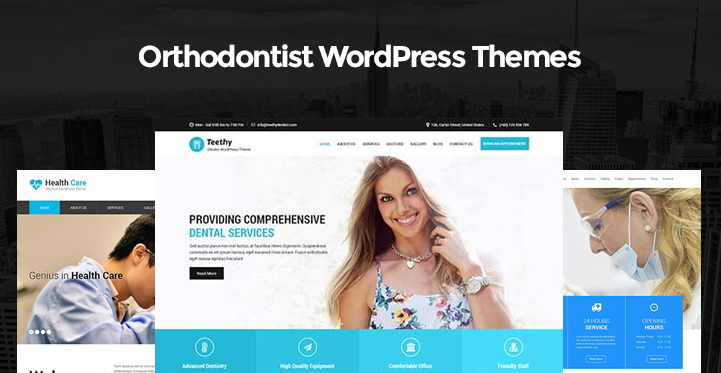 In this article you are lucky to find some of the best orthodontist WordPress themes for orthodontists, family and kid dentists, dental clinics, surgeons, neuropathologists, dermatologists and other doctor and medical – centric industry representations online.
All of them have passed the exam of time and have been checked for their durable nature in spite of everything.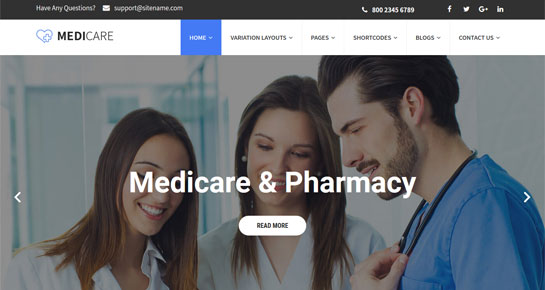 Medicare Pro is one of the serious and clean – looking, well – dressed and pixel – perfect orthodontist WordPress themes for multipurpose medical usages.
The true beauty of this template is that it has been coded and launched with an average website user in the author's mind.
As such, it comes with simple navigation and scrolling controls, as well as legible content throughout the website. Pre – built parts and sections can be found within the theme, however you are free to customize them and deploy your content in those areas.
In order to meet the needs of your patients on the go, the theme has been stylized with all the compulsory touches of responsiveness and mobile – friendliness.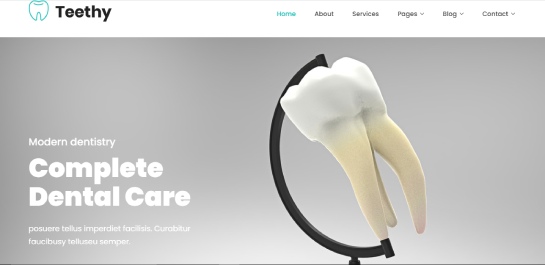 Next in our list is offered as Teethy. This medical website building tool is armed with all the controls and elements desired for customizing your site to meet the most common types of needs and values of your website visitors.
From dentists to pediatricians, from orthodontists to chiropractors, any medical expert will highly appreciate the way Teethy looks and functions. Modern customizer runs at the core of this template.
It means one is able to edit, change or customize the theme right from the theme backend and even have a preview of all those changes before they are added to the theme.
Other valuable traits of Teethy are its total responsiveness, packs of preloaded shortcodes and Google fonts, color changing controls and much more.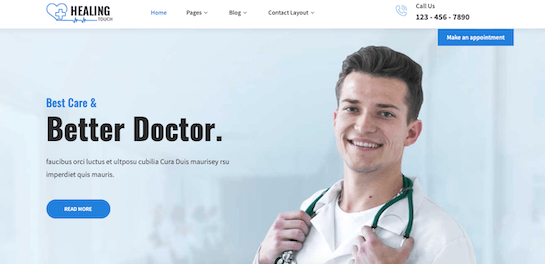 Simplicity is what can make your medical content stand out with its informativity and legibility. Your website does not need all those bright and distractive features to entertain your website visitors.
The primary aim of your business is not entertainment, but serious cooperation with each patient to provide the latter with professional medical care or consulting.
The subtle and elegant look of Simple as one of the simplest orthodontist WordPress themes is effortlessly combined with unbeatable framework that is easy to use and customize.
There is a presentable slider at the top of the homepage to host high – resolution images, which will be ready to adapt to any screen size or resolution.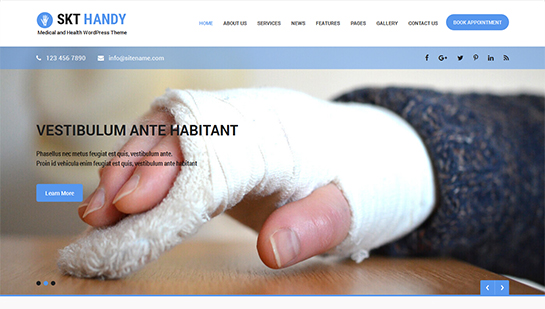 Handy can turn out to be the source of control of your future success in the digital world.
This is the platform that is flexible and durable enough to provide your potential clients with an unfettered access to your web content around the clock.
Let them scan your website and find the description of your services, analyze your photos and images of your satisfied clients even while you are sleeping.
Clean and precise coding forms the persistent grounding of Handy and keeps it highly adaptive across different platforms and areas.
Lots of plugins have been added to the theme and proved to function without any errors. Among them are WooCommerce, NextGen Gallery, and more.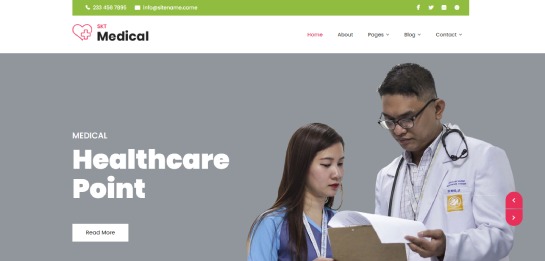 SKT Medical Pro is one of the best orthodontist WordPress themes and online strategies that really work for orthodontics industry. Start saving your current and future financial means with this template.
The thing is that SKT Medical Pro is pretty affordable when it comes to its price, as well as does not suppose future expenses in relation to its activation, customization or maintenance.
You don't need professional designers or developers to shed light on the structural peculiarities of the theme. You are the one to add images on the slider, change colors and typography, choose among templates, etc.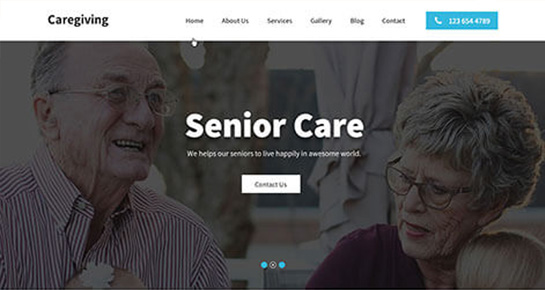 Save your time and enjoy practicing your professional expertise online with the help of Caregiving. It is a wonderfully elastic and energetic, safe and sound website builder.
Even if you are not aware of all the ins and outs of WordPress – powered templates, it will take you only minutes to get your head out of what is there for you.
Medical search engine optimization goes hand in hand with Healing Touch, so that you can be easily found through the relevant search engine inquiries.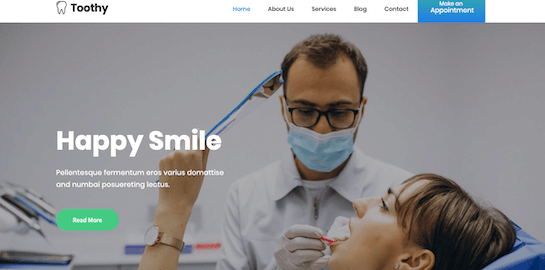 The last one in our list of orthodontist WordPress themes destined to be used by dentists and other dental and oral care experts is called Toothy.
Whether you are offering orthodontics services, oral care and brackets or braces, tooth removal or care, Toothy can be the wisest choice for your future website.
Color picker can be found within the theme to play with colors, footer and header, as well as sidebar area all widget – friendly, blog availability for constant updates, etc.
Social media icons have also been added to the theme together with Google fonts and shortcodes.