List of the best pre designed website templates for personal and commercial usages to stand out with your unique charm and identity.
WordPress community with its seasoned developers is never hesitant to project, generate and launch multifunctional themes and templates for its client base. Hence, If you are looking for an exceptionally well developed and improved pre designed website templates to go live with your own website or blog, you'd better scan the current theme repository of WordPress.
However, you'll find thousands of such products to help you establish your website quickly rather starting everything from scratch. Therefore, we have sorted out some of the most popular and top quality pre designed website templates for you to consider for your future digital profile in the form of site or blog.
Each of the templates is ready made to give you tons of management options if you ever want to touch a little bit on the overall design and functionality of it. Anyway, these templates are already well managed and checked to give super powers to any website based on it.
Pre Designed Website Templates Picked from WordPress Themes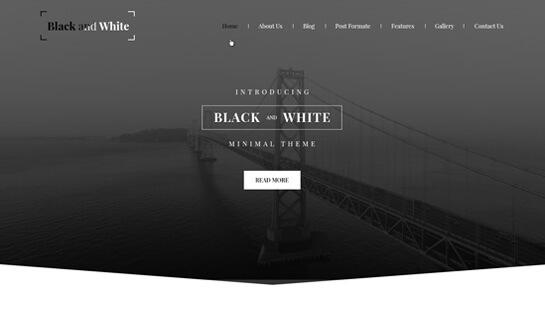 Black and White is one of the latest products powered by SKT Themes and stylized with minimalistic design style. It is one of the most elegant and decent pre designed website templates you can find in the marketplace and smoothly mix it with your needs.
Since the overall design of this template is based on neutral shades, it will let you emphasize the most important on your website. Split your web content into easy to digest parts and insert them into posts or pages. Give the most useful links and contact information to your audience and be accessible around the clock.
Widget and shortcodes friendly, Black and White is also wonderfully responsive and cross mobile complicate with total control over how your site is going to be laid out on different mobiles and screens.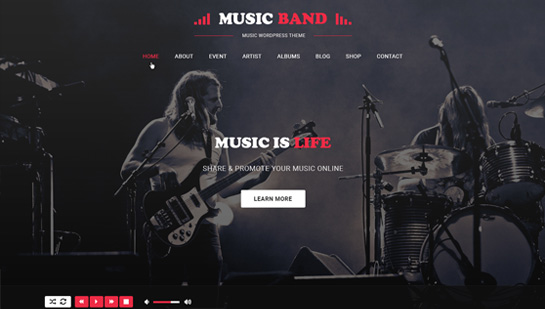 Music Producer is a dynamic template for musical bands and producers, singers and artists to promote their music online. It is minutely worked out and finalized both in look and feel.
It means that you can use as it is without any major changes. Just add your own details, logo, images and insert them into neatly arranged sections and parts.
However, if you feel that you need some additional functionality, design touch, new color combination or something else to keep your audience engaged, you are free to do that.
From dozens of color and font mix and matches to retina readiness for impeccable image display, from footer and header layout options to smooth and sleek dropdown navigation levels, Music Producer encompasses it all.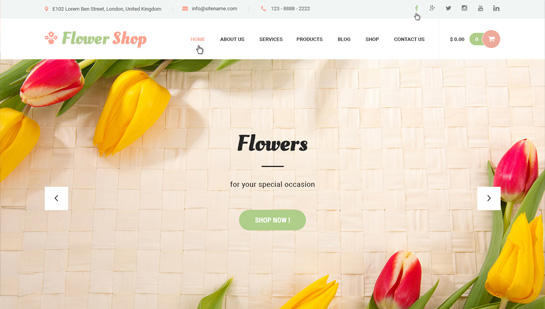 Flower Shop is well specialized in handling multitude of topics and niches, including flower shops and design, interior and architecture, girlie or personal websites, entertaining or author's blog and much more.
Imagine opening some editing software, designing the layout and interface of your site and clicking save! Pretty easy, right? The same is with Flower Shop. You will be capable of taking control over each and every element of your site by using the default customizer of the theme.
Widgetized sidebar, footer and header areas are also at your disposal to add any kind of user directed information. You can also choose the right sidebar layout or just remove it.
SEO friendly coding has been done to the theme so that your website will greatly benefit from that and will generate higher results in search engine rankings.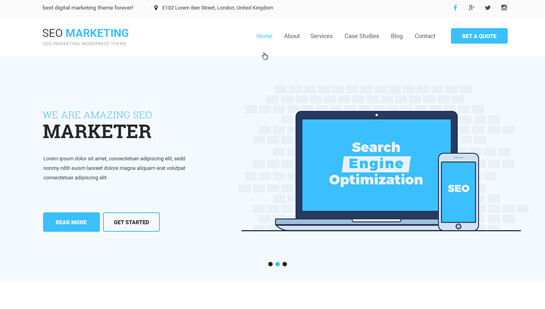 SKT SEO is visually clean and functionally well equipped product among the best pre designed website templates for digital and marketing spectrum and its experts. However, this template is versatile and flexible enough to wear any other outfit as you may want to use it for other purposes as well.
Besides, your taste may change over time, in particular, when trying to focus your web visitor's attention on whatever needed. Therefore having a template which is customization ready and admin optimized at the same time is preferable.
Colors, header and footer, fonts and icons are all easy to manage. Blog layouts are also given, as well as proper calls to actions are available throughout the theme to receive the desired kickback.
SKT SEO is also checked for page builder compatibility and plugin support with WooCommerce, SEO plugins and more.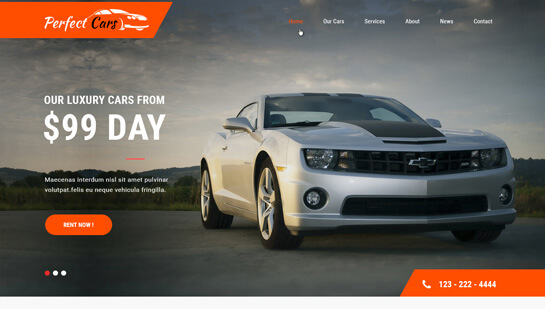 If you are looking for one of the simplest pre designed website templates convenient for car and vehicle related industry, look no other side than Car Rental. This strikingly smart and intelligent template is well coded for you to avoid stressful situations when it comes to unleashing your creativity to make some changes in the theme.
Based on simple and effective drag and drop functionality, Car Rental comes bundled with responsive design to generate perfect mobile user environment, shortcodes pack for adding whatever needed to your site, as well as homepage slider spanning the entire width of the page.
Showcase the top offers or hot cars with high resolution images and let the default homepage slider host them. Alternatively, you can add and swimmingly use any other slider satisfying your requirements.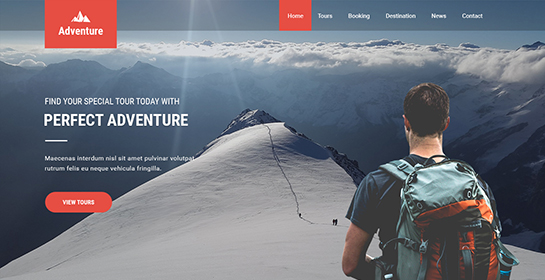 Adventure is one click installation and feature rich pre enabled website template for a wide scale of possible usages. This well documented and supported website building tool offers you a mega pack of useful features and elements to easily personalize the default theme and make it out and outer from top to bottom.
If your site is your virtual home, then its homepage is the front door greeting your clients and welcoming them inside. Therefore, you can use all the advantages Adventure grants you with to decorate and equip your homepage and not only to fascinate your users.
Choose the most convenient footer and header layout and add your informative content with recent posts and contact details, set sidebar layouts for posts and pages, and finally, add any compatible gallery plugin to showcase your images and albums accurately.