Today we are going to leave you with the best PR agency WordPress themes for public relations and human resources websites, creative and digital, marketing and advertising agencies, planning and management services, research and evaluating companies, PR strategists and other experts working in this field.
If we ever try to imagine the modern highly competitive world without PR and advertising, it will be much less colorful and exciting.
Without those strategies we would hardly have ever know about all those modern devices and technologies, products and services that make our life easier and more comfortable.
On the whole, nothing can be achieved without proper research, planning, assessment, launching and advertising.
From small to large, the businesses and individual performances of any caliber are obliged to turn to PR agencies and specialists responsible for the formation of mutually beneficial relations between the company offering its products and services and society utilizing them.
If you are looking for the simplest ways to bring your big and valuable ideas to big audiences and prospects, our roundup of the best PR agency WordPress themes will be the best guidance for you.
Each of the marketing and PR agency WordPress themes you will like the most is a product of professional developers and designers who did nothing but their best to bring all the important features and elements at one place.
Hence, all of them are complete and consummate both in look and feel with a chance to be extended and remodeled by every single website admin to match the specific business needs.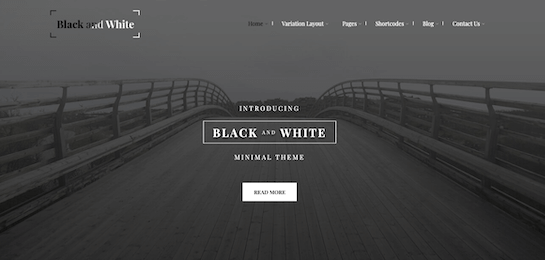 Black and White is one of the elegant and agreeable PR agency WordPress themes that is all about making your future website look good and work stunningly.
This decent and visually pleasing template can be the best skin of your PR or creative agency profile to offer the marketing and advertising services your specialists are the best in.
The inside of this beautiful design is an unbeatable beast with unique structure and quality framework rolled up with all the primary touches.
From responsive coding to adaptive nature to adjust your website according to different mobile and device requirements, all the aspects of Black and White are well thought out.
With this SEO and SMO compliant template you will find fonts and shortcodes preloaded, color changing options and page builder controls available with relevant plugins, commercial and translation readiness, as well as blog section for keeping your agency website more dynamic on a daily basis.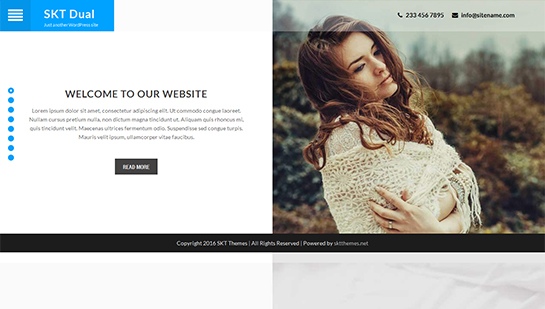 SKT Dual is the next serious looking and constructive template of WordPress authorship that you can have access to with pretty little costs and financial means.
The total adaptability and intuitiveness of the site make it possible for you to test different layouts, header and footer, as well as sidebar variations, colors and fonts, shortcodes and slides to make your agency profile lean and client centric.
The installation and activation time of SKT Dual is dramatically shortened so that you will never feel overwhelmed while working on the starting point of your site.
Further, you will be granted with nicely deployed content zones which are also fully manageable to make your posts and textual content accurate and easy to scan.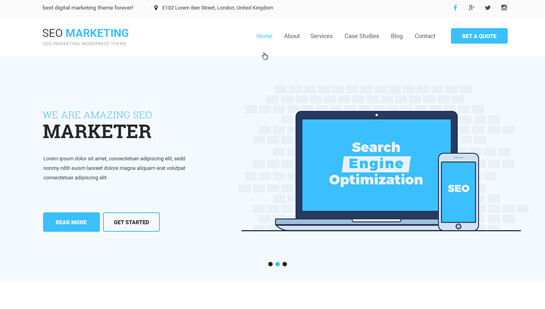 If stability in performance, legible and easy to follow content, simple and easy to use structure of the website are top priorities for you, look no further than SKT SEO.
This clear faced and pristine template shares the needed qualities and even more to make the creation of your PR related website as easy as a pie.
All the facets of SKT SEO design and coding are well covered and purposeful. As such, SKT SEO is one of the well formatted and fully fledged PR agency WordPress themes that is 100% responsive with mobile and browser compatibility, as well as search engine optimized to let search engines crawl your site easily.
The theme is also fully commercial ready for you to manage any kind of online store and sell your services or digital products.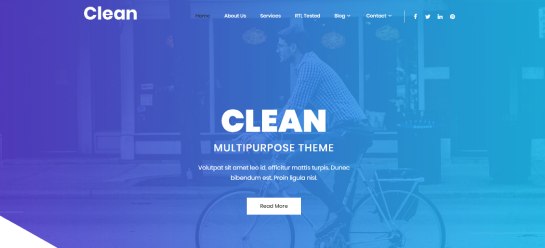 Clean Pro can be one of the driving forces when it comes to building any advertising, management, creative agency or PR agency website, digital services provision or digital product selling profile.
Gone are the days when creating a website took too much time or nerves plus the assistance of several designers and developers.
Thanks to this self secured and easy to handle website building tool, getting started with a website of almost any complexity will be a breeze with a myriad of inner controls and layouts, features and customization options.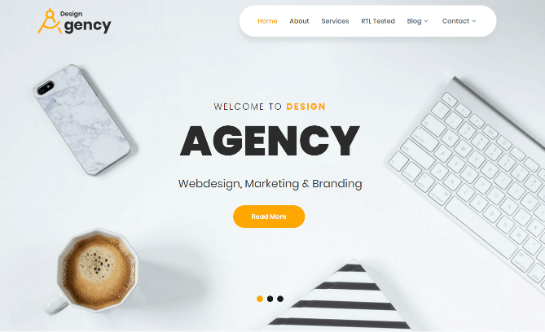 Design Agency Pro is another recommendation among the best PR agency WordPress themes that will prevent you from any bore or huddle.
When it comes to choosing between simplicity in creation and management, as well as saturation of your site, Design Agency Pro places somewhere between the optimal structure satisfying both requirements.
Get your consulting and PR services closer to your prospective clients and partners with this template that is more than just a unity of primary design and coding touches.
You can find homepage slider for the most effective images showcasing your talents and professionalism, creative works and portfolio items and more.
Testimonials, gallery, boxes, tabs and accordions are also possible with the application of relevant shortcodes.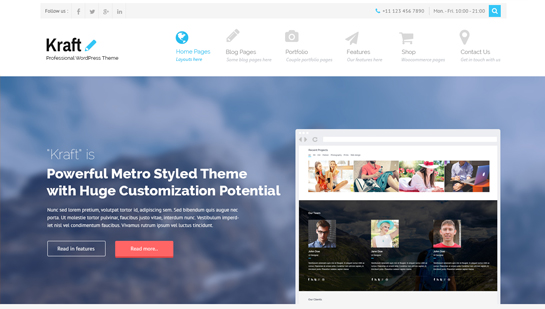 Kraft is the next multidimensional and very pliable template for PR managers, content and media marketers, analyst relation specialists, global researches, private and public digital centers, innovation technologies and more.
Keeping your site secure and traffic driven with clear HTML5 coding as well as beautiful and interactive with CSS3 touches that Kraft shares will be the best investment in your future success and returned visits to your profile.
This modern looking and well manufactured template comes ready with a proactive slider to showcase high quality images spanning the whole width of the homepage. Google fonts and font awesome icons together with social ones are all present in the theme.
If you are running an ad agency or a PR agency, then you know better than most as to how essential it is for you to have an online presence. Apart from having an online presence, an online website can help you tap new customers, hold joint conferences with them and even run dedicated marketing campaigns for others.
That's why you need to check out PR agency WordPress themes so that you get a better idea of what our themes are all about and how they can help you streamline your business operations.
Any creative agency knows that aesthetics is part of the package which you'll find that our PR agency WordPress themes are all about. These themes were designed to make you stand out for all the right reasons. Check out some of the reasons as to why it is essential that you select the right theme for your website at the earliest.
Aesthetics: Since most clients do not spend more than a few seconds per page, your website needs to have a great eye catching design that's trendy. It should also come with minimalistic overtones so that the user is not distracted but instead their attention is focused onto the relevant portions of their website with emphasis on the 'call to action'.
Sliders and galleries: Our themes come loaded with both sliders and galleries, so you can opt for either to showcase your work. Just make sure that the images you use as representative of your work are all high resolution images and that each image comes with at least 600 pixels. This should enable your prospective leads to check the same out and get a better impression of your work. Many a project has been lost because of using poorly digitalized pictures so make sure that you use a professional photographer and resize the same for use on your sliders and galleries.
Social media integration: We fully understand the important role that social media platforms play when it comes to marketing which is why our themes make it possible for you to integrate the various platforms to your website with ease. Soon you should be able to tag your network on these platforms and market your website through the same which should result in increased traffic.
Rolling testimonials: The great thing about WordPress is its flexibility and our themes come loaded with several add-ons such as built-in pages, additional templates along with page builders. But apart from these, you can also use third party plugins to increase the functionality of your website. For example, you can use a third party plugin to display rolling testimonials about your service which should naturally result in a better conversion rate.
These are some of the reasons as to why you should opt for one of these themes for your PR consultancy website. Please keep in mind that you still need to demo out your selected theme to make sure that you have chosen the right one.