The main idea of this article is to provide you with the best pilates WordPress themes to stay away from the hustle of looking for the convenient platforms to run on your yoga or pilates, zumba and salsa, fitness and gym, martial arts and choreography, as well as other mind-body services presentation online.
Yoga is one of the centuries old philosophical schools that appeared in ancient India and further inspired the emergence of different practices, including pilates.
Today thousands of people practice such kind of daily activities to restore their strength and become more flexible, keep their inner peace and become more open minded.
Peaceful mind and flexible body, better balance and better concentration, reduced level of stress and improved sleep, pain relief and new flows of vital energy of life… This range of the advantages pilates and yoga with their subtypes has to offer you can be continued infinitely.
The advantages of such activities are not taken for granted from a commercial perspective either. With the growing demand for yoga and pilates, fitness and gym, dance and shaping, as well as other mindset fitness centers, clubs and studios, there is a relevant offer in the digital platform that creates a forceful competition among such service providers.
In this relation, forgetting about building your own yoga and pilates website to stand that competition will certainly run the risk of your reputation and business growth.
Here are some of the best tips for building results driven website with one of the most practical pilates WordPress themes of SKT production.
All of the pilates WordPress themes we draw your attention on share the same working principles since all are HTML5 and CSS3 based, licensed under GPL and celebrate maximum responsiveness across mobiles and devices.
However, they are customizable enough to satisfy your needs whenever you are demonstrating a creative approach for styling the website as per your preferences.
Best Pilates WordPress Themes for Weight Loss and Aerobics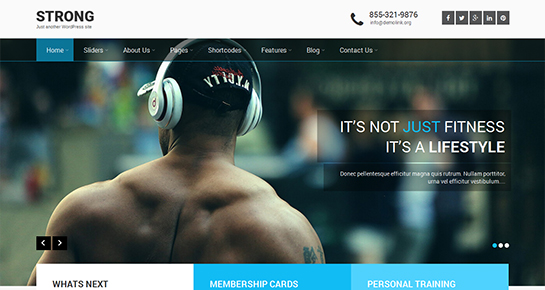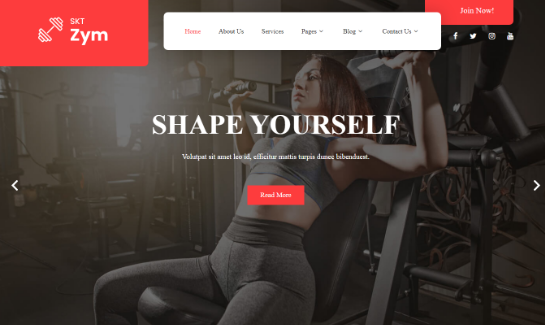 Zym is the most carefully constructed, technologically advanced, and totally responsive option from the Pilates WordPress themes list. The theme is visually excellent and goes best with lifestyle blogs, weight loss, and wellness websites. You are allowed to customize every small aspect of the website as it comes with the most powerful and easiest admin panel. Very easily you can set the typography and other useful elements.
The template works best with third-party plugins and works great with a different header. It comes with the full width and boxed version and lets you edit its color, images, design, and background.
Your customers will be able to find desired information easily as it comes with simple and clean navigation. The theme is very easy to use with various page builders including Elementor, WPBakery, SiteOrigin, Divi, and more.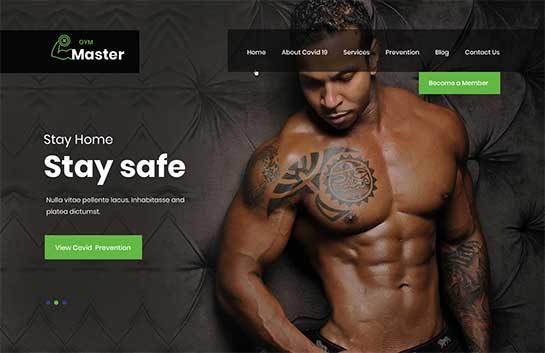 In case, if you are looking for easy to use a theme that features plenty of options to make your website look complete from every aspect then Gym Master is for you. With the help of WooCommerce plugin integration, you can convert this simple yet stylish looking theme into an eCommerce store.
The major fact about this theme is that it is the fastest loading template that you will come across. It comes with plenty of advanced features. It is also SEO and widget-friendly. The template helps your online business to get a better rank in search engines.
Using this theme you will get access to a lot of prebuild pages, and default plugin integrations. Some of the top plugins which are already integrated and work best are contact form 7, Nivo slider, NextGen Gallery plugin, and WooCommerce.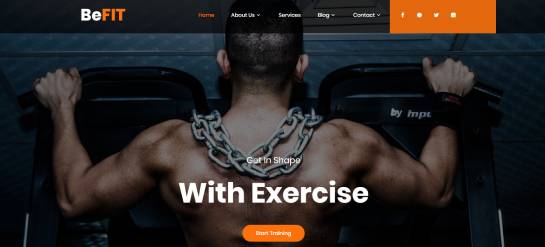 BeFit Pro is the modern option for all wellness, health studio, and healthcare-related industry from the list of Pilates WordPress themes. This template is available with the prebuild layout which looks visually beautiful and attractive on all major devices. Also, it comes with a responsive design layout.
It comes with clear typography, a streamlined interface, galleries, site navigation, and more options. It is included with the slider revolution, customizable transition, custom animations, and more. It looks gorgeous and splendid all across the devices.
It is included with the prebuild template that is sufficient to take your nutritional counseling service website to the next level. It is prebuilt with some helpful features such as a build-in contact form, social media options, and drag and drop widgets.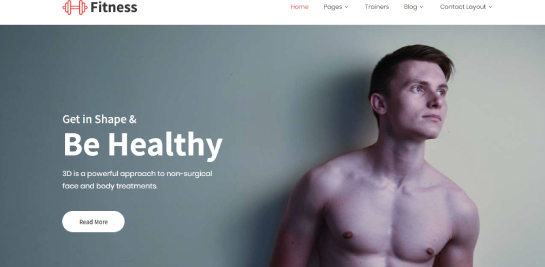 With SKT Fitness Pro you can build an effective and inviting online presence for your fitness venture. The theme is all set to convince your visitors to experience your services or products at least once. The template and its design will help you to take one step forward to improve the health of your clients.
You can start counseling services too online as it comes with full-width images and gorgeous details about your specialties and programs. As per your business requirements to can style your website's layouts and color schemes that too without writing a line of code.
To customize the template use drag and drop page builders such as SiteOrigin, Elementor, WPBakery, or any other that you feel comfortable with. Install SEO plugins such as Yoast SEO, All in One SEO Pack, RankMath, etc to boost the search engine rankings.
Ele Fitness is the flexible, totally responsive, and mobile-friendly template crafted mainly for health and fitness websites. The theme developer has made this template quite simple to provide a beginner the easiest platform to start getting more customers. The template is developed with the newest web development techniques.
The theme offers the most stunning and classy website that comes with easy interfaces and smooth scrolling effects. Along with this, it offers beautiful typography, modern menus, and lots of color options. Ele Fitness is basically based on Elementor Page builders.
It works seamlessly along with some other page builders that make your homepage looks prettier all across devices and browsers.
Ele Yoga is the gorgeous-looking template from the list of Pilates WordPress themes and responsive to all major browsers and devices. It is more intended for weight loss and fat reduction websites. The simple yet minimalistic functions make the theme looks good and clean layout that suits almost every health niches.
The theme is included with mobile menus so that your website's content looks gorgeous even on small devices that your customers prefer. The template is full of widgets, attractive buttons, and slider section, and WooCommerce sidebars.
However, Ele Yoga can be used for weight loss, wellness nutrition, lifestyle, or any other fitness blogs. It is integrated with some useful plugins that make your web page layout more interactive and functional.
Another strong template from our list is SKT Gym Pro which is mobile-friendly and responsive to browsers. The theme enables you to build a beautiful yet visually dramatic website. The template gets easily integrated with the WooCommerce plugin also works perfectly with the Event Calendar plugin.
The design can be utilized for fat reduction, lifestyle blogs, and health or fitness websites. If you ever feel to get connected with the team then you can contact them through an online support forum, WhatsApp chat, or drop an inquiry to the mentioned email address.
You can say that SKT Gym Pro is one of the best business solutions to get more clients attracted to your weight loss clinics or fitness studio. Thus it helps you to boost the business's search engine rankings.
Meditation Pro is one of the attractive templates that is featured with a responsive layout, engaging and innovative design. Thus it suits perfectly to lifestyle, health or nutrition blog or websites. Because of exceptional retina layout elements, your website design will perfectly suit laptops, cell phones, or tablets. To boost your brand identity it allows you to add a custom logo.
Using the drag and drop interface you can easily customize the look and feel of your website. Thus the template works more perfectly with WordPress contact form plugins, slider plugins, SEO plugins, and all required third-party plugins. However, the theme also performs great and loads its content faster on all browsers and devices.
Fitt is the next lightweight and visually lively template you can choose to be the starting point of your online career. Join the community of active WordPress users and make a website that will stand the challenges of the modern digital arena.
Style your website with gorgeous look and bright colors, make your content fully legible with Google approved fonts, present pricing tables and translate your content into target languages to be accessible for the international audience as well.
Yogi Pro is one of the professionally made niche specific pilates WordPress themes to prove you are right with your choice.
This template is totally harmonious in look and feel while providing you with the best working platform you can dream about.
The default template enables you to highlight your pilates classes and adaptive exercises, staff and specialists, pilates reacher training, equipment rental services, mindset charities and more in a convenient form.
You are also free when it comes to determining the best typography for your content with the right Google font, size and color.
Yogi Pro is also HD ready for engaging photos and images, as well as SEO friendly for taking your content to new heights in search engine rankings.
Martial Arts is the next award winning template ready to go smoothly with any fitness and gym, pilates and yoga related website or blog.
Whether you are running your personal fitness or yoga trainer blog with tons of tutorials and programs, or represent a fitness club with various services and programs, Perfect Business will do the best for you.
This website establishment tool offers a myriad of benefits to its users since the theme is rich with colors pack, typography changing options, preloaded shortcodes to result in any content or typography and much more.
This high impact WordPress powered template is also SEO and SMO ready, as well as shares the best practices when it comes to plugins and extensions for integrating commercial activities, subscription forms, social sharing capability, translation readiness, etc.
SKT Parallax Me Pro is brought to your attention by the most enthusiast group of website developers and designers.
They have thrilled to add all the primary touches and controls to the theme, and have managed to serve all in an elegant form.
Hence, SKT Parallax Me Pro turns out to be one of the most awe inspiring pilates WordPress themes to meet all your clients and customers just where they are, that is, in the digital platform looking for the most attractive offers and suggestions by search engines.
With modern and clear design, SKT Parallax Me Pro comes loaded with a nice looking homepage parallax slider to guarantee the maximum exposure for your imagery.
You can also add around 20 sections for the right content deployment, as well as enjoy the functionality of the visual editor for posts and pages.
Balanced between clear look and advanced functionality, is also one of the best dance and choreography, fitness and shaping, yoga and pilates WordPress themes to produce tangible results in the shortest timespan.
Build you authority with and grow your business without sweating much for it with the unlimited possibilities of Bony. To put in a nutshell, this template is user optimized with responsive layout, strictly categorized areas and boxes, commercial ready nature and plugin compatibility.
Thanks to its uncluttered design and prevailing white space to make your content more noticeable, this template can also host any medical or rehabilitation, private clinic or hospital, herbal essences, diet and nutrition, spa and salon, therapy websites and not only.
Character is irreplaceable for private coaches and tutors, pilates and yoga specialists, fit program authors and fitness celebrities to market their business in an affordable way.
This serious looking, yet beautifully designed template is bundled with an avalanche of practical tools and customization options.
Among them you can find different shortcodes, font and color changing options, Po file inclusion for translation purposes with relevant plugins, gallery management instruments with gallery plugins, etc.
Everyone wants to stay in shape and start searching for information online. This could just be a few months fad but it is still a great opportunity for fitness websites to connect with them.
When they are looking for a solution and you have one then it is best that these two things are combined. The Pilates WordPress Themes are something which can help you here in creating a highly attractive website with quality content so that the visitors can benefit from it.
Now you have to understand that anything which is available online will face fierce competition mostly due to the huge number of the website each providing unique content and service.
Now if you wish to face this competition strongly then one good and strong way is to create a website of your own with certain features that will attract the right customers.
The Pilates WordPress Themes are available in abundance when you wish to pick any one of them then the best way is to check for the features it provides. For fitness the must-have features are:
Blog: When one is thinking about SEO then Blog is rated higher as it provides fresh content to the website and search engines to map. These current updates keep the website ranked higher which makes it easily traceable for the visitors. Now the trick here for the website owners is to add keywords and optimize the blog in a way that it is picked up when a search is made. Apart from the search engines, even the visitors find the whole information important and thus they love to visit the website. Add what is the latest fitness technique suitable for everyone or any health-related content on the blog so that continuity is maintained.
Reviews: This is something which is looked at first when one is visitor's checks on a website. More than 80% visitors go on the reviews page and see what others have to say about the website they are looking. Since health is an important topic which requires expertise the visitors are keen in checking out whether the services are up to the mark. Pilates WordPress Themes comes with an easy option to add the reviews section.
Instructors Bio: This is relevant to the visitors who wish to join the classes. The instructor's bio adds a personal touch to the whole process and they feel connected. It creates a form of trust which goes on to make conversions. There are many sites which have shown a higher conversion rate when they keep their instructors profile updated.
Call to action: Make it incredibly easy for the visitors to actually take action. Put it right in the front and leave no space for them guessing what they should do. This could be related to subscription, participation etc.
The fitness websites must make use of technology to attract a higher crowd to the site. Using the best features is a great way to ensure that the visitors get what they have been looking for. You can add features as and when required.