The best pet grooming WordPress themes have been compiled this time for pet and animal care related and veterinarian services. The possible topics may include pet grooming and cleaning, walking, pet sitting, vaccination and surgery, adoption and keeping, as well as food and accessories – related activities and businesses.
Pet grooming and care is more than just about having a nice looking and chic animal. It's also about the secure and healthy living conditions both for animals and people living together.
While having a dog, cat or any other pet in your life is a huge responsibility, you are lucky enough to have thousands of pet grooming and care offers from different sides ready to take care of your beloved four legged friends. For particular, the worldwide web is flooded with tons of websites offering their relevant pet related services and products.
Anyway, there are certain factors that put a successful pet grooming website ahead of standard competition. In this article you may find some of the most applicable pet grooming WordPress themes which are packed with those primary features and controls which make them so preferable. While being based on durable and responsive layouts, they are as easy in usage and management as you may wish to be able to deal with them with your non techy skills.
1. Pet Care: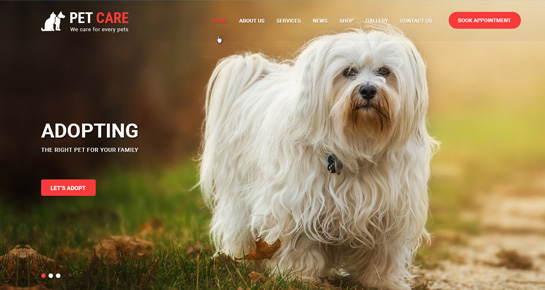 Pet Care has already won the label of one of the best pet grooming WordPress themes designed for pet care service providers, pet shop owners, veterinarians, pet grooming and sitting agencies and others. The degree of persistence and flexibility of this top rated template is striking. You are able to edit and transform it the way you have prioritized for your private pet business. While the default state of the theme is ready to multipurpose usage, you are free to change the active colors of the theme by the ones you prefer, add homepage sections up to 20 in number, as well as control widget friendly footer and header areas. This responsive and fast performing template is convenient both for service provision and online store to sell anything catering to pets and their care, clothing, food, accessories and much more.
2. SKT Perfect:

Next template in our list of pet grooming WordPress themes to unlock all the possibilities for your pet and animal directed business success is called SKT Perfect. Wonderfully robust and safe, visually elegant and functionally high end, SKT Perfect is custom built to sustain a website content of any size and nature. Hence one is capable of adding the relevant content and images into the prebuilt theme sections and areas, control pages and layouts, blog for daily usage and constant updates and much more. Demo version is available before purchasing which perfectly exemplifies all the advantages and controls your future website will be granted with. It is also cross mobile and browser compatible with its responsive and HTML5 and CSS3 based nature, is based on shortcodes functionality and generates SEO and plugin compliant nature.
3. Simple:

Simplicity can be the most preferable quality any average website admin will ever want for his website. Simple is the best pattern of how simplicity both in form and function with considerably simplify your website creation and control on the one hand, and people's perception of your clear and precise content on the other. This aesthetically minimal and soft template will make your animal breeding and care, grooming and sitting, walking and training, vaccinating and medical services look elegant and nicely deployed through the given content zones. Homepage full width slider is excellent to depict your happy patients with their pets and animals. Other practical elements of Simple include smooth and easy to navigate levels, font based icons and Google fonts integration, widgetized areas and shortcodes preloaded, as well as full documentation and professional support along the theme.
4. Perfect Golf Club:

Perfect Golf Club is one of the freshest pet grooming WordPress themes to be a comprehensive solution not only for pet grooming services, but also for a wide range of clubs, houses, racecourses, horse breeding farms, entertainment complexes. This uniquely stylized and pixel perfect, experientially thought out and launched website builder has been developed by professionals for professional website creation and customization. Moreover, the degree of your development or design knowledge has nothing to do with your abilities to make the most out of Perfect Golf Club since this theme is truly adaptive and comes with admin friendly dashboard. While fully responsive and mobile friendly, this template offers you an abundance of controllable features for typography, colors, icons, extensible functionality and more.
5. Shopzee: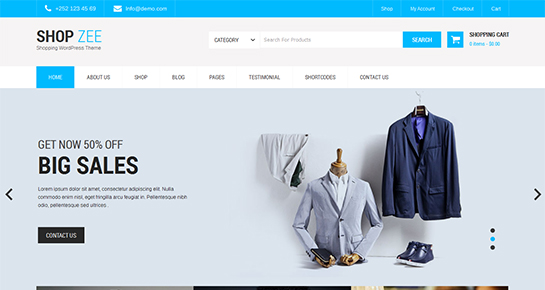 In case you want to make a little investment in your future online store and keep your competitors at bay, Shopzee is what you have been searching for. It is ready made to bring whole new ecommerce functionality to your website and requires almost no efforts from you to keep everything organized and well visualized. With this template you will have access to a handy toolbox designed for anyone with 0 coding knowledge or experience. It's totally responsive platform tested with thousand of handheld devices and mobiles for its unbeatable functionality. Additionally, there is PO file rooted deep in this template for your future content to be easy to translate.
6. Go Fishing:

Go Fishing is the last template included in our collection of pet grooming WordPress themes to be used for animal and pet related world and its representatives. Whether you run a veterinary clinic or center, pet care and training center, exotarium with lots of interesting and extraordinary animals, Go Fishing can be the best visualization of your business. With its elegant and lively design, easy scrolling and navigation, as well as accurately arranged theme parts, Go Fishin will create a memorable user experience for all kinds of website viewers – from desktop to mobiles. All the primary elements of SEO and SMO are integrated within the theme, as well as shortcodes for more pages and posts, blog and contact form, etc.