Are you an event planner looking to create an online presence for your business? Look no further than WordPress, the most popular content management system on the web.
With WordPress, you can easily create a professional-looking website that showcases your services and attracts new clients. One of the best ways to make your event business website stand out is by using a party rental WordPress theme.
These themes are designed to showcase your rental offerings, such as tables, chairs, linens, lighting, and more. In this blog post, we will showcase 11 of the best party rental WordPress themes available on the market today. Each theme is specifically designed for event rental businesses and offers customizable features to make your website unique and appealing to potential clients.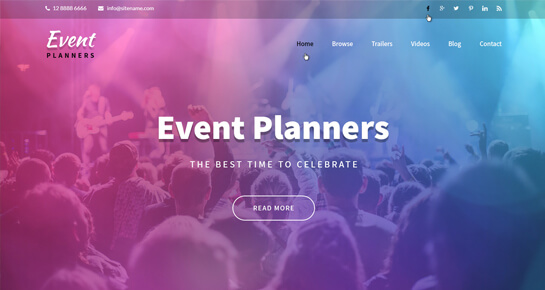 One of the most effective, labour-intensive, magnificent, and stunning event planning WordPress themes you can choose is Event Planners Pro. This digital solution is just what you need if you're looking for a results-driven marketing approach to grow your company online.
With this adaptable and mobile-optimized, SEO and SMO compatible template, you may build your company and its clientele with fewer anxieties, less work, and less money. It is ready to produce leads, prospects, and visibility for your relevant business.
Utilize Event Planners Pro's prebuilt content categories and components to make your events and services seem structured and simple to reach. To accomplish the required content arrangement or expanded functionality, use the pre-enabled shortcodes.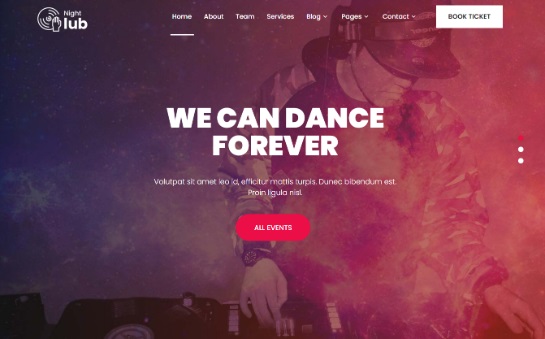 SKT Night Club is the finest nightclub WordPress theme because it has a glossy, stylish, and darker color scheme which is required for portraying like nightclub's atmosphere. This template is useful for organizing parties, events, night clubs, music clubs, dancing clubs and night life, disco, house event, DJ, trance parties, concerts.
Also, party rental WordPress themes works great for Musicians, cafes, restaurants, cafes, bars, bistros, bakeries, pubs, cafeterias, pizzerias.
A responsive and WooCommerce-based home theater WordPress theme is SKT Home Theatre. The theme is ideal for selling bulky devices online, such as soundbars, headphones, home theater systems, speakers, televisions, LED lights, FM radios, etc.
This template may be used by anybody to provide home theater-related services including home automation, room acoustics designs, audio/video installation, and much more. This template is ideally suited for businesses like distributors of home theater systems, electronic shops, retailers of home theater systems, home theater firms, TV equipment agencies, and others.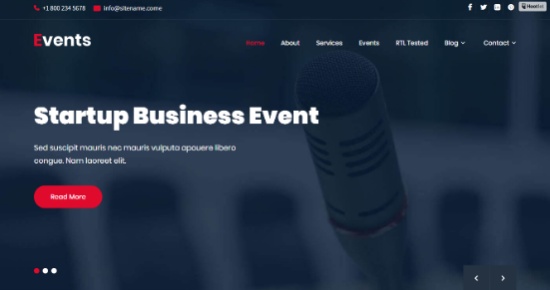 SKT Events is a responsive and multifunctional WordPress theme for managing several events that is used to build a website. The template is designed to allow you to build either a single page website or a multipage blogging website.
SKT Events is to choose if you want to grow your event business and become well-known online. SKT Events is backed by SEO plugins, a WooCommerce plugin, and many more plugins to provide you exceptional capabilities to increase the popularity of your company.
The design is supported by some great colors that will enhance the appeal and beauty of your website. The theme is RTL language enabled and translation ready, allowing you to build a website for multilingual users.
This template is simple to connect with MailChimp, and it performs well in every way. The plugin's compatibility will increase consumer engagement with the content and help you maintain contact with existing and prospective customers.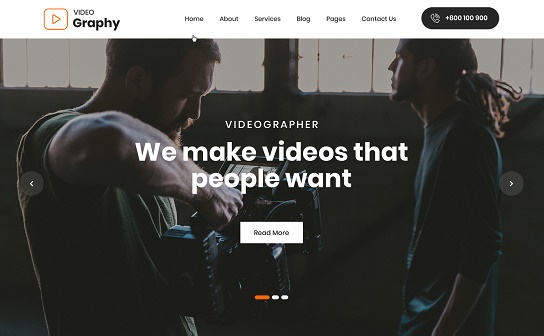 SKT Videography is a video production WordPress theme that is a perfect choice for filmmakers, video production agencies, videographers, and other similar sorts of companies. It can assist these types of businesses in advertising projects based on both small and big sizes, which makes it an appealing option for these types of businesses.
The theme is straightforward to personalize, and setting it up is a breeze. It is already speed optimized, SEO-ready, retina-ready, and also comes with a lot of features.
This party rental WordPress themes follows all of the most recent design trends and is coded in HTML5, CSS3, and other languages. The video material may be uploaded, embedded, or downloaded using this feature.
Singer The WordPress theme is ideal for creating websites for music bands, artists, DJs, clubs, music events, and other related websites. Tested with a variety of well-known browsers, including Chrome, Opera, Firefox, and others. Consequently, you may easily visit your website in any browser.
The header and footer sections may be designed using a number of different layout choices. You may choose the one that best matches the style of your music website.
After one year from the date of purchase of the vocalist theme, support will be offered. Adapt nicely to any device with a screen resolution, including smartphones, laptops, desktops, and other gadgets.
SKT Tattoo is a trendy and stunning WordPress theme for tattoo parlours. SKT Tattoo is the ideal choice for you if you're seeking for a speedy website setup. SKT Tattoo was specifically developed to establish a website for body piercing, body art, tattoo creating, and more. The WordPress customize plugin fully integrates the template.
However, you will be able to alter the look setting in real-time using WordPress customizer tools. There are simple choices available to change the typeface, colors, photos, text, background, style of layout, etc. With only one click, the demo material for a homepage and other necessary pages may be imported.
With just one click, social sharing buttons may be quickly added to any website. A menu's padding, font weight, size, and spacing may all be changed with relative ease. In addition to all these features, you can also use the drag and drop page builder plugin to modify the content of your website.
It comes with two different modes i.e., black and white, dark and light color theme. In addition, a number of the most popular and powerful plugins available, like contact form 7, slider revolution, MailChimp, essential grid, ninja forms, Nivo slider, and others, are supported.
The Art is a WordPress theme for artists that was created and built to accommodate the creative inventiveness of a certain individual.
Anyone who has the creative talent, whether they are painters, sculptors, musicians, singers, or service providers, has the ability to explore the numerous and various features and functionality options that are accessible with this theme.
It is quite simple to have a header of their own choosing, and there are various kinds of headers that are accessible for inner pages. This makes it possible for one to simply have a different slider, a custom map, or a custom image for every individual page, depending on what seems appropriate to them.
Additionally, the header in and of itself has four distinct versions, each of which is available with a different logo, navigation, and unique design. It features a number of various header variants, such as having a variety of header layouts.
The Wedding Videographer WordPress theme has been built and developed in order to fulfill the requirements and demands of wedding videographers that produce high-quality films for their customers.
This template is also suitable for usage by wedding planning businesses with aplomb since it provides many opportunities for users to create an excellent website for exhibiting videos of prior weddings, testimonials, about them, and a variety of other sections, packages, and features for the same purpose.
This template has been tested with a variety of screen resolutions, browsers, and devices to ensure that it passes the responsiveness test. It is fully and completely responsive. It comes with In built Shortcodes of more than 100 are provided so that one can add fancy content and desired website content without help of other plugins.
One of the most important aspects of everyone's life is music. Its origins date back to previous decades. Additionally, new musical genres have emerged as a result of the development of new technology.
Melody is a responsive music studio WordPress theme that works great on all smartphones, tablets, and desktop computers. In order to make it simple for users to add more dynamic material to their websites, it also includes theme settings, google fonts, and shortcodes.
One of the best WordPress themes for creating any music-related website is the music studio theme. The lavish style of the melody theme is the result of the tireless labor of our brilliant designers. Try out this opulent theme and be ready to become well-known.