The best paintball WordPress themes are at your disposal for paintball and strikeball clubs and centers, paintball and other extreme sports activities and organizers, game zones and fight clubs, sports complexes and amusement parks, golf clubs and tennis courts, as well as other respective business to be showcased online.
Paintball is really enjoyed by tons of people of all sorts of background, nationality, religion or age.
It is estimated that more than 9 million people all over the world play paintball with this or that periodicity.
The reasons why such kinds of games are highly popular are many, starting from their socialized nature when friends are gathered to form a team up to the adventure, energy and adrenaline the players receive.
Given the demand for such games and adventurous activities, we cannot help but put together the best of paintball WordPress themes developed specifically for paintball and airsoft guns based adventure services, clubs and centers, party and event planners, tactical training clubs and shooting ranges, paintball adventure playing fields, etc.
Each of these bold and durable sports and fight club, hiking and adventure tour, strikeball and paintball WordPress themes will get your heart pumping with a vigorous and spirited look, extensible potential and innovative technological base.
For all those who think outside of the box and prefer a creative approach to their work, each of these paintball WordPress themes will offer boundless controls and customization options to tell a specific story with constant redesigns and fresh touches.
Best Paintball WordPress Themes for Game Zones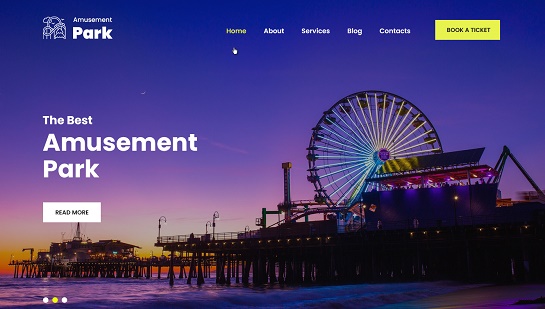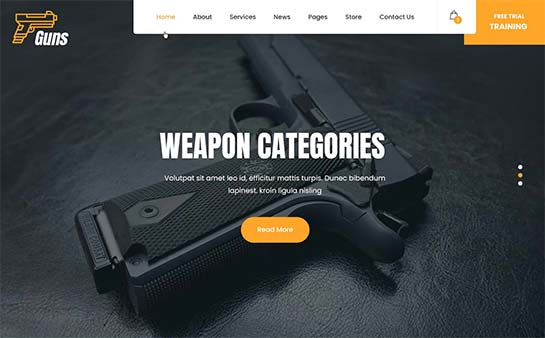 SKT Guns is one of the thoroughly masculine and strong paintball WordPress themes suitable for military clubs and activities presentation online, as well as adventurous and dynamic sports and projects, gaming and competition websites and portals.
Paintball is a sort of simulation of a real war or armed conflict. Therefore, Military with its warlike and soldierly look and feel can turn out to be the best encouragement for your website's online viability and player engagement.
This well secured and modernly coded template will never leave your mobile armed audience in the dark with its responsive and mobile checked character.
It means that your potential clients can browse your website on their portable devices, look for the needed information or contact details, review available games and services and enjoy high quality images on the homepage slider or in gallery section.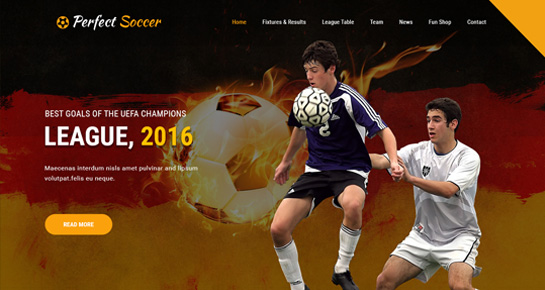 Soccer is the next club and sports based template custom built to deliver an enviably challenging layout for diverse topics and niches.
All the important features and techniques have been incorporated into crafting Soccer so that you can rest assured that your website is going to be ultimately responsive and mobile friendly, social media optimized for winning more clients, as well as search engine friendly to keep your profile highly ranked in search engine rankings.
Along with adaptive and flexible layout, you can also use the preloaded controls, fonts and shortcodes to style and play with the structure of your site in an effort to improve its appearance, deploy content accurately, incite your website viewers with photos and images from your paintball competitions and more.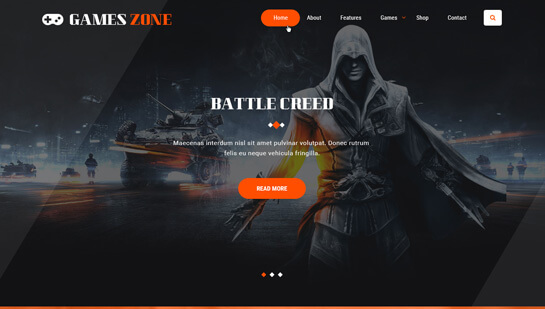 Do you want your website to be favored both by your client base and by diverse digital platforms, networks and environments? Then look no further than Game Developer.
Touched by the most creative designers and coders, it is one of the brightest and feature rich gaming and paintball WordPress themes that will be loved by everyone.
Your website based on Game Developer will be easier to view and scroll down, enjoyable to navigate and surf, as well as convenient to browse on different devices and mobiles.
As for the website admin, he is going to exercise a wonderfully controllable dashboard from behind the scenes to test and try different models and functionality options for his website, add plugins and remove them.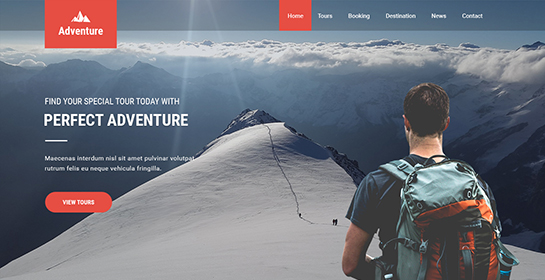 Crafting a memorable online experience for your clients and persuading them to book your services will be much easier with Adventure that is impulsive and purposeful, fully transformable and easy to monetize, plugin compatible and translation ready.
Putting your site in a versatile format with the support of Adventure will provide you with a competitive edge to keep your audience engaged with your content and images, adaptive layout and responsiveness of the site, smooth and sleek menu items and navigation levels.
Pumping the desired traffic to your site will be easier and less expensive with Adventure since it functions fantastically with search engines. Basically, the SEO preparedness of this template can be the holy grail of your digital experience.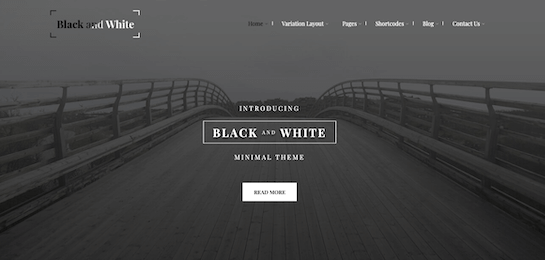 If you are looking for a productive way to produce measurable results and revenue with as little budget and time spent on your digital profile as possible, Black and White is going to be the best settlement for you.
Ready to tailor to each customer's needs, this website tool is rich with essential options and components making a homogeneous unity.
From color and typography mix and match options to an effective homepage slider to display the captivating images of your paintball center, from widget friendly areas to the overall classy design, Black and White is the one to unite it all.
The theme is also page building and translation ready for making it possible for you to form and structure pages with drag and drop functionality, as well as provide them multilingual content.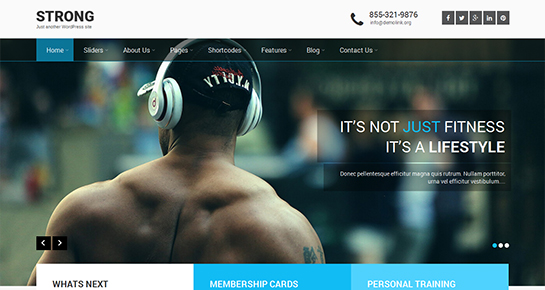 By combining checked and proven web design and development methods with new and dynamic marketing strategies and advanced technology, Strong Pro is a perfect solution for your sports and crossfit, strikeball and paintball website to expand its digital reach.
The dedicated and professional specialists that authored this responsive and all inclusive template are always there to give their advice and provide with the needed support if needed.
With this highest level of professionalism and customer care, they also did their best to make Strong Pro as simple and intuitive in usage as it is functionally sustained and visually polished.
If you're planning to set up a paintball arena, or strike ball clubs, and various other intense and action-oriented sports activities' clubs, then you need the right amount of investment and idea to make your business more successful.
More people love the sport, paintballs than you can normally imagine. Doesn't matter the person is from which religion, class or creed – the love is there for that specific sport.
Almost 9 million people all over the world, play this sport. This also helps people get together with their friends and families, and play an adventurous and energetic sport. Therefore, if you want to target this part of the crowd, then Paintball WordPress Themes will surely help you to achieve that.
In order to make an instant impact, your website should be able to showcase that intense fighting mechanism and the adrenaline rush – all that paintball stands for. With these themes, you'll be able to do that, and even more.
From numerous controls and endless customizations, along with pretty great redesigns and looks that seem very much fresh in the eyes of the visitors. All this will be possible, just by using these WordPress themes.
If you're planning to add a war based theme, along with certain soldiery type look, then you have the option here. This will closely simulate the intense real-life paintball sport – which is all about that crazy dynamic and adventurous sport.
This theme will help your website give that dark and serious vibe, which all serious players of the sports want.
Apart from that, the website will be responsive on very portable devices out there. Not only just being responsive will do the trick, but the website will also have contact details so that clients could easily contact you.
They will also be able to review games and other available services and view all types of high-quality images on the website as well.
Apart from being responsive and mobile friendly, it will also be SMO or Social Media Optimized as well. It will help you to gain followers and customers from various social media websites and always keep your site, at the top of Google Search Results.
It will also help in improving the overall structure of the website too, with new fonts, and various other features, that will ultimately improve its overall experience.
The website will be fully plugin compatible, ready to be monetized and also awesome for any kind of translating content for other kinds of users out there.
There are options for black and white classy designs too if you want one. There will be a lot of options for greater and increased functionality, and ways to make sure that your website always stays ahead of the competition.
The website will be not only polished visually but also look professional and will attract the right amount of customers for you. Therefore, as can be seen, there can be so many benefits that can be experienced with Paintball WordPress Themes.