We all know that the way your outdoor or travel website looks and feels to your clients is imperative to your business success.
Therefore, we have carved out the best outdoor WordPress themes to turn your niche specific website into something effective and provocative for your digital audience.
Whether you own a startup travel or tour management agency, offer hiking and camping, rock climbing or biking services, run outdoor clothing and trekking equipment selling store or are engaged in wildlife and safari tours.
Skydiving and other adventurous sports and training business, each of these outdoor WordPress themes will work just out of the box to meet your business needs.
A well prepared and all inclusive websites do a great job in showcasing the full potential of your business, its customer centric approach and reliability.
With a clear focus on high quality functionality and eye catchy web design, your website is going to be one of the most productive marketing tools you can exercise to grab a bigger market share while helping your potential clients reach out to your services and products they are interested in.
The list of outdoor WordPress themes explored here will help you choose the best option for your interactive and adventurous website with little time and efforts required on your part.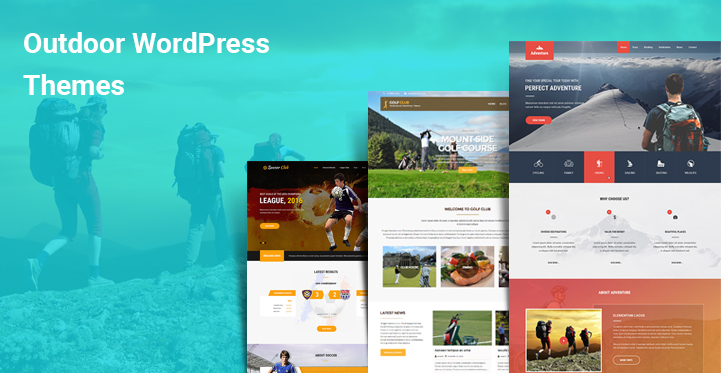 With any of these templates, you are going to find a varied assortment of essential features, tools and customizable options to quickly personalize each and every single part of your site and give your profile the best form and function it deserves.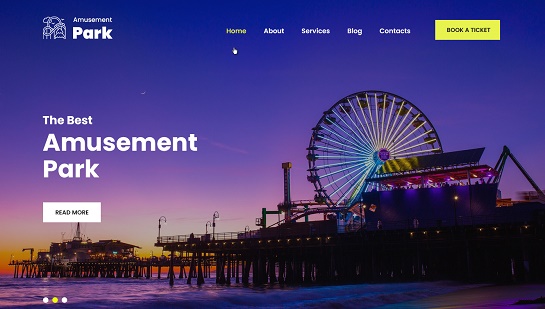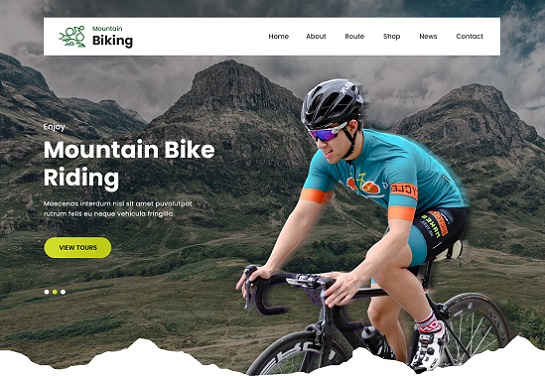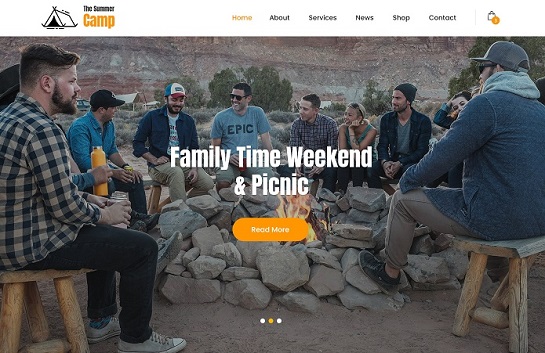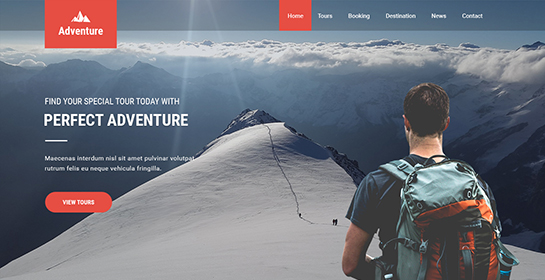 Whether you are going to share the services and details of your outdoor kids zone or golf club services, attract your potential clients with breathtaking photos of parasailing activities, Adventure is going to be a solid ground for your pro quality website establishment and development.
As one of responsive and smartly coded outdoor WordPress themes, Adventure generates custom built design to go smooth with your unique content.
You can leave the overall structure of the theme just as it is or reconstruct it as the categorization of your content and display of your services and products require.
Let your website guests get swept off their feet with HD imagery presented by the homepage default slider or in gallery area with filterable albums, with cross mobile compatible framework to meet any mobile or device requirements, as well as excellent shopping platform with e commerce compatibility.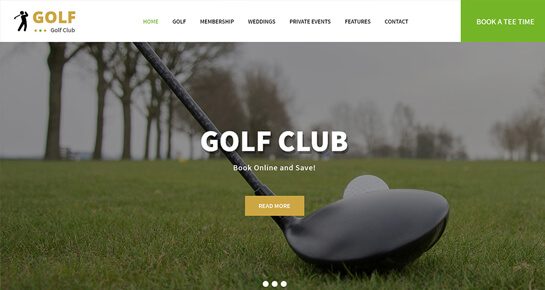 The next stimulating and visually fresh, functionally unbeatable and user optimized template suitable for a wide variety of outdoor and sports, leisure and hotel related topics is called SKT Golf Club.
Take site to the point where it will be wonderfully SEO friendly and SMO optimized with Perfect Golf Club to meet more people in your posts and pages interested in the services you provide or products, membership plans or anything you sell.
Make your website rich with colors and packed with legible typography, add the best imagery to the default slider, customize widget friendly zones and let your website be your outdoor business ambassador for the entire virtual world.
Create an intelligent and sophisticated business website stressing out all the lovely and attractive points of your outdoor business of any kind with Soccer.
With this modern looking and dynamic template you are going to have a fully mobile responsive website ready to adapt to any portable device resolution. It is one of the best features you can have for your website and be awarded by search engines for that.
As for the overall SEO, the developers of Soccer have not forgotten about this part either. Basically search engine friendly, your website based on Soccer is going to function well with all kinds of major WordPress SEO plugins for more qualified traffic.
Ready to go hand in hand with your style preferences and skill level, Car Rental is also one of the best outdoor WordPress themes you can choose to have for your outdoor equipment, outfit and rentals, car and vehicle rental or any other similar business.
Let your clients smoothly navigate through your posts and pages to find whatever they are looking for, from services and pricing tables to product listings and multilingual content, buttons and social media icons to give you a call or follow you on popular social media platforms.
With Car Rental you have also color and font choices, shortcodes and page/post layouts to control, standard pages for a more compact and informative look of your website, etc.
Whether you need a suitable framework to market your luxury yacht and cruise tours or engage enthusiastic young people to try your adrenaline generating outdoors activities, Yacht and Cruise is here to support you in your venturing undertakings.
What the best outdoor WordPress themes share are combined and balanced in this template to celebrate a unity of power in terms of functionality, charm in terms of appearance, and simplicity in terms of usage.
On the whole, Yacht and Cruise is a page builder friendly template enabling you to add any compatible page building plugin like Elementor or Live Composer.
Other useful plugins such as WPML, qTranslate X for translation purposes, Yoast and other SEO plugins, contact form and SMO plugins are all compatible with this shortcodes based and highly configurable plugin.
Gardening and landscaping, yard and outdoors, pressure washing and junk removal, home and business, entertainment and leisure, outdoor gym and fitness, amusement park and horse ranch and absolutely any kind of business website can be based on SKT Gardening.
The theme is loaded with a plethora of handy tools and controls, pre enabled features and elements to tweak your preferred design and functional touches.
WordPress Live Customizer is also added for making it easier for you to change your site and enjoy the results before those changes will be visible to your audience.
If that's not enough, you can add supplementary plugins and extensions for commercial, SEO, translation and other purposes.
Whether you operate a tour agency or running a start up that specializes in organizing adventure travel, you would still require an online presence.
You need to check out some of our outdoor WordPress themes and choose the right one so that you can get your website up and running. People are more interested in outdoor sports, adventure travels, package tours more than before.
Given the growing demand for the same, it is evident that people want something more than the usual package tour, and that they are looking for something more than the ordinary.
You can tap this niche effectively by choosing from the customized outdoor WordPress themes to set up your website. These are some of the reasons as to why it makes sense to opt for these themes
Innovative design: When it comes to travel or adventure sports, it is important that your website comes with a trendy design and one that is eye catching. These themes have all been designed specifically for this niche and as such, they are all outstanding, from the overall design to the layout.

Once you have selected the theme for your website, you can customize it, and make sure that you have more than a few high resolution images displayed right on the front page.

Since images are supposed to be more effective than textual content when it comes to making an impact, you need to get a professional photographer to shoot a few high-res images so that your customers can get a better idea of what to expect when they book a tour package.

Simple layout: The layout can be simple enough and you can use the available white space to target the user's attention to specific portions of your website and even include a call to action as well.

The latest trend in web design caters to the minimalistic look and that's why you should opt for a theme that comes with a simplified layout with a niche oriented background image.

Furthermore, you may also want to include a few videos of the various travel services you provide as that can help your customers get a better idea of what your site is all about.

Plugins: These themes all come with advanced functionality as well as the compatibility for third party plugins.

Since you are developing a professional website for your business, it makes sense to use these plugins for your website so as to provide them with better features, optimized information, and even set up a payment gateway so that your customers can book their trips well in advance.
These are some of the reasons as to why you should choose from these themes to develop your website. Customers always want something more and with the right theme on your website, you should be able to market your website a lot better.
Make sure that your content is optimized so that it ranks better. You may also want to build up a webpage for your testimonials as this can help you land more customers and even give your SERPS a boost.