A handpicked assemblage of optometrists WordPress themes for opticians, ophthalmologists, oculists and other health and medical care – related professionals.
Taking care of the eyes and vision are of primary importance for every single individual. Bad vision or other eye – related problems may lead to the reduction of the life quality, decrease in well – being and more critical problems.
Additionally, an eye is sometimes a mirror of your overall health state and an indicator of certain diseases.
Hence, an ordinary eye exam may give a clear understanding of what's going on in your body.
This is where an optometry comes into play with its seasoned professionals and specialists to analyze patient's eyes, prescribe eyeglasses or contact lenses.
And if you are an optometrist or oculist specialized in rendering eye – related services, diagnosis, examination, treatment, prescription and more, keep reading this article.
Attracting more optometry patients today is one of the principles of online marketing assigned to the modern and niche – specific website.
Otherwise stated, the optometrist website functioning around the clock can relatively reduce the stress catering to finding new patients and clients.
Well – managed and informative, it will result in increased client engagement coming from the digital arena.
We have sorted out the best optometrists WordPress themes for opticians, ophthalmologists, and other relevant medicals, shop owners selling eye – care products, eyeglasses, drugs, lenses, etc.
All of them are powered by fast loading rates, total flexibility, as well as reliable and always accessible support team standing by you.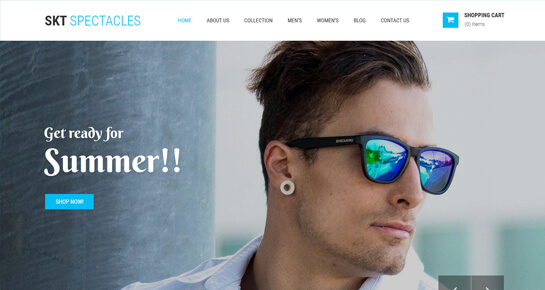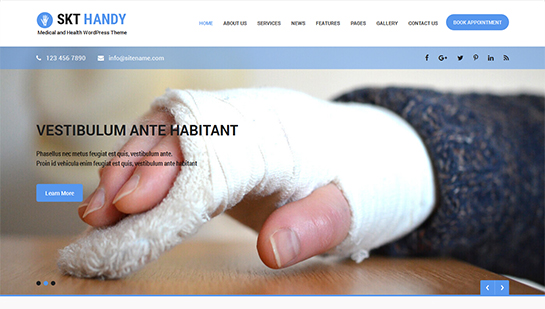 In case you want to grow your optometry practice and receive more patients, Handy can be your helping hand.
It is one of the comprehensive and complete systems among best optometrists WordPress themes ready to serve the purposes of medical world.
Establish all-inclusive and perfectly customized website with Handy and build patient trust with limited financial means.
Boost your revenues from the patients who have found your information from search engine inquiries, since this template is totally search engine – optimized.
This user and patient – centric template also includes clean and well – developed coding, testimonials section for satisfied client's feedback and reviews, social media, as well as blog integration.
The theme has also been checked for its translation – readiness when it is required to produce and host a multilingual medical content.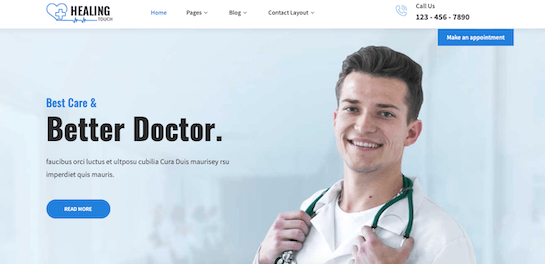 Simplicity and modest design are what make a medical – related website worth attention and trust. With this in the developer's mind, the next highly attractive yet simple and cost – effective optometry – based website building tool comes launched as Healing Touch Pro.
Build a website of any nature you can imagine when supported by this template. With simple and adaptive drag and drop interface, Healing Touch Pro will let you change the overall color combinations, as well as background.
Homepage slider is added to the default theme for you to showcase high – resolution images and photos to attract the web visitor's attention instantly.
Numerous blog and page template controls are given within the theme, as well as more than 100 shortcodes to create your content easily.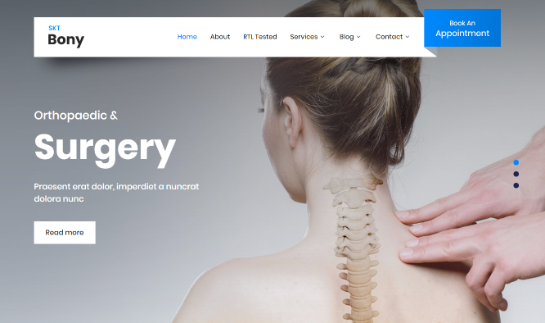 Generating compelling and informative content to encourage your patients will be quite achievable with Bony. Clear and precise, it is one of the top – ranked optometrists WordPress themes ready to offer a full range of optometric services and treatments.
By the application of this template soon you will be assured that running a profitable website and being aware of all ins and outs for better web conversion is not a task of developer or marketing specialists at all.
With Bony you are the only developer, designer and marketer of your website to make us of the pre – enabled icons and Google fonts packs, as well as manage the overall look and feel of your site.
The theme also blusters with its mobile – friendly coding, translation –readines, as well as WooCommerce and SEO plugins compatibility.
Dynamic and energetic, Medicare Pro will breathe more enthusiasm in your optometrist website.
Animated columns are available with the theme for easy content dissemination through your website. Pre – built contact form will enable your clients to communicate with you and make appointments.
You will also be capable of flaunting your own style with color changes, slider images and typography and turn patient's heads with the uniqueness of your website.
Element placement, homepage accurate sections, page and post template controls blog and FAQ sections are all well – balanced to generate an unequaled website experience at any given device.
One can also highly benefit from Kraft to sell products, services and items online.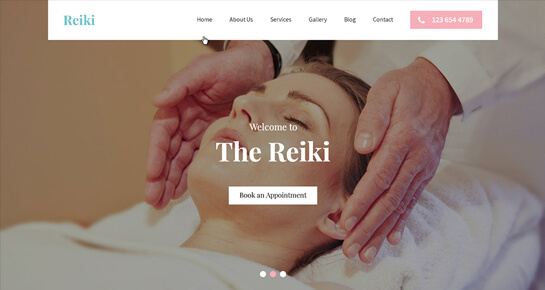 As one of the newest optometrists WordPress themes, Reiki Pro is familiar with all the contemporary techniques and visual touches required for the impeccable performance of any medical website.
Whether you are marketing your clinic, its services or announcing days of free eye exam, your website based on Reiki Pro is ready to host any kind of content and make it totally manageable and editable whenever needed.
This modern and super – fast template will save your time with its pre – designed and packed framework. However, you are authorized to create your own medical branding and experience with the help of customization controls.
Your content supported by Reiki Pro will be easily quantifiable for search engines as well.
Deliver high – quality optometrists WordPress theme based website with Condimentum to build up a perfect reputation in medical industry.
Stake your challenging position in the relevant marketplace and enjoy more deliverables and higher results. Psychology celebrates all favorable conditions in helping you achieving more with less expenditure.
Color picker is a part of the theme for you to change the default color combination of the theme and make dominant the ones you prefer.
Based on minimalistic design approach, Psychology offers a dominant white space across the layout for more streamlined operation and look.
Nice – looking nivo – slider performs its daily duty of demonstrating the best pieces of your practice. The theme is also HTML5 and CSS3 – based with 100 % responsiveness and e – commerce readiness.