A great number of one page WordPress themes are built on multi-page structure, while others have single page structure
Being one of the most popular and effective content management system proposed at present, WordPress themes are likely to be the best online tool, which many people are looking for when considering a successful website.
These one page WordPress themes are favorably used by many individuals and corporate to highlight the most fundamental and principal points of their business or any kind of activity.
With the help of single page template it is quite possible to create functionally saturated and professional-looking website of any nature, which will aslo be praised with easy and straightforward user appearance.
That means, that the visitors of the target website built on the basis of one page WordPress themes, will not be obliged to spend more time while looking through several pages and will be able to find the necessary details or information very quickly and without any difficulty.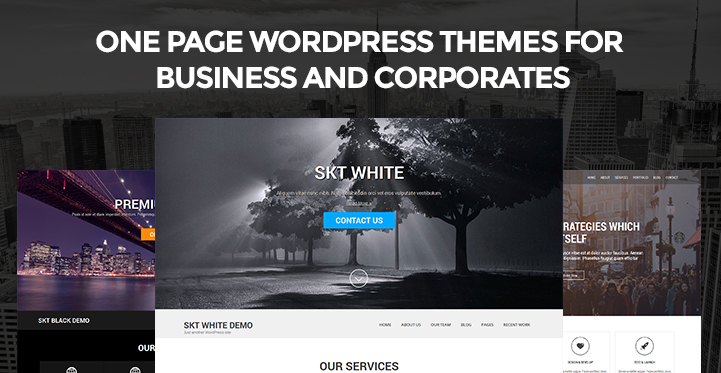 We have tried to make a right and thorough selection out of manifold one page WordPress themes basically applicable for business and corporate websites and are going to bring to light their strong points and advantages, which for sure can be a reliable foundation for crafting the target website.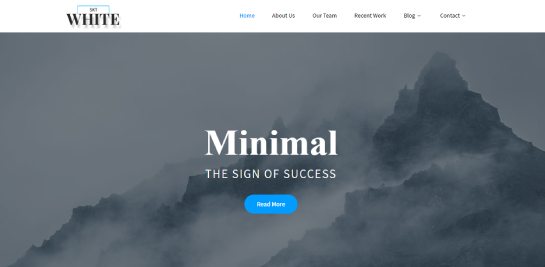 Let us start with one page WordPress theme SKT White Pro convenient for any kind of business and corporate presentation. This elegant and easily adjustable theme suggests a platform, which is presented with default content, subsequently it can undergo little changes and acquire a fresh look and required content.
Picturesque slider appears on the top with the ability to adding up to 10 slides, by means of which on can perfectly showcase the face of its business company or corporate.
SKT White Pro comes with different applicable sections, which can be easily managed and presented accordingly, diverse shortcodes, many social icons, standard pages, more page templates and is tested with popular plugins and latest version of WordPress.
Some of its feature includes:
Menu management is very easy
Slider images upto 10
Filterable gallery set up
More page templates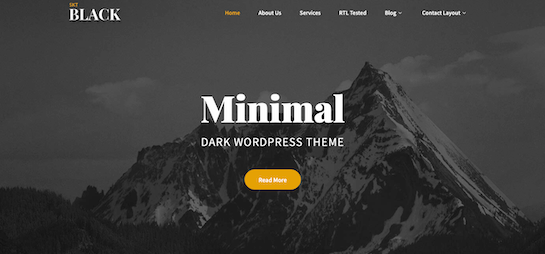 SKT Black Pro is an elegant and professional looking, as well as technically armed one page WordPress themes for business and corporates. This flexible and fully responsive theme, looking great in all devices, can be a great supporter for business presentation and promotion of any type and purposes.
This retina and HD ready theme suggests slider with the possibility of adding up to 15 slides, diverse useful sections and theme options, manifold shordcodes availability, different blog template availability, standard pages and availability of adding icons pack.
SKT Black Pro also shows compatibility with SEO standards, WooCommerce and WordPress latest version.
Some of its feature includes:
Retina ready and HD ready theme.
Default contact form with captcha available.
Default gallery and inner pages like about us available.
Ecommerce ready theme with compatibility with WooCommerce.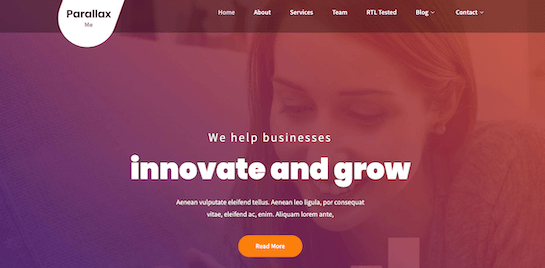 SKT Parallax me is another elegantly designed, multipurpose one page WordPress themes. This theme with parallax slider on the top can be used for covering different corporate and business topics and activities.
SKT Parralax me is also widely known for its great functionality and easy to edit and manage possibilities. Background of any section can be edited and presented accordingly; also colors can be changed with the help of color picker. Homepage comes with different sections, like our team, services, photo gallery and many more.  
SKT Parralax me is coded with HTML5 & CSS3 and functions perfectly with WordPress latest version.
Some of its feature includes:
Nicely done testimonials area
Compatible with latest version of WordPress
Coded with HTML5 & CSS3
Add as many as 20 sections on the homepage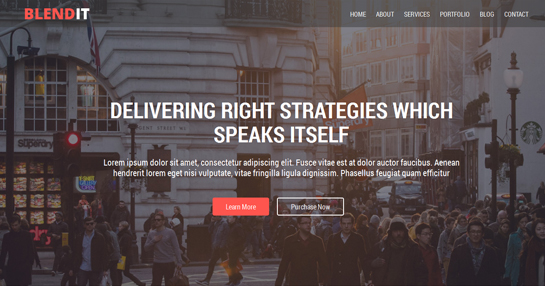 Another one page version of professional and great-looking responsive one page WordPress theme for corporates and business is Blendit. Each person can make the most of this theme and own a perfect website related to any kind of business activity.
Blendit comes with slider enabling to create visually appealing atmosphere, 600+ Google fonts and social media integration, wide range of shortcodes, 6+ page templates availability and is compatible with WooCommerce, Contact Form 7, SEO standards and latest version of WordPress.
Some of its feature includes:
Social media integration
6+ page templates available
In built gallery, team, services sections available
Clean and elegant look and feel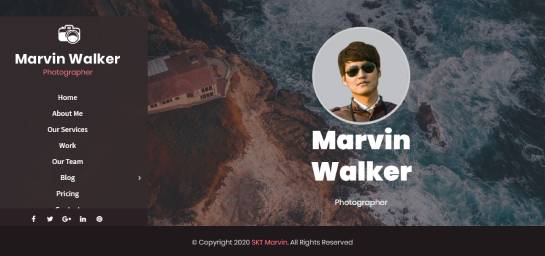 Marvin can be another appropriate choice for creating a professionally looking, yet flexible and simple WordPress theme with beautiful scrolling one page structure. This responsive one page theme can be ideal for manifestation of any kind of business or corporate website.
Works section, profile section, skills section and pricins sections can be more than enough for providng the website visitor with all the necessary information in relation to the target business, its activity, services, consulting, price range and more. Marvin provides a customizable framework with font changa and font color change possibilities.
The theme is coded with HTML5 & CSS3 and conforms to the standards of WordPress latest version.
Some of its feature includes:
Font colors can also be changed
vCard download option for easy contact info
Skills section to showcase skills
Pricing section to let people know your rates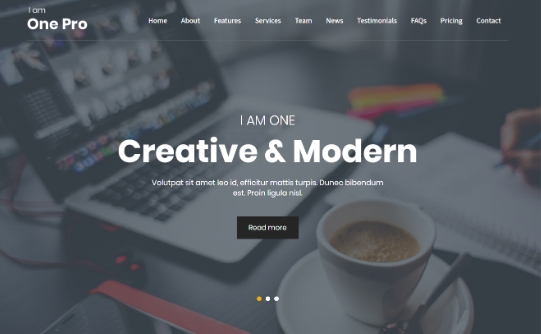 One more beautifully crafted and adjustable one page WordPress themes, which is worth of attention, is I Am One Pro. This multipurpose theme can be a perfect solution for all types of business, corporate and other websites.
I Am One Pro comprises easy to edit menu, slider with up to 10 slides, available 15 sections on the homepage and possibility of adding up to 30, 5+page templates, Google font, different shorctodes and icons integration, standard pages and is coded with HTML5 & CSS3.
Some of its feature includes:
Color changing theme.
100+ Shortcodes.
Menu manageable.
5+ page templates.
Another suitable and qualified one page WordPress theme is Beauty Cuts. This easy to use and manage theme is able to satisfy all the requirements of any business or corporate website related to hair salon, beauty salon or centres or any other kind of activity.
Beauty Cuts comes with variety of sections on the homepage, including home, about, services, gallery, etc., slider on the top for displaying the most relevant images, coding of HTML5 & CSS3 is present. This theme is also praised for its responisveness and compatibility with WordPress latest version.
Some of its feature includes:
Responsive hair salon WordPress theme
Easy team area for display the team members
Pictorial area for displaying your skills via images
Banner Slider on the top to display main slides or images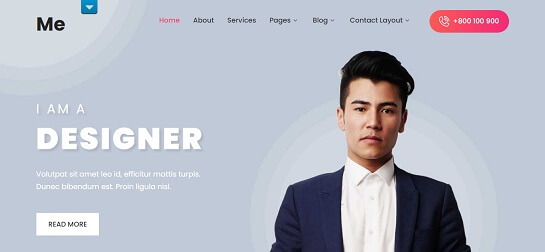 Another solid and reliable foundation, on which anyone can demonstrate his personal, as well as corporate and business website with any kind of touches, is Me with its single page structure. This professionally designed theme presents many evidences of being a trustworthy and all-inclusive tool, which can be your right hand in the creation and afterwards easy management of the appropriate website.
This responsive and fast loading theme includes different sections on the homepage, including blog section for manifesting all the relevant news and information, education section, resume section, skill bars to be filled with the information about skills and work experience and others. Me is SMO and SEO friendly and functions well with most popular plugins.
Hence falls under one page WordPress themes category because of the above stated reasons.
Some of its feature includes:
Passes Google mobile friendly test
Fast loading theme
Looks fancy due to animated sections
SMO integrated and SEO friendly coding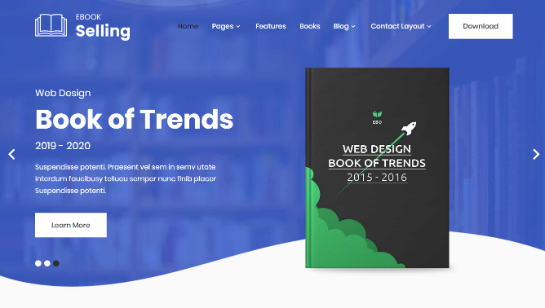 And, at last, here is SKT Launch Pro- one more popular one page WordPress theme, perfectly suitable for any corporate or business website, dealing with launching of different products, including e-books, themes, apps, and generally, products of any description.
This visually expressive and flexible theme proposes many useful sections on the homepage, applicable features and options as well, comes with diverse Google fonts and social icons integration and conforms to Google mobile and WordPress latest version standards.
Some of its feature includes:
Full color changing theme set your own colors
Author area for showcasing about the author
Integrated with 600+ google fonts
Integrated with 580+ social icons