One page design structures of the modern websites are gradually becoming more and more popular thanks a vast majority of advantages they bring to the forth to exercise fully and comprehensively for any personal or business purpose.
It displays a unifying and compactly structured web design, where all the essential parts and sections are centralized in the basic single page.
WordPress community as a long – lasting friend of every website builder and owner comes rich in diverse dynamic and functionally saturated one page and single page WordPress themes, which are general – purpose in nature, so that they can experience multiusage practice and cater to every single topic proposed.
Let's have a brief review of the most sophisticated and powerful website builder templates with single page layouts, allowing you to make a selection out of them to fascinate the audience you target the most.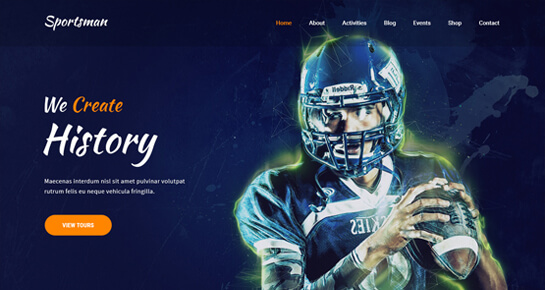 If you are looking to create a website for sports business, workshops, seminars, events then you will find that Sportsman Pro is the best template to start with. This is a one page and single page WordPress theme is integrated with the system that would help you to perform online transaction, online appointments, etc.
You have limitless opportunity to start your online sports shop. Retina ready feature, multilingual language is what you get to target international clients. Get inbuilt design pages for free and build style layouts by your own. Elementor page builder will give you access to countless customizing options.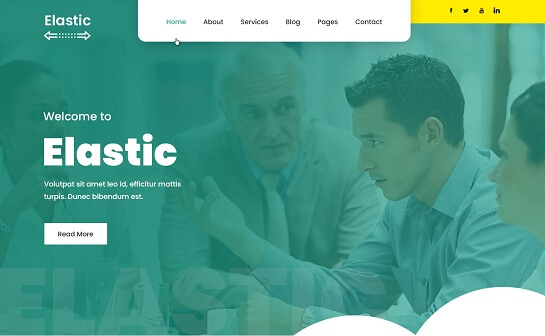 Elastic Pro is also a one page and single page WordPress theme that has some astonishing design to make you feel better and enhancing user experience.
This template is referred to be a flexible because it can be used to build any type of website you want it can be restaurant website, corporate website, consultant website, law website, doctor website or any other small and large scale business website.
This theme has so many typography and design option that will make your feel real. WooCommerce integration is the other most important feature that it supports along with multilingual functionality.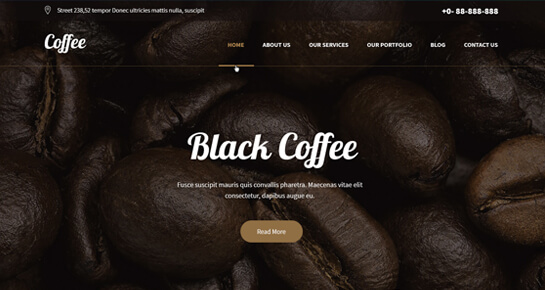 SKT Café Pro is a simple, clean and stylish WordPress theme that has some amazing features to make your visitors attracted.
With so many slider options you can create a banner that will be integrated with Google map, contact form, sliders, text or video content. With professional design structure you will be able to drive more user attention.
Thus you will have a chance to increase social engagement with social media icons integration. You can use this theme as a one page and single page WordPress theme to display single product information. You can also create separate pages for various services, portfolio, blog, and contact details.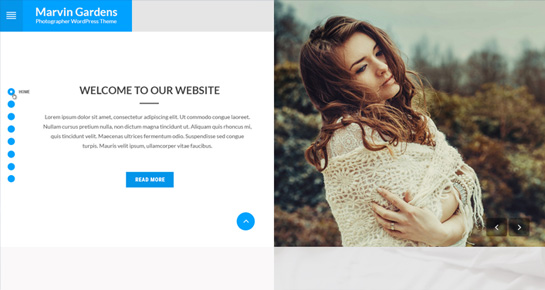 SKT Dual is truly elegant and classy, visually eye-catching and graphically polished one page website tool incorporating everything you'll ever need to craft, personalize, develop and control your online presence in the boundless digital spectrum.
This highly versatile and easy to set up template is also gallery and portfolio – optimized, well – documented and well – supported, as well as incredibly responsive and cross mobile compatible.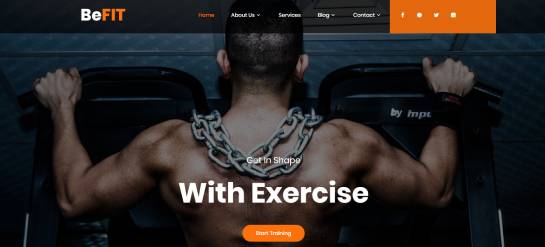 Dynamic and purposeful, intuitive and very smart, fast loading and lightweight in performance, motivational and truly inspiring in appearance, gym and fitness – friendly and customer – directed, ready responsive and practical.
BeFit Pro is one of the best platforms stylized with single or one page management design and all – inclusive structure, in which all the basic and primary elements for the website customization and full control are wrapped up.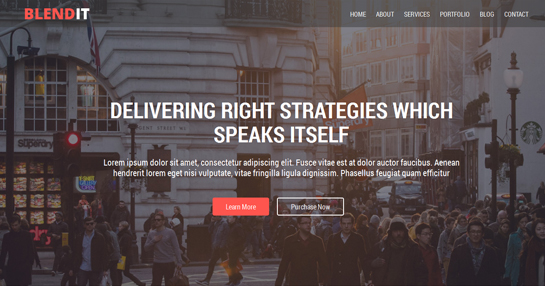 The next highly recommended and professionally power – packed one page and single page WordPress theme which incorporates whatever is associated with modernity and excellence is called Blendit.
All in all, this multipurpose and multilayout theme is so flexible and adaptive, that it can be constantly altered, modified and edited to keep the website running on it always up to date on the one hand, and provide the website user's with flawless and impeccable desktop and mobile user experience.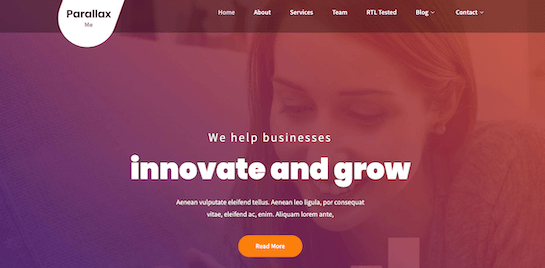 Parallax web design – based and graphically excellent, supremely engaging and presentable, delightful and elegant, SKT Parallax Me Pro based on its single web page performance will take any website visitor experience to a new and interactive level of online visualization and preciseness.
What is more important is that the above – mentioned characteristic feature is true in all cases, no matter, whether PC, mobile, tablet or any other technological device is being used to browse the target website or blog.
SKT White Pro has gained a huge community of fans and supporters thanks to its really professional creation and exceptional design approaches, in the result of which elegant and immensely dynamic, incredibly intuitive and smart one page and single page WordPress theme came into existence.
Tons of customization and control features are available with this premium – quality WordPress template to focus your website visitor's attention on the most important content shared.
SKT Black Pro, just like the previously mentioned template exemplifies the unity of gorgeous and elegantly attractive visualization and strong and dependable, highly intuitive and smooth inner performance.
With its all – inclusive and multilayout nature, this single page theme can be an ideal selection exclusively for any online undertaking to help all the website readers and followers to get around a precisely formatted and consistent layout.
Starting out with Marvin can be the best choice you will make in connection with your future online product. This very flexible and resourceful, technically strong and stable.
Clearly coded and perfectly functioning template hosting single page layout is perfectly positioned to be the website creation toolbox of choice for thousands of people all around the world without any comprehensive programming knowledge or experience.
The next single page – based and creatively stylized, thoroughly thought – out and launched, visually impressive and modern looking, technologically advanced and customization ready website building platform appears as the App Pro.
This practical product includes lots of shortcodes, page templates, widget – friendly footer area, SEO optimization controls, as well as many other useful theme elements.
Photo World Pro has long authorized itself as one of the most convenient and comprehensive single page WordPress template for all gallery, image and portfolio – based web presentations with its neatly and compactly arranged one page all – inclusive structure.
However, the opportunities of this exceptional theme are not limited to the above – mentioned niches and can be executed in any other industry as well.
The purchase of I am One Pro can be the best $48 you will spend for your business online promotion, since this superb content creation and one of the one page WordPress themes will surpass all your prerequisites and expectations, leading you to the pinnacle of success.
Besides, functional and operational opportunities are endless with this modern and creative, innovative and elegant, one page and single page WordPress theme.
Beauty Cuts is especially suited for beauty and spa industry management online, among them hair and beauty salons, make up studios, spa and massage centres, etc
To showcase all the relevant services and special offers, specialists and their works, pricelist and available hours or any other frequently search content neatly arranged in the website single page.
Resume Pro is highly dominant and dynamic, serious and professional looking single page responsive template of WordPress origin to create and run a search engine and social media – ready website to be ranked high in the relevant engines.
In addition, this awesomely stylized and generated theme has been checked for its cross mobile and device impeccable compatibility, ensuring your website flawless transformation to fit any suggested screen size.
Setting up a website is one of the first things that you need to do as a new business owner; your website is going to be the face of your business and it is the first thing that most customers will see when they come across it online.
Naturally, you need to make a good impression and all the more so, given the short attention span of most online customers.
That's why you may want to go in for single page WordPress themes as they come loaded with all the essential features, right on the landing page or the first page itself.
Sure, you could also go in for multi-tiered websites but you could get that set up later and instead focus on using platforms like WordPress to set up a robust, highly functional single page website.
The challenge though would be in choosing which single page WordPress themes to go for; for example, if you belong in the creative industries, you could go for visually appealing creative designs with outstanding parallax scrolling effects.
But in the end, it all comes down to what sort of a website do you prefer and what would in your opinion make your website stand out from the rest.
Once you have selected the right theme and layout, you can then customize it, decide the info that deserves to go right on the front page and ensure that the layout follows a logical order thereby enabling your customers to find their way around easily.
You can choose from any one of our various single page WordPress themes but you may want to demo them out first.
The first thing that you need to do is to ensure that it comes loaded with various options such as typography, comes with a parallax background image that makes the overall effect all the more stunning as well as upload logo, custom CSS and the rest of the works.
Sure, some may complain as to how a single page website does not really allow you enough room to put out all your info but keep in mind that these days, simplicity is the trend where online web designs are concerned.
Moreover, with these themes, you should be able to present all the information in a logical, structured manner which in turn should help enhance user experience. And naturally, a satisfied user is more likely to recommend your website to others.
The best part about single page WordPress themes is that they can be tweaked to suit any purpose; so whether you need a website set up for your new restaurant or for your car dealership, the single page website should serve the purpose admirably.
And from an aesthetics point of view, a single page website is less likely to be cluttered than a multi-page one and comes with advanced functionality.
So check out the various themes, demo them out and choose the right one for your website. This type of website should enable you to focus on the core of your business and present the same to your customers, which makes it all the more effective of the lot and that's exactly why you need to opt for single page WordPress themes.