Having a website is the first step towards achieving more customers. Now, you have to keep them in the loop with the help of a newsletter. With a newsletter, you can keep engaging with your customers and provide them with value.
This way, they will remember you even when they have left your website. The next time they have to make a purchase, they will think about your brand.
Newsletters work to increase the conversion rate, but there are a few websites that are built in a way that increases newsletter subscription rates.
If you are looking to increase the number of newsletter subscribers, you should use any of the following newsletter WordPress themes: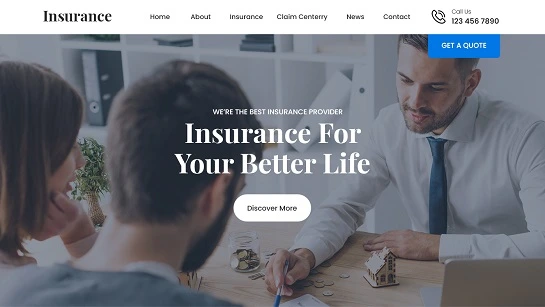 Anyone in the insurance industry can use this theme. It does not matter if you provide life or health insurance; other details can be customized later. You can describe your services, unique selling proposition, positive statistics, testimonials, location, and additional information.
The plan is to capture user attention with the help of this theme. If your users are captivated, they will subscribe to the newsletter, and the newsletter button is just at the end of the theme. This is a good fit if you are looking for newsletter WordPress themes.
Suppose you own a footwear business or provide accessories like wallets, belts, jackets, etc. Then this is the best theme for your website as it can meet all your needs.
A lot of businesses are introduced in the market regularly. Whatever your idea, there is a good chance that many people are already doing similar businesses. It is tough to outrank the existing companies that have already made their name.
Doing something unique for the customers has become essential to survive. Many businesses are started each year, but not all make it. One reason can be the lack of digital presence of a business.
Whether it is social media, website, or email marketing, business owners have realized the importance of digital marketing. That is why this theme comes with an excellent newsletter block.
This theme is for people who are interested in Taoism or spirituality. If you are thinking about starting your website associated with spirituality, you need the suitable theme to succeed. This theme has all the elements which can result in success.
It can explain what Taoism is incredibly and then provide applications of it in real life. One of the components that this theme comes with is a newsletter block.
You can spread your spirituality with the help of regular email updates. However, the newsletter block is just in the right place,, and looks exceptionally visually appealing.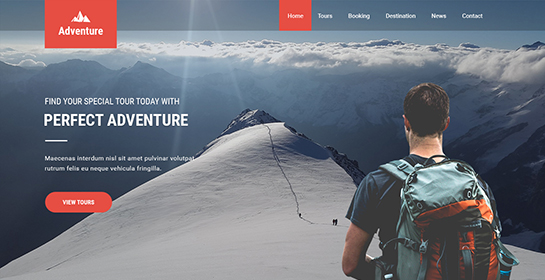 This is a great theme for tour and travel companies. It comes with a lot of space for visuauls. The visuals get the potential customers excited about travelling. They also mention the tours that they have.
You can book your adventure on the website with the help of this theme. This theme also comes with a newsletter section which can help you get regular subscribers.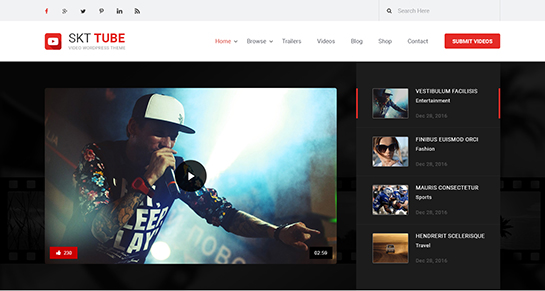 The SKT Tube theme is useful for websites that want to host different entertaining videos for its users. You can use SKT Tube if you are creating a platform for movies. This theme can also be used as a video hosting platform and it has huge potential.
You have the option to sell merchandise too. Feature your best works and artists on the section of this theme. Along everything, there is a newsletter section on the right. If you want a website with a great newsletter section, this is the right choice.
Palm Healing is a light weight, mystic, fast, and multipurpose website theme. You can use this theme for anything whether it is blogs, e-commerce shopping site, video site, etc. It is translation ready and is mobile friendly.
This theme is compatible with booking plugins. It is mostly used by massage centers, healing centers, etc. Of course, the knowledge about the body must be spread even when people are not attending you.
That's why this theme comes with a newsletter section which is attractive for the viewer. You can consider this as one of the best newsletter WordPress themes.
If you know what information you want to communicate, how you want to do it, then the only thing left to decide is which platform will you choose. While there are many traditional options where you can upload your podcasts like Spotify, Google podcasts, Apple podcasts, Audible, etc.
When you have your podcasts on your website you have full control over them. So, even if you do upload your podcasts on these platforms, it is important to have a website as a backup.
While you already do spread important information, people may need more from you. That's why this theme comes with an extremely lucrative newsletter section.
If you have a business that sells nutritional supplements and have been looking for a theme which is best for it, you have got lucky! This theme can feature all your products without any hassle. Along with that, your consumers will also know the benefit of the supplements you sell.
To stay connected with the customers, you need to add them in your email list. That's why this theme comes with an extremely attractive newsletter section. This is one of the best newsletter WordPress themes out there and it does the job.
If your business provides a vacation like experience with the help of amusement rides, you should use this theme. There many amusement parks out there, but sadly most will never get discovered because there are not available online. If you have an amusement park, you should create an affordable website.
Try to engage with the visitors with the help of blog posts. Use visuals to give visitors a good reason to visit your amusement park. If someone has enjoyed your amusement park once, they should do so again. However, people have a bad memory, it is upto you to remind them by using a newsletter.
Ele Business is the perfect, visually attractive, and lightweight theme that can be used business consultancy firms. List out the different services you provide with the help of this theme.
Describe what your business is about in the about us section. There is a whole section dedicated to the vision of your business. It's okay if you don't close the sale with a customer once.
However, you need to keep them in the loop and communicate with them frequently. One day they will choose you for your services. One such tool you can use is a newsletter. If you provide exciting insights through a newsletter, businesses may be interested in seeing what you advise if they pay you.
There are a lot of resorts around the world and in each city. So, if you want to gain customers this vacation season, you need to make sure that your resort stands out. You can do so with the help of a website.
To build a beautiful website you need the right theme. SKT Resort Pro is the right theme as it has a lot of space for pictures of your resort.
It is totally customized to be used by resort owners. Even after someone has had a good experience at your resort, you want them to visit again next year. That's why this theme comes with an amazing newsletter section.
Agri Farm is a great theme that can be used by agriculture related businesses. In this era, a lot of innovation is being done in the field of agriculture. People have come up with different business models that require less space.
The field has become more competitive that's why you should use a website. Highlight the team that actually helps you in your projects. This theme also has a great newsletter features due to which you will be able to keep interacting with your customers.
If you want to start an online magazine, this is the best theme for it. The theme is video friendly, because you may need to upload interesting videos too. You can highlight your latest posts and on the header there are the different niche of the magazine.
If you are able to get amazing traffic with the help of the magazine, you can earn a lot through advertisement. It is important to engage the visitors after they are done visiting your website, that's why this theme has a newsletter section.
With time, journalism has started to serve the interest of big companies and the government. In this time of uncertainty, where people need to know the truth. Many independent journalists have started their own operation. Of course for that you need a website and it needs to be video friendly.
If you are a courageous journalist, all you need is this courageous theme to get the truth out there. Sometimes people can forgive about you after visiting your website, this theme provides a newsletter so that you can remind them with new content.