Are you starting your musical venture online? Looking for the best music WordPress themes for your musical project? Fortunately, you have come across the right page. Here we will discuss the best music WordPress themes that are updated, user-friendly, responsive, and smart.
If you want to create an engaging platform be it music classes, music equipment or more. These WordPress themes will impress your visitors 100%. So, without further ado let us know the music WordPress themes to boost your fanbase. 
You can safely call it a musical theme, as it comes with multi-functional WordPress so you can create a seamless website that improves your themes and turn into music pages for different profiles like Bands, Artist, and other projects.
Being a musician, you will find this as an easy approach to design your website according to your knowledge. You do not need to let yourself stop. This type of WordPress theme is any what one demands because everything is a click away.
Best Music WordPress Themes 2023 for Bands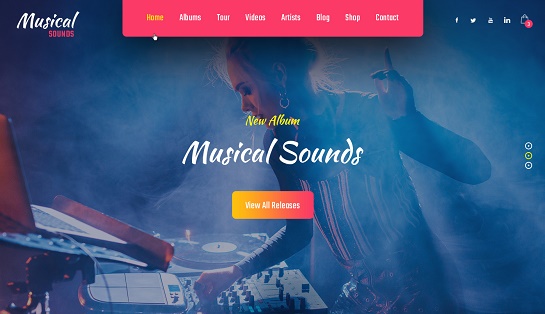 Musical Sounds is the most updated theme with css3 animations that offer complete compatibility with different browsers and devices. Also, it comes with amazing icons that can be your social media icons or others that make things easy for all.
Moreover, SEO plugins are well compatible and translation-ready that will help you reach an audience on recent platforms. This is exactly what you need it. Get it now and invite visitors to your musical website.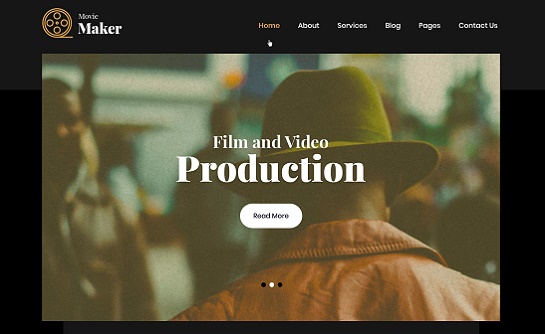 SKT MovieMaker is a clever and well-designed music WordPress theme. It is based on a colorful and beautiful music website building platform, which is very easy to set up and use by anyone. This includes a streamlined and simply easy navigation panel that helps your visitors to access your website easily. 
Despite this, it is an impressive portfolio and a blog option to support new musical content. This is a favorite among musicians and moviemakers because it can help you to use this theme for products and campaigns, wedding videography, festivals, video-related websites, and more. 
Apart from that, an elementor page builder is included that will work according to your needs. You will get powerful features like third-party plugins such as Slider Revolution, slider, and smart slider. Beyond that, it is a dedicated WordPress theme that supports every upcoming and TV series.
 
SKT Movie Maker is a WPML plugin supportive theme featured with all background effects like parallax effects, free installation, and mega menu.
This is also a Google AMP-compatible theme that betters your engagement and helps you gain more visitors in search engines. So what are you waiting for? Check its offer and create an attractive platform for your musical project.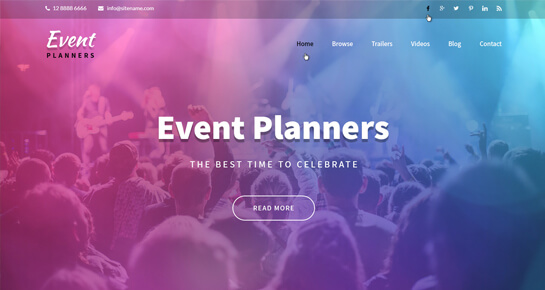 Event Planners Pro is the most trendy and modern music WordPress theme based on high creativity. With this theme, you will get multiple sliders such as slider Revolution, crelly slider, and more. This helps you create the most advanced musical site for the musical project.
It is an ideal slot for artists, musicians, and bands. You can even design multiple header and footer sections by selecting from the four layout variations. You can even add functionality that improves your website credibility among customers.
The coding of the theme is very easy and you do not need to play with it. With inbuilt shortcodes, you can upgrade easily. Besides, this event planner WordPress theme can be easily translated into different languages with the support of WPML.
However, with the latest technical languages such as css3 and HTML5, you don't stress about user engagement. This is also tested with RTL languages and comes with flexible music features that give you an impressive look. Despite all, you will work daily with your visitors.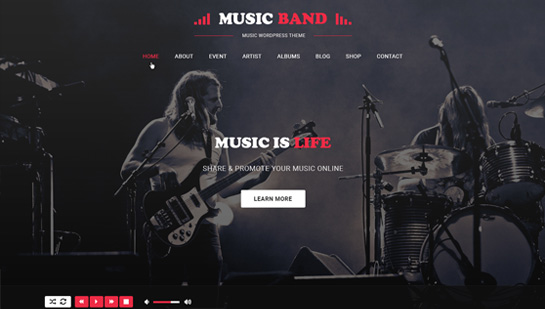 If you are a professional Music Director and want to launch your professional website then check the music producer music WordPress theme. It will take your business to the next level with an effortless approach.
You do not need any prior experience in web development as it will never ask you about coding and designing the website. Most importantly, it comes with predefined layouts so you need to stress. Do what would you like and take full advantage of its premium features.
You can also modify all the custom-made designs and tweak the elements you like. More, its many outstanding features will work well with your project.
Besides, it comes with predefined header and footer styles and shortcodes for the testimonials, call to action buttons, Instagram feeds, and more. This will go to rock your website, so check now.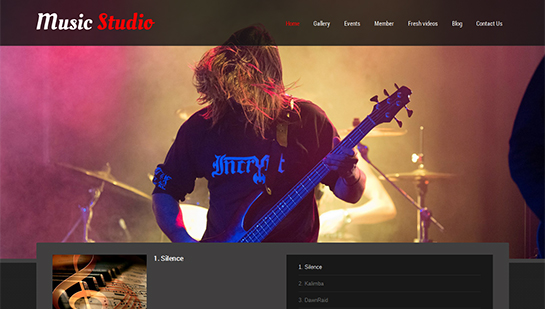 Melody is rocking music WordPress theme you can easily go with and see what happened in front of your eyes. If you are looking for any easy and most stunning musical theme then you should check this.
Melody will support all online music magazines, musical bands, and music Studios. It is integrated with a 500 + icon pack solution that is easy to follow up by your artists. Apart from that, it comes easy to set up and includes documentation.
Moreover, its countless features help you to make a creative website for yourself. The cool thing about the Melody is it can create entirely the best musical website without any need of an expert. If you want to be the best then get your hands on melody.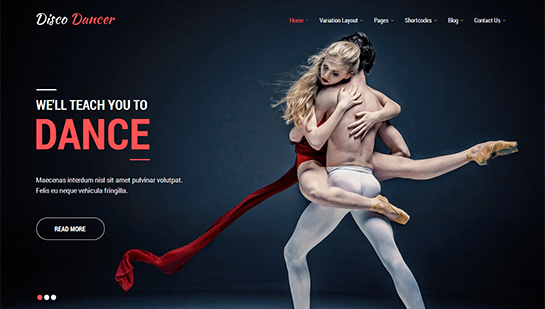 Disco Dancer is a fully responsive, 100% Google mobile friendly and tested music WordPress theme. It comes with different features and layouts. This is a community-friendly, compatible, and pricing table plugin supportive theme that easily connects with your customers 
More? It is device friendly and cross-browser-compatible WordPress theme that has been tested under several conditions. Besides, it is fully widgets friendly and includes sidebar Creations. This will be a dynamic approach to building a real-time musical theme. 
With Disco Dancer, you can easily handle your multimedia content as it is loaded with HTML5 and css3. This is a much more easy and massive dynamic.
More? It includes the readymade online shop powered by WooCommerce plugin, so you can make sales faster. This is a good option that comes with blogging options and navigation panels. Despite that, it is integrated with 6 plus simple user-friendly approach. Try it now!
The filmMaker is focused and the clean music WordPress theme you can use for multiple musical ventures as it newcomer, Book My Show, break my musical show, or more.
It comes with header sections with 4 different layouts. The theme is built on SKT page builder, which makes your homepage very responsive and friendly on all devices. 
The color change option is provided, so you can change the color according to your requirements. The theme is very easy to use as it includes an elementor page builder that gives a different approach to your site. Besides, it is used customized templates and elements that make your music website Rock On music industry.
More? You can use Google fonts and awesome social media icons to speed up a customer base. Moreover, FilmMaker is easily adaptable to construct a website. If you have any doubt the documentation is there to support your needs.
If you'd like to showcase your band performance then you should check this SKT Events music WordPress theme. It doesn't matter you are from a website development background or not. It is ready to craft a theme that attracts millions of listeners to your band. 
SKT events offer a clean design that reflects your business growth and you will grab attention on it. You can make the changes in real-time with live customizer option. Even you can match your background with the customization options.  
Besides, it has complete documentation that assists you in every case. The skills or a countdown for any event are integrated. You can enjoy the overwhelming experience when customizing the website.
Moreover, it is complete WordPress coding standards that have been maintained. Also, the theme is well-coded with WPML, translation, and Polylang which improve the multilingual functionality of the website.
Try its demo today!
SKT Night Club is a power-packed responsive music WordPress theme. It is a sophisticated platform that empowers everyone's creativity and builds a beautiful and perfect musical website in just a matter of minutes. This is great to record labels, music, etc., and other content in the music industry. 
This will work as an easy approach for everyone, especially the newbies. When you add engaging music content to your website, it will please your visitors and they will become regular customers of your website.
More than that, it comes with beautiful WooCommerce platform that helps you to Merchandise your music events and instruments you need. 
You can also activate the cutting-edge HTML5 approach that gives you a light response theme on the website. More? It is integrated with the gallery section that helps you to upload HD images on the slides.
Along with that, you do not need to work hard as the elementor page builder. Despite this, you will find an easy installation process including a live preview option, customer support, and 4 different header and footer layout options.
Home Theatre is also considered the most modern WordPress theme that allows you to create a passionate and ambitious music website. It comes with powerful characters and a modern design approach with user-friendly engagement content. 
It also includes stunning video backgrounds and an innovator parallax effect. Apart from that, web development is very easy. You do not need to work on the coding.
It is incorporated with inbuilt shortcodes with a practical approach that enables your content to meet the user requirements.
However, the process of building a website on it is simple. You only need to tweak elements to get an amazing look.
If you would like to start a musical project including videography check if the SKT videography Pro is the best music WordPress theme. It helps you to stay moving on the Internet. This has a broad collection of ready-to-use demo materials and does not need a Tech Savvy person.
On top of that, it is integrated with extraordinary features that allow you to create a fantastic website for your visitors. It includes shortcodes different header styles options and a modifiable header section. You can simply install the demo and check how it works so you can easily create your website.
A Wedding Videographer is yet another professional WordPress specialized in creating the website for the videography. This is a complete web solution because it comes on a mobile-friendly and Google-trusted approach.
Furthermore, it comes with multiple Google fonts and variables that make your website look something different from others. 
Wedding Videography includes modern Trends and is based on flat and material design, which is very comfortable for both old and modern browsers. This is multilingual compatibility with WPML so it will increase your customer base by increasing its multilingual functionality.
Besides, it is a flexible and more beneficial website that can be replaced with your current theme. It has easy to use approach and Independence sliders plug-in, even more, it supports commenting plugins just like others. However, the free installation is available so check it now.
Want to enjoy the best music WordPress theme with creativity and modern features? SKT Tube is the best framework to get started. It is perfect for a full range of musical projects as it is specialized with all musical capabilities and features. 
It is the most important theme as it would help you include team members, testimonials, and different various types of features that simply connect with the audience. More? The header and footer variations are also given. The page layout has ability to have the sidebar location.
Despite that, it comes with standard pages like 404 and other kinds of pages like searches. It also includes social media icons and WooCommerce friendly approaches. Check it and showcase your website on SKT Tube.