A splendid assemblage of the serious looking and reliable mortgage broker WordPress themes for mortgage brokers and loan specialists, lenders and loan officers, real estate and home staging agencies, investment companies and universal credit organizations, banks and any other consulting, financial and mortgaging services online.
The global networking area is maturing at a pace hard to keep with, especially for those who need to represent their business in all its diversity, convenience and benefits.
Hence, having a strong and durable framework that will meet the needs of the modern Internet user and guarantee the new influx of clients to your business is of utmost importance.
Creating and keeping fresh any kind of mortgage website will be easier and affordable with any of the mortgage broker WordPress themes we have put together in this article.
Whether you are going to share loan types and online account management system for your borrowers or provide mortgage assistance with consultations, program guidances, payment options and more through your website, you can do that with any of those templates.
With the mortgage broker WordPress themes we are going to highlight below, you will not find it difficult to style or customize the given platform to make your website totally readable and easy to examine.
They are also future scalable thanks to the strong and smart coding that meets the needs of browsers and devices, platforms and extensions of now and future days.
Starting your very first official website with a premium mortgage broker WordPress themes is a good idea. However, a Finance theme will help you to get your business recognition in the web world. This theme is very quick and easy to set up for tax advisors, loan companies, and financial bureaus.
The best thing about the Finance theme is that supports all major third-party plugins including the calculator, application form, popup, etc, so that you will have all the right functionalities to impress your visitors with the required information.
In addition to this, the template supports multiple payment gateways so that you can perform online transactions effectively.
If you are looking to beautify the pages then you can utilize the benefits of a drag and drop interface. Top page builder plugins such as Elementor, WPBakery, and others are supported.
While purchasing this template you will ensure that the template is totally SEO optimized which will help your online business to get listed on the top of Google search.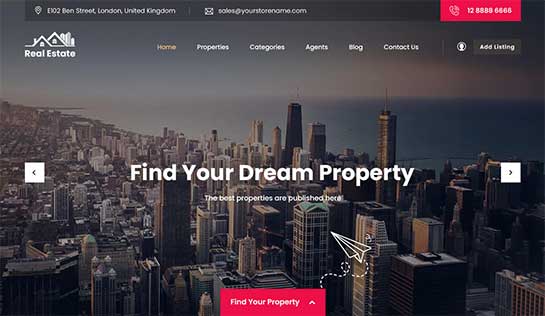 In this post, you will find so many mortgage broker WordPress themes that will allow you to utilize its features but Real Estate is different from others as it gives you endless.
Real estate is one of the themes that permits you to change the appearance and the look of your online presence at your convenience nor you need to be experienced in the technical field nor you need to hire a developer or designer.
Real Estate is just ready to start selling services and lots of products online. You can use pre-designed pages to showcase your services and other products in an effective manner. To can use premade sections and pages to showcase what you do and who are you.
While using the website on various devices and browsers created with Real Estate will look more astonishing and beautiful. You can also use social media buttons to keep your customers engage with your business information.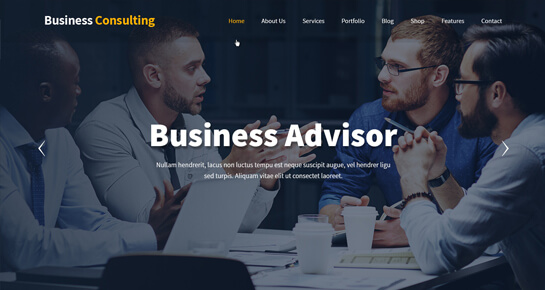 It is important that your online presence should reflect your business motto so that you can convey your thoughts to your customers easily and effectively. If you are looking for one of the best templates that helps you in every aspect of then Business consulting is for you.
This template has the actual power to drive more user attention. It is the most user-friendly, responsive, and stylish template. You can design and can add creativity as per your wish. Because of premade templates, you will be able to save your most precious time and effort.
To showcase your business benefits you can create stunning galleries. Thus you will be able to display your thoughts in the most appealing manner. Also, you will get an SEO-optimized website which will ensure that your website gets ranking on the top of the search engines.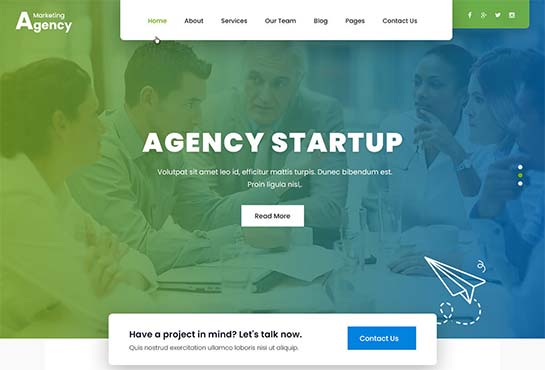 If you are looking to create a mortgage website for your business then you can use Marketing Agency. You will enjoy the appealing mortgage broker WordPress themes to match all your requirements. With the right combination of tools, you can convert your website into a marketing engine.
The theme is a great choice for broker center, real estate, office rent, real estate, house building web projects. It supports the RTL languages so that you can allow people to read your website content from left to right as well as the right to left content.
Even if you are looking to sell or rent real estate you will find Marketing Agency more helpful. Because the theme is compatible with so many powerful plugins you will be able to enhance website functionality at your convenience.
The top plugins that are supportive of the Marketing Agency theme are WPBakery, revolution slider, booked plugin, appointment plugin, WPML plugin, and much more.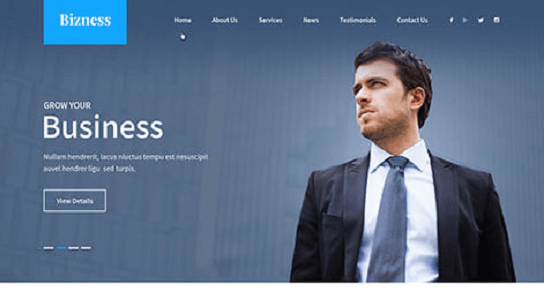 In the world of the internet, marketing plays an important role in creating an online presence that will market your services and help you to get new customers will be a smart move.
Thus the website will open up so many opportunities for you, for example, you will be permitted to add a credit card option on your website for the easy transaction process.
This template fits well for all modern online banking services, credit card companies, broker mortgage companies, real estate, and more. It comes with so many predesigned pages which will allow you to get an amazing online presence for your business easily.
Because the template supports the blog feature you can create and share amazing content on your website which will bring more customers to your business. You can utilize the features of different pages and blog layouts to ensure your pages, as well as posts, look fresh and relevant to their thoughts.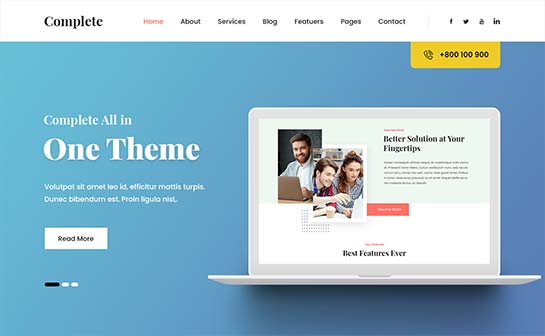 If you are in the hunt for mortgage broker WordPress themes then Complete Pro is for you. It is the most powerful and responsive template that goes well with apartment manager services, real estate websites, broker centers, or any other real estate mortgage-related services. You will get complete control over your website's appearance and functionality.
Thus the theme is bundled with Elementor page builder and supports completely with all features of WPBakery page builder, SiteOrigin, and Gutenberg plugin. You can change the layout settings to make it appear as you want.
It is also compatible with other third-party plugins such as SEO plugins, cache plugins, speed optimization plugins, page builders, and more.
It is complete from every aspect for example if you want that your customers should be able to compare two different products then they can do it because of the property compares system.
For every business, it is important to have an online presence that looks more professional. If this is the one that you are searching for then SKT Biz Pro is for you. This is a template that will respond great to all handheld devices and web browsers.
You are very close to getting more potential customers for your business. Because it is responsive, clean, and fresh therefore SKT Biz Pro is a perfect solution for every small or long-term business need.
You can utilize the features of drag and drop page builder to exhibit more information on you and your businesses in the most attractive way.
SKT Biz Pro is unique and different from other mortgage broker WordPress themes as it provide you endless design opportunities. The basic features of SKT Biz Pro are responsive layout, mobile-optimized, no technical skills required, all-in-one solution, trustworthy customer services, and much more.
SKT Corp Pro not only suits well for your mortgage broker businesses but also suits well with other corporate business purposes. It is very simple to customize as you don't need any technical knowledge to personalize its looks and functionalities. You are just a few clicks away from styling your website.
It is completely responsive which ensures that your online presence will impress your customers even when they are accessing your website on handheld devices or different OS.
The template and its demo content are ideal for corporate or banking-related business niches but also it will suit all loan officers, mortgage brokers, and websites related to home lending.
Blog sections are included in the template. It will help you to display all complete details on your business to make more customers engaged. They will be able to view more details on mortgage or your business related services or products.
The quick property search functionality can be added which will help your visitors to search for a property. Along with this filter functionality also can be added so that your visitor can get the results on the basis of data, range, etc. However you can enhance the functionality of your website with premium plugins.
If you are looking for a unique template that will help you to create a good-looking and professional website for your new projects or a business then SKT Consulting Pro is one of the best options for you.
It is one of the best templates which is basically designed for financial or insurance web projects. It can be personalized very easily to fit a tax assistance firm, Law Company, or any other corporate business.
Along with this, the template comes with in-built WooCommerce functionality which will help you to maximize your business profit with easy configurations. You don't need to spend too much money on SEO agencies because the template is already SEO optimized so you don't have to worry about its rankings.
Your mortgage broker company will easily get recognized in the world of internet because it is well optimized for speed and performance.
Going online is always a better idea as you can get more search traffic on your website easily. However you can add social media button on your website to get searched.
It is also a perfect match for business news and financial blogs. Because every business is different so it becomes important to highlight your business services and products on your website in the best possible way.
If your mission is to deliver premium quality and professional mortgage services in 24/7 format and not to miss a single client, borrower or investor, is for you.
It is one of the practical and niche specific banking and mortgage broker WordPress themes designed for mortgage and loan, legal and financial specialists in the developer's mind.
Totally polished for seamless legibility and hassle free exposure of your visual imager across a myriad of platforms and browsers, Perfect Broker is stunningly optimized for responsive and cross mobile compatible design.
Grow your financial and mortgage business with Perfect broker, showcase available apartment and premises options, offer consulting and appraisal, brokerage and loan services in the most accurate fashion.
HD and retina readiness of the theme will also add presentability to your images and photos hanging over the homepage slider or showcased in the gallery area.
Ele Business is the next truly perfect and sophisticated template designed and styled for a multitude of personal and corporate usages.
Hence you are free as in freedom to give your preference to Ele Business when it comes to establishing your mortgage broker business online.
Seize your opportunity with this cost effective template and test different layouts and color combinations, fonts and shortcodes to reach the needed look and functionality of your business profile.
There is also page builder compatibility you can highly benefit from and make your page building work much easier.
This responsive and mobile friendly template comes with total SEO and SMO optimization to make your business more noticeable for the potential clients and borrowers who are using search engines as the best recommendation for them.
There is a mountain of opportunities with SKT Banking you can easily leverage and utilize in order to guarantee your place in the digital arena.
This template is among the top notch mortgage broker WordPress themes to result in more leads and more business.
This shortcodes based and admin optimized website building solution will make your workload much lighter with an easy to use admin dashboard from the backend of the theme.
Tons of shortcodes are pre enabled with the theme for you to exercise them for posts and pages, gallery for high quality images, testimonials for client recommendations and positive reviews, etc.
SKT Banking also gears up the true power of search engine optimization enabling you to meet your prospective clients and borrowers just where they are looking for your services and professional assistance.
Flat Pro is the next seamlessly organized and flat design stylized financial and corporate WordPress template to communicate the real value of your mortgage services and consultation.
Turn your mortgage brokerage business into a stratosphere and attract the attention of more customers and borrowers.
The overall appearance of this template is kept simple and clear to harness your website with presentable outlook and appearance.
This design will also help you make your content more noticeable and easy to find throughout your posts and pages.
The theme showcases its best qualities when paired with multiple shortcodes, extensions, plugins and page builders.
Whether you need to bring commercial or translation functionality to your profile, make it more SEO and SMO optimized, add unique contact form or better gallery management system, you are powered to do it with Flat Pro.
If you want to get the most of your future mortgage loan or credit organization profile, look no further than Gravida.
This template is a true personification of all the current trends and tips dominating over the digital platform and securing its users.
With modern and eye catchy appearance, technically stable framework and clear coding, Gravida is one of the leading mortgage broker WordPress themes for you to try and produce a landslide of prospects and customers.
Manageable gallery and carousels, homepage slides, blog sections for daily news and updates, an avalanche of homepage variables and much more are given within Gravida.
Lightweight and uncluttered, Condimentum knows the true value of compact and accurate look.
Designed and crafted mainly for financial experts and accountants, CPAs and mortgage brokerage, banks and legal institutions, this template is unbeatable in precision and stability, powerful functionality when viewed on different mobiles and tablets.
Get your profile noticed by the target groups of your audience with Condimentum since this template is wonderfully search engine optimized with SEO plugin compatibility.
Other plugins and tools such as contact form, WooCommerce and gallery ones are all have been tested with Condimentum and proved to work fantastically.