Material design is a group of disciples from art, people and adaptable set of rules, guideline and components. The material WordPress theme is developed by Google to provide a consistent experience over all other platforms.
Suppose you own an art gallery, interior designs, material design palettes and as an artist if you want to build a website. Then using this Material WordPress theme will be the best of all.
It is used by almost every artist who wants to initiate their start-up through every mean available. These WordPress themes are quite flexible and offer easy functionality with all perks alongside.
Why Do People Prefer Material WordPress Themes?
Material WordPress themes are the best when it comes to minimalist and modern touch to websites. All it takes Is creatively executing the functionalities of the website.
All the above mentioned Material WordPress sites are best for beginners. They're straightforward and easy to navigate, with simple menu options. Most uncluttered people, who like organizing and art, can sign up these themes.
In case if you want to hand out your store online and sell your products, services, apps or even blog. If your preferences are mostly minimalists, then the Material WordPress themes mentioned above work the best for you.
What Are The Advantages Of Using Material WordPress Themes?
Google developed Material design when there was a hike in rising artists around the globe. The Material WordPress themes are very functional with all the plugin and shortcodes.
To create a consistent visual language for all of the products, Google developed the theme. Besides all the advantages this WordPress theme also helps to showcase works of different artists and rising talents around the world.
The user also becomes accustomed to navigating quickly between Google products. They have created the material WordPress themes as the culmination of experience and knowledge in the digital design experience.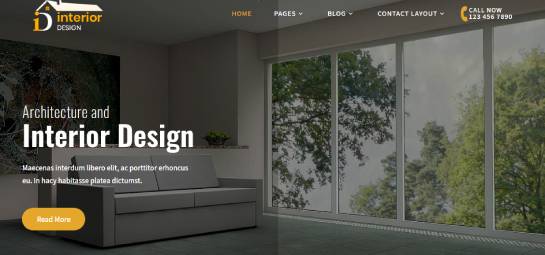 SKT Interior Pro WordPress theme attracts all the interior designers or people who are interested in interior designing to building businesses or looking for initiation of a start-up. These Material WordPress themes are very flexible and functional in term of usage and experience.
They're capable of handling more than 100 pages using post and drop facility utilizing the music. It has layouts consisting of content spaces, nice sliders for galleries and videos. It's the best affordable option for interior designers to take the first steps to showcase their works.
Its features:
Translation ready theme, multilingual compatibility to help users from all over the globe.
This materialistic WordPress theme has more than 100 icons to work with.
Cross-browser compatibility
Social media icons and widgets can be easily used and customized.
Compatible with SEO.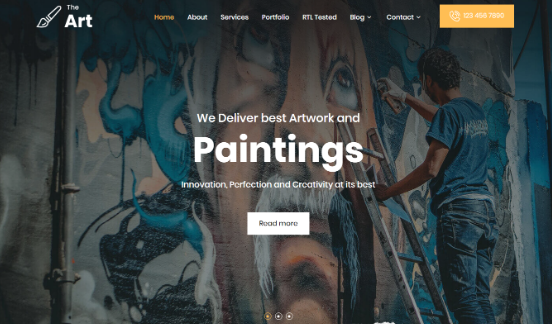 As the name depicts, artists who want to showcase their passion on a larger platform as known as websites this WordPress theme works perfectly for them. This Material WordPress theme is on the rise with the rising number of professionals.
All around a multipurpose theme, responsive with easy and intuitive admin customization. The Art WordPress theme uses all the power of WordPress to create a neat website easily. It's made simple and easy out of the box strategy.
Its features:
It's compatible with SEO
It's compatible with multi-linguistic advantages.
Can be installed within a single click, doesn't take much time to install
It comes with nine homepage layouts with Woo-commerce compatibility.
It's compatible with social media making it social friendly.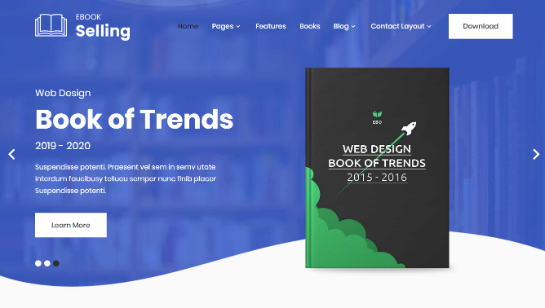 SKT Launch Pro is a multipurpose, very responsive theme used for launching websites. Understand it with rocket-launching; it can connect to other publishers around the world. This eBook WordPress theme comes with 100+ plugins and short codes to customize the site and utilize it to the utmost.
This Material WordPress theme is suitable for bloggers and eBook publishers who want to raise businesses in this sector. This theme is coded securely and nicely viewable in all devices. It has 600+ Google fonts.
Its features:
SKT launch pro is very responsive
It's compatible with SEO
It's compatible with multi-languages around the world.
EBook author WordPress theme has widget sidebars for inner pages.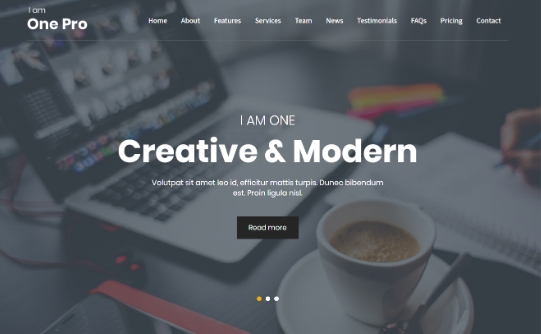 I am One Pro is a responsive website with flexible and functional capabilities. This material WordPress theme has loads of features, elements and makes the best websites on the web.
All it takes is the right execution of the tools, sidebars and even layouts. It comes with five different configurations to properly distribute the content on the site.
So it has one of the best WordPress themes in the market. One may include 15 sections and fill in services, testimonials, features, statistics, and gallery and contact us etc. I am one Pro has image sections which include galleries and videos.
Its features:
It has several short codes which help in customizing the website.
It has more than 450 icons and widgets to customize the website.
It has social media integrated theme.
Default sections are available along with a sort able gallery.
Supports Woo-commerce popular plugin and is suitable for shopping sites.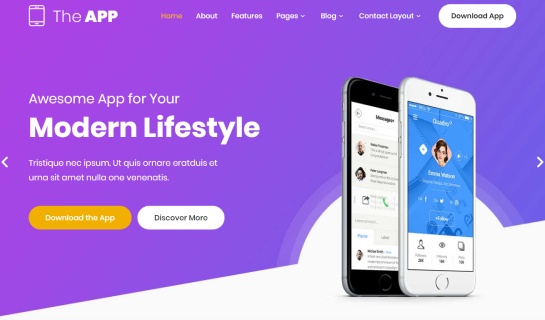 Modern handheld smart phones are increasing day by days such as iPhones and androids. As the demand for mobile applications is growing tremendously, developers are encouraged to build unique and beautiful apps. The websites for showcasing app like modification with several shortcodes and plugins for increasing brand visibility.
The world could help you get out there and let people know your products before anything else. The website can be the first step towards increasing businesses to target users out there.
Its features:
Great efficient features for developing to build a website on the app.
The strength of your website depends on your audience, how you target them.
It's compatible with multi-linguistic features.
This Material WordPress theme is consistent with SEO
Its cross-compatibility feature helps to showcase layouts on various devices and browsers.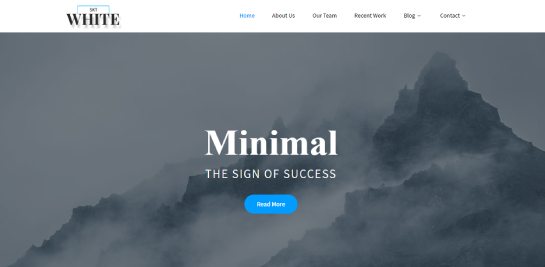 SKT White Pro is a responsive WordPress theme with easy to use one-page section and the music itself loads along with many default contents.
It comes with several layouts which are default in nature and need not be customized by changing the content. Nothing much is needed to be done with nice parallax slider on the top supersized which allows up to 10 slides.
Animations, along with other shortcodes, are very flexible and functional to use. One may also utilize multiple inner pages with the length of the homepage.
Its features:
Lots of shortcodes like pricing tables, default contact forms, teams and testimonials.
It comes with easy menu management.
Full-color changing, retina-ready, along with the integration of Google fonts.
Supports Woo-commerce which results in the shopping websites.
Naturo WordPress themes are responsive, simple, focuses on having a lot of white space and with multiple purposes. Easy to set up to 5 slider places which can be customized accordingly as per requirements. It is integrated with customizer and caters to any industry out there.
This free Material WordPress theme is very SEO friendly and Google mobile friendly and very importantly, responsive. It has been tested with Woo Commerce as well as easy to be used as an ecommerce facility.
Its features:
It's a minimalist theme that too can be used freely.
It's both SEO and SMO friendly.
It's integrated with contact form 7 and Woo-commerce both.
It's compatible with the latest version of WordPress and also the devices.
It's consistent in almost all the browsers and tools for people to access from anywhere around the world.
Design Agency pro Is multipurpose, responsive website with free plugins and shortcodes assigning specific groups for mega menu along with the horizontal and vertical mega menu.
You can create more than a hundred responsive forms of different kinds of WordPress sliders to display your content beautifully. This Material WordPress theme is fully equipped and presented with beautiful colours and fonts to choose from.
Design Agency Pro houses unique and creative designs, Fast speed and Search Engine Optimization to make your site a success. It becomes more comfortable and hassle-free when people tend to visit more from those devices to your website.
Its features:
This theme is compatible with Woo Commerce and is available as a shopping website.
It's a one-click export file, can be installed within seconds.
It's compatible with WPML, multi-linguistic.
This site houses multiple color settings.
It also has 10+ House widgets.
Spirited Pro is a multipurpose, freely responsive corporate web theme which can be used across various mobile platforms and devices.
It is a Google-friendly theme tested with Google speed test. If someone wants to make a decent website, then this theme offers bells and whistles with extra features and layout.
You can create and set up content as per your wishes and profession. These Material WordPress themes are used by bloggers and even large businesses to showcase their content.
Call to actions can be easily highlighted with different colors and buttons of other choices. It becomes more accessible for all the users to recognize as well as click on them.
Its features:
This Material WordPress theme is compatible with SEO
It's compatible with all the shortcodes and widgets.
Compatible with multilingual plugins, suitable for different languages.
Documentation of the free theme is also available with Pro.
Homepage boxes and their posts can be customized as per necessities.
SKT Parallax Me Pro is a responsive WordPress theme and is multipurpose. It carries several facilities and features with several plugins and shortcodes.
The easiest way to ad 20 sections and fill them with everything you want. This theme comes with beautifully intricate layouts where you can Present Blog section, Testimonial section, with numerous abilities.
These Material WordPress themes are most comfortable to use and beautifully crafted with responsive parallax on the top at the sidebar. Very easy to change fonts and keep them in any size as your wishes
Its features:
This theme can choose from several colors.
It also has numerous font styles, colors and types to choose from.
This theme is for multipurpose subjects.
It has a nice testimonial area to enhance websites.
This theme is compatible with the latest version of WordPress.
Shudh Pro WordPress theme is very minimal and uncluttered to showcase your services on the web. It has more than five different layouts like testimonial sections, simple slider and galleries and videos slider.
Many people like to keep their websites less scattered, uncluttered and minimal, keeping everything as simple as they can. These Material WordPress themes are very functional and flexible to operate. This is the first step towards starting your business.
The information is presented in a very organized way and manner. Hence many designers prefer Shudh Pro WordPress theme to get started on the right note.
Its features:
Complete documentation created extensively to cater to each theme topics.
It's compatible with shortcodes and several plugins to increase its flexibility.
Minimalistic design approach.
Coded and Updates with the latest version of WordPress.
Create an unlimited number of posts, pictures, blogs and share as per your wishes.
If you're involved in film or entertainment industry, this Material WordPress theme is the best suited. If you want to create a professional website to start a business looks out for Film Maker themes at Google.
These themes are best when incorporated with videos, images and animations. You can import content into the website and find the right design and quickly replace it with your client reviews, and client reviews.
Whether you want to make a website or market your film, this material WordPress theme is the best choice.
Its features:
This WordPress theme is responsive.
This material is for multipurpose reasons.
It has more than 100 plugins and shortcodes.
It compatible with Woo-commerce to successfully launch the shopping store.