A truly magical collection of the best magician WordPress themes designed for magicians and magic trick performers, jugglers and illusionists, magician and endurance artists and acrobats, sorcerers and fortune tellers, wizards and other magic makers.
Whether you are a startup magician or have already got a business ambition running through you, having a reputable and well constructed website linking you to your right audience is one of the best marketing steps you can do.
If you are really passionate about making your magician business thriving and bringing your exclusive magic tricks to the larger audience, we recommend you to review our list of the best magician WordPress themes.
These templates are more than just website tools to take your tips and tricks online. They are focused on giving the best website user experience to your guests and followers, clients and visitors.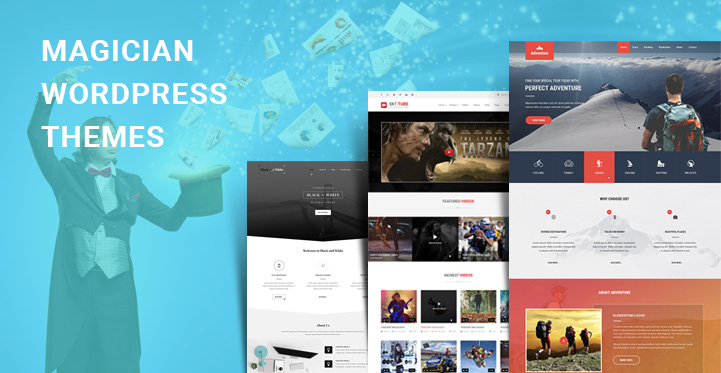 Each of the magician WordPress themes you'll discover through this article is worth your attention since all of them are feature rich yet open libraries for you to use the way you prefer.
With many layout and post options and configuration controls, with easy drag and drop technology without having to do with the core codes of the theme, you are free to compile your energetic magician profile piece by piece.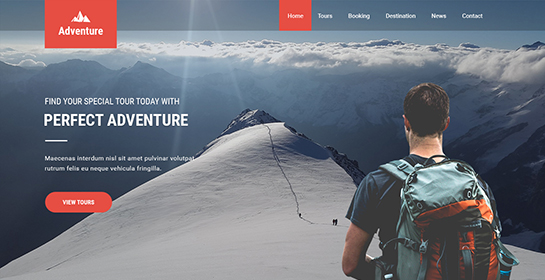 Check out Adventure as one of the amazingly crafted and visually captivating magician WordPress themes. You can easily use this top rated template for demonstrating online tricks, sharing your shows, announcing new ones, selling tickets and more.
From a simple personal magician profile revealing who you are to a complex online project, business portal or something more, Adventure is custom built to realize whatever you have in your mind.
Based on the robust coding and styling mechanisms, Adventure is fully responsive and checked across a myriad of multi resolution devices and mobiles.
The theme also comes packed with sleek navigation levels enabling your web guests to scroll your pages with ease, commercial readiness for running an online shop and selling whatever is target to your audience, etc.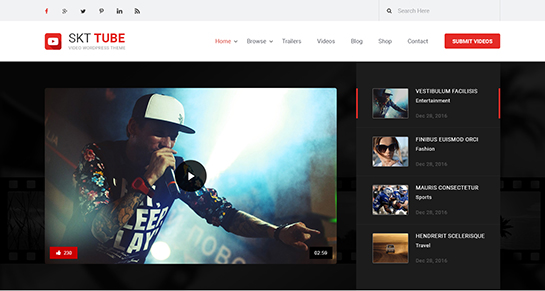 SKT Tube is a video based and extremely functional website builder you can never get enough of. From search engine enhancement to the guaranteed responsive performance to take your website to new heights, and everything in between, SKT Tube shares all the top priority qualities.
The versatility of SKT Tube makes it a winner in fitting into any type of online undertaking, from commercial and business to personal ones.
Getting started with this template will take only minutes and will provide you with a lovely admin panel that is wonderfully convenient and easy to manage. Hence, every single detail and part of your magician website can wear the outfit, color or shape you prefer or be located wherever needed.
The theme also embraces HTML5 and CSS3 controls resulting in a stunningly beautiful and accurate design, as well as responsiveness and mobile friendly operation of your site.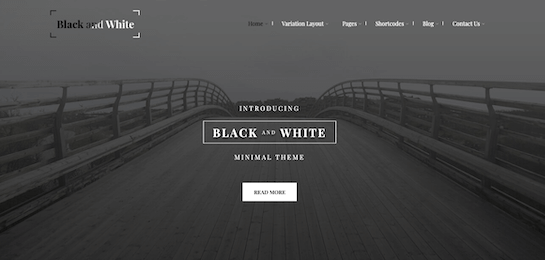 If you want to convey the mysticism and magic of your world through your website, Black and White is the best offer among magician WordPress themes you can find right now.
All in all, it's a great platform for sharing your profile, communication skills, coaching services, workshops and events, performances and shows in a neat and compact way.
Black and White is never short of all the necessary areas and parts for content publications since you are the one to add and remove the default parts as per your wish.
The SEO and SMO friendliness are added to the theme to guarantee that your services and offers are falling into the hands of the right clients and customers.
With multilingual ready nature and page builder compatibility, Black and White is also optimized for plugins and extension support.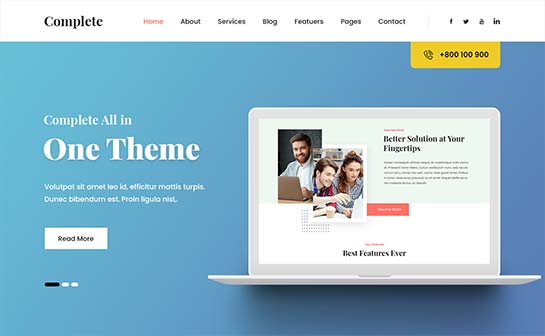 Leave your online guests touched, amused, inspired and surprised with the help of Complete Pro. This top notch website building tool is a bestseller among magician WordPress themes and not only.
This all inclusive and comprehensively well thought out template is ready to satisfy all kinds of business and personal purposes.
Powered by the most reliable coding and styling touches, Complete Pro is there to cover up the business part of your magician work while bringing more clients and partners to your website, enhance your popularity and more.
The theme is fully responsive and SEO optimized meaning you don't need to worry about client satisfaction and quick search engine results, as well as shortcodes based to speed up your working process with the pieces of ready made shortcodes.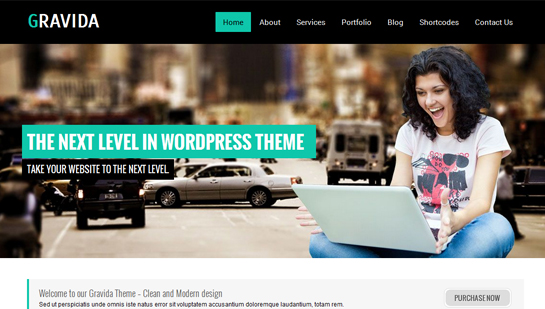 Gravida is the next modern and effective website template of WordPress origin for a magician business representatives and performers of any nature.
This visually delightful and functionally unbeatable theme offers you a solid foundation on which you can create, manage, remodel and scale your future website without sweating hard on it.
Whether you want to accentuate your virtual presence with bright textures and colors or keep the mystery with the help of darker ones, you website can wear as many different outfits as you may like.
On the whole, Gravida incorporates color controls, pre enabled Google fonts, header and footer variations, prebuilt gallery and carousels, contact form and testimonials for your clients to share their positive customer experience.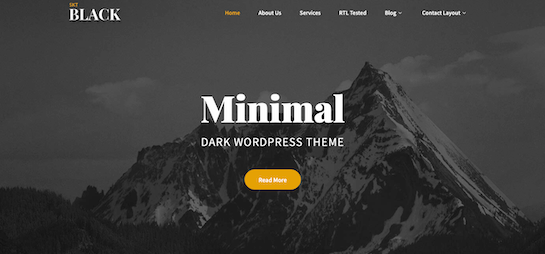 Another black powered and smart, yet easy to use website template uniting elegance and unique charm with unconquerable technological frame is called SKT Black Pro.
This enthusiastic and fully professional website building ecosystem will bring a whole new spirit and quality of your site's performance with strong coding, lovely graphics, responsive design and adaptability to any screen size.
Use the given sections to draw a full picture of your magical world, your services and offers, tricks and performances.
Give contact details and showcase the most inspiring images in the gallery section and on the homepage slider. Up to 15 images can be loaded on the homepage slider to ignite more emotions.
Everybody loves to watch mind-boggling magic tricks and illusions. And if you are a magician and magic trick performer, illusionist, juggler, acrobat, wizard or fortune teller then having a reputed and well-designed website connecting to your right audience is one of the most important marketing steps you can take.
Building a powerful and flexible website is a no-brainer these days with the use of a widely accepted piece of an online tool known as WordPress.
Developing and building any kind of business requires a lot of planning with the right amount of creativity to make it thrive in this competitive market.
But with the help of magician WordPress themes, you can perfectly put all your ideas into play to build your dream project into a real success with its availability of different customizations and extended functionalities.
These magician WordPress themes are constructed in such a manner that it has all the solutions needed for a beginner level website design, construction and maintenance process.
It requires no coding skill at all to maintain these themes yet it produces impressive results in keeping your audience engaged in a long-lasting way. Your magic related venture is all about visuals and skills.
So, if want to show your magic contents that will look visually polished and refined you may add video clips of your magic tricks right at your homepage to pull visitors in a unique way so that they become hooked to your website for more and more impressive content.
This is where magician WordPress themes stand out of their ability to boost your visual and graphic branding.
These themes also offer you to enhance the user as well as the navigational experience of your customers by customising colours, background and menus of the website as per your requirement to make it appealing to the viewers. These magician themes have inbuilt features of search engine optimization(SEO) to take your website to the top ranks in search engines like Google and Bing, this, in turn, will act as a marketing tool to increase the amount of traffic generated in your website and hence increase your customer base.
These magician WordPress themes have an interesting and powerful feature known as plugins which are mainly used to create functionalities to help your views give certain easy to use features and experiences.
Suppose, you want to show how to perform a certain magic trick then certainly you can use a plugin called PDF viewer so that your viewers can see the process of performing that trick in PDF format which supports both texts and images.
One of the most powerful plugins of these themes is the WooCommerce plugin for selling both physical or digital products from your online store. So if you want to sell tickets to your magic show or sell magic related kits for kids then you must consider this plugin.
In fact, this plugin is integrated with different payment methods to make your process smoother. It also features a bunch of other powerful and premium plugins such as the drag and drops Visual Composer, LayerSlider 5, Revolution Slider.
These magician WordPress themes are highly responsive, that means the website will perfectly adjust itself according to the screen size it is viewed on.
With tons of advanced customization options available for these themes, this turns out to be one of the most remarkable responsive theme suitable for increasing your exposure to your viewers in the most innovative way.
So, you don't need anything else to build a futuristic and remarkable website other than these magician WordPress themes which are an ultimate tool for building and managing a profitable website and hence is most preferred by others and rest looking for such type of templates.