Machine Learning and AI are amongst the most looked upon technologies for the evolution of the 21st century. If you are looking to develop a website for the same then selecting from dozens of Machine Learning WordPress themes is a tough task.
Large and small industries are handling various kinds of projects to transform a dream into reality.
All the technological giants across the world have adapted to this technology in numerous manners. Hence, to step up in the competition it is essential that you create an elegant site that connects you with potential clients.
In this read, we have included some of the best themes, that are reliable and perfect choice for your desired niche.
Plugins of all kinds and sizes are compatible to ensure that you never run out functionality. You can easily sell books, reference materials, and other necessary training gadgets by establishing an online store.
No matter whatever the circumstance your audience will always be in touch with education when you utilize this theme in your site.
Best Artificial Intelligence Machine Learning WordPress Themes
To feature your firm operating with a unique concept you must have a unique theme like SKT Full Width Pro. Just as the name suggests here you can utilize the full width available. This helps you in availing of the desired experience for your brand and potential target audience.
This can be your last piece of the puzzle in successfully unveiling your services to your clients. All the essential tools, functionalities, and features are at your service so that you can take the full advantage.
With a complete focus on the present usage trend, it is compatible with all kinds of devices and screens. Advanced design tasks and coding has been well taken care of so you need not worry about it.
You can conveniently select from the provided templates or else use the page builder to create a customized one. Skimming through your website the audience will have an out of the box experience.
You can freely add all kinds of content and modify the background and other elements according to it. All in all, here is a medium to create a difference by having full controls of the creative tweaks.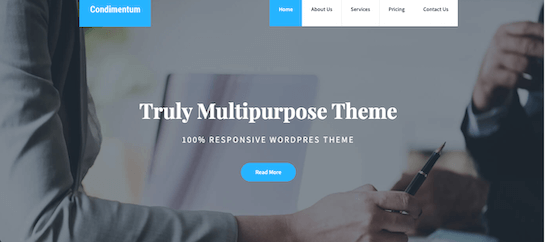 Condimentum is one of the best machine learning WordPress themes thanks to its multipurpose development. This will be an ideal match when creating a landing-page oriented site or a content-based site.
It specializes in functionality and performance so you never have to worry about lagging behind technologically. The best part is the dynamic support from the developers and comprehensive documentation to assist you with the setup.
Customizer helps in making changes immediately with zero compromises in retina-ready quality. Shortcodes and page builders help you in the customization process to ensure that you can get what you want. You do not need to be a technical pro at coding for making desired changes or any other modifications.
For providing genuine experience to your customers it is optimized with auto adjustable screen size according to device and browser. The default provided layout is soothing and can be used directly.
Moreover, it is also quick and easy to set up an eCommerce store as it is compatible with WooCommerce. Google fonts, sliders, and widgets add charm to your content.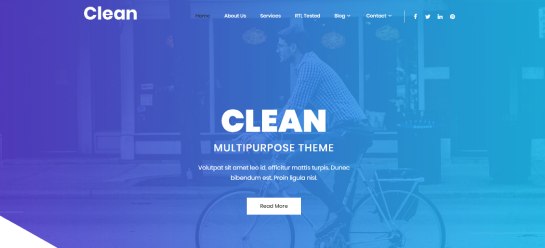 Clean Pro is an amazingly professional and clean theme and suits perfectly in the category of machine learning WordPress themes. It is crafted with innovation and is completely responsive.
This helps in making your business stand out of the rest and generate the reliability factor in the audience. The entire site is modifiable with easy to use and intuitive tools. Page builder and customizer play a major role in ensuring that without writing any code you get the desired result.
The default slider is elegant and smooth with various transition controls. Plugin compatibility for extending the features is just awesome and keeps you on the cutting edge. In addition to that WooCommerce compatibility and compatibility for all screens, devices, and browsers is an add-on.
The installation process is simple, amazing, and does not consume a lot of time. You can easily set up a blog and publish the desired content without any extra effort. To expand your database and scale massively in your target group a blog will be an effective method.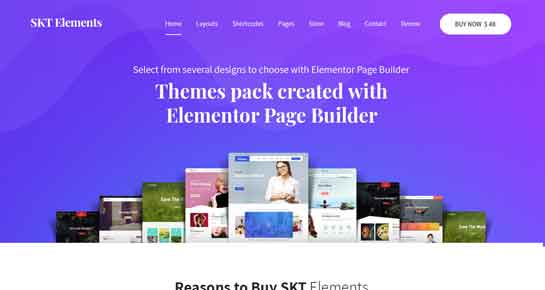 SKT Elements Pro is a powerful and fully-functional theme. There can be no better choice than this when it comes to machine learning WordPress themes.
It tested with time and has been used across industries of various niches. It comes with built-in templates suitable for dozens of industries. This confirms that you do not have to invest time in creating fresh templates.
All the existing layouts, designs, templates, graphics, and other elements are retina ready. Modification of background, colors, fonts, styles, and every other element is easily possible.
In addition to that flawless compatibility is offered for all kinds of plugins. This will help you in setting up all features and components for your audience.
You no more have to worry about setting up an online store because it offers support for WooCommerce. You can easily establish a checkout window and integrate payment systems for smooth functioning.
Default sliders and variations in header & footer add a unique charm to your arrangement. It is SEO-friendly and ensures that you do not miss out on rankings due to poor functionality or loading speed.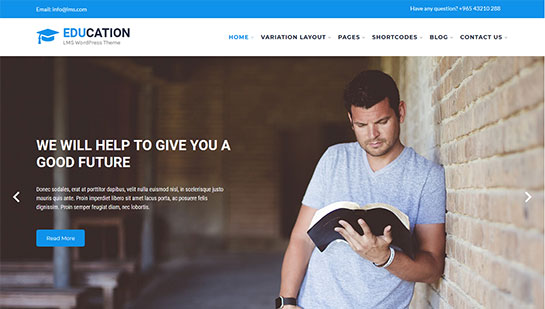 Looking for machine learning WordPress themes to club the education sector? SKT Education offers you a feasible, reliable, and powerful solution for the same. Designed to feature the core education activities across various sectors of education it is a mesmerizing blend of creativity and innovation.
You can choose to highlight and emphasize your product or service that is integrated with machine learning or AI across all sections.
Sliders will help you in making an impact on the same through the landing page itself. Customization is possible across all areas like the menu, sidebar, header, footer, graphics, etc.
The exiting template is retina ready along with other elements so that you can use it by making the required changes. In case you already have a website and looking for an upgrade then it will empower it to new limits.
Keeping in mind the international audience approach it performs exceptionally well in all kinds of devices and browsers. Apart from that WooCommerce support is offered so that at any time you can opt for launching an online store.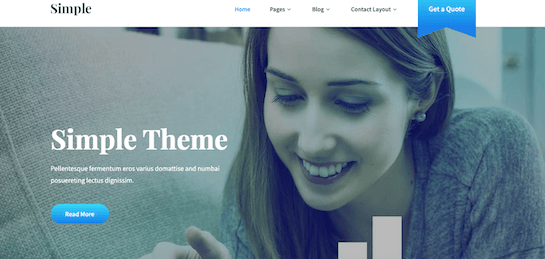 The best part about emerging technologies is that its impact speaks volumes about it. Hence, if you are also of a similar mindset regarding your product or service then Simple is the theme for you.
With minimalistic designs but retina-ready graphics that are developed professionally, you will always remain on the edge. The elements and designs are sober but professional in every aspect.
You also have complete freedom in terms of modifications and customization aspects so that all your expectations come to reality. In terms of functionalities, it is well-equipped and is compatible with all kinds of plugins.
WooCommerce integration is provided by default so that no restrictions can bind you from launching a store online.
Other impressive features include multilingual support and translation-readiness. This helps in molding the content to the kind of target audience you intend to attract.
It also adds a local touch which helps in generating the reliability factor in your audience. The significant aspect is that you have complete control over all aspects and all required functionalities can be added.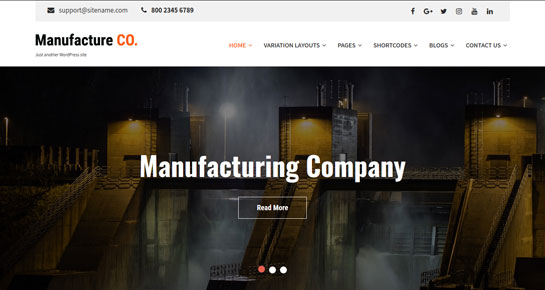 Manufacturing is a wide sector and has been influenced the most in the techno-driven age. Hence, for machine learning WordPress themes that are related to manufacturing, this is an ideal choice.
Manufacturing includes tons of services and products that touch the lives of millions of people around the globe. Keeping all such possibilities into consideration all necessary elements, functionality, and features are imbibed in it.
The bigger part is that plugin support is fantastic so that all kinds of user requirement that is not basic can be included.
In addition to that, you get WooCommerce support by default which helps in promoting and selling online products. Therefore every minute aspect that can slip out of the evaluation of a layman is included here.
The default templates are retina-ready and HD-ready so that your website is compatible with all kinds of devices and screens. Moreover, the translation-ready features and multilingual functionality adds to the elegance.
You also get comprehensive documentation that is completely reliable and assists you in each stage.
Reliability and performance are amongst the important factors to consider when selecting the machine learning WordPress themes.
In addition to both these factors, you also get the robust performance and mesmerizing digital presence with SKT Guten Pro. By considering all the requirements of modern technologies and unique design it has been formulated by experts.
Page builder helps in developing fresh high-definition templates so that full justice can be done to your requirements. Google fonts add a unique charm to the digital experience.
All plugins providing various functionalities are supported along with the mighty WooCommerce. Contact forms, comments, and social media integration can be added according to the strategic framework plan. Sliders are offered by default so that gaining audience attraction for all new projects or discounts is never hard.
It only takes a few minutes to introduce your projects and services with the right element placement. It is SEO-friendly and ensures that all technical requirements are met to boost rankings.
Your audience will have one of the most professional and easy user-interface. The navigation has also been customized and made simple for avoiding chaos.
Corporate and multinational companies often face tough times when exploring machine learning WordPress themes. This is because it is usually difficult to find a theme that is product specific and at the same time integrated with all the required functionalities.
One of the most embarrassing issues faced by companies with heavy traffic is website breakdown.
Such breakdown happens when the theme is poorly tested and not ready to withhold the expected load. SKT Corp Pro is a dedicated one particularly designed keeping in mind the overall requirements and usage of corporate.
Hence, you are assured of robust performance and powerful functionalities to feature your AI or machine learning equipped products or services.
The design is professional, elegant, and creative. This helps in ensuring that the user is never fed with the user interface. WooCommerce support is an add-on and other plugins can be added as required to boost the performance.
Lastly, navigation has been kept up to the mark with everything coded cleanly to avoid all kinds of technical mishaps.
Blogging is an essential aspect to convey advancements and connect with likeminded individuals. Hence, to boost the knowledge and promote AI and machine learning this is next on the list of machine learning WordPress themes.
It has been coded by experts after thorough research and study in the area of blogging. All the important parameters, elements, functionality, and features that are most essential for a blog are included by default.
Moreover, the overall design and layout are kept minimal so that the entire focus lays on the informative content. You can also craft a basic website out of this with all the features and required performance.
All related plugins like comments, social media integration, calendars, events, subscription forms, etc. are compatible.
You can select the default provided templates that are HD-ready and retina-ready. They are capable enough to perform exceptionally well across all browsers and screen sizes. Lastly, all the necessary focus has been given to the SEO to ensure that your page rankings remain booming.
Last in the compilation of machine learning WordPress themes is Online Coach Pro. Distance learning and online coaching have gained significant attraction in previous years.
The present and the post-COVID-19 world will have a major role in online tutors to ensure that despite the circumstances the learning never stops.
This theme is fully equipped and tested to perform fabulously with heavy features and significant load. The basic design is mesmerizing and eye-catchy to ensure that a first-time visitor does not quit soon. Moreover, all the elements including the basic pages are customizable as required by your firm.