If you are looking for the theme for landscaping, gardening, florist, agriculture and grounds keeping that offer you immediate website appearance. So, you should pick for the landscape WordPress themes that helps you to get your site up more appealing and load in a few seconds.
With a landscape theme your website will stand out from the public and you will easily get attention from the visitors because they will love the way you present your information and the portfolio that will list your key features smartly.
Well, you have many options to choose landscape WordPress themes for your landscaping project, but it is important to know about some great key features that help you to rank you higher on the Google search pages.
This is why we are here and rounded up top 11 WordPress landscape themes which are useful with custom widgets, responsive and retina ready, woocommerce compatible, wpml compatible, updated versions that can help you to improve your website the way you need.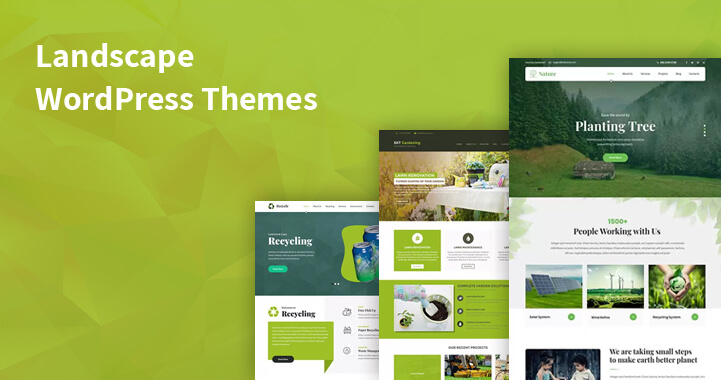 So, let us find out the best theme for your business.
Top Landscape Designer Portfolio WordPress Themes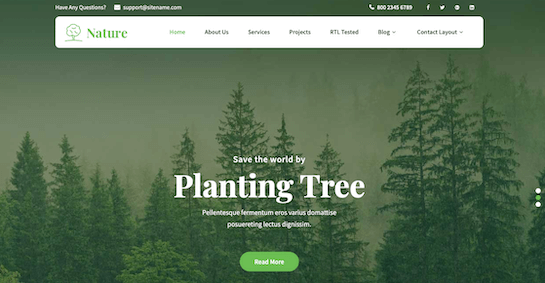 Nature One Pro is the best landscape WordPress themes which is responsive and mobile-friendly. This has been created with elementor page builder along with Google fonts that possibly change the theme options as per your needs.
The theme is compatible with SEO friendly coding and uses css3 animation along with a cool slider with 12 transitions. The theme is very simple to manage and compatible with all latest version of WordPress.
If your website is about nature, you need to think that reflect the natural colours. So, this is exactly what you want. This will bring out the natural colours that impress your visitors and give the purpose for anyone to follow your website.
This is a responsive and compatible theme with every browser and device. This also come up with the portfolio section where you can show the images, videos and other collection nice content of yours. This thing comes up with a number of features and default captcha.
Key Features:
Showcase your all services
Compatible with all browsers and devices
Simple to manage and easy to use
Cool slider with translations
It is created with elementor page builder
Comes with nature-based colours
Offer for content boxes to show your content
Portfolio section to showcase your work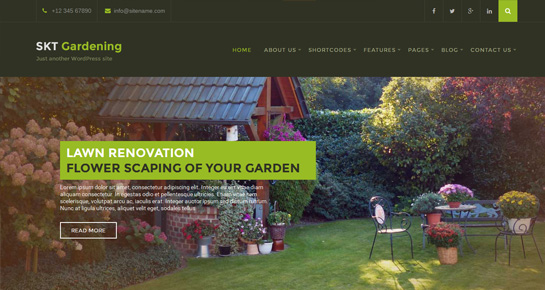 SKT Gardening is the perfect landscape WordPress themes which is highly responsible and mobile-friendly. It comes with different header and footer variations along with SEO friendly and SEO plugins compatible. It is based on 580 + font-based icons with customization options. You do not need to be particular with the design.
You have customization option to do changing in designs that support your browser compatibility. Along with that, the shortcodes provide ultimate plugin which is highly compatible. It is coded with the latest theme check standards which provide modern trends in both HTML5 and css3. This is a gardening and landscaping WordPress theme as well because it includes the number of images and GPL compliant.
Key Features:
Compatible with woocommerce
Can easily control font and icons and other content
RTL tested
Include service social media font icons
Compatible With translation and lots of plugins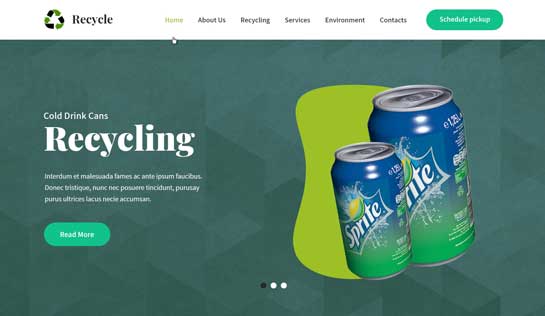 SKT Recycle is best and contingent WordPress landscape theme, but you can use to showcase your work more beautifully and grab the visitors attention. The purpose of this theme is only to improve your visitor's traffic and allowing them to get a number of features that make you the best in all.
It is a powerful elementor page builder that makes your pages look perfect and more appealing along with the screen sizes which are compatible with every device.
It has a huge collection of Google fonts and icons that comes with translate features which means you can easily get different users from different countries. It is an amazing web page template because it is highly embedded with shortcodes and you will get the number of features along with customizable option.
It is a fast and responsive web template that help you to showcase your content and images beautifully. In this, you do not need to work with coding knowledge. It is highly customizable which you can use it own. Along with that, it can provide different look by adding 4 columns.
Key features:
RTL tested and provide complete language support so that the user can read your content from different countries.
Comes with light and dark background and by default, it is green in colour.
Compatible with woocommerce version and latest WordPress version.
Supports recycle business and eco-friendly businesses.
It is compatible with widgets and optimises with Gutenberg features
It is a temple to configure and customise
Include more than 900 + Google fonts.
Ele Nature is yet another landscape WordPress themes which is created for the businesses related to nature, environment and gardening. It is a compatible theme which is supportive with the latest WordPress version and compatible with all reliable browsers and devices.
The theme is created with elementor page builder about your website to perform amazing and the Google search pages and you will rank higher. it doesn't matter what's the purpose of creating the website for your nature or for the gardening purpose. This theme can naturally improve your work experience. It is loaded with the maximum that complete your suppose and provide a long list of features.
Along with that, it is best to support Gutenberg editor and concerns a number of features which are highly mentioned in nature theme. And you will get complete customer support, so in case you have any query they will resolve for you. you will get slideshow where you can add 7 images. On the other hand, this provides portfolio features, you can use to showcase your product and your team easily.
The colour of the theme can be customised with the colour picker and you will also get a responsive design which is compatible with all browsers. The theme can be used for multiple purpose business related to nature. Along with that, it has nine years of experience to showcase the necessary options that impressed you and your users utmost.
Key features:
You will get a complete upgrade and updates regularly.
Compatible latest WordPress version, browsers and devices.
You can customise your team according to your website requirement
Shortcodes are provided
Responsive theme
Give Complete technical support
Comes with portfolio features and slideshow
Nature is a responsive WordPress theme that is compatible with all devices and browsers. It comes with different screen slider and blog area with hundred plus shortcodes.
It also comes with integrated and awesome font icons with more than 580. this is a dropdown ready theme that has default contact form shortcode and testimonials. It is coded with HTML5 and css3 that comes with team sections and portfolio section as well.
Key features:
Shows footer area with contact info
Come with blog area to add featured content that supports your customer's requirement.
Comes with about us, portfolio, and team section.
Very supportive and smart WordPress theme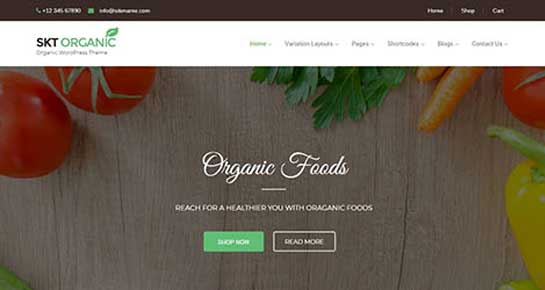 Organic landscape WordPress themes is a multipurpose theme which comes with animated homepage, simple to understand and hundred plus fancy content types. This Website theme is dedicated to different patterns to support business needs.
It is woocommerce ready compatible with different plugins as well it comes with call-to-action friendly with header and footer and sidebar. It includes special characters and Latin subsets.
Key features:
Animation disable option
Call to action buttons
Comes with integrated Google fonts
Supportive with different browsers and devices
Support Translation feature
Go fishing is the best landscape WordPress themes, a Multi design theme for targeting the fishing industry. If your website is about fishing, selling fish or other related concerns than this theme can supports both SEO and SMO. This is highly compatible with 800+ fonts, browsers, devices and latest WordPress version.
It includes a number of shortcodes that help to handle and use this theme easily. also, it is compatible with a lot of plugins especially the woocommerce. If your website is about fish or other then it can help you to engage more audience with you. It also includes the inner pages that can make the use of page builders most fancier.
Key Features:
Comes with photos, header and sidebar widget friendly.
SEO friendly theme
Comes with the gallery to showcase your work
It is easy to use and handle
It is well known as blue WordPress theme which is very professional and design for the websites who are related to diving clubs, surfing and other related activities. It is the best incompatible theme with all type of browsers and devices. More than that, it is a modern and flexible WordPress theme which can increase your user experience and you will enjoy the maximum revenue.
This theme is mobile friendly and passed with RTL. The theme comes with four different types of header and footer layout, so you can customise it accordingly. The call to action button is also supportive and consistent with SEO and SMO.
Key Features:
The theme is in blue colour
Han homepage with two sections and portfolio to showcase your work easily
Flexible and highly customisable landscape WordPress themes
It is the faster theme that supports the latest WordPress version
Solar energy Pro is the latest landscape WordPress themes can be used for the multipurpose business who related to eco-green and renewable sources. This support pages and include hundred per cent inbuilt shortcodes which are compatible with every device and browsers. It is SEO friendly theme that comes up with 100% responsive and tested with Google mobile friendly tested.
More than that it is retina ready and HD ready theme that gives the best user experience. It is also compatible with BB press that supports multiple forms on so it gives your default slider off and gives animation control. It is also simple and easy to use theme give multiple domain support and support social network icons around 2300 plus.
Key Features:
It is SMO friendly theme
It provides you with colour changing functionality.
Give your widget a friendly theme and provide you with material design
Give multiple blog layouts and customisation option too
Supports Translation plugin
It is a dynamic and multi-purpose template that comes up with green primary colours. it comes with header call to action button which is friendly. Along with that includes in a header with a number of images, slider video and other types of content format. It also includes SEO friendly and calls to action friendly buttons.
It is compatible with the latest WordPress version and plugins along with that it comes with the default blog and 404 error page. It is highly responsive in Google mobile-friendly theme which comes with customisation option too. Multilingual plugins compatible theme that include advanced shortcuts and support 2000+ social media icons.
Key features:
Compatible with Browsers and devices
Include colour picker friendly which you can customise according to your choice
It is easy to use and handle
Coded with SEO friendly coding
It is a complete colour changing theme with 100% responsive and compatible with devices and browsers. It is tested with various browsers and loaded with 580 plus font based icons. It is suitable for all type of program in which it is easy to support shortcodes.
It is a category layout choices theme which is loaded with 4 slider animation control. This is easy to use and provide you with easy work panel. It is compatible with the latest version of WordPress and coded with HTML5 and CSS3. It comes with a dedicated blog area and slides layout options that make your experience better while working.
Key Features:
Compatible with gallery and slider plugins
Compatible with woocommerce
Easy to use
Adobe portfolio section to showcase your work
Comes with captcha default and Google map