Earlier, parents used to go through a lot of trouble to get their kids fashionable clothes. They used to pass through various shops and even then, couldn't find the right fit.
However, with the evolution of e-commerce shopping, parents and kids can now check what looks best on a device while sitting at home.
If you run a kid's clothing store, you should invest in an e-commerce store. With a physical store, you have growth limitations. With an e-commerce store, you can cater to the entire world.
Even though it's easier, you are required to make investments. One of the investments that you should think about is buying the kids fashion WordPress themes.
Top kids fashion WordPress themes for your e-commerce store
When designing your website, you should decide which content management system and hosting provider you will use. Kindly choose a hosting provider that has a strong customer support team. When it comes down to selecting a Content Management System, nothing beats WordPress, as it is the most used CMS.
However, building a professional website on WordPress without making additional purchases is difficult. You can only make a very basic website with free design themes. To ensure that your website can support your e-commerce business, you need to buy the right theme.
These kids fashion WordPress themes should be your top choice.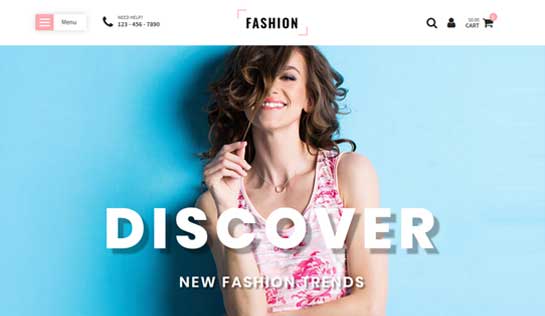 This theme is compatible with the latest version of WordPress, which means it runs extremely fast. You must convince potential customers why they should purchase from your store. With this theme, you will get the space to highlight why your store is better.
In the fashion business, people are always looking for new designs. That's why you get the space to highlight your new arrivals. Your store probably has a lot of products which are divided into different collections.
With the help of this theme, you can highlight those collections on the home page. Visitors can now access all of your products through your home page.
While this theme is for vendors who create and sell customized school uniforms, it has all the features that kids fashion WordPress themes have. When you add the WooCommerce plugin to this theme, you can create a truly powerful e-commerce store.
This theme is also supported by page builders that help you customize the demo content. You can make your website your own with the help of the drag-and-drop page builder.
The basic version of the theme looks like it is a website that sells school uniforms; you have to change that. The homepage template showcases your best products to first-time visitors.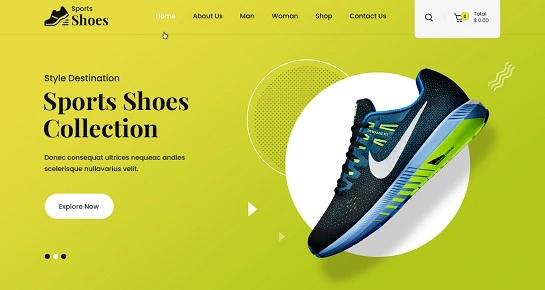 This is a very energetic theme with yellow, white, and orange colors. You can also use most of these colors to create a website that sells kid's clothing. All you have to do is replace the sports shoe images with the images of products that you sell.
With the help of this theme, you will be able to highlight your collections, products on sale, new arrivals, and bestselling products on the home page. You will also get a blog post sidebar. Keep publishing content related to your business so that people can discover your website.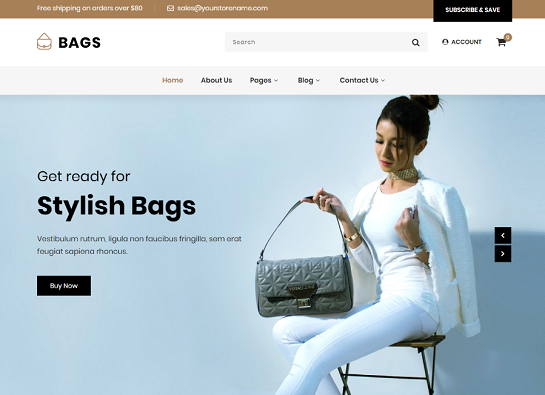 This lightweight e-commerce theme ensures that your website looks visually appealing and is easy to load. Not every user is an expert in online shopping. With the help of this theme, you can provide users with instructions on how they can shop in your store.
The instructions are highlighted on the home page. So confused users see this as soon as they land on the website. If someone is not confused, they can simply skip over this part of the page.
You can add a part of your collection and then place a view all button on the bottom. When the user clicks the view all button, they can view all your products.
You can add social icons to the footer. You must communicate with your customers through multiple social channels to stay in touch with them. That's why if someone finds your website, you should also ensure they can find you on different social media channels.
This is how most e-commerce sites find a stream of regular customers. Other than this, you can also get subscribers to your newsletter.
The newsletter plugin is also placed at the end of the homepage. People who like what they see can subscribe to hear more from you.
However, people only subscribe if they think that they can get any financial benefit by subscribing. That's why always remember to add enticing text above the newsletter plugin. You can add details regarding an offer.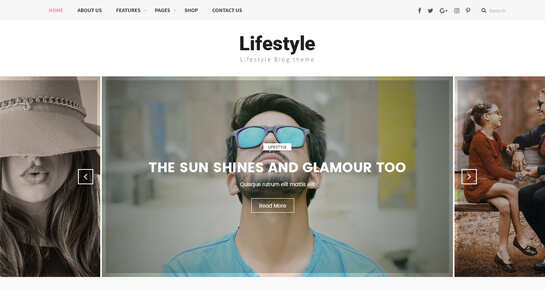 If you want to create a website for people who are crazy about fashion, then Lifestyle is the suitable theme. From fashion bloggers to online fashion stores, anyone can use this theme.
It will be a suitable theme for your online kid's clothing store. Once you have uploaded this theme, you can edit the rest with elementor.
Your e-commerce website is not just a website but a presentation. Your presentation must load fast and have the right colors, images, and text. This theme provides an appealing presentation for shoes. However, it can also be edited to match your kid's clothing store.
This theme is stylish, responsive, and mobile friendly. It comes with a timeline design with which you can explain your company's origin.
A colorful theme can easily grab the user's attention. In the footer, you can add customer testimonials as social proof. This will help you increase the sales of your products.
This is a perfect theme for cosmetics sellers, but you can also use it to set up a kids clothing store. While mostly black, white, and pink colors are used in this theme, you can always edit it to suit your brand. Other than that, it has features that your business will need.
You can highlight your products, your pricing, and your services. Anything that does not align with your business can be edited or removed.
While this theme was created for a lingerie selling business, it has all the components that any fashion-related business can use. The template is flexible, versatile, and creative. You can use it to create the perfect kids clothing store.
Modelling is a model agency-based theme. It has four types of header layouts and four types of footer layouts. The footer section is widget friendly. You will be able to place your call to action on the footer.
You can place many CTA's on the sidebar too. This theme can help you get a lot of conversions. Use elementor to convert it to your kid's clothing store.
Spectacles is a WordPress theme designed by keeping the eye care industry in mind, but it can also be used for other industries. The features of this theme are so diverse that you can use it for your kids' clothing store.
It has been tested with multiple devices, browsers, and screen resolution. The theme includes reasons to choose us, popular products, new arrivals, categories, and customer testimonials. If your store provides products from top brands, then you can highlight those brands with the 'Our Brands' section.
Choose the right option for your business!
There are a lot of kids fashion WordPress themes available in the market. To select the option best suited for your business, you need to create a prototype and list your needs.
When you read the list above, you will find out which theme has all the elements the prototype needs. Other than that, you will also be able to find out if a theme can meet the needs or not.
When you find a theme that fulfills your needs and has a decent amount of elements available, you can pick it for your business.