In this article we will be running through the list of the most dynamical and valid insurance WordPress themes for all insurance professionals.
The global computer networking system in the form of the Internet and one of the leading content management systems as WordPress have created unlimited possibilities for the insurance industry to market heavily on the digital platform and capture the interest of many potential clients from every corner of the world.
And since having a close and dependable relationship with your target audience is so paramount for all the insurance companies, running a popular and highly informative website featuring all the company's profile.
Services, rates and tariffs, cooperation policies and any other useful content seems to be one of the primary goals to set and achieve accordingly in the shortest time and with the minimum efforts spent on it.
Experts and agencies looking for the easiest and the most practical website creation and management tool to take care of their web – based profile establishment and control to communicate with their prospective clients and turn that communication into a mutually beneficial cooperation.
List of Insurance WordPress themes as are below: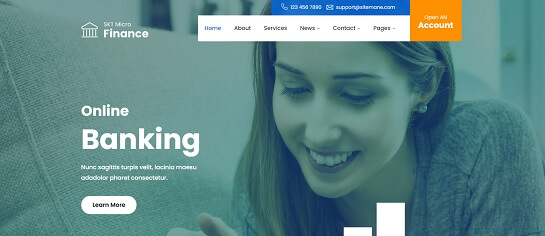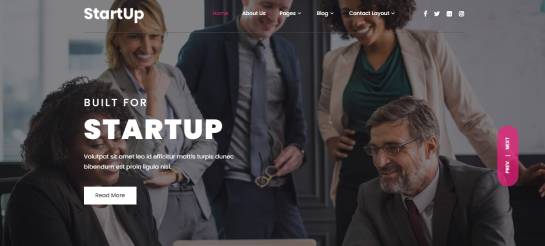 StartUp Pro is remarkably powerful and intensively worked out and one of the insurance WordPress themes for all the relevant insurance, financial and business companies, agencies and organizations to get the maximum profit from their online marketing and considerably contribute to the client's engagement into their business.
This simple and smart, visually strong and functionally stable, WooCommerce compatible and extensively responsive theme grants every single insurance agent or financial specialist to utilize the whole potential of it and make the relevant website as informative and powerful, as it is visitor- oriented and smoothly navigable.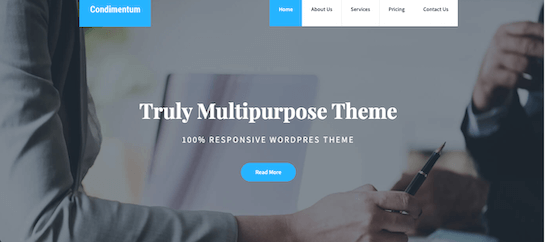 The next premium quality insurance WordPress themes for marketing any insurance and financial strategy online and greatly benefit from it is Condimentum.
This professionally graphically stylized and accurately structured, modern and creative, interactive template in its multipurpose usage comes power – packed with all the major features and controllable elements which are "must –have" parts of every contemporary and truly competitive website building tools.
Including 100% responsiveness and mobile – friendliness, lots of customization options, shortcodes inclusion, availability of adding diverse plugins for commercial and other purposes, as well as SEO – optimization for better results in search engine rankings.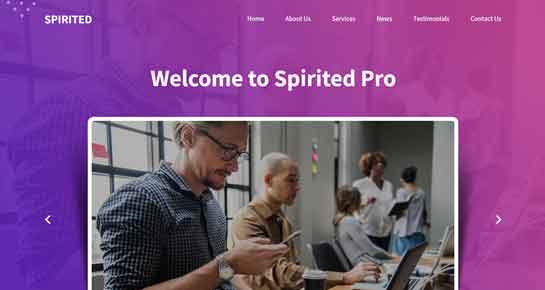 Spirited Pro is an exceptional product that will definitely work for any insurance agent and agency.
It is a well – structured and tastily stylized, powerfully developed and seriously structured, fully flexible and adaptive, amazingly comfortable and technologically advanced WordPress compatible template generating easy and lightweight performance irrespective of the content high –quality and volume.
Every part and portion of the theme has been developed to be perceived as complete and perfect, ranging from its elegant and visually expressive design, fast performance and browser compatibility to multilingual nature, responsive and business – centric design, as well as professional documentation and support coming along it.
Since this is a corporate structure can be well used as an insurance WordPress themes category.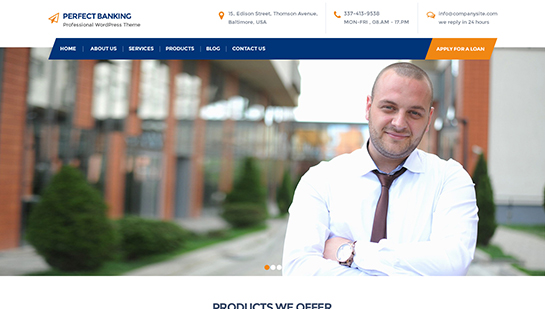 If you are looking to showcase your insurance related business on the internet then you have found exact place.
SKT Banking is an insurance wordpress theme that gives wide range option to improve the website's functionality. You can show your presence in professsional way.
It comes with the live customizer option that will allow you to adjust the website's fonts, colors, images, etc in real time.
You can check the functionality of a theme created by SKT Themes by clicking on demo option. You can change or modify the section of homepage to introduce your business services.
Gravida comes under the category of insurance WordPress theme which is built to reflect your business point of view in a well professional way. This theme gives you an option to choose the features and functionality you want.
As so many plugins are integrated by default such as social media buttons, contact form, icons etc, you can add more or can delete the existing one as per your business requirement.
The theme can be used to create a one-page website for showing new policies and insurance terms, etc. The homepage is created so beautifully that you can take advantage to highlight some important points.
Your users will be able to jump to inner pages very easily. You can integrate different slider plugin to make your header section compatible with different types of content.
If you ever get around to the idea of making a crucial decision about establishing a strong and credible presentation of your insurance agency or center.
You will for sure be satisfied with Local Business Pro right from the start and up to the complete arrangement and configuration of it to fit all your business style and profile, as well as marketing objectives leading to another level of success in the digital environment.
This practical and cleverly coded, highly resilient and truly resourceful and one of the insurance WordPress themes is capable of working out visual perfection in parallel with deep –running performance in the most beneficial manner.
Kraft has all the capacities to be counted as another ideal version for any insurance – based website to offer relevant insurance services, insurance policy and detail all the available conditions and circumstances under which the target client will be compensated.
In this case any such agency or company will be able to attract clients from far distance, by letting them be aware of all the nuances and details with few simple clicks and without spending hours to reach some certain location to clarify the issues he is interested in.
Moreover, they will be able to enjoy the website while on the move, since the mobile version of the website will look and feel as impeccable as the desktop version is. This one for sure fits into the Insurance WordPress themes category.
Legal Expert has been minutely projected and sophisticatedly produced to satisfy all the business standards and plans prioritized by any insurance provider or agent.
This simple yet powerful, all – inclusive, yet resourceful, businesslike and business – centric WordPress product features ready to use and accurately arranged theme sections and areas to display all the required insurance content.
Including its categories, types, methods, description of insurance policy contracts and other agreements or any other useful information, default homepage slider to browse the most attractive offers and discounts.
Standard pages inclusion, SEO strategy inclusion, as well as responsiveness and perfect functionality with a set of modern plugins.
By the application of SKT Corp Pro you can be sure that your website will transparently depict all the advantages and privileges your insurance business may deliver to your clients as compared with other competitive financial undertakings around.
This visually polished and pliable, safe and sound, deeply reliable and user – oriented template will exercise all the available online strategies to embrace new working reality which reaches beyond the local market.
The modern standards of easy customization, responsiveness and mobile friendliness, SEO and SMO are all brought about as well. Corporate and insurance business go hand in hand and hence this one too fits the insurance WordPress themes bill.
The last product supported by WordPress community and preferred by hundreds of its users worldwide, particularly suited for any insurance agency or company manifestation online is SKT Pathway Pro.
Whether you want to represent a startup company, medium sized insurance based initiative or professional business center with an experience of many years in the insurance industry.
This one of the insurance WordPress themes is flexible and smart enough to cover any proposed content and render all the useful information in relation to any structure of the insurance spectrum in the most informative way.
If you are an insurance agent, then you need to know that there are more effective ways for you to sell your insurance rather than traipsing to all the houses in and around your location to flog your insurance products.
No one's asking you to run an advert on the television but what you can instead do is to check out our insurance WordPress themes and choose the right one for your website.
With more customers becoming digital savvy, it is no wonder that almost every business has an online presence. So there's no reason as to why you should not do the same, especially given that with these insurance WordPress themes and high grade content on your website.
You should be able to reach out to more viable leads than you would have otherwise. To put it in perspective, let's say you do the hard labor and try marketing your insurance product in and around your neighborhood.
You should be able to cover 10 to 30 houses in a single day and that's if you are a fast talker. And your success rate would be in the low figures as well; whereas if you opted to market your insurance plans online.
You can reach out to thousands of prospective customers in a single day and your success rate would be much higher. If that has not convinced you yet, you may want to check out some of the reasons posted below.
Layout: You can use a simplified layout with drop down menu for your various insurance products. These themes all come with the same as they have been specifically custom-built for this particular niche; moreover, they are completely customizable so you can customize your chosen theme and template as you see fit.

You can opt for fresh colors or even edit/modify the footer, header and even most of the page elements on your website.

Visual elements: You need your website to feature a rich layout and come loaded with visual elements that makes it attractive for a prospective lead.

All the themes that we have collated for this niche come loaded with rich, visual elements that are customizable as well. This should help make your front page eye catching and even help you net better traffic in the process.

Content: When it comes to insurance products, customers can be quite picky. That's why it is important for you to feature all the information regarding your product and even host a FAQ page so that your leads can better understand what your products are about and check the FAQ page for clarifications.
These are some of the reasons as to why you should select these themes for developing your website. Each theme has been designed with the automotive sector in mind and they all come loaded with rich visual information, are 100% responsive and completely compatible with third party plugins.
Moreover, with these themes and respective plugins, you should be able to provide better functionality for your customers and even rank better on SERPS on account of the same.