Handcrafted material selling WordPress themes are assembled here for handmade and handcrafted material business owners, creative individuals with unique production, offers and services, homemade initiatives and other relevant businesses.
Handcrafts business is an optimal solution for fulfilling both financial and mental needs.
Making and sale of handmade products or handcrafts help thousands of people across the globe to make money by doing what they like – today, tomorrow and in a year or ten years.
It gives them boundless creative freedom and the possibility of self realization.
Hence, these kinds of practices are highly beneficial in dozens of aspects and for any type of economy.
What is more positive about this kind of business is that the required investments can be limited to self discipline, talents, patience and your desire to achieve entrepreneurial heights.
As far as the financial investment is concerned for marketing your business and attracting new clients, you will need to create a convenient and compelling website.
Here are some of the best handcrafted material selling WordPress themes we have brought together in this article for all those individuals and group workers, agencies and centers who are specialized in making something unique and attractive, natural or healthy, extraordinary or appetizing.
The possible range of product may include handmade accessories, jewelry, decorations, cosmetic products and means, health care production, bags and belts, cloths or whatever it is.
Regardless of your working direction, each of the handcrafted material selling WordPress themes we recommend you to choose will perfectly suit any kind of handcrafts website to advertise and sell them to potential clients.
All of those handcrafted material selling WordPress themes are exclusively well constructed and designed to outstandingly feature your own world of singularity and originality. They are also powered by feasible framework to make your online profile or online store as lucrative as it can be.
The online market has become extremely competitive in recent years. Handicrafts and handcrafted items that are in popular demand are featured through various handcrafted material selling WordPress themes.
But are such distinct themes necessary to create a dynamic website? Creating a dynamic website can be done from various themes but niche-specific SEO optimized themes are required to survive the competition.
Hence, such themes are necessary that offers you an added advantage so that your best products receive the limelight that it deserves. In this read, after rigorous research and study, we have compiled some of the best options.
Best Handcrafted Material Selling WordPress Themes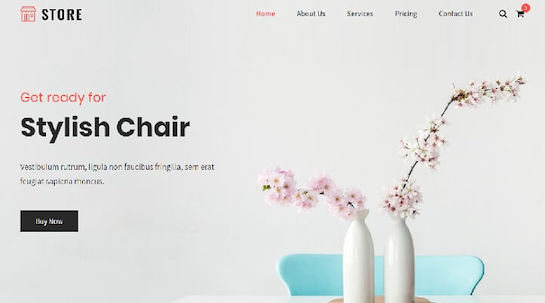 Ele Store is one of its kind exclusively crafted themes that can stand up to the vivid demands of the industry. Here you have the freedom to invest your time in the content as all the elements are by default categorized smartly.
Moreover, the landing page and the prebuilt template are HD-ready, retina-ready, and completely customizable. With just little tweaking you can easily manage to create a brand-specific e-commerce website.
WooCommerce compatibility has been tested so that there are no issues in selling online materials to clients across the world. Creating a strong company profile along with the same to represent your journey can contribute to improvised audience engagement.
Therefore, it can be said that this is a ready-to-go web solution that is completely responsive across all platforms. Standard pages are offered in the inbuilt structure and the rest of the sections are compatible enough to store all types of content.
All extensions and plugins work perfectly well with it so that adding features is quick and easy. Page builder and customizer enable you to make all kinds of personalization as per the preference of your audience.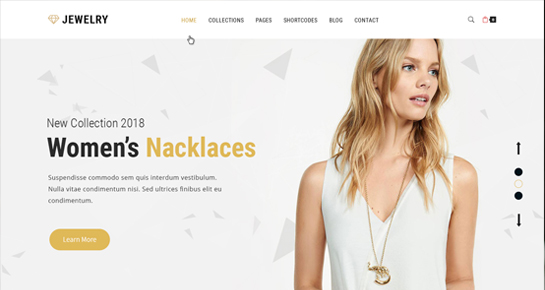 Jewellery is an exclusive one of its kind option in this compilation of handcrafted material selling WordPress themes. It is a multipurpose theme that has a bold and bright outlook which is perfect for setting up an online store.
Premium and antique handcrafted items for home, office, and corporate décor can be projected here in the best light. Moreover, no extra efforts are required for creating that aura and setup as it is offered by default.
The best part is that everything and all sections are completely customizable with no restrictions or limitations. Hence, creating and maintaining your credibility and trust in the online space is not difficult anymore.
Page builder helps you in modifying and creating fresh HD-ready templates as per your needs. It has been coded and optimized for faster loading speed and supreme performance in search engines.
Therefore, the global ranking of your site will be highly influential. Google Fonts are integrated by default and you can easily add Google Maps for accuracy in location for the users.
There are multiple features provided and also comprehensive documentation that enables you to resolve almost all issues. Additionally, one-year full support is offered by the developers so that you do not remain stuck anywhere.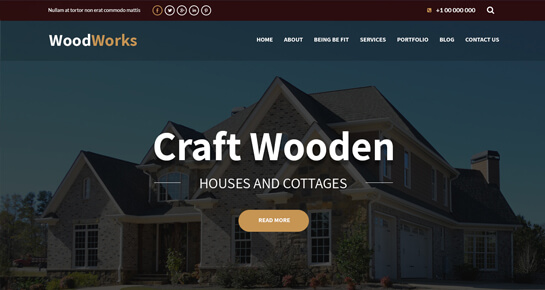 WoodWorks is a prominent multipurpose theme in this collection of handcrafted material selling WordPress themes. One of the key factors that online store owners look for is flexibility in themes and setup.
WoodWorks has an abundance of it and much more to offer to you. The basic design is built with a combination of bright colors and solid white color in the background.
This helps in easily creating focus, and highlight a particular section or offer. A default slider is provided that can include all the exclusive offers, promotion materials, and recognitions.
Customer testimonial and reviews which is again a key factor in this industry can be added with the right resources and space.
You will have full access to all kinds of modification tools for the personalization of any segment that you desire. Not only in terms of layout but this tweaking will also apply to colors, fonts, styles, and other similar elements.
Hence, creating a complete package with a dynamically functioning online store will be only a few minutes away. The installation is far away from being complex and you also get extensive documentation in case you get stuck.
No matter where and how you travel the best place in the world is always the Home. Hence, everyone chooses to invest in their houses with the most fascinating and soothing things.
This creates a window for handcrafted material selling WordPress themes to create magic. Vendors and artists can easily create a responsive, flexible, premium, and elegant online space with Home Décor.
You can swiftly add details about your art, artists, its history, and things related to your firm in the profile. Dedicated and exclusive pages for different products can also be quickly managed.
If you want to run a blog parallel to your online store on the same site then it is also possible.
Any of the above setups do not demand anything special or technical background. It can be done by anyone irrespective of their background and with a minimum computer experience.
Also, customizer and page builder will assist you in each step with different tools so that the modification and personalization journey becomes swift.
RTL support and sublingual compatibility will help you emerge a step higher from the barriers of language and reach a wider audience base.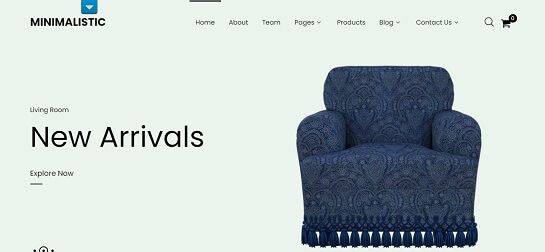 SKT Minimal Pro is a fabulous and completely responsive option in this collection of best-handcrafted material selling WordPress themes. Handmade showpieces and other exclusively crafted objects are in great demand across the world.
This theme will be a perfect and ideal choice to represent all such delicate and one of its kind products to the world. The ideal setup and templates enable you to quickly make changes and add the related content.
Adding logos, your personalized brand identity, and USPs in the profile section will enhance the trust of the customer. With an elegant color setup and copyright-free high-definition images, the first impression of your site will be magnificent.
Changes no matter how major or minor in templates, layouts, structure, colors, fonts, headers, etc. can be managed. Additionally, in case there are any particular features that you require then they can be added from third-party plugins.
Prebuilt shortcodes in hundreds of numbers are offered so that without any difficulty features can be added quickly.
With full compatibility from WooCommerce, an online store can be established without facing any trouble or complications. Managing multiple pages for different products and adding descriptions in the same is also convenient.
In managing, publishing, and creating online stores one of the most essential aspects is the user interface. If the user interface, navigation, and the overall design fail then irrespective of the quality of your products the website will fail.
In this theme, it will never be the case which makes it a prominent option in handcrafted material selling WordPress themes. The installation process is simple and can be executed with just one-click.
The default templates are HD-ready and can be customized to meet the requirements of the end-users.
In case you have a design in mind then a fresh template can also be formed without writing code from the page builder. Changes from the backend can be executed from the customizer and tracked in real-time for better accuracy.
One year of support is offered in case you face any difficulties during any phase of your website. Inner pages and certain standard pages are offered by default along with hundreds of shortcodes that can add multiple features.
In terms of SEO of the site zero compromise has been made and all coding standards are followed which makes it best.
Fashion is always evolving and the best example of the same is the ever-growing demand for handcrafted clothes. Hence, in these inevitable scenarios of getting one's business online, Ele Fashion can be a perfect choice.
It is a dominant, attractive, and impactful option in the compilation of handcrafted material selling WordPress themes.
It will ensure that each operation starting from installation, designs, layout, adding content, online store, and overall personalization can be conveniently managed.
No prior technical background or a core experience in coding is mandatory for being able to use this theme. Page builder will be a strong pillar in your support for making all the required changes in the default templates.
It offers inbuilt integration of Google Fonts that ensures that the typography across the entire site can be amazing. Moreover, integrating other third-party applications for galleries, contact forms, tables, etc. can also be easily managed.
Rigorous tests have been conducted to offering supreme website loading speed and overall performance. Setting up an online fashion store with a regular and dedicated section for handcrafted apparel is conveniently manageable.
So what is stopping you now from creating a dynamic, flexible, and fully responsive website for taking your business online?
Furniture Pro is an out-of-the-box and powerful option to compete with the best handcrafted material selling WordPress themes. It offers niche-specific solutions to create the best sites with optimized performance.
Hence, taking your business online and attracting handcrafted enthusiasts across the world will not be a difficult task. The inbuilt template has already been filled with content and copyright-free images related to furniture.
All you have to do is replace the content with your dedicated specialties in handcrafted furniture for home and office décor.
The best advantage that you will enjoy is the on-point and effective layout. If required you can modify or change it completely but in most cases, it will not be required.
Colors can be modified according to the preference of your brand or the target audience. WooCommerce compatibility helps in establishing a strong presence in the online e-commerce market.
All the products can be listed conveniently and all the details related to the same can also be added. Comprehensive documentation will be provided for complete assistance in any kind of queries or confusions.
Establishing a strong brand presence online is just a step away now with Furniture Pro.
Photodock is a reliable multipurpose option in the collection of handcrafted material selling WordPress themes. This is a different option compared to the usual ones but is highly effective.
The prime focus here is to attract and mesmerize the visitors with stunning photographs. In any online shopping experience photographs are as important as the user interface.
In Photodock you can add stunning images of your handcrafted products and also ensure that the users have a smooth interface.
Setting up a corporate or company profile with all the intricate details and expertise of your brand will help you establish the desired credibility.
WooCommerce compatibility is superb which ensures that you can set up a dynamic online store. Not only the store but all the aspects and elements related to the same can also be configured as per the needs.
Personalization of the checkout window for simplifying the process is convenient and quick. Moreover, integrating payment gateways from across the world for smooth transactional facilities will favor your firm.
All varieties of plugins including the premium ones can be easily added for facilitating the particular requirements of clients.
The last and one of the widely used themes in the collection of handcrafted material selling WordPress themes is SKT Appliances Pro.
This has been dedicatedly developed for the e-commerce market which means that you will enjoy full flexibility and responsiveness.
It is often used for a variety of products so that featuring handicraft-related décor, clothing, and other products will be easy.
The overall appearance can be termed as minimal but is highly stylish, dynamic, and never overshadows any product or content. Modifying pages or personalizing the templates can be quickly done in a few clicks with the help of the page builder.
Adding important features can be done through hundreds of inbuilt shortcodes or through third-party plugins as well.
There is no reason to dig around and code to add, edit, or remove any features and even for customization. All tasks can be swiftly managed by the dependable tools that it offers.
It has the potential to translate the site into different languages and is thoroughly optimized for search engines. SKT Appliances Pro is here to ensure that you create a full-blown creative and strong online presence with your handicraft products.
SKT Pottery is a responsive and professional looking ceramic studio WordPress theme that can be used by wax studios, art galleries, mud crafting workshops, pottery studios, DIY websites, etc. One can also use this template to display indoor furniture and outdoor home furniture. along with the template.
By checking on the demo, you will get the idea that how you can represent your business content systematically. We have utilized the customization feature that is an elegant color, Google Fonts, and retina ready images to attract more clients.
The template is created with the latest technologies that will make your website more responsive. Although your visitors can view your website content on all types of electronic devices and browsers.
Flower Shop is one of the bright and dynamic compositions among handcrafted material selling WordPress themes. This valuable template is suited both for beginners in handmade industry as well as already famous productions and agencies, studios and salons.
If you are going to realize your handmade products in the global marketplace, this commercial ready template will be ideal for you.
Checked for its firm and stable functionality with ecommerce plugins, Flower Shop will bring a whole new range of trading opportunities to your business.
The theme is also rich with pre enabled elements and settings, shortcodes and fonts packages, homepage slider for the best images of your beautiful products and much more.
WoodCraft is the next simple and lightweight yet effective and results driven product specifically foreseen for wood and furniture related businesses, manufacturers, stores and shops, woodworkers and handcrafted wood products and material authors.
Hence, crafting a perfect online exposure for your handmade wooden gifts and souvenirs, tables and furniture, toys or other creatures will be a breeze even for the one who is far away from web design, development or coding.
Powered by the latest practices of stable HTML5 coding and browser compatible CSS3 animation controls, WoodCraft is not hesitant to showcase 100% responsiveness and mobile optimization.
Lightweight and fast loading nature with smooth navigation levels, retina readiness for large images as well as SMO integration with social commenting capability.
Pleasing look, mood and inner functionality of your future handmade website or handcrafted material selling store are guaranteed with Luxury Watch.
Today people are used to fulfilling their needs and wishes without driving outside or heading over this or that locality. With Luxury Watch your clients will not be forced to meet up with you personally to review your handmade products and materials or purchase them.
All kinds of processes of mutually beneficial commercial deals can be operated via your website based on Luxury Watch that can be showcased with accurate content and store parts and listings, product descriptions and information, images and more.
Having access to an online store that is already built up to go live with your own content has never been so easy. Shopzee is one of the bright examples of how a modern shopping store should be to result in customer attention and retention.
The theme combines convenient theme structure for content arrangement, adaptability for different browsers and resolutions, website typeface changes available with enabled fonts and colors, blog section for daily blog posts and updates, press releases and product launches and more.
You can add and control unlimited product categories, apply more than 100 shortcodes or translate your content into different languages to that your store can be affordable for the international market as well.
Wedding Rituals is wonderfully malleable and touchy, elegant and classy template among handcrafted material selling WordPress themes ready made to tailor to the needs of as many topics and niches as you can enumerate.
From wedding salons and wedding handmade accessories stores to private designers' profiles and portfolio owners' blogs, this template knows how to get things flowing.
This well thought out and minutely projected website tool is ready made to perfect predict the web surfers behavior of all kind, from desktop and PC to mobiles and other portable devices. It means that your online store items and listings are going to rescale and adapt to every single screen resolution your site's end user owns.
Suitable both for personal and corporate usages, SKT Dual will make your handcrafted materials and products advertising and selling business thriving.
Establishing your online store on the basis of SKT Dual can be one of the most reasonable stages in promotion of your small business.
Cost effective and easy to handle, this template comes with totally pliable framework for any kind of customization or management controls with fonts and color, page and post changes, as well as other attributes of your site's front face.
Top quality search engine optimization and social media integration are done for this template so that all you need is to boost your site's performance with relevant compatible plugins.