The best gymnastics WordPress themes will be discussed in this article for gymnastic schools and academies, gym and fitness, yoga and aerobics, pilates and shaping studios, activities, private training and any other relevant activities online.
Gymnastics is a system of specifically selected physical activities and scientifically developed methodology aimed at solving the problems of comprehensive physical development, as well as the recovery of the child.
From the preparation of the child's body for different activities to the passion for physical perfection, from shaping a strong will to a healthy lifestyle, the advantages of gymnastics activities are endless.
In this relation, many parents are eager to involve their children in suchlike activities to develop their psycho physical qualities, such as agility, speed, strength, flexibility, beauty and grace in movement and more.
Well, in order to find the nearest and the most affordable gymnastics school or academy, gym or fitness center, people turn to the help of the global networking system that is likely to influence their decision making process the most.
It means that any fitness and gymnastics, physical activity or health centric business should not use any excuse when it comes to building an online visibility for his relevant business.
While to do list of any website admin is guaranteed to have no end, our gymnastics WordPress themes can turn the whole creation and management process into a play.
The thing is that all the gymnastics WordPress themes comprised in this article generate totally controllable and intuitive working platforms for the website admin for positioning his website online with a motivational, alluring and powerful destination.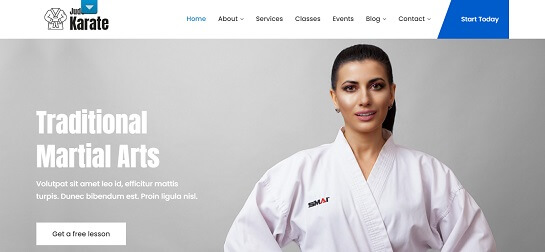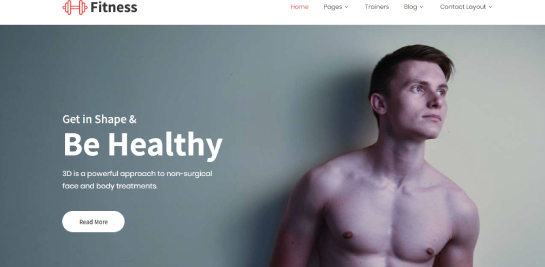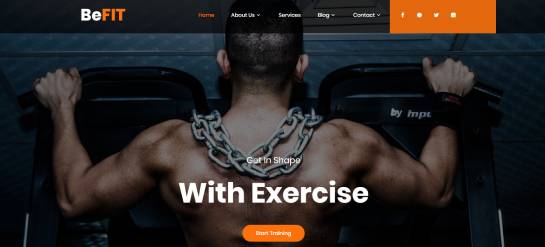 Ele Fitness is a strong and durable destination for your fitness and gym, gymnastics club or academy website trying to deliver the best values of your business to its target audience.
With great performance and mobile friendly coding, Ele Fitness guarantees the flawless operation and legibility of your profile for thousands of clients accessing your website via their portable devices, PCs and smartphones.
As one of the niche specific and smoothly navigable gymnastics WordPress themes you can give a try, Ele Fitness is more than just a framework to carry your content.
It is going to be the reflection of your business profile, its objectives and goals, professional staff and well trained instructors.
The homepage slider is perfect for hosting the images and photos catering to your gymnastic school, its groups and classes, facilities and more.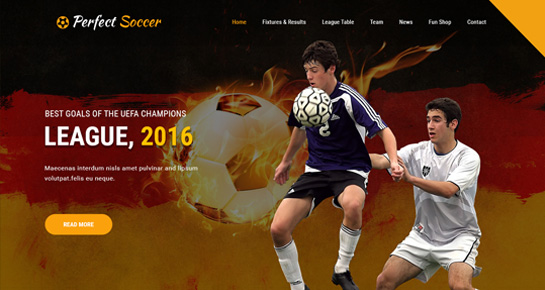 Soccer is another strong and enthusiastic, visually dynamic and showy, spectacular and attention grabbing website template ideal for fitness and gymnastics based profiles and websites.
From personal trainers and coaches to gymnastic academies and clubs, soccer leagues and other tournaments, absolutely any kind of sports based website can be delivered through Soccer.
Focus on the presentation of your talents and expertise in the field through your posts and pages via Soccer.
In this spectrum, this template comes prebuilt with all the relevant content areas which need to be showcased by your own content.
Header and footer layout controls are given for you to determine how the secondary content zones of your site should look and what should contain, including quick access to recent posts, social media links, address details and more.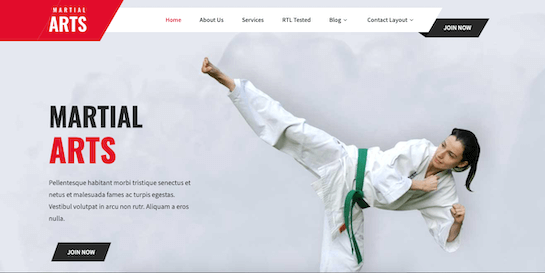 Inspiring and colorful, zealous and thriving, Martial Arts is the next valuable candidate among gymnastics WordPress themes that looks as good as it functions.
This well developed and crafted template is an irreplaceable tool for giving rise to a responsive and quick performing sports related website that will grant you with tons of advantages and costing outlines.
The thing is that Martial Arts is not only affordable when purchasing, but also doesn't require additional costs to keep your site good looking, updated and fully functional around the clock.
With strong coding behind, Martial Arts is totally admin optimized with a handy admin dashboard and loads of quick accesses to customization and management options as well.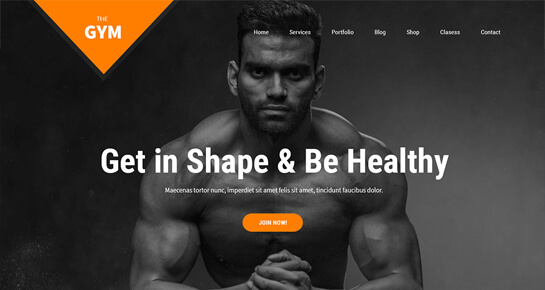 Fresh looking and modernly stylized, SKT Gym Pro is another pocket friendly template included in our assemblage of the best sports and gymnastics WordPress themes for multipurpose usages.
Custom built to reasonably identify your clients' needs and satisfy them accordingly, SKT Gym Pro is never hesitant to express maximum responsiveness and cross mobile compatibility, crisp navigation levels and fast loading time.
As for the other noteworthy touches of the theme, it is well optimized to be easy to crawl for search engines, as well as to work with social media platforms for more traffic and website viewers.
Shortcodes base is given along with the theme to make your coding life surprisingly easy. Better to say, you have nothing to do with complex coding, just use the given pieces of shortcodes for making changes to your website in no time.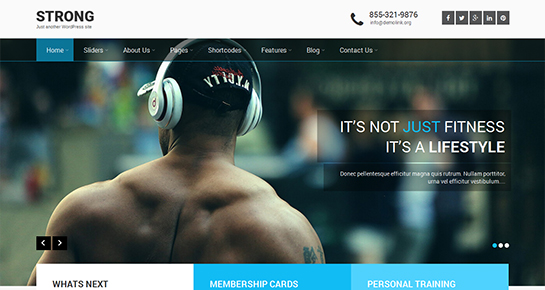 Sophisticated technology, advanced functional base and modern design have been applied to Strong Pro in an effort to make it a template meeting all the requirements of the digital world.
As such, Strong Pro shares the most flexible layout with an avalanche of pre enabled controls handy tools and intuitive admin dashboard for you to underline all the important parts of your gymnastics related business.
This template is ready to revolve around any sports and weight loss, body shape and gymnastics website with recent news, disciplines, rules, subscription and membership plans, location and more showcased in relevant sections, boxes and widget friendly areas.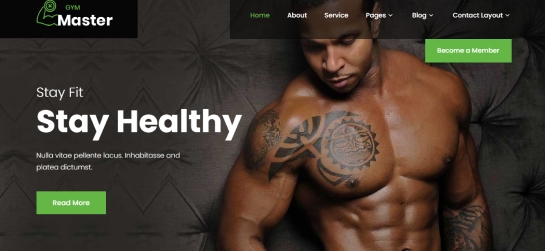 Responsive and mobile checked, shortcodes based and inspiringly competent, Gym Master demonstrates the best qualities when it comes to greeting your website visitors and grabbing their attention.
With a full width homepage slider for the most effective and motivational imagery, it is quite possible to provide maximum exposure of your visual content, showcase your leisure centers and schools, trainers and specialists, etc.
Get your unique and personalized website in the easiest way and be sure it yields the best results with SEO and SMO support, translation ready content, blog layout for constant news and updates, and more.