If you run a sports and fitness-related website, you may think that having an online presence is not important, but think about the number of customers you can gain through a good-looking website. Most gyms today have a website where they communicate with the prospects what they can expect.
If you run some special classes like aerobics, you can highlight them too. Most of all, people will only come to you if your gym or fitness center fits their budget. With the help of a website, you can highlight all your services and pricing.
You can also run ads when you offer discounts, which is why a website for your gym is necessary. However, when the question of a website is on hand, the next thing you have to think about is design.
The easiest route is to build a website through WordPress and install a professional theme suited for your business. However, the marketplace for gym WordPress themes is crowded, don't worry; in this post, you will find the top gym WordPress themes.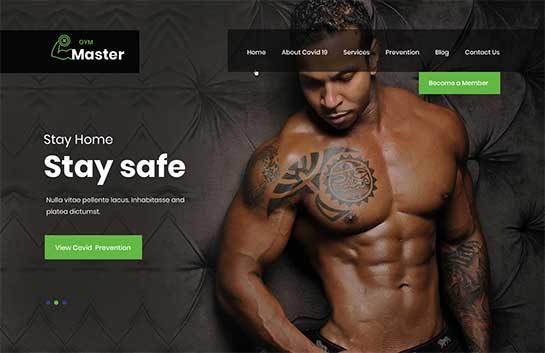 This WordPress theme is filled with features and functionalities that suit a website made for a gym. It includes an area where you can display the entire gym's operations.
Your potential customers can decide if they like your gym or not. Not everyone is a fitness expert, so having trainers in your gym is important.
People have the right to know who will be helping them with exercises. This theme provides you with a dedicated section where you can share the bio of your trainers.
You can keep your website visitors engaged by providing them with fitness tips. This theme has a separate space for that.
With GB Fitness, you can display your pack of services in the most elegant fashion. Other than that, you also get free demo content.
You can decide the content you want to keep and edit it according to your plan. If you provide a different pack of services, this theme will help you explain them to visitors.
It is compatible with third-party plugins, further improving your website's functionality. This theme will be compatible with different browsers and devices, considerably improving the user experience.
You can also use this theme if you intend to sell fitness products. This theme can handle a website that gets a huge number of visitors.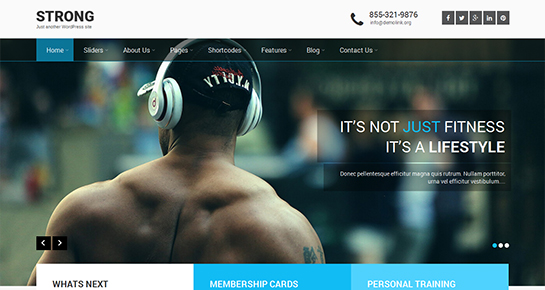 If you want to create a responsive website for your gym, this template will help you with the help of color changing, font changing, and sidebar template changing. You have a dedicated inner banner area to display videos, images gallery, and sliders.
You have a lot on your hands and should not spend too much time developing a website. This theme comes with content that is ready to use, with just a few changes to match your gym, and you can begin. You can also add your own code to this theme which will make your website even more powerful.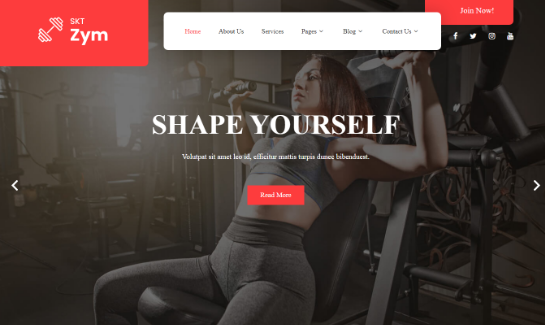 The Zym theme has been designed for gyms, physical fitness trainers, and yoga trainers. It has all the features a gym website will need, including a timetable.
With the help of the timetable feature, you can showcase different courses and their schedule. Participants will know at which time activities will take place.
This feature makes it one of the best themes out of all the gym WordPress themes.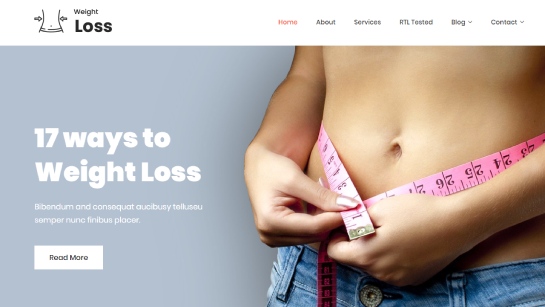 The Fitt theme is for anyone who wants to promote and create awareness about fitness. This theme benefits gym owners and can be used by trainers. You can explain in pointers how your gym or fitness program will help the participants.
If you have helped people in the past, you can display the number of satisfied customers you have had. Other than that, you can also display customer testimonials which will give prospects confidence in your brand. If you have a developed pricing plan, you can display it on your website with this theme.
You can also add social media widgets so that website visitors can find you on social media platforms too. This theme comes with over a hundred shortcodes which can be useful if you wish to extend the website's functionality.
The good thing about this theme is that you can set up animation for any column. This way, your website doesn't just present your content, but it also looks stunning.
It is compatible with multiple booking plugins, and your potential customers can book a visit through your site.
This will help you as you will know when to expect prospects. While it originally comes in black and orange colors, you can change them according to your brand.
You can list around six services, but if that falls short, you can add another row of services using shortcodes. This theme is one of the most powerful gym WordPress themes.
SKT Fitness Pro has a lot of animated columns which you can use to make your gym website attractive. With the help of animated elements, you can describe the services you provide. It also helps you describe the process of training with your gym.
You have an entire section dedicated to listing the types of classes you have at your gym. While this is typically not an e-commerce theme, if you wish to sell products you can do so with the help of WooCommerce plugin.
This theme was primarily designed for yoga clubs, but you can use it for your gym too. All you will have to do is change some of the background images according to your services.
The color combination gives it a very sophisticated look which visitors find pleasant. The theme is video friendly which means you can add a video describing your gym and what you do.
This theme has a color combination of black, red, and white which gives visitors a feeling of agility. It can be used by martial arts training centers, fitness centers, gyms, and other health related communities. You can make changes with the help of elementor.
It comes with a preset header or footer layouts, you can choose the ones you like. If you have had happy customers, it will benefit you to present their testimonials. This theme allows the same to happen.
An entire media gallery is available in the layout where you can upload pictures of your facility, trainers, and customers participating in physical activity. Your potential customers will already know how your gym looks like before visiting it.
A karate academy is a business that can generate a lot of revenue if you have serious trainers. However, to get the word out of your business you need a website where people can look you up.
SKT Karate Pro is a theme that can help you begin and all you will have to do is make minimal changes. Karate requires a lot of discipline and that is why this theme is simple.
It does not come with many graphics but the simple white and black color represent Karate well. With a few teaks, you can convert this theme into one that can be used for your gym too.
This fitness theme comes with a great deal of features at a reasonable cost. It is a theme that can be used by any fitness related business.
This will give your website a certain aesthetic appeal which will lure more customers. Other than that, the information that you can present with this theme is pretty straight forward.
You can include pricing plans, testimonials, trainers, services, etc.
All the images that are available in the theme are copyright free which means they are ready for use. You can also add contact information and include a contact form. This is an excellent way to gain new leads.
This theme provides your business with leverage. You can gain leads for your gym while also providing a free BMI calculator tool which people can use. This way your customers will know where they stand before joining any of your programs.
You can also highlight all the different classes in an elegant manner. It also comes with a timetable which provides a schedule for different classes. The SKT Gym Pro is rich with features and should be one of your top considerations.
The fast paced modern lifestyle has come with it's own shortcomings. People are suffering from many problems like diabetes, anxiety, blood pressure problems, depression, etc. That's why it has become important to embrace serenity through meditation.
If you know the art of meditation and want to teach others, you can use this theme for your website. You can highlight the benefits of mediation, classes you provide, and upcoming events.
Of course, people who love yoga need other essential products like candles, mats, equipment, etc. You can provide these products on your website with a WooCommerce plugin. With this theme you can create a website that will get new leads and revenue from the products you sell.