WordPress is a stunningly popular content management system used and trusted by millions of users across the globe.
While the advantages of this platform are boundless, the true charm of it lies in the fact you do not need a stitch of experience to create and run a successful and results generating website or blog.
Therefore, WordPress themes and templates enjoy the highest popularity and are custom built to be a user friendly tool even for the novice in the digital field. Of course, if you are experienced in development or web design, you can find more controls and elements which are essential in order to succeed online.
If you are a first time WordPress user and want to know how to install a WordPress theme smoothly, you can find a step by step procedure for it in this article.
Basically, a WordPress theme is the skin of your future site or blog. It's going to decide the overall look and feel of your website, its functionality, features at your disposal, widget locations and more. Hence, you would like to test several WordPress themes before finding the one matching all your needs and tastes.
Hence, if you want to know how to install a WordPress theme and leverage its possibilities, we'll showcase the practical ways which offer a simple work around for it.
First of all, you need a free or paid WordPress theme from the current repository of WP community.
Although those free and premium templates differ from each other with their functional capacities and technical saturation, there is nothing scary about starting with a free one.
WordPress library comes rich with tons of free templates which are custom built to cover absolutely any kind of website.
Whether you are going to start your own blog or a commercial website to establish and online store, business profile or something else, the first thing you need is to scan the available list of WordPress themes.
More opportunities you will take advantage of if you choose a niche specific template to fit your future plans.
As from the financial viewpoint, WordPress suggests a wide scale collection of themes, ranging from free to expensive ones.
It means that every single WordPress client will be able to choose a reliable template at a price matching his financial stat.
Well, in order to search for and find a theme to be the cornerstone of your site, you can use your WP Admin Dashboard, Appearance, Themes.
Then find Add New button and click on it. Here you will be provided with several theme collections to choose from, like Popular WordPress Themes, Featured WordPress Themes and the like.
You can also use the search functionality to look for a specific template or the one with specific features.
This time we are going to look for and install a WordPress theme of SKT production called SKT Charm Pro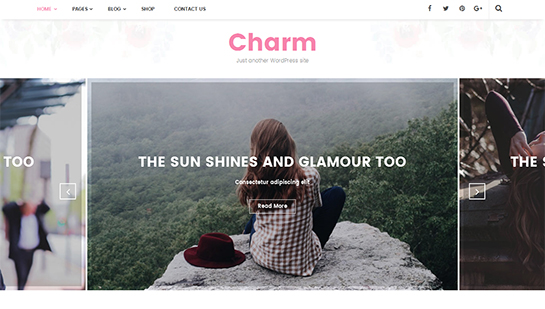 This is one of the methods used for the theme installation. There is also a manual installation possibility, which you might need in case of numerous premium WordPress themes. This method is based on the upload of zip file of the target theme you have purchased.
As for SKT Charm Pro, you can download and unzip skt-charm.zip to your desktop. Now, you are going to use FTP client. Visit wp-content/themes and upload the theme here.
Further, you need go back to your WP Admin Dashboard, Appearance, Themes, Add New and Upload Theme. Choose the zip file of the theme you have already have downloaded to your desktop and click Install Now.
As soon as the theme installation is complete, you will see a success message together with link preview and activation options. Choose to activate and your template will be easily activated.
Now, let's summarize the basic 3 ways you can use if you wonder how to install a WordPress theme to complement any kind of web content.
1. How to install a WordPress theme via Admin Dashboard.
Log in to your WP Admin Panel, select Appearance, then Themes. Search for the theme you like, preview and install it.
Alternatively, you can use the upload link to upload the zip file of the specific template which you have already downloaded to your desktop.
2. How to install a WordPress theme via cPanel.
In this case you also need the downloaded files of the theme you are going to use for your site /.zip or .gz archive files/.
Log in to your cPanel, go to Files section, then File Manager. Then head over the website directory root and settle wp-content/themes folder. Press Upload, search for your theme archive and upload it to the directory.
Choose the file you need to upload to "/home/nctests/public_html/wp-content/themes". Now, you need to extract the theme with a right click and choosing Extract option. Finally, go to your Admin Dashboard, Appearance, Themes. Find the newly extracted theme and activate it.
The theme installation or switching method via the hosting panel is necessary in emergencies, when you don't have a primary access to your WP Dashboard, your site is corrupted, etc.
3. How to install a WordPress theme manually via FTP.
Log in to your FTP account and browse to folder in wp-content/themes. Unzip the theme files that you have already downloaded and upload Total folder to the server. Go to WP Admin Dashboard, Appearance, Themes and activate the theme.
Depending on the specific theme you have chosen to decorate your website and communicate with your audience, there can be additional options that you will need to configure.
As for the further customization controls, they are also specific to the theme you have chosen.
As for SKT Charm Pro theme that we used as an example, basic settings are located on WP Dashboard, Appearance, Theme Options.
You can upload your logo, change colors and color combinations, manage custom CSS styling, font size and colors, change navigation, play with layout settings, footer and header areas and much more.