This collection of guest house WordPress themes is intended to serve as the best guide for hospitality industry representatives to boost their businesses online.
Hotels and hostels, travel and holiday booking, bed and breakfast, accommodation, guest house and boarding house, lodging and habitation zones and areas, rental apartment and house providers can use any of these guest house WordPress themes to make a step further for better recognition and more clients.
The hospitality industry, unlike other branches of the economy of any country, exists under its own rules and regulations.
The thing is that the economy of the hospitality business primarily depends on different factors, from seasonality to successful location of the hotel or guest house, the level of comfort and other distinctive features as compared to the competitors.
On the contrary, a well thought out and created, competent website is one of the main tools by which you can not only minimize the influence of seasonality or inconvenient location or any other obvious shortcoming, but also turn them into unique advantages in the eyes of potential guests.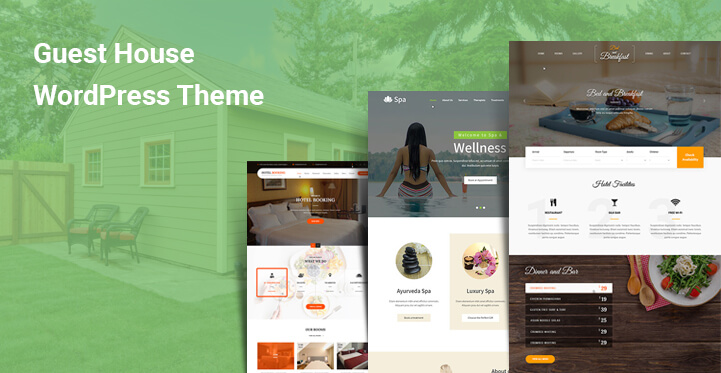 However, there are still many other advantages you can enjoy by going online and doing well with your own hospitality website based on one of the best guest house WordPress themes.
From simplifying the process of bookings and reservations by checking available dates online to the possibility for the potential clients to review your offers with descriptions and images, as well as take the feedbacks of the previous guests into account before making a final decision, the pluses are endless.
Hotel and guest house WordPress themes we have put together in this article are great solutions to any hospitality based website and its successful operation online.
They are all wonderfully easy to use and customize given the fact that they are beginner friendly and come with live customizer to instantly review each step of your site's management process until you reach the desired form and function of it.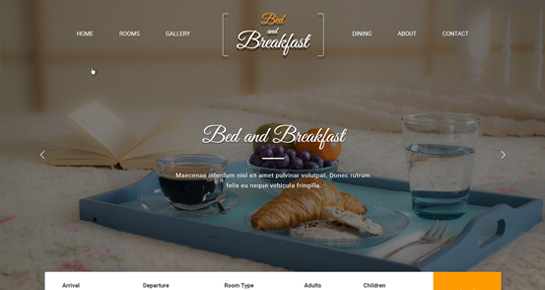 Bed and Breakfast is one of the frequently used guest house WordPress themes you can give a try for your niche specific website. This is going to grant your website users with the same high level of hospitality and comfort your business actually does.
The end users of your site are going to enjoy smoothly navigable platform while trying to find the needed information and available options, gallery part to review the images of your guest house or hotel and its rooms, locality and more.
They can also check in available dates and even make a reservation online as Bed and Breakfast is compatible with ecommerce, online payment and online booking/reservation plugins you are welcome to add to your website.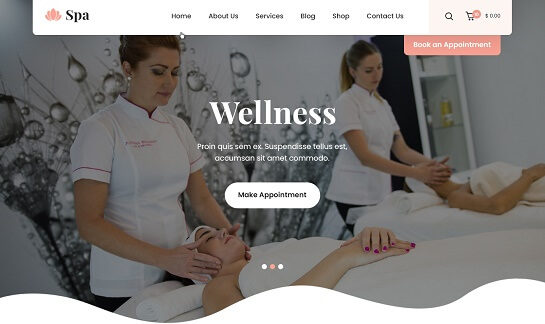 If you are going to market a complex holiday and traveling all inclusive solution, SKT Spa is ideal for you.
Whether it is a luxury hotel with spa and massage, gym and fitness club, golf and other services and clubs included in it, or a cozy guest house with convenient and pocket friendly services and products, all SKT Spa is going to do is to accurately offer them to your target audience.
Everything you will ever need to market your hospitality and traveling business online is integrated with SKT Spa.
To be more concrete, it is packed with infinite number of customization controls ranging from color and font choices to page and post controls and scheduling, widget friendly areas management and CTAs deployment to win as much attention as your site really deserves.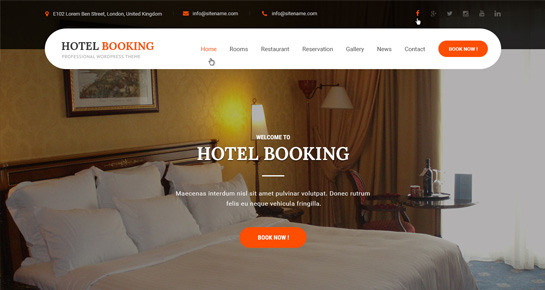 Build an exceptionally good product around your business with Hotel Booking and stress your privileges over others.
Your guest house website will shine bright with Hotel Booking that is visually pixel perfect and eye catchy, functionally error free and easy to deal with both for the web owner and the site guests from the front end.
This responsive and mobile friendly theme ready to give its users a perfect and personalized user experience will also take your presence higher on the search engine stairs so that you can meet more potential clients and guests right where they are looking for you.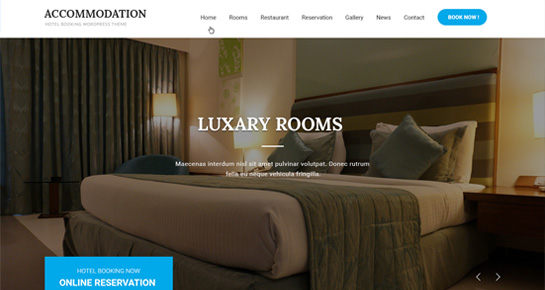 Building a pro quality and all inclusive website for a guest house or hostel is not optional any more. It should be included in your to do list and should be a must to do as soon as possible.
Accommodation is a theme that will encourage you to do that step and start the establishment of a responsive and mobile checked, intuitively and clearly designed and strongly coded website in no time and with 0 coding knowledge.
The best and the most user centric guest house WordPress themes cannot lack online booking and reservation functionality.
With this in the theme developer's mind, Accommodation shares enough potential to be paired with any kind of required plugin, including, of course, those adding booking and reservation systems to your profile.
Whether you own a hotel, hostel or apartment, offer cottages for rent or guest houses, you can rely on The Trip. No matter what design or functions you want your website to boast, this template will have an optimal solution for that.
With this cost effective template, you don't need to spend thousands of dollars to make difference in your industry and grow your identity online. Even with the default theme, you will be capable of doing your best with shortcodes and live customizer to result in the most attractive face of your profile.
Lively and demonstrative, visually pleasing and shortcodes based, Stay Here is the next hero to make it stunningly easy to build and enjoy a website catering to hospitality and tourism industries and their branches.
You have a competent platform at your disposal that comes with color picker to decide the overall color gamut of your site, fonts and their sub types to set up a unique, yet Google friendly typography, prebuilt booking form to receive quick booking and reservations, as well as social media optimized performance to benefit from the traffic coming from overpopulated social media networks.