Grocery Store WordPress Themes for Agro Food Dairy Retailer Wholesaler Distributor
This collection of the best grocery store WordPress themes is created for the use in grocery store and food store, supermarket and food production, agribusiness and eco food, agriculture and dairy farming.
Also Retail food store and food distributor, online food and drink retailer and wholesaler, daily mart and grocery shopping center websites and commercial portals.
Generally, any topic or niche catering to food and drink market, restaurant and eatery businesses, food production and sale, online food delivery and other thematic ones are best to be based on any of these grocery store WordPress themes.
If you want to be a winner in online grocery business with perfect presentation and user centric approach, convenient ecommerce platform and all the other compulsory web elements to make your online audience feel that you care for them and respect their time, look no further than our roundup of the top and professionally developed grocery store WordPress themes.
Whether it's a small local market with restricted client base or a popular supermarket chain, it should be taken online and shared with even more people and potential customers if you want to stay competitive and make money from your grocery business.
In this relation, each of these food marketing and grocery store WordPress themes can help you as they are all cost effective yet flexible enough to protect your interests online no matter what your business size or financial state are.
Since today mobile friendly website to accept all kinds of traffics, social media support for more attendance online, online commercial activities for a more simplified business and consumer behavior are more important than the road traffic or word of mouth buzz.
The success of your food or grocery business, these grocery store WordPress themes are packed with all those features and functional capacities.
It means you are going to make profit from all the dynamic channels and methods taking your business closer to its potential consumers.
Are you planning to venture in to a grocery store business? If you are planning or already are into this business then grocery store WordPress themes are an ideal choice for your business website.
But what is so special about this section that everyone who is into this niche is talking about it? These themes are exclusively developed with pre-built templates and powerful functions required for this niche.
Not only does it make the entire development process easy for the owner but the audience also loves it. To ensure that you can select the best we have complied all the terrific options in this read.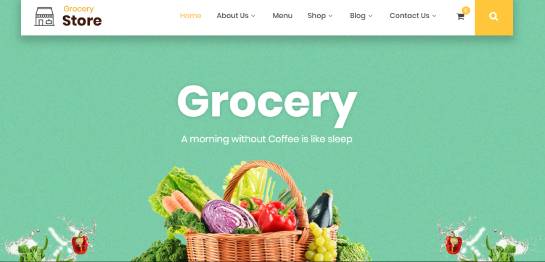 Grocery Store is a highly responsive WordPress themes build with elementor page builder that will help you to present your grocery products and other items in a professional manner.
The template is totally compatible with the WooCommerce that gives you opportunity to add unlimited products.
Along with the grocery store items you can also add some other products related to food cultivation, fruits, vegetables, fitness supplements, etc.
If you want to use this template to craft another business niche then you are welcome as it gives you countless options for making any type of eCommerce store.
With drag and drop features you can change color, logo, slider images, background, social media links, and widgets very easily.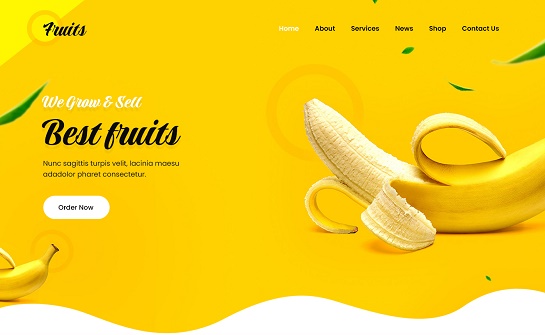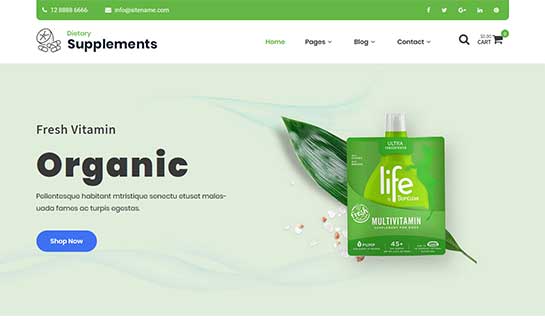 Farming is one of the newest works of SKT Themes to cover the needs of farming and agriculture, gardening and plant care, food cultivation and seeding, food and drink sale, grocery manufacturing and grocery store online businesses and even beyond that.
What this theme's developer aimed at was to bring together the latest web design and development trends and result in a valuable website builder that will be consistent and present scalable on the one hand, and easy to use and simple to work with on the other.
Hence, you are going to enjoy an ideal environment adapted to the website admin needs when it comes to the theme edition and customization for the best results and the most client satisfaction with fully functional framework, accurate content presentation, online shopping platform and more.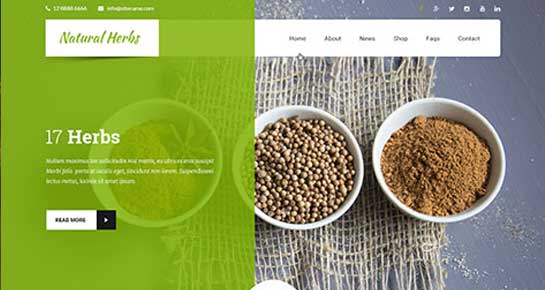 Food marketers cannot afford to neglect the opportunities e commerce platforms grant them with. Natural Herbs is one of such reliable and well performing ecommerce based website solutions to let you turn your website into a dynamic ecommerce online platform.
Ecommerce platforms where the consumers will be able to shop online and make purchases, pay for them and receive their purchased products from the comfort of their homes.
Thus, customers prioritize their time and convenience first of all. Therefore, along with being commercialized.
Natural Herbs is also fast loading and easy to navigate from top to bottom, visually clean and legible with Google approved fonts, cross mobile and device compatible for making the most enjoyable atmosphere both for desktop and mobile users.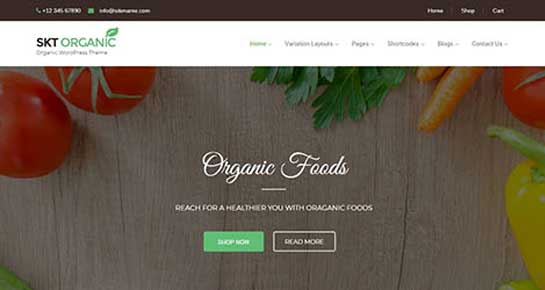 Whether organic or natural agriculture, eco friendly food business is what you are specialized in, you can share it online by the application of Organic that is visually nice and functionally satisfying, well coded and perfectly styled with CSS 3 animations.
Since images and photos form an integral part of food marketing, the theme is packed with full width homepage slider where the best images can find their place and welcome your website viewers with fresh fruits and vegetables, organic food samples, delicious meals and more.
Generally HD and retina ready for integrating high quality visual content into your site, Organic is also well prepared for SEO campaigns and social media presence equally well.
Ele Store is a unique and most liked option in this compilation. It is peculiarly developed for addressing the needs of all the store owners. The design and aesthetics have been kept simple but are completely customizable.
One can easily modify the colors of all segments to highlight groceries and their domain. The layout is a perfect match for including contents of all kinds. You can easily add photographs and include necessary details about the product.
Given that it is a store exclusive option it has been tested for compatibility with WooCommerce. This means that setting up an online store for various products in your portfolio is also possible.
You can also choose and add the desired payment gateway along with it depending upon the target audience. It is multilingual, translation-ready, and is integrated with Google Fonts.
You have full flexibility of customization and modification which ensures that all the needs for your website are fulfilled. The installation process is quick, easy, and simple and you also get an option of one-click demo import.
The developers offer one-year support which helps in settling up all issues related to installation and launching.
Flower Shop is a special inclusion in this compilation of grocery store WordPress themes. This is a multipurpose option that has been primarily developed for florists across the globe.
But, owing to its functionality, spontaneity, and responsiveness it can be used for creating grocery websites. The mesmerizing fact of using this is that it has been developed with multiple colors that are versatile in nature.
This color versatility helps in attracting the potential audience towards the exclusive featuring that you offer. Setting up a blog along with the main content is possible and does not need extra effort.
Personalization of all kinds can be made as it is open for modifications. Page builders and customizers help in achieving the desired level of customization.
WooCommerce support makes it one of the most liked options and the integration of Google Fonts adds a stunning charm to it. It is translation-ready and the prebuilt templates are retina-read which ensures full responsiveness across devices and browsers.
It has been optimized and tested for faster loading speed and terrific performance with search engines. Despite having core options this multipurpose theme is liked by the owners and audience across the globe for its charm and responsiveness.
SKT Appliances Pro is another special multipurpose addition in the compilation of grocery store WordPress themes. The overall development of the theme is in simple white color with plenty of pictures and space for adding the desired content.
Moreover, the blue color is used at different places to add a charming effect. Originally developed for appliances it can be used to create a stunning online space for your retail store.
Moreover, it comes with WooCommerce compatibility which enables featuring products in the e-commerce market. According to your preference, you can easily manage the language depending upon the target audience.
You can conveniently create categories of your products or add information about them in various sections. Standard pages that are common in almost all sites are offered by default.
You will have the choice to keep, remove, or add pages depending upon the need of the website. Modification of all kinds is possible and it offers full support for all kinds of third-party plugins.
Extensive documentation is offered with it which has all information related to different segments of installation and operations. Adding client testimonials on the homepage or on a separate dedicated page is possible.
Shopzee is one of its kind responsive options in this best collection of grocery store WordPress themes. Shopzee is used by users worldwide particularly for its flawless and marvelous performance in the e-commerce domain.
The WooCommerce support is terrific which ensures that different operations of e-commerce including the simplified checkout are possible. In addition to that, integrating one or more payment gateways is also possible.
The overall design and aesthetics are flexible and vibrant. You can easily modify the template, structure, and overall layout as required by your grocery store. Hence, along with functionality, you will also have an upper hand in aesthetics.
Setting up a blog and managing the typography of the same with by default integrated Google Fonts is possible.
It is translation-ready and the pre-built templates are retina-ready which ensures full responsiveness across devices. A slider is offered by default which can be fully controlled for animation and transitions.
You can also add other necessary features from hundreds of inbuilt shortcodes or from external plugins.
Integrating social media handles for the dynamic engagement of potential clients is also easy. It is widget friendly and compatible with all the latest versions of WordPress.
This is an exceptional and truly multipurpose option in this collection of best grocery store WordPress themes. The theme has been developed for exclusive featuring of herbal products at the global level.
This gives additional leverage to the grocery-niche websites as they can be projected in the same manner. All information, media, and photographs related to your business can be easily added.
Moreover, customization of all kinds related to the templates, structure, layout, fonts, and even colors is possible. You can execute it all without writing any codes or being technically sound.
The WooCommerce compatibility takes your store one step ahead and ensures that all the products can be featured in the e-commerce market.
Setting up other aspects of e-commerce like payment gateways and email notifications is all possible. The integration of social icons pack and Google Fonts gives you an added advantage for customizing the site to the best.
It is multilingual and offers RTL support so that targeting a demographics-based audience is also possible. Swiftly add external plugins or add features from hundreds of pre-developed shortcodes.
Last in the list of grocery store WordPress themes is Dairy Farm. This is a simple, elegant, and responsive theme that mesmerizes the visitors each time with simplicity.
The best part is that everything can be customized to ensure that you can truly personalize all elements of the website.
The WooCommerce compatibility sets the tone for the e-commerce sector and ensures that your desired products are highlighted.
If you intend to set up a blog along with the website for attracting an organic audience then it can also be done. This does not require any additional plugins or special settings.
Plugins of different kinds are compatible and features can also be added from the provided default shortcodes. They help you in coping with all the requirements of functionality without affecting the SEO.
The default template is HD-ready and yet completely customizable to all scales. Comprehensive documentation is provided along with email support from the developers for one year.
This option is nothing short of a dynamic package of functionality and aesthetics. Explore the features and use them today to create a stunning website for your business or store.
If you want to weigh all the benefits of the digital platform for your food centric business, you can successfully do that with the help of one of the most versatile food and grocery store WordPress themes called SKT Food.
Absolutely any kind of grocery, food manufacturing, food and recipe, baking and chef website or blog can be built around SKT Food without sweating hard on the whole process of the theme installation, activation and further management with customization options.
With page, post and layout controls, sidebar choices and widgetized zones management, multilingual readiness and smooth navigation.
SKT Food is also totally commercial ready with WooCommerce compatibility, as well as 100% responsive for winning the attention and trust of mobile Internet consumers as well.
If you want to win the attention from glowing stomachs, fascinate people with unique food and cake decoration ideas, sell grocery products online or run a culinary blog with useful cooking tips and tricks, you are welcome to check the possibilities of Bakers.
Designed with care and with all the important nuances in the theme authors' mind, Bakers comes to be a balanced platform where every single part and element is added reasonable to perform this or that task but not to make the website's performance heavy or irritating.
Recipe is also among the most recommended grocery store WordPress themes you can give a try thanks to its unique structure and flat material web design, important functional elements integration and totally customizable nature.
It has tremendous power of supporting shortcodes, elements, modern fonts, homepage slider for high quality controllable images, plugins and extensions for you to achieve the desired appearance and functionality without spending much of time or nerves.
FAQ
Where can I buy grocery store WordPress themes?
You can explore and purchase the best themes with one-year developer support and extensive documentation at www.sktthemes.org.
Will changing the WordPress theme affect SEO?
Yes, changing WordPress themes affect SEO. SEO depends upon many factors and theme is one of them. Depending upon the SEO optimization in theme and other content-related factors the SEO of your site will improve or degrade on changing the theme.
How many WordPress themes relating to convenience store can be installed on one website?
At any given point you can use only one theme for a live website. You can opt to upgrade it with a new option in the future.
How to change the name for a grocery store theme?
Navigate to the wp-content/themes folder in the first step and then rename the folder with the desired name. The second step is to open the theme folder and navigate to style.css and find the theme name at the top part.
Rename it and then save changes. In the final step, navigate to wp-admin/appearance/themes and activate the theme with the new name.
Please note that once you change the name you will stop receiving automatic updates and you will have to update it manually from thereon.
What is theme development for WordPress themes related to the grocery?
For the grocery niche, the theme development in WordPress means customization of the site functionality is unique for grocery or grocery stores. Layout and visual design can be quickly changed in such developments.
Most importantly it eliminates the typical need to have technical knowledge about development as all changes can be made easily.