If you are about to launch an NGO or a club or organization or even a charity bazaar, then you would definitely have to read this article.
The whole point of launching a club/ organization is to get a large section of the society interested in the same so that they can sign up and help to pass on the word and what better way to go about it than to use.
One of the themes to establish yourselves online, list out what your club is all about and see who enrolls.
You can set this club to be about anything – from parachute jumping to deep sea diving or even badminton. Likewise, you can also make this club about charity bazaars, NGO, donation drive etc.
Check out some of the free WordPress themes for clubs and organizations, posted below and see which one you would prefer to use for establishing your club/organization online.
Why you need to opt for WordPress, when it comes to setting up websites for social clubs
When it comes to social clubs, the best platform that you can opt for is WordPress because it comes with an outstanding CMS, one that would make it easy for you to add, edit and delete content and media files with ease.
And of course, then there is the fact that WordPress as a platform is free to use and open source, and comes with some nifty designs that you can incorporate into your website.
Just glance through some of the free WordPress themes for clubs and organizations, posted below and soon, you should get an idea of what's available.
And what makes WordPress the perfect choice for any social club, happens to be the fact that it is easy to use, and you can integrate most of the plugins easily, and in the process, provides your users with advanced functionality and user centric features.
What are the pros of using free WordPress themes for clubs and organizations? So here is the answer!
If you won't need to spend money on your start-up business then nothing is best to find Free WordPress themes.
Further, the free themes are officially approved through a multi-step process and they won't allow you to have lots of plugins to install.
Hence, your site will be fast to load and boost user experience. However, free themes also have some cons.
Therefore, you have to choose free WordPress themes for clubs and organizations which satisfied the essential points like accessibility, code, documentation, language, licensing, naming, privacy, screenshots, templates, options, and more.
Finding a free theme with many options is quite difficult, but not now.
We have shared the list of free WordPress themes for clubs and organizations. Choose the best for you!
Why is it usually considered as tough to select one from free WordPress themes for clubs and organizations? This is because clubs and organizations are run for and by the people, which means that socialization plays a major role.
Hence, living up to the expectations of an entire social group in terms of aesthetics and functionality is a tough task. So is there any other method except trial and error?
Yes, to address this solution we have compiled one of the finest collections of themes for organizations and clubs. This list will help you in exploring various multipurpose and niche-specific options that can help you create a terrific website.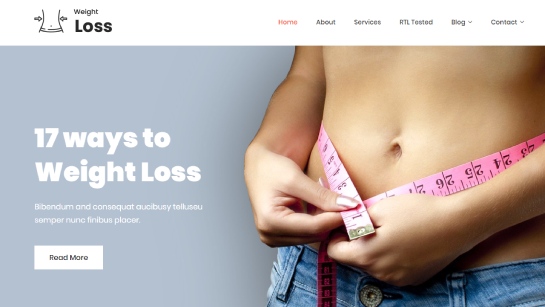 The collection of free WordPress themes for clubs and organizations starts with Fitt. Fitt is a powerful, dynamic, and responsive theme that addresses the website solutions for fitness clubs and organizations.
It has been carefully crafted with all aspects of fitness, bodybuilding, and a healthy body in reference. Hence, starting from the pre-designed template to all other aspects including structure, color, layout, fonts, and other pages are niche-specific.
You have full control over every element when it comes to modification and molding the content to reflect your brand. WooCommerce support is offered that allows you to establish an e-store for different kinds of fitness products.
All other third-party plugins are supported and the responsiveness has been tested thoroughly. Standard pages are offered by default along with the slider and there is no limitation to adding any type of content.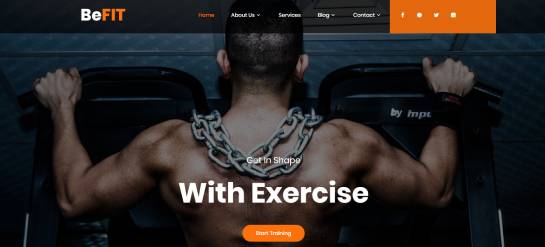 BeFit Pro is another marvelous option in this collection of free WordPress themes for clubs and organizations. It has been particularly developed for exercise enthusiasts.
But given its powerful performance, it can be used for multiple types of industries that are related to fitness. The overall design and framework are executed in dark colors which ensure that all the photographs are featured in the best manner.
You can conveniently modify everything that is required and also use the existing images as they are copyright-free. WooCommerce support helps you set up an e-store whenever required without any extra efforts.
In case you want to run a fitness or exercise-related blog then the same can also be executed here. Plugins of all kinds are supported and additionally, hundreds of shortcodes are provided by default which helps in adding features.
Ele Fitness comes with a pre-designed mesmerizing and HD-ready template which is perfect for fitness related websites. The interesting part of this template is that it has been designed by experts and is open to all kinds of modifications.
You can quickly and easily create a website for your gym, fitness center, meditation courses, yoga, and other forms of exercise. In case you only want to run a powerful and well-performing blog then also you can rely on this website.
It is translation-ready, offers RTL-support, and by default offers Google Fonts integrations. This keeps your margins ahead of your competition as reaching out to a demographics-based audience in regional language becomes easy.
All external programs are supported and can be used to boost functionality. There are no restrictions on adding any type of content or uploading images regarding your venture.
One of the most interesting options in this compilation of free WordPress themes for clubs and organizations is Ele Yoga. The importance of remaining fit with a preset daily routine that keeps the body healthy has emerged post the pandemic.
Yoga has proven to be a game-changer for many across the world and more and more people are looking forward to it. Ele Yoga helps you in setting up a powerful and aesthetically pleasing website for your venture related to Yoga.
You can include all the descriptions, useful images, and also imbed technical learning videos. Adding a blog along with your website can also help in attracting an organic audience.
Setting up an e-commerce store on your website is also possible because of excellent WooCommerce compatibility. Lastly, everything is customizable to ensure that a personal brand and community can be created without any difficulties.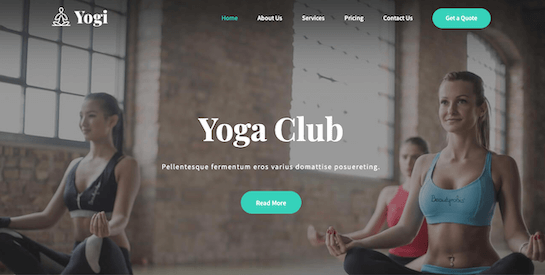 Yogi Pro is a widely used theme from this collection of free WordPress themes for clubs and organizations. If you run a yoga club, meditation group, or a community related to this niche then this can be a perfect choice.
The core color choice for the entire theme is white and all other elements, call-to-actions, and images have been managed in contrast to the same. This helps in reflecting a soothing aura to the potential audience and to the community members.
According to the preference of your clubs, you can easily modify all the aspects as required. WooCommerce support ensures the setup of an online store at any time that you require.
All prominent members of the clubs and testimonials from the members can also be highlighted. Tutorials, courses, manuals, and all other required materials can also be uploaded for use by community members.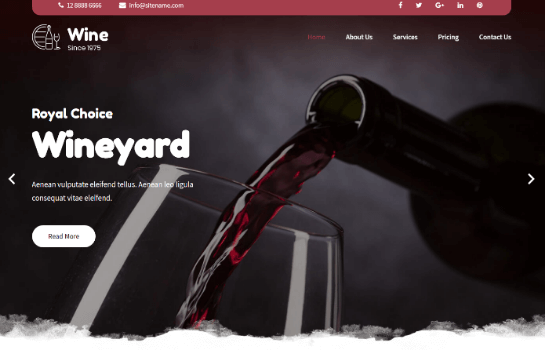 Clubs and communities that prefer to come together and enjoy varieties of wine from across the world are gaining popularity. In order to ensure that such clubs get a proper representation in the online space, Wine Pro is the best option.
It has been crafted dedicatedly for wine yards and such communities. The pre-built template is mesmerizing and can be directly used for the website as the images are copyright-free.
Moreover, all kinds of personalization with regards to the club can be made in all aspects. There are no restrictions on words or character limits when it comes to adding content.
The WooCommerce compatibility helps you in setting up an e-store for wine products, merchandise, and other stuffs. Other plugins are also supported so that any missing features can be added quickly.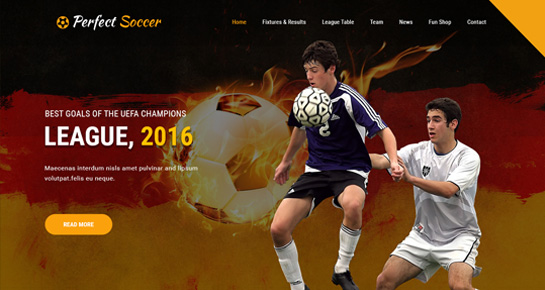 The largest followed sport across the world is Soccer which has an estimated number of 3.5 billion follower base. Creating a club with enthusiasts of such a big sport is a challenge in itself.
And more challenging is to create a website that can truly highlight the vision, mission, and goals of such clubs.
Theme Soccer from the compilation of free WordPress themes for clubs and organizations enables you to create a terrific web presence.
Everything from functionality, aesthetics, graphics, and images have been conceptualized and designed to address the fan demands across the globe. Complete personalization enables you to shape the overall charm of your website.
It is multilingual, comes integrated with Google Fonts, and has a retina-ready template. Hence, responsiveness and reaching out to a global audience is easily possible.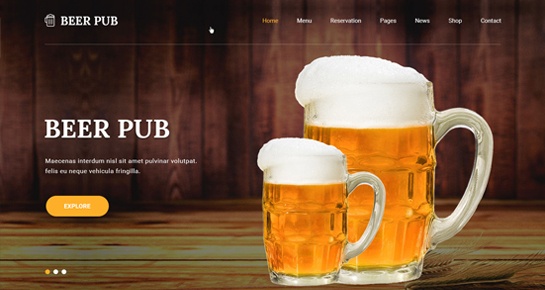 This is a special inclusion in the compilation of the best free WordPress themes for clubs and organizations. Families, friends, and even relatives tend to come together as a community or organization and celebrate life.
Beer and Pub is one such theme that enables you to create a dynamic, responsive, and aesthetically appealing website for one such community.
You can easily include all the activities undertaken by the club like trekking, camping, get-together, meet-ups, etc. Rules and regulations or terms and conditions for being a member can be listed.
If it is an invite-only community then the same can also be configured in the basic setup.
By default, hundreds of shortcodes are offered that ensure that any missing functionality can be added immediately. Lastly, all other features can be included through third-party plugins.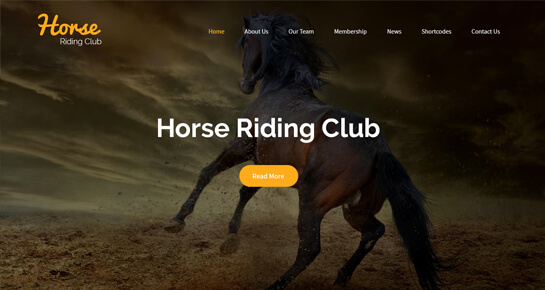 Communities, clubs, and organizations that are governed by and for sports enthusiasts have a different charm altogether.
Horse Riding is one such option that can be used for websites relating to horse riding clubs or for any other similar sport. By default, it is versatile and responsive in nature.
The color balance in all the aspects has been balanced to ensure that it resonates with a dynamic aura. The modification allows you to include all the key elements of the organization's constitution.
It offers RTL support and by default comes with Google Font integration. Additionally, it is translation-ready, multilingual, WooCommerce compatible, and offers a wide variety of menu options.
The one-click demo import enables you to set up the website easily and make the launch process speedy. All the basic requirements for such fraternity are easily addressed and for everything else, plugins can be used.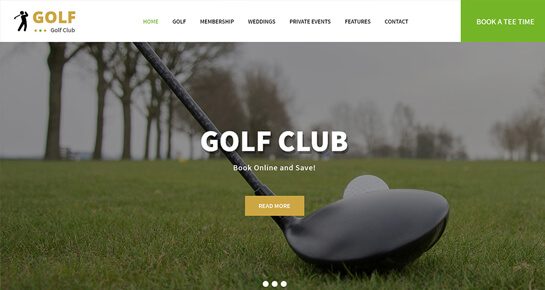 Playing Golf demands much more than passion and enthusiasm. This is a game that is considered to be a symbol of riches, style, and lifestyle.
Hence, to ensure that a delicate, elegant and completely responsive website can be made SKT Golf has been designed. Given its performance and ease of use, it has made it to the list of free WordPress themes for clubs and organizations.
You can conveniently list out everything about the game and the club on the website. Graphics, layout, and structure has been developed by experts so that professionalism is highlighted everywhere.
The pre-developed template can be directly used as the images are copy-right free.
By default, a slider is offered which is completely under your control and Google Fonts are also integrated. This theme will never let you down in terms of aesthetics, performance, or features.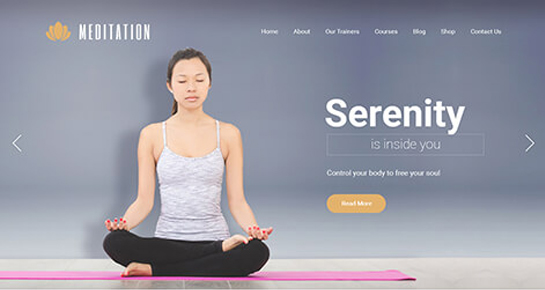 The representation of a group of people who come together for meditation and practices related to the same is special. Meditation Pro has been developed to ensure that all peculiar requirements of such groups are addressed to the core.
The theme perfectly balances the aesthetics part so that it does not become cliché but remains elegant and professional. Personalization helps in adding group-specific information and details about criteria that are mandatory.
All activities and other details can be included in the provided layout. Customization helps in making core changes but mostly it will not be required.
Plugins of various kinds including WooCommerce are compatible which ensures that all kinds of execution are possible here. Even setting up a dynamic blog on the same website is possible.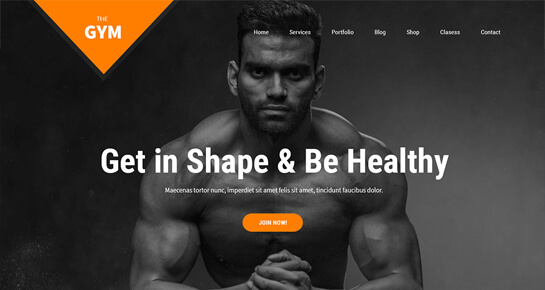 The gym culture has evolved over the years and hence it becomes essential to features the best qualities of your organization. SKT Gym Pro is one of the most powerful and responsive in this collection of free WordPress themes for clubs and organizations.
All intricate details relating to the gym have been considered and then the structure, design, and template have been conceptualized. Hence, you never miss out on any parameters in the details sections.
All details about membership, equipment, trainers, and even diet packages can be easily included. It is translation-ready and comes integrated with Google Fonts by default.
WooCommerce support is provided and it comes integrated with Google Fonts and social icons pack.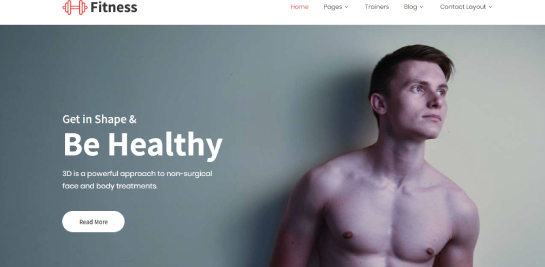 The last in this compilation of free WordPress themes for clubs and organizations is SKT Fitness Pro. This website is specially developed to address the core demands of groups that are into fitness-related business or activities.
The conventional problems of relying on external applications for basic features have been eliminated here. All core features that are inevitable for such a niche are offered by default.
Additionally, the pre-built template is HD-ready and is perfect for direct use and publishing of the website.
In addition to this, you also get hundreds of shortcodes incorporated so that required features can be quickly added. When looking for a complete package there is nothing else that beats SKT Gym Pro.
Themes for social clubs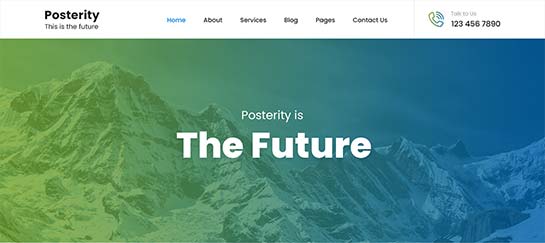 If you're looking for a fast, responsive, and developer friendly theme then don't look further than Posterity. This can be used to create a fantastic blog and website related to the club and organizations.
Mainly, this free WordPress theme for clubs and organizations is introduced for startups. Posterity includes SEO optimized plugins that give an easy and tremendous boost to your site.
Further, it includes beautiful color combinations and features that give the best appearance for the site.
Also, it includes numerous features and smooth coding that will fit with your needs as it is fully responsive, in-built shortcodes, headers, footers, sliders, and more.
The full-documentation and demo content is available, so anyone can create the website without the assistant of the technician.
The more features involve in the theme are side menu, call to action buttons, attractive templates, full-width layout, one-click demo, and 24/7 customer support.
So, what are you waiting for? Try its demo today!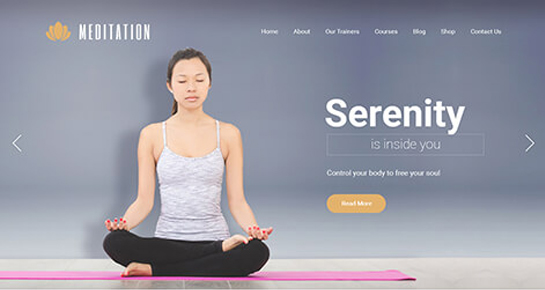 SKT Meditation is an incredible free WordPress theme for clubs and organizations. This is well-known to improve the website development process as this is great and highly efficient.
This has included various social media plugins such as Facebook, Twitter, etc.  With this theme, your website can be easily open on any device and browser that enhances the user experience.
Moreover, you can easily include widgets, multimedia files, and plugins that would best in engaging your users towards the site. Further, the blog section is also incorporated.
The more features you will get in this free theme are schema, AMP plugin, congenial with multiple languages, cache plugins, CTA, and more.
SKT Meditation theme is simply designed to represent your website impressively on the web in terms of images, colors, features, and everything. Try it!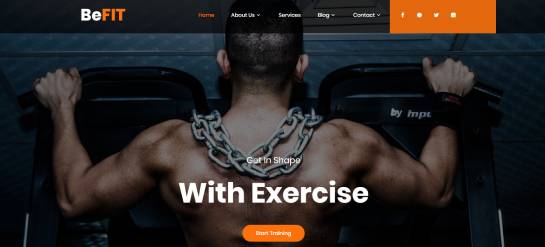 BeFit Lite is the top-selling free WordPress themes for clubs and organizations. It is built with a simple API which gives a great look to the site.
This meets all the standard goals of WordPress, so you won't get struggle while working with a free theme. This includes an animated homepage that shows different categories or menu of the site.
If you're a fitness freak and want to create a cool website for those who need your fitness tips then nothing is best than BeFit Lite.
It is integrated with lots of fonts, icons, etc that improve the site's appearance. Further, it contains social media plugins, contact form 7, WooCommerce plugin, etc.
The more prime features include in this theme are shortcodes plugins, sidebar, 5 level drop-down menu, pricing table, testimonial, etc. in short, if you want to increase user credibility this theme is just perfect to use.
Fitness Lite is yet another best free WordPress themes for clubs and organizations. This theme has all the necessary features that would help your site to rank on Google easily.
The homepage setup is easy to edit and install. Further, the theme is highly responsive and compatible with various devices and browsers.
It is a fully-documented theme that helps the user to create and use the website with ease.
The best about the Fitness Lite theme it comes with a Textual logo, pricing tables, WooCommerce plugin, transparent menu, and 5 level drops down menu.
The Sidebar is widgets friendly so you can add widgets in the blog post for better user engagement.
Also, the call to action is included that would work best for your business. This is a simple and easy to use the theme for anyone.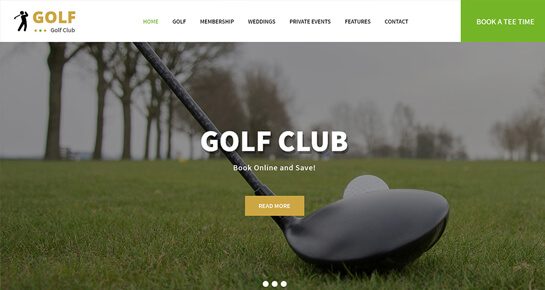 SKT Golf Lite is the most amazing free WordPress theme for clubs and organizations ever introduced in the market. It is much better than anything else you are looking for.
This is an exceptionally best and flexible theme that easily fits your business requirements and takes your business to the next level.
There's nothing is impossible when it comes to having quality features such as booking forms, WooCommerece, 5 level dropdown, many pages, easy customizer, resolution friendly, and retina ready.
More than that, SKT Golf Lite is a super interesting theme to work on as it is based on HTML 5 and CSS3.
Also, the sidebar widgets, layout options schemes, fonts, icons are easy to alter. This has a lot more to enjoy, so you just try its demo or download its version to get started.
If you want to create a professional yet attractive website for your yoga club then Ele Yoga fit is the best free WordPress themes for clubs and organizations.
This is a powerful responsive and friendly theme for every device and browser.
With this theme, you won't get limited features. You will create the design the way you want. This includes default content for the homepage which you can edit easily.
Moreover, it supports different payment methods that usually help users to better their credibility.
You will get 900 Google fonts for free that easily increase the website's appearance. However, with the customizer tool, you do not need a third person to create a website for you.
It comes with full-documentation that stores a step-by-step guide to create a website.
Additionally, this includes Nivo slider, template pages, WooCommerece plugin, header and footer section, etc. Ele Yoga Lite comes with all standards that respond with the latest version of WordPress.
If you are looking for an extraordinary theme that highly manage your health, fitness, and beauty kind of website then Ele Spa Lite is the best free WordPress themes for clubs and organizations.
Once you find its trial version you will get unlimited features. In short, the site work beyond your imagination and you will massively enjoy the quality of the theme.
The theme is responsive and compatible with all browsers and devices. Hence, your user won't find any issue while using your website.
It includes free SEO optimized plugins, WooCommerce plugin for shopping, one-click demo, homepage, blog, etc. with all such features, it will create your website never-ending.
Additionally, the goodness of RTL and retina ready feature helps your website to beat the competition in the market. Whether you are a technical or non-technical person, you will get a huge success.
Ele Fitness Lite is another impactful and impressive theme that fits with multipurpose sites like beauty, yoga clubs, health clubs, and many more.
With this theme, one can easily create a beautiful blog or website that stands you out from the crowd.
The booking plugin is installed that would help you to get bookings and calls from customers easily. Further, it includes the WooCommerce plugin that supports your online store with various payment methods.
Ele Fitness Lite is the best theme that can rank your website easily on Google. Additionally, it comprises social media plugins and SEO optimized plugins that will give a quick boost.
The multilingual plugins like WPML, PolyLang, etc are also free to support your website. So, give it a try and see the fantastic growth of your business.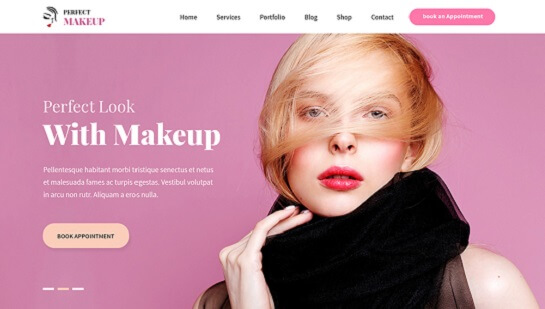 Ele Makeup Lite is a fantastic theme that takes less time to take your Beauty website to the next level.
The developers of this theme have given their best to the theme just to make it super-great for the customers. The theme involves the WooCommerce plugin that significantly boosts your online-store.
It is a user-friendly theme that supports various devices and browsers. Additionally, it comprises an SEO optimized plugin, SMO plugins, Google fonts, icons, and Multilingual plugins.
Ele Makeup Lite is a lightweight and friendly design created for new bloggers. This has the combination of both traditional and modern features that easily impress your users and you will enjoy the profitable business.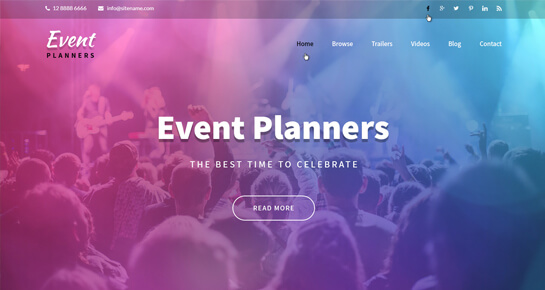 As far as free WordPress themes for clubs and organizations go, this one certainly gets your attention right away.
If you are planning to establish an online website, for say, a nightclub, then you need to make sure that the website in question comes with an eclectic appearance and manages to snag the right amount of attention. And that is exactly what you get with this particular theme.
It is designed to be compatible with AMP plugin and comes with library of presets, drag and drop functionality, lots of cherry plugins and widgets that you can use to customize your website.
With this theme, you should be able to test run a few designs before settling on one and additionally, this theme happens to be responsive.
That is, your users can check out your website through mobile phone as well as other hand held devices and access the full functionality of your website. On a scale of 1 to 10, this theme stands out for all the right reasons.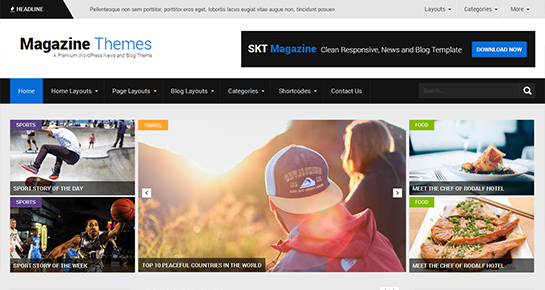 If you are planning to organize an event, then this is the theme that you need for your website. This is one of the free WordPress themes for clubs and organizations, comes loaded with all the advanced functionality you need and more.
For starters, it happens to be responsive – that means that your users can view your website on any device with zero loss of functionality.
That should help boost traffic and apart from this, it also comes with a neat design, along with categories and sub-categories that you would ever need.
The theme is responsive and retina ready which means that anyone can view your website through any hand held device and enjoy complete functionality at the same time.
What makes this theme interesting is the fact that it is WPML ready, meaning that you can run your website in several languages. If your guest list includes overseas guests, then this is one handy theme to go in for.
Incidentally, the theme comes with a minimalistic look and happens to be compatible with third party plugins, such as woo commerce.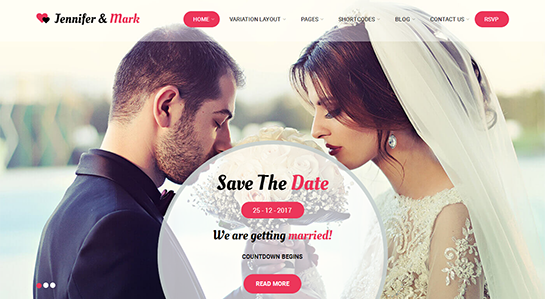 This is a powerful, multipurpose theme which also happens to be remarkably flexible, and that is all the more reason as to why you need to take a closer look at the same.
This is one of the free WordPress themes for clubs and organization comes with some fantastic demos that you can use to test out the theme.
Apart from this, it also happens to be responsive which means that your users can access it via any hand held device with zero modifications.
And incidentally, the whole layout, color and font can be customized so you can set up the website as per your preference and it also comes with a customizer as well.
And what's more, you can integrate e commerce, social media plugins with this theme quite easily which is all the more reason that you may want to opt for the same as it would enable your visitors to share their experience in real time. So check it out now.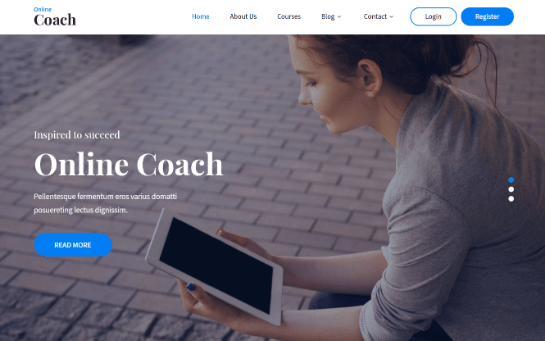 It happens to be a premium, responsive theme with all the advanced functionality that you need and more. Your users should be able to access your website from any device without loss of functionality and more.
The overall design is eclectic, stunning and outstanding and it comes with several demos that you can use to test this theme out. It comes with default slider as well as customizer that make it comparably easy to edit and make the required changes.
On a scale of one to ten, with ten being the highest, this theme stands at 7. It is also compatible to third party plugins including woo commerce.
These are some of the themes that you can use for setting up your social club websites among others. You can use these sites to set up a website for NGO activities and even for charity drives.
The point is that most of these themes are compatible with external plugins and can provide you with all the functionality that you would ever need. And that is why it is a great idea to check out these themes and see which one makes the cut.
free WordPress themes for clubs and organizations FAQ's
Which free WordPress themes for clubs and organizations are responsive?
Well, all the above-listed themes are responsive and do well with your website. However, the top recommends responsive free WordPress themes for clubs and organizations are as follows:
SKT Golf Lite
SKT Meditation
Posterity
Ele Spa Lite
BeFit Lite
What free WordPress themes for clubs and organizations to choose from for a startup?
For the startup, the following are the best free WordPress themes for clubs and organizations to choose from.
Posterity
Ele Makeup Lite
Ele Yoga Lite
SKT Meditation
Fitness Lite
How can I translate free WordPress themes for clubs and organizations?
Nowadays, many users want to show their content in multiple languages and that's a good idea to boost ranking worldwide.
With the Translationpress, you can easily do it. However, choosing the multilingual free WordPress themes for clubs and organizations can reduce your load of making your site translation ready. 
FAQ
Which themes can be considered as responsive for clubs and organizations?
The themes that are either retina-ready or HD-ready and perform excellently well in all kinds of devices, browsers, screens, and mobile phones are considered to be responsive.
How to choose the best one from this exclusive collection of free organization and club themes?
The first task will be to list out all the requirements for your ideal website. List out the kinds of tools, features, aesthetics, and structures that are required.
Once that is done, you can explore this collection and learn about the offerings of various themes. The one that best fits your criteria can be selected for creating a magnificent website.
Which clubs and organizations WordPress themes are best for SEO?
All the versatile themes that are included in this blog offer the best SEO solution for your website. These themes have been coded by experts and have been thoroughly optimized and tested for faster-loading speed, SEO, and supreme functionality.