SKT Golf Lite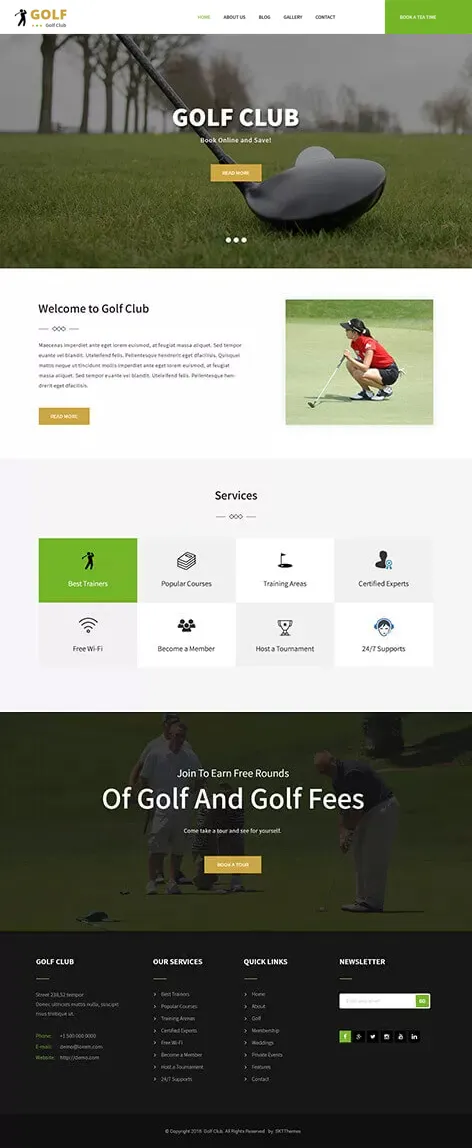 Free
Demo
360+ Themes for $69
Comparison
Free Theme
Less homepage sections
No inner pages
No Support
No Typography Options
No Icon Options
No Header Layouts
No footer Layouts
Less plugins compatible
Less updates
Less flexibility
More Time for Website Build
Features of free golf WordPress theme
5 level drop-down has been provided so that unlimited pages can be added and all facilities and features of the resort can be showcased using navigation
Explanation of main services is given on the top underneath the slides
As many pages or posts can be added and there isn't any limit to that
Blog layout has been provided separately to be set up for the resort
Booking forms compatible like ninja forms, contact form 7 and gravity forms compatible
Translation ready and multilingual compatible free golf WordPress theme
WooCommerce has been set up to work with this particular template and one can open an online shop for selling resort merchandise and even take payments for bookings
Simple to handle as the backend is based on Customizer which is common for WordPress default theme
Single colour scheme has been provided with hover colour changeable
Font options aren't provided in the free golf WordPress theme and it is available in the pro version
Slides only 3 are given with more slides and even the option to upload a custom slideshow in pro version
Gallery and slideshow plugins lots of them have been tested with this template and found to be working fine
Resolution friendly and browser-friendly template with all kinds of resolution and browsers all of the popular ones tested
Cross Device friendly as various sizes of devices have been tested
HTML5 and CSS3 modern coding with flat aesthetics have been used
Coding standards like theme review standards set up by WordPress codex have been used
Single page template has been provided only with more in Pro version
Sidebar widget friendly and as many widgets can be housed in the sidebar
Team members, opening hours and lots of other shortcodes are given in the paid version of the template
Layout options, colour schemes, fonts and page builder compatibility are all given in the paid version of the template
Free Golf WordPress Theme explained properly
Golf clubs and golf resorts around the world need to present luxurious spanning and sprawling services of their Golf resorts where rich people can go. Hence they always need to showcase their golf course facilities. Facilities should be described nicely and explained in detail like what kind of spa facilities and salon facilities are being provided. They should also explain what other kinds of facilities are provided like tennis courts or swimming pools. Golf resorts also are sprawling and house a lot of family and kid entertainment zones like gaming zones, family time as well as clubs and casinos. Family restaurants, as well as bar facility, is also provided just like any other resort and most of them have party facility as well as guest facility and hotel facilities.
Rich and famous come here for meetings as well as discussion on important issues and matters. They also come here to relax and enjoy their time out of their busy schedules.
Our free golf WordPress theme has all the features and facilities to house the above said information.
Services are the most important and those have been given just underneath the slider area so that one can easily explain the services and give details about them.
The menu area allows for 5 levels of drop-down so that various facilities as well as pricing, membership plans and its tables can also be housed nicely.
Welcome to area is also given just underneath the slider so that one can explain about the golf course and link to the history and mission and vision statement and the current management pages from there.
The slideshow given is for only 3 slides with more possibility in the paid version having more than 10 slides and also one can have a custom slider which has no limit.
Pause time and animation options are all given in the pro version.
This free golf WordPress theme has location and social icons also given nicely with more social icons using font awesome icons given in the paid version.
Call to action is important for any kind of resort or hotel or club website and hence email, phone number and social icons are given on top in the header, in footer and if required one can add them to the sidebar as a widget as well.
Included with every free golf WordPress theme
Theme Files Theme files in the form of zip have been included free of cost
SupportYou can email us and get limited support for this template
Tags: golfing, golfer, gulf, driving range, play, game, football, course, tee time, field, curling, croquet, cove, sport, pitch, archery, cricket, baseball, billows, ball, polo, discus, polje, hockey, skating, bingo, sportswear, turtleneck, putting green, athletic, miniature golf, wave, sports, green, battlefield, puttering, golf club, bowling, aquatics, play a round, spinbox, badminton, mini-golf, exercise, home turf, bay, creek, play, wrestling, camp, range, Campos, athletic activities, Caddyshack, fives, sweater
Change Log
Updated December 2023
Working With Latest WordPress Version
Updated Google fonts for GDPR and Other Country Privacy
Updated to work with PHP 8+
Updated to work with at least one page builder (Elementor, Gutenberg or SKT Builder)
Compatible with popular plugins of SEO, contact form and WooCommerce
Updated performance to work with popular cache plugins and Cloudflare