Are you connected to the equity market and investment industry? If so, you are aware of how crucial it is to advertise your services online. Half of a company's prosperity is a well-designed website.
But you can't just choose any theme and use it to create a business website; you need to search for free stock market WordPress themes that will help you show your services in a proper and elegant way.
In this article we will explore the key features and benefits of stock market WordPress themes all of them which are all packed with features that are specific to Stock Market sites. These come with a variety of features such as customizable widgets, responsive design, custom page templates, and more
Here we have compiled a list of free stock market WordPress themes which will best suit for your business. And will help you to stand out in this competitive business by creating an exclusive online website.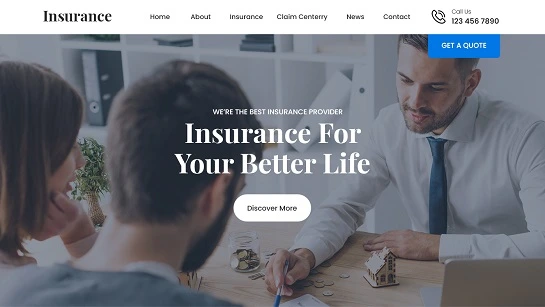 The SKT Insurance theme was created with insurance businesses and other websites with a financial focus in mind. The Elementor website creator is included in it. With the most powerful Page Builder, you have access to a cutting-edge practical utility with drag-and-drop functionality to modify your front-end sites.
It offers a ton of modification choices so you can tailor it to your specific requirements. This free WordPress theme for an insurance business gives customers a beautiful interface and supports mobile devices.
The SKT Insurance theme goes incredibly well with websites for insurance companies and other businesses involved in money.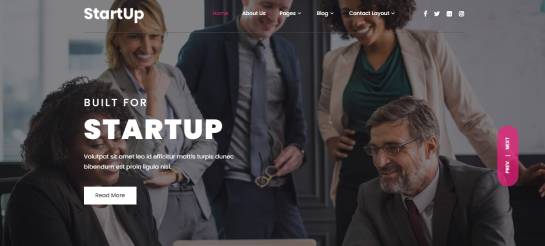 A professional free enterprise WordPress theme, Startup comes with a prebuilt the panel example that includes all of the essential sections necessary for any website pertaining to a startup business.
It is completely different from any other business specialty that exists. You can create a sleek and contemporary website for coworking spaces and other websites that you are considering using Startup, which is a commercial template that can assist you in doing so.
This template gives you access to all of the necessary features that will assist you in putting together a website that is both remarkable and captivating for the viewers.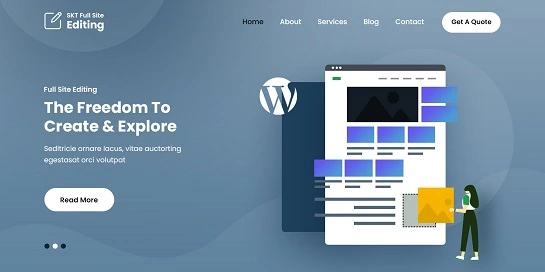 SKT FSE is the best free FSE WordPress theme available for your company's requirements, regardless of whether you work in the financial industry, the real estate industry, or the clothing industry.
It comes pre-packaged with a broad variety of WordPress block patterns for the purpose of making the user experience more convenient. This free WordPress theme developed by FSE is absolutely versatile and can be adapted to meet the requirements of virtually any kind of website.
Your company will continue to progress effectively as a result of this. Your WordPress website would benefit greatly from using SKT FSE free stock market WordPress themes as it does improve your ranking and enables you to confidently expand beyond your geographical limitations.
SKT FSE is elegant and attractive, it has a cta button, a social menu supporting email and phone links, a section for customer testimonials and lots more.
SKT Patterns is the best patterns WordPress theme available, and it is an excellent choice for online portfolios, digital agencies, creative agencies, freelancers, designers, individuals, and businesses that want to develop a customized landing page for their company.
This theme is absolutely free to use and offers assistance for changing the entire website. It is built-ready design and you do not need previous coding skills; it gives you regular updates.
This free theme has been constructed from the ground up to guarantee that it is completely functional with a wide variety of editors and blocks. Every line of code has been carefully crafted, and we are constantly on the lookout for methods to improve it and add new features.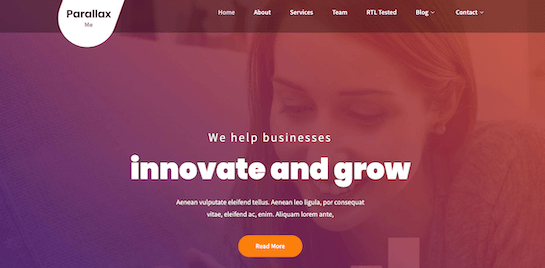 SKT Parallax Me is a One Page sliding free Parallax WordPress theme that was meticulously designed and developed. It is a WordPress theme consisting of a single page, with sections on the main page having the ability to be readily controlled from within the theme settings.
The intrinsic Free parallax Builder is a testament to a fantastic method for producing designs through the utilization of a straightforward user interface. The theme is uncomplicated and straightforward, and it offers a number of parallax-explicit alternates.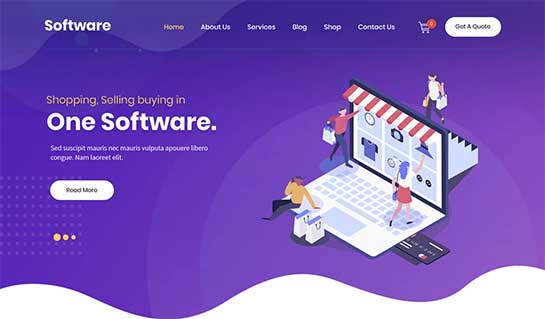 SKT Software is a free software WordPress theme that is both simple to use and simple to handle. It is retina ready and it comes with a powerful toolkit and a set of features that can be used to create a website that looks both appealing and professional.
It will be helpful to show Software and its features using the template, which can be used to create a website for workers, a professional blog, or a website for a multinational business. It is compatible, having SEO optimized template and Google maps integration. This template supports WooCommerce.
Spirited Lite is a free, mobile-friendly business free stock market WordPress themes. It cleared Google's performance test and is mobile-friendly. It integrates with different SEO tools and is SEO compatible.
This template is very straightforward and simple to use. It is constructed using the Customizer framework, which adheres to the coding standards and theme review team guidelines.
As a result, it is future-proof and should function with all current WordPress versions and plugin updates.
SKT Corp is based on white with a green color to get the best professional look and feel. It has 3 blurbs just below the slider that could be used to show any type of html content mixed with text and images.
It is cross browser compatible, responsive, seo friendly and comes with featured content area, recent posts and other sections. One may add up to 10 sections on the homepage of such areas.
Managing any sort of business whether it is a corporate, proprietary, profit, or non-profit organization will be easy if a suitable WordPress theme is available. SKT Biz proves to be an ideal WordPress theme as it is available free of cost.
It provides a facility of adding up to 5 slides to the ready slider available in the theme. SKT Biz is a theme that is developed in such a fashion that even a person without knowledge of HTML coding can operate it.
The user can easily make changes to the background according to the requirement of the company. A paid version of the theme is also available which provides additional features.
Irrespective of several departments in a company, the accounts department plays an important role as it deals with the accounting of the transactions, legal, taxation (based on the country of existence), etc., and all other related formalities.
Exceptiona Lite is supposed to be an accounting WordPress theme that is available free of cost for accounting firms. Having the feasibility of using it on any device like tablets or smart mobile phones, this theme will prove to be ideal for usage in any sort of project whether it is personal or commercial. This theme is preferred by many as it is compatible with eCommerce.
The user gets impressed if the landing page of any website is presentable and informative. Flat Lite is supposed to be a landing page WordPress theme that is available free of cost.
It is compatible with WooCommerce and helps sellers in selling their products online. It Is also compatible with contact form plugins that provide locational details of the business.
In case the person viewing the website is interested, he/she can make use of the contact information and contact the business website. This helps in building up the business.
The theme is flexible and can be used for multiple purposes such as designing the website of any sort of industry like corporate, proprietary, profit, or non-profit.
SKT Simple is supposed to be a simple WordPress theme that is available free of cost. The user can set up the homepage sections very easily. A person without any knowledge of HTML coding can also make use of the theme.
This theme is widget friendly and approximately 27 usable widgets are available along with the page builder. The theme is compatible with plugins like contact form, SEO, WooCommerce, portfolio, and gallery. A paid version of the theme is available in case additional features are required.
Retention of a customer is very important and marketing helps to some extent. As online businesses have become very competitive, retaining customers has become very challenging. Creativity in marketing the product plays an important role.
Digital agencies or any department dealing with marketing requires a WordPress theme like Ele Agency lite. It is ideal for digital, corporate, or consultancy-related agencies.
It can be customized and used easily. Being crafted with an elementor, the theme looks stylish in presentability. Having a compatibility of social media icons and sharing, the theme attracts many.
This theme is meant for multipurpose i.e., a variety of blogs can be created for different businesses. The user can make necessary changes to the images available in the slider. This free stock market WordPress themes are easy to use and since it is built with an SEO concept, ranking the website designed using this theme is very easy.