Some things don't change with time. Even today, gifting a loved one with a bouquet of their favorite flowers is a classic choice. That's why many flower shops exist till this date!
However, many people are now used to a certain ease of purchasing things. That's why maybe it's time to take your flower business online.
You can create a website, display products, prices, reviews, and let customers purchase online. The flowers will be delivered to the address of their choice. Your customers can surprise someone by sitting at home.
If you are thinking of providing such an experience, you need a WordPress website.
Why WordPress? Because it is still the most reliable platform for creating, managing, and hosting a site.
One of the best things about WordPress is that you need no coding experience to create a website.
All you need is an elegant theme that suits your business. Afterward, you can customize the theme according to your business and publish it.
You need to check many flower shop WordPress themes before you find one that will work for your website.
Here are some of the best themes that you can use for your online flower shop: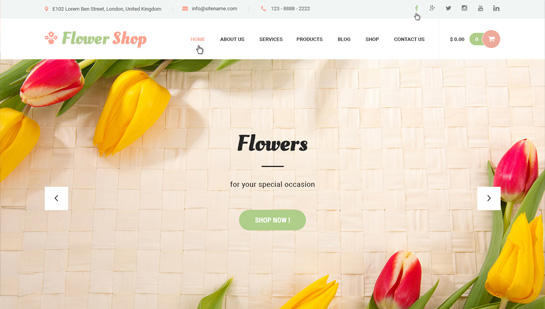 This theme comes with an elegant vibe that will compel the site visitors to buy flowers.
You will be able to upload HD images without slowing down your site. Proudly display your flower collection along with the prices.
It is important to run offers on special occasions, they can boost your sales. When you have such offers going on it is important to display them on your site.
This theme ensures that you have space to highlight these offers. You can also highlight testimonials of your happy customers to convince the prospects.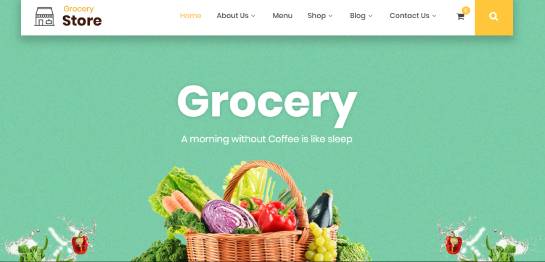 This theme is excellent for grocery stores but because of its amazing background colors, you can use it for your flower shop too.
You can use many animated elements to describe your unique selling proposition. In the next section, you can highlight the different types of flowers that are available in your store.
You can win the trust of visitors by highlighting customer testimonials. It's important to know that your customers will always be price-conscious. If you have a discount, they will love to know all about it. This theme comes with a dedicated section to provide information about the available discounts.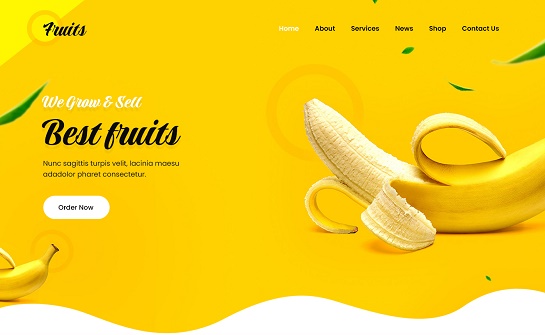 This theme is color rich that's why it can be used for your flower business.
There are many flower shop WordPress themes but none of them make describing your business as easy as this one.
It makes sense to push products that are already doing well. That is where the featured products section of this theme helps you.
If you cannot highlight all your bestselling products in the featured section, you have more space in the next section. This section allows you to add all your bestselling products.
You can highlight customer testimonials and add a newsletter option at the end.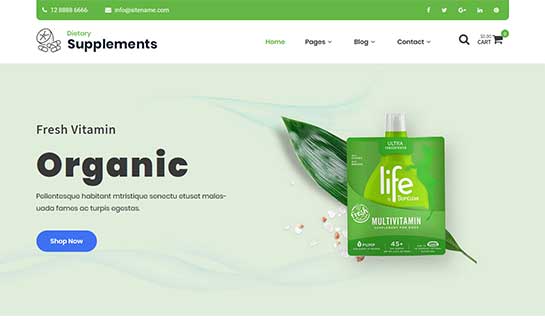 This theme allows you to highlight your unique selling proposition in the beginning only. You get the chance to explain how you are different from your competitors.
There are certain things that people expect when they do online shopping. Kindly highlight what they can expect from your online store. You can do this with the help of animated elements and one good example is free shipping.
It is important to display that you provide quality products and that can be done with the help of testimonials. This theme has a lot of space for positive testimonials.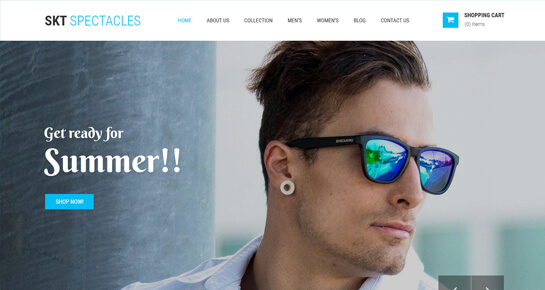 This theme has a fresh look which is great to highlight your flowers. You can display the popular products in the first section of the theme.
You have a lot of products but it is important to push newly released products too. This theme has a separate section for that. You need to provide your customers with a reason to shop with you and this theme enables you to do that.
Other than that, you have space for testimonials and you can also highlight some other benefits of shopping with you.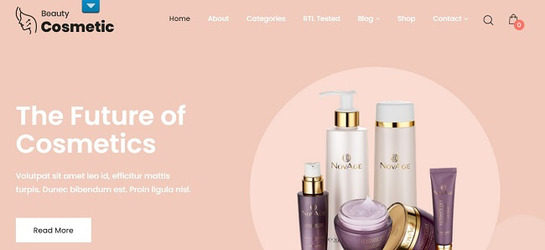 You can use this theme to increase the online sales of your products.
In the first section, you can highlight the different types of products you provide. It is important to keep space for new products.
The first week is essential for new products if they sell well within the first week, then they are more likely to be popular. This theme has empty space where you can highlight new products.
There are many flower shop WordPress themes but not all of them give you a reason to make a purchase. This theme provides you with a reason and includes the USP in it.
This theme has a funky look which will attract a lot of youngsters to your website.
You can highlight a few exclusive collection products which are loved by everyone.
There is a lot of space to highlight your products, pricing, and categories. All of this is done with HD images. This theme allows you to upload HD images and videos.
There will always be some products that don't need your help in selling. It is important to feature the hot-selling products on your website. If they are loved by your customers, then it is time to highlight the product to your prospects.
It is crucial to highlight positive testimonials to win the trust of the visitors. This theme will allow you to do that.
This theme is easy on the eyes and can be used for your online flower shop.
You don't have to waste time with unimportant things but can start displaying your best-selling collection of flowers with this theme.
A sale is an event that can be highlighted on your website. This theme enables you to do that and this will get your customers excited. You can add things that are unique about your business with the help of animated elements. This could be anything like worldwide shipping.
In the next section, you can display your new arrivals proudly. After that, you have space for testimonials and a blog section.
This is a truly minimalist theme that allows your products to steal the show.
You have the chance to display your product in the header with this theme. Add unique points that make your business special with the help of animated elements.
In the next section, you can highlight the new arrival products that can impress your customers.
If you have divided your products into different categories, then this theme can be useful for you.
No e-commerce business can survive without hosting amazing sales from now on. However, the hype has to be created for them and that needs space. This theme gives you space to display a deal with a timer.
The SKT Gold theme will give your online flower shop a classy look. You can display your new collection of flowers to your visitors. In the next section, you can highlight your entire collection.
You need space to display amazing deals which your customers will be interested in and this theme provides you with the same. It comes with a blog section where you can upload content to rank on search engines. A strong content marketing game is needed to be separate from the crowd. You cannot do that without a blog section.
Next, you have the newsletter section and then the footer.
SKT Minimal Pro is a minimal shop WordPress theme that provides a hassle-free experience to site visitors.
This theme is loaded with so many elements, features, and options that by the end of customization you will have the perfect site for selling flowers.
You will be happy to know that this is an SEO and mobile-friendly theme. It is a clear winner in terms of performance, speed, user-friendliness, and user experience.
It is a cool and clean theme that should help you attract the attention of the visitors. You can sell anything with such a neat theme!
SKT Lights is a theme that is compatible with WooCommerce it comes with premade templates that can be customized according to user preference.
The homepage of the theme comes with different sections and each section says something significant about your business. This theme helps you showcase your products in the most impressive way. You can display the customer testimonials that you have received on the homepage.
This should help you win the trust of the site visitors. Social proof is extremely important when it comes to e-commerce businesses.
This theme has a cart option with which customers should be able to add any number of products to their cart. They will also be able to view the number of products that are currently in the cart. Once a customer goes to the cart, they should also be able to see the final invoice of the purchase.
This is a theme designed to sell school uniforms for kids but with a little bit of customization it can be the perfect theme for your flower shop.
This theme has amazing animated elements that can intrigue visitors. In one section you can highlight your USP with the help of a few animated elements.
This is one of the flower shop WordPress themes that have different color combinations.
This theme has a look that will instantly relax your customers and they will be in the mood to buy the best flowers from you.
You cannot be in business if you do not have a good offer. Your website needs to have space where your unique selling points can be highlighted. This theme solves this problem by providing you with space where you can add positive pointers to your brand.
One of the best things about this theme is that it is video friendly. Now you don't have to convince your customers that your flowers are the best with words or static images but you can show them with videos. If you have a physical store, then you can add an HD video of that store. This should give customers an insight into the quality of your products.
Shopzee is the perfect solution for anyone who is looking to make an e-commerce website. You can easily manage the product section and add unlimited products as per your convenience. The color schemes and the sections can be customized according to your needs.
You can also sort your products into different categories which makes them easier to manage and navigate for the visitor.
This theme has every feature and functionality that you can expect from an e-commerce website. It provides Stripe, PayPal, and Mijireh payment gateway for free but you can add others by paying for them.