A lot of people show interest in websites that have videos or movies. If you want your website to grow an audience quickly, it would be beneficial if you provided interesting videos or films.
First, you must find a suitable theme to create a perfect video or movie website. There are multiple film WordPress themes, but a few have all the features you will need in your theme.
All these themes have features that can meet your needs to create the perfect website for videos and movies.
In the coming years, there has been a great increase in demand for video content. As a content creator, you should meet the demand with your own video format website.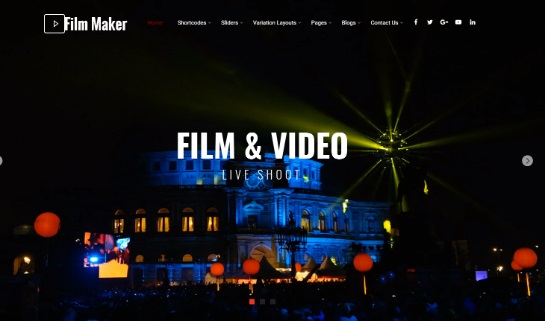 The entertainment industry has grown beyond the consumer's comprehension in the past few years. That's why your website should have a latest news section. With the help of that section, people can catch up on the recent entertainment news.
You can grab visitors' attention because of this feature. The website theme is fast, responsive, and functions perfectly on a mobile phone. No website dependent on video can function well without the options of full screen and minimize.
This theme ensures that once users find the video they are looking for, they can watch it on full screen or minimize it whenever they like.
One can change the colors and fronts later on according to the brand. If you have an in-house team, you can work to extend the functionality of this theme and make your website truly amazing.
However, if you do not have a technical team, then this theme is ready to use. Once you apply it, you will just have to make a few changes on your end.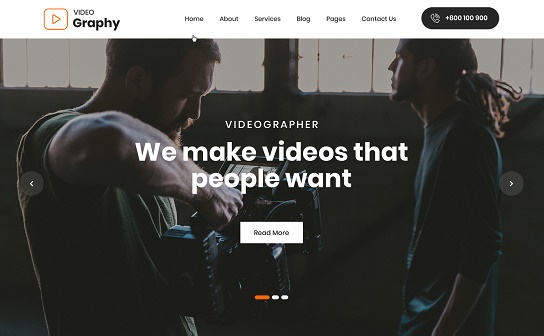 SKT Videography Pro is a WordPress theme ideal for movie directors, videographers, video production agencies, film production agencies, and vloggers. You can download this theme after buying it just for $39.
Once you have installed it, you can customize it to fit your specifications. Video creation is no longer just a priority for videographers, vloggers, or filmmakers, but it has become a priority in marketing, education, promotion, etc.
People are more easily captivated by video format content, which is why many content creators are looking for themes like SKT Videography Pro.
This theme comes with a demo that helps you import your content and then view the website in this theme. If you feel that SKT Videography Pro is better than other film WordPress themes, you should make the purchase.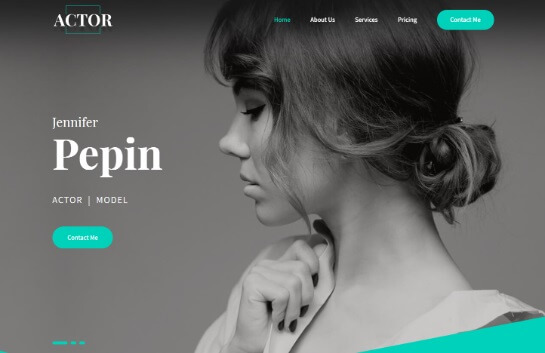 This theme helps struggling actors make their portfolios. However, it can also launch a video or movie website. If an actor uses this theme to create a portfolio, they must upload many of their videos.
That's why this theme is built to be video friendly. You can apply this theme and extend its functionality through elementor.
More than 900 google fronts are available because of this theme. So whether you are an actor ready to make your mark or a film website ready to launch, this theme can help you immensely.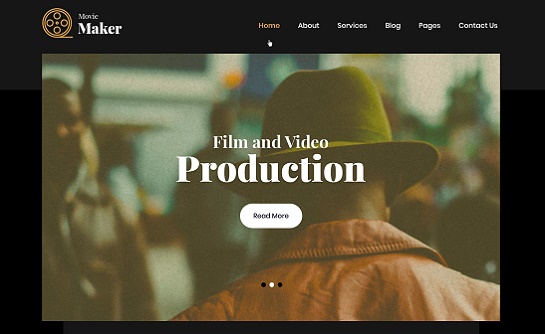 SKT MovieMaker is a theme best suited for actors, directors, film producers, movie studios, dancers, and entertainment websites. If you are in any video-related business, you can rely on SKT MovieMaker.
Its alluring design helps you make a mark for your business in the market. This theme works on multiple browsers and is also mobile phone friendly.
Furthermore, it supports plugins like mail chimp and contact form, which help you to provide excellent customer service. To market your services or generate substantial revenue on the internet, you must create content that captivates the viewer's attention.
Strangely, most people interact with video content more and are more interested in video content. That's why you need to make video content, and there is no better theme for it than SKT MovieMaker.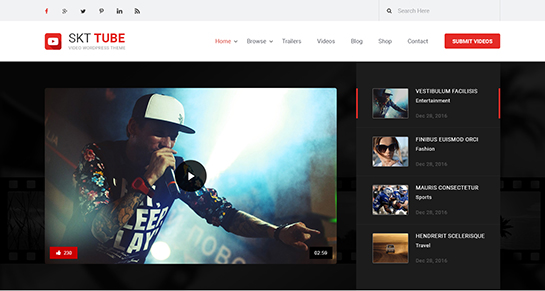 If you want to create a website like youtube, then there is no better option than SKT Tube. In addition, you can host many other videos with the help of a video slider and gallery.
When you have a site where people always upload videos, you must keep a section reserved to highlight the latest videos. People will upload videos of different categories, so it is beneficial to categorize videos on your website. Users will be able to find videos based on their categories.
Your video website will only work in such a robust competitive environment if you keep receiving new videos from viewers. You have a dedicated section on this theme, where people can upload videos.
If you find those uploaded videos relevant, publish them on your website. A section is dedicated to your newsletter; if people subscribe, you can send them reminders about videos they may find interesting.
In a popular video hosting platform, it is only natural that some people will become extremely popular. How many youtube celebrities have you heard of?
However, unlike youtube, it may help you to highlight the artists that have contributed to your platform. With the help of this theme, you can give the artists the recognition they deserve.
This amazing theme can be used by podcasts, record labels, music artists, metal bands, music players, and other key players in the music industry.
A default music player is provided with the theme, but if your needs are more complicated, you can select any other player from the plugin store. This is a responsive theme and is mobile-friendly.
The sidebar is widget friendly with social media icons. If music artists or bands use this theme, they may need to highlight their tours.
That's why this theme comes with a calendar that can be used to schedule an event. If you like the theme but have any doubts get a live preview of it to check what it will look like.
This is the hottest theme that any music band or album producer would want. It meets all the needs with extremely desirable features.
Think of any feature that a music website would need, this theme has all the features that you can imagine! The upcoming events of the band are also highlighted.
If you want to use your website to promote your concerts, you can use this theme. Music producers need to display their new and old songs. That's where this theme comes to play. It provides producers with an opportunity to display their songs.
When pictures meet art, you can call it the PicArt theme. Don't worry this theme supports videos too that's why it is one of the best film WordPress themes.
This is multipurpose photographer theme which can be used by multiple industries. Once the theme is applied, the user should make the appropriate changes. There are a lot of built in short codes which make it easy for people to add content where they like.
Because of the social icons on the home page visitors will be able to follow you on different social media channels. If a film director wants to showcase their work, this is the perfect theme.
SKT Black has been coded by a team of experts who have been developing themes in the cinema niche for a long time. If you want to highlight your work, then nothing lets your work shine more than this theme.
It is developed with multiple CSS animations, the user does not have to do anything from their end. The slider in this theme makes your site easy to navigate improving user experience.
With the help of a home theatre system, people can enjoy the experience of a multiplex at the comfort of their home. This theme is built for companies that sell home theatre systems and that's why it is connected with the WooCommerce plugin system.
Selling a home theatre system is difficult it requires a lot of convincing to do and people are easily convinced when they see a video of the product.
That's why this theme is video friendly, you can add many videos of the product to the website. It is so video friendly that you can even use this theme for a video or movie website. A lot of different sections can be created with sliders which make it one of the best film WordPress themes.
Full Page Pro was made to handle video or image rich websites. It is not limited to which purpose it can serve. People can use this theme for a movie website, photographer portfolio, director portfolio, wedding photographers, etc.
The entire page is covered by the image or video that you choose and the text of your choice. It gives the message more impact.
This theme works extremely well on mobile phones since mobile phones have become free of clutter. This theme gives you a completely empty page, all you have to do is fill it with your talent and display it.
Keep Rolling with these amazing film WordPress themes!