The following article focuses on the Farming WordPress themes for making an agricultural and farming website.
No matter how much we develop ourselves with the passing time, some of our critical and important needs would be always dependent on a class of people who have dedicated themselves to serve us.
Food is among those essential needs that is the prime medium of survival for human race and this is cultivated by a farmer in the farmlands shedding the sweat and working with devotion to feed us.
There has been a traditional approach towards farming and cultivation but this needs to be changed and automated with the modern day time and advancements.
Now it is the time of advanced farming and a need to adopt the methods of making all the agricultural products available online with the support of some companies that would also help the farmers to gain for their hard work.
Making the availability of the farming products will not only help people to buy them easily but also would provide them the options to make a choice from.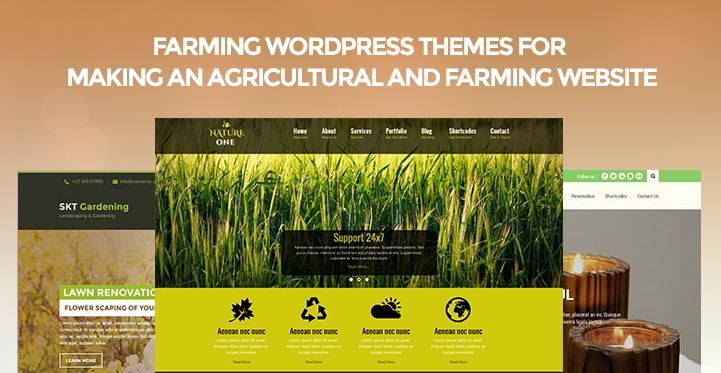 A farming website is the best option to look out for fulfilling this need and it should be equally representative at the same time to make the user aware about all the farming activities and the available products.
Website is the only medium to make farming activities and the products reach out to maximum people across the globe as it is the source that can be used and accessed anytime.
To create an attractive and well-contained websites, Farming WordPress themes can prove to be of immense help as it is loaded with all the stuff that is necessary for making an agricultural or farming website.
Some of the wide range of Farming WordPress themes for making an agricultural or farming website can be observed as under
Farming is the best and buoyant Farming WordPress template that is meant totally for creating a farming website for agri business and products.
It offers the variety of languages to help anyone read the content in the native language due to its nature of being a multilingual theme. Kitted up with all call to action buttons this theme has all the option of one's need for website.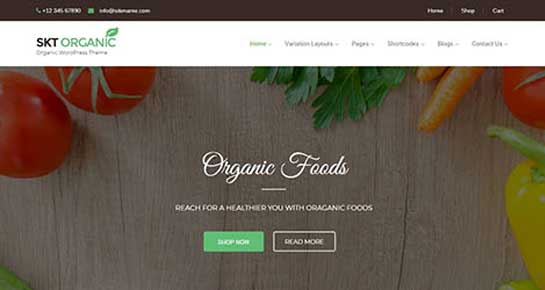 Organic is one of the types of Farming WordPress themes which is unique and sensational in delivering high quality output. This theme is armed with fab features to help the user in making a very different website based on his desired approach.
It is the theme to make the website shine on top being SEO friendly and designed to cater for the modern day need by the feature of fast loading. Serving to all kinds of needs it is suitable for novice and advanced website owners and provides over 650 Google integrated fonts.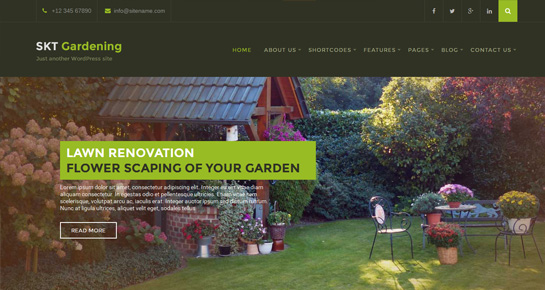 SKT Gardening is one of the type of Farming WordPress themes for creating a healthy and impressive farming and agricultural website.
It has a very appealing presence and it comes up loaded with many exciting features. It has a very distinctive and awe-inspiring color shade which can be changed accordingly as per the requirement.
With various of sections to place the photos, you can share all your farming and the product pics with the change in fonts and text colors related to the pictures.
There is a vast range of the Google fonts to choose from over 600 types to keep the website a new experience every time. This theme can be used to design a website of any language being multilingual and translation ready.
It is a sophisticated and a developed theme already with the several sections in built. The homepage is highly customized with the provision of adding upto 20 sections making the website more informative and knowledge sharing.
To make the slider options more efficient, this theme has been tested with more than 6 sliders namely Crelly slider, Revolution and layered slider, master slider, cyclone slider etc.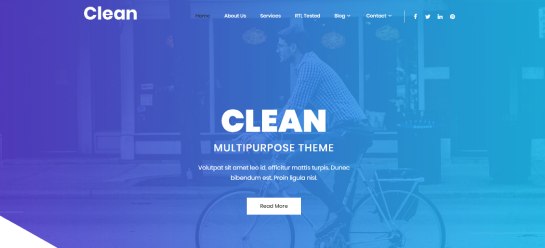 Clean Pro is a WordPress template of Farming, crafted for perfection. It is like its name a very clean and fresh, well arranged and managed multipurpose theme that has features to delight the user everytime while creating a website.
This theme has made itself cross browser compatible to run on any browser and deliver the same optimized performance. It has various plugin compatibility with layouts for page as well as blogs. It has nothing to do with complexities and hence is a very simple and easy to understand theme.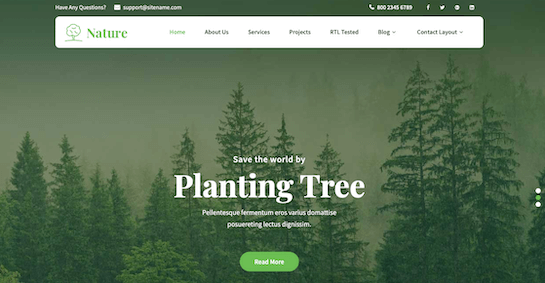 Nature One PRO is a kind of Farming WordPress themes which is a suitable package to make a farming website. Coded to make itself SEO friendly, this theme has many of the shortcodes to add in order to make the website look more fabulous and wonderful.
This theme has the content section that consists of the captcha code to keep the website safe and spam protected. The slider is magnificent that gives the possibility of 12 transitions and there is a service section to showcase all the services that are being offered in the website.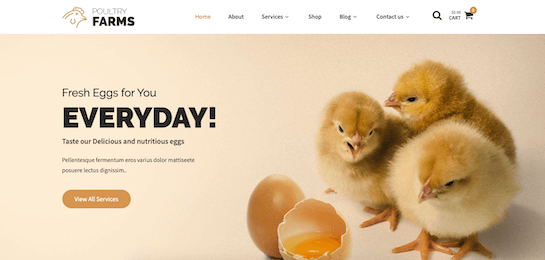 Poultry Farm is a template of WordPress for farming that has been carved out to go well and look good with all the devices.
Color changes can be done due to the color picker for choosing the color of our own choice and it has the shortcodes that makes this theme complete and exuberant. With the help of these shortcodes a fancy content can be created.
Reducing the efforts of a website designer, this theme comes with ready made Contact Us section to be secured and spam protected. It makes itself more robust with compatibility to latest version of WordPress and coded to HTML5 and CSS3.
Ele Nature is the Farming WordPress theme and template with classy design and carefully selected color combinations so that any person creating a farming website with this theme find it easier to deal and make it more engaging.
The graphics used in this theme are flat to make it more exciting and the structure is clean and as per the modern standards.
A peculiar feature is also loaded for replacing the inner page banner with the featured image and it has the several other blocks for testimonials with over 650 of the Google fonts available for use.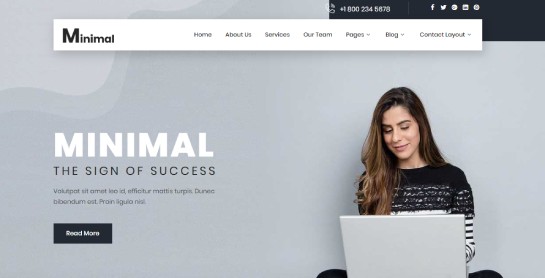 Naturo is a WordPress template for Farming and it has a very superb appearance while viewing on any of the device due to its minimalistic approach.
It comes with blog area and wide screen slider to give a broadened view to any of the user who takes a look at the website. It spreads out a very vast platform by giving the section of about us, portfolio and the team section to describe the team members role and responsibilities.
There is no need of taking extra hard work for making a drop down featured website as this theme is already loaded up with the drop down option. SEO and SMO friendly theme Naturo is the choice to consider for making a farming website with a separate identity across globe.