The drone industry is on the rise, and if you run a business providing drone services, having an effective online presence is essential to reach potential clients. A website is a great way to showcase your services, portfolio, and pricing information.
But designing a website from scratch can be time-consuming and expensive. Fortunately, there are plenty of WordPress themes available that are specifically designed for drone service businesses. In this post, we will explore the top drone services WordPress themes, each with unique features and functionalities.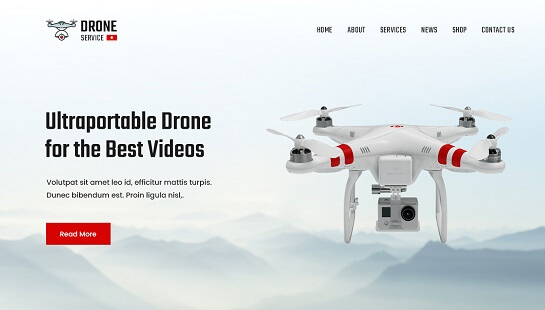 One of the finest WordPress themes for drone services, SKT Drone is completely flexible and has many useful features. Your website will become more user-friendly and attractive as a result.
With this versatile WordPress theme, you can adjust and modify any component to your liking. Additionally, it includes preset tools that enable you to brilliantly showcase your prior work.
It also has mobile-friendly features like a lightweight design, aesthetic appeal, and interoperability with different apps.
Additionally, it gives you access to a proactive drag and drop function. It will be simpler for you to place on the Search sites thanks to SKT Drone's constant updating of the WordPress apps.
Globally, it will make you stick out from the competition because it loads your website more quickly on desktop and mobile platforms.
One of the top WordPress templates for drone services is SKT Robotics, which you can use for your company's overhead photos and filming needs.
It includes a variety of pre-built features, including the video backdrop, the WP Bakery main, and eye-catching visual effects. SKT Robotics is made with a fantastic page builder that supports themes in every device or browser.
Despite this, the header and bottom sections and the design have lovely features, particularly the backdrop feature that helps you interact with consumers more easily. However, you can run it for free, so give it a shot.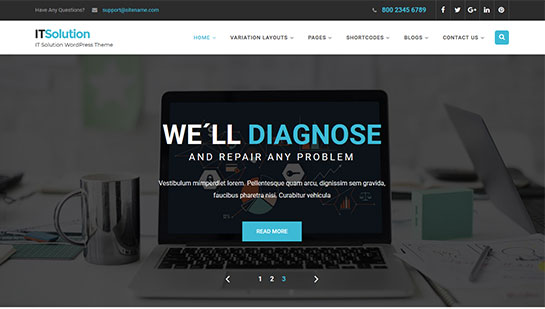 The IT Solutions pro WordPress Theme was developed by Website Layout and features a completely customizable layout. You are able to build anything you want with Home Demos, including sites for your portfolio and journal.
All of the categories and the code have been neatly structured and annotated so that it will be simple for you to adapt it to your next project.
Are you planning to launch a website that offers IT solutions and services? The SKT WordPress Theme is the most superior option.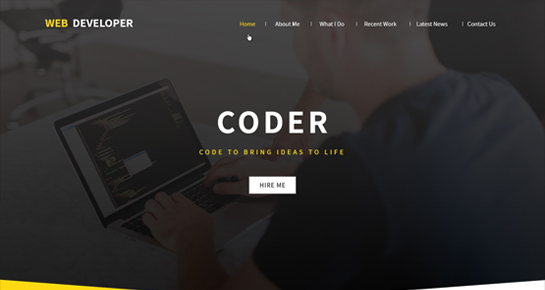 The Web Programmer theme is intended to be used for the creation of websites that provide branding services, digital marketing, SEO services, online business, UI Design development, creative agency, illustrator, portfolio, web design, web development, brand management services, and other websites with similar purposes.
These themes are developed to make your job less difficult by offering you with a structure that has already been designed and can be customized to meet the requirements of your organization.
Whether you are just starting out or have been programming for years, a good free WordPress theme can help take your web development skills to the next level.
SKT Solar Power is a theme which is designed for green energy firms, industries that have started using renewable resources, solar panel companies, solar panel repair or installation companies. This theme provides features for multiple languages, and it is also functional with a variety of extensions.
Even all of the SEO sections can be used with it without any problems. A color selector makes it simple for you to alter the colors used in the theme.
After downloading and activating this theme on your website, you will have access to Elementor to make any modifications that are required, and it will come pre-loaded with stunning stock photos that are appropriate for your line of work.
For web development service providers, professional web developers, web development teams, and web architects, the SKT Infotech is one of the most competent and perfect WordPress themes for web development. It was designed with their specific needs in mind.
It is an adaptable theme that supports several industry specializations and satisfies a number of additional criteria for a business website. Moreover, the theme is responsive. This theme is optimized for use on mobile devices.
Therefore, it is compatible with the display of any smartphone, independent of the height of the screen. This theme comes with an interface that can be customized, and it is both practical and functional.
The water filter WordPress theme has the potential to be the most effective theme for your website. This WordPress theme provides you with both a beautiful appearance as well as a large number of customization choices, which is necessary for any company that deals with water filtration systems.
SKT Water Purifier WordPress theme is made for companies that sell water filters, water filter equipment, residential water filters, industrial water filters, or any other services that require water filtration.
In addition to being a user-friendly theme that is also fully responsive, this WordPress theme for water filters is compatible with the vast majority of WordPress plugins, including the WooCommerce module.
This theme is an excellent choice for websites relating to electronic transportation services as well as other types of commercial websites. This remarkable WordPress theme is available for use by websites offering to electric transportation services as well as other types of commercial enterprises.
This WordPress theme is optimized for business websites, making it very responsive and also very effective.
The WooCommerce plugin works flawlessly with the SKT eAuto WordPress theme, and it has been customized for search engine optimization. It is even possible to control it simply from a mobile device.
Everyone who sells devices, tech products, or electronics should consider SKT Geyser the best drone services WordPress themes available.
You can now have your very own eCommerce website in a very short amount of time by using this Theme. Here customization is possible without the need for design or technical expertise.
It provides a quick import function that can set up the desired framework without requiring the addition of a single line of code. You will require some advanced personalization choices in order to build an efficient website, and as a result, you will not have any trouble acquiring any of these features.
SKT Directory offers everything you could possibly need to fulfil your requirements. At the very top of the homepage, you'll find a front-end submission tool that you can use for SKT Directory. When you first get into running a directory website, you won't need to put up a significant amount of money.
However, this business model is easy to legalize in different ways. You can easily construct a credible and professional directory website with the assistance of the SKT Directory theme, which includes only the features that are necessary and important to do so.
The structure of SKT Directory is of the highest possible quality and beauty, and it automatically adjusts itself to fit any dimension of screen.
CCTV stores, CCTV Dealers, Camera manufacturers, CCTV Camera Suppliers, Surveillance Equipment Stores, Security systems, security companies, and security services are all prime targets for this one-of-a-kind WordPress theme that was developed specifically for the CCTV industry.
Since the CCTV WordPress theme was just recently developed, you can rest assured that it is clear of problems and is functional with the most recent release of both the software and WordPress.
The design works well for meeting the needs of home automation, home security systems, and other CCTV and home and industrial protection-related company services and products.
The SKT Home Theatre drone services WordPress themes is a theme that is customizable and is built on WooCommerce.
The layout of the theme is just right for selling heavier electronics products such as soundbars, headphones, home theater, speakers, television, LED, FM radios, and other similar products via the internet.
It includes files written in PHP, CSS, and JavaScript. It supports a wide range of resolutions and is prepared to accept widgets.
The app pro WordPress theme is also known as a flexible company theme. People or consumers may create a website to advertise their product or app with the help of The App Pro. It has a user-friendly interface and a variety of customizable theme choices, including color, typeface, and sliding settings.
It has been written according to the guidelines for theme reviews, and it has also been verified with various security extensions. Additionally, it is functional with the most recent version of WordPress.
In this area, any of the element objects, pictures, or text can have their properties modified or changed. Even the colors can be altered to be whatever you want them to be. It also consists of widgetized footer.
The SKT mobile app themes are the most effective means for developers to show off their work. It has a wide variety of capabilities and is made on top of a streamlined and flexible base.
This mobile app is SEO and social media optimization friendly; thereby, social sharing media and social icons have been incorporated, and sharing extensions have been found to be functional.
It includes support for a number of unique page builder widgets and elements that can be quickly added and customized in the page builder, in similar kind SEO modules were found to be consistent with each other and to function normally, and coding concerns were also addressed. This comes with a very nice slider whereby one may change the image as well as text in order to suit their needs.