Are you looking for the best Drone Service WordPress Themes? You have come across the right page. In this article, we have shared top themes that uplift your drone market services and take off your business to the next level.
However, you have several drone service WordPress themes, but first, you should decide on what you want. Once you are clear with your requirements, you can choose a good website theme. To analyze which one is perfect, you will need to invest a couple of minutes in reading this post then you can come with an informed decision.
Before that, let us check some basics on how to choose the best Drone Service WordPress Themes for your business.
What are the signs of the best WordPress Theme?
If you're looking for the best theme then check the given pointers and you will choose the best.
A theme should be SEO optimized
A theme should have a responsive design since it can maximize user experience
A definite appearance can reward you in engaging multiple users.
A theme should be compatible with plugins
Once a theme satisfied all these pointers, you can create an effective Business website. So, without further ado, let's get started.
Best Drone Service WordPress Themes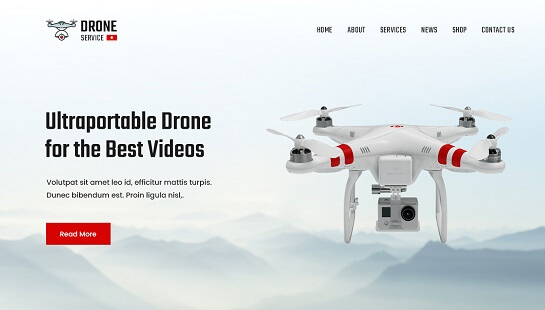 SKT Drone is fully responsive and one of the best Drone service WordPress themes that will come in very handy features. It will make your website especially engaging and attractive for the customers. 
This is a multipurpose WordPress theme that allows you to customize and tweak any element you want. Furthermore, it comes along with predefined tools that help you display your previous work in a brilliant mode.
 
Additionally, it has mobile-friendly features like a lightweight design, attractiveness, and compatibility with various plugins. Moreover, it allows you to have an initiative drag and drop feature.
SKT Drone will always keep you updated with the WordPress plugins and make it easier for you to rank on the Search pages. Globally, it will help you stand out from the crowd, as it lowers your website faster on both mobile and desktop devices. 
SKT Robotics is one of the best drone service WordPress themes you can choose for your aerial photography and videography business. It comes with multiple readymade features especially the video background, WP Bakery main, and attractive + visual effects. 
Indeed, Robots have replaced human services. Thus, it is important to make a website super engaging that ensures it can replace the stress of your customers.
SKT Robotics is made with a fantastic page builder that supports themes in every device or browser. Further, it is good enough to give an outstanding impression on your customers. 
Despite this, the header and footer section along with the template come with beautiful features, especially the background feature that makes it easier for you to connect with the customers. However, it is available at free installation so give it a try.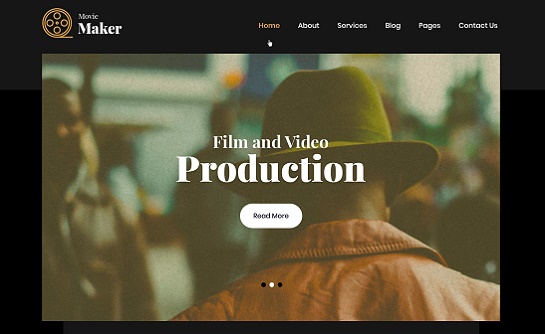 SKT MovieMaker is also the brilliant WordPress theme you can find. It includes an outstanding and good website showcasing features that simply connect with your audience.
It has a collection of beautiful home page designs and you can even customize them with the colour picker option. Further, this will provide you with services pages. 
SKT MovieMaker has all the Core features that are just a click away. Apart, it is compatible with Google AMP for higher engagement. 
What's more? It is integrated with the multiple headers and footer sections. Also, it is a self-hosted website with Vimeo video format and YouTube that better your performance.  It has a collection of custom icons that are designed for videos, photos, and drones. Try it now!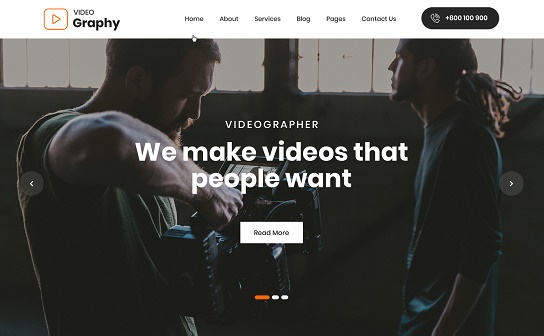 SKT Videography Pro is another outstanding drone service WordPress theme that comes along with a user-friendly approach. It is an impressive solution to getting started with a professional website on videography.
This will create captivating content for your readers that make you the best in the market. In addition, it is easily customized and simple to install. Moreover, the themes customization will provide a quick and effective approach to work on. 
SKT Videography includes plenty of features like 12-month customer support, 4 types of header and footer layouts, 5 level dropdown menu, comprehensive documentation, SEO and SMO support. 
Despite this, the theme is well-tested, offer high speed and performance, and provides you with various tools that work perfectly to give you desired results.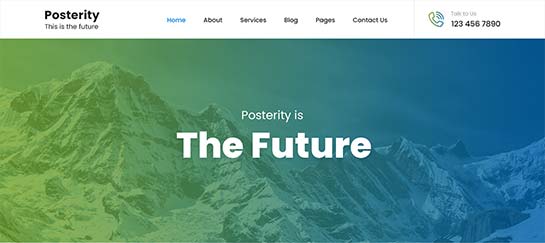 With the help of Posterity Pro, you can easily build your website and enjoy the multifunction online support. This theme is fully responsive and built with a focus that the owner can receive maximum results. 
The theme is made up with a fantastic page builder that helps you to make the needed changes very easily. More than that, you do not need to play with the coding. The theme features are readily available that help you to make the theme easy and impressive to use. 
Apart from that, it included various pages like blogging and portfolio styles. These features will make your business personally engaged with your customers. However, the theme is compatible with WooCommerce and lets you launch your website freely.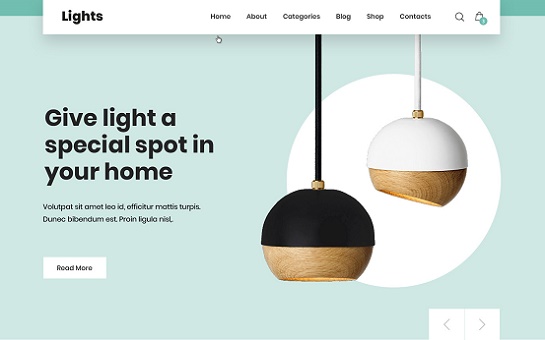 SKT Lights is a modern and highly creative WordPress theme that is suitable for businesses such as fixture shops, lamp posts, videography, LED shops, and related businesses. It comes with outstanding features that make the website easy to scroll. 
SKT Lights is integrated with woo-commerce shop functionality that allows you to create an eCommerce platform for your business.
Moreover, it utilizes 100% screen, easy navigation, etc. With this, you can keep the user engaged with the content and they would not need to struggle with anything. 
Every browser is supported effectively and the admin panel is powerful, which help you to make the theme more impressive for the customers. So go and explore the benefits of this theme.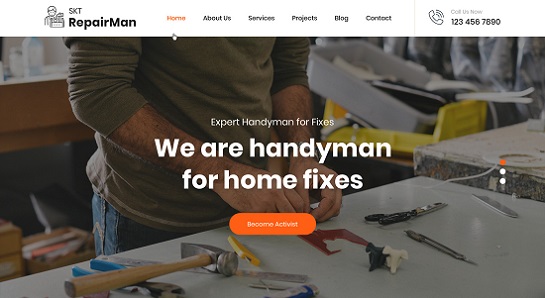 If you are looking for a modern yet responsive along with cutting-edge Drone service WordPress theme then SKT repairman is highly qualified for your needs. It is one of the best options to enjoy power speed performance and creativity. You will find this website as a perfect way to start as it involves marketing strategies conveniently.
Furthermore, SKT RepairMan is a great choice for or clothing repair shop, photo repair shop, or other E-Commerce related business. It has featured predefined layouts and elementor page builders that make it easier for you to load and customize the site easily. 
With this, you will enjoy the post variations and GPL license coding. This supports multiple choices. More than that, you can enjoy the responsive galleries on your website that will improve your WordPress website result. 
SKT Directory comes as a stunning website with custom-made features. It supports SKT page builder and elementor page builder that helps you to build a website very responsive and engaging for the customers. 
To begin with, it will give you a pre-designed listing and home page that you can choose or change every ss per your choice by not playing with coding. Moreover, you do not need any expert help as it comes along with documentation which includes a step-by-step guide to promote and make your website super responsive. 
Moreover, SKT Directory will give you a lot of skills and achievements so you can save your time and brilliantly represent your work. If you are interested in monetizing your website then choose SKT Directory Theme.  
SKT Garage is a cool website that helps you get inspired with new technology-based repairing websites. It is a multi-purpose theme that can be used for auto car repair, auto painting, auto repair, car wash, and mechanic workshops.
It comes with prebuilt demo content along with the portfolio and different layouts. If you want to make your followers more than now, it includes contact form 7 to get the leads.
You can easily tweak any element in your website and come up with the best Drone service WordPress theme website. More? SKT Garage naturally enhances the functionality because it combines various features like SEO and SMO plugins. 
Moreover, it comes with default content and other configurations, so you can make the changes as per the website's needs. 
SKT Courier is one of the trusted Drone service WordPress themes that can be used to demonstrate videography, corporate, Freight logistics, online delivery, and other related business services. It is a cool platform to monetize your business as it comes with very good reasons. 
It includes an elementor page builder that makes it clear and enables you to develop your website very fast, and responsive. The theme is designed with brilliant features so that you can enjoy the suitable option to get great traffic to your website. 
Also, it will take care of header and footer areas and provide you easy options to expand your business at a Higher Level. With this, you can easily translate your website into other languages. So, you can go with an SKT courier easily. 
SKT Software Pro is the perfect Drone service WordPress theme that can be used for any Tech, IT start-up, creative industry, portfolio and software Agencies.  
With this theme, you can import the demo content and make your website alluring. Further, it comes with various header and footer options that give you an attractive style to convert your Visitor into customers.
SKT software Pro supports multilingual and translation features so that you can reach a huge customer base. More than that, it includes three design shortcodes, so you do not need to play with coding.
This could be your trump card for your business because you are enjoying a truly responsive theme that gives you the ultimate user experience. 
Don't miss checking SKT Black Pro. It is a beautiful theme that will help you take your business to the top of the search pages. 
It includes multiple buttons, images, content areas, and css3 animation. Also, it incorporates standard pages like 404 and categories. 
You can enjoy the different kinds of long templates that increase the functionality of the website. Thanks to its fully responsive layout which makes the potential customers for your business. If you want to make successful profits, this will be a handy theme that keeps your website free from stress. 
SKT Car Wash is a real theme designed for multi-purpose businesses. Mainly, it includes color schemes, branding, and free plugins that allow you to manage your website content easily. Furthermore, it is compatible with the event and calendar plugins. 
So, you can manage several events without hassle. This is an SEO-optimized theme that manages your site conveniently. At the same time, this is a very responsive and great website to convert your visitors into potential customers.
SaturnWP Pro Drone service WordPress theme can work for your business related to online shop, online videography, wedding photography, and many more.
It depends upon your choice, you can make this website fantastic in every way since it comes with import and customized layouts. 
Apart, it perfectly goes with your content and is created with small-sized businesses and corporate offices. Further, this can help you to manage business conveniently. It will keep in touch with the user. 
It has a contact form and various SEO plugin that enables you to launch your store effectively. If you want to make a website more friendly with the user then get your hands on SaturnWP Pro.
The Motorcycle theme is one of the great and elegant-looking WordPress themes. With the help of Motorcycle, you'll get your business on the top of the search page. It comes with customized features that make your eCommerce store successful.
If you are just starting up there will be no issues with shortcodes. Since it has inbuilt shortcodes with contact form 7 and other SEO plugins.
You will also get powerful features especially the booking system, common header, and footer, Mailchimp, essential grid that increases the effectiveness of the website and allows you to make profits. 
If you have to promote business at a rapid pace, you can go with SKT appliances Pro.  It is highly-designed for the business related to grocery stores, electrical goods shops, domestic appliances, consumer electronics, domestic Tech equipment, and photography. 
This time please come with default eCommerce functionality and give you easy access on every device like a tablet, iPhone, and mobile phone. Moreover, it comes with coding standards that maintain your website effectively. 
Apart from that, the theme is GPL license, wallpaper friendly, and customise with a 404 page. Also, it is totally based on HTML5 and css3, so you won't find any issues. Get it now!