Practical pieces of dog walking WordPress themes can be found in this article for pet and animal based services and business, from animal shelter or rescue centers and veterinary services.
Pet sitting and walking, training and grooming, animal breeding farms, zoo and exotarium websites, pet caretakers, as well as any other type of niche specific websites you can ever think of.
Animals have the right to be treated well and be taken care of just as much as human beings.
Although there are controversial approaches to the question whether animals feel the favorable conditions they are in or not, it's our responsibility to treat them well and make sure they are healthy and feel comfortable.
Along with the human desire to safeguard their four legged friends, there are thousands of organizations and companies focused on providing professional services directed to the improvement of the animal life quality.
Our dog walking WordPress themes are crafted and developed with such agencies, shelters, companies and dog walking services providers in the theme authors' mind.
All of those pet and dog walking WordPress themes are designed for precision and reliability, stability and seamless user experience.
Nothing has escaped the attention of the seasoned designers and developers of those dog walking WordPress themes resulting in the creation of perfectly coded and modeled, designed and illustrated website building solutions.
Why dog walking WordPress themes is important to choose? On the internet, you can find various kinds of animal and pet care themes, but you have to choose the best that simply describes your business.
Hence, dog walking WordPress themes are existing and the ultimate goal of such themes care for Animals. Such themes are well-designed and easy to navigate that usually grabs the user's attention.
If you are a dog lover then these dog walking WordPress themes will be the best to showcase your interests with lots of features as layouts, precise color combinations, usability, and many more.
All the described themes can be best for your needs and user's demands. Hence, it's your decision which dog walking WordPress themes can define your needs in the best way.
Whether you would like to start your blog, dog house, or a website for dog-related products, the given themes are updated with the latest trends that have chances to attract new users.
Now, it's time to explore the dog walking WordPress themes.
Best Dog Walking WordPress Themes 2021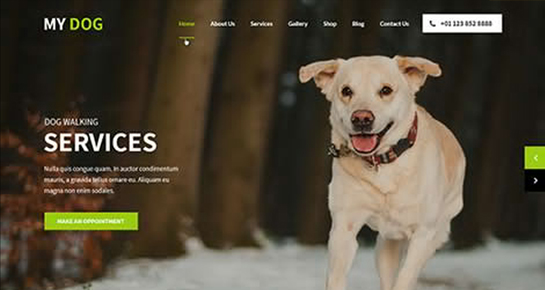 It doesn't matter what you thought about choosing dog walking WordPress themes. If you want to create a website of pet clinic, dog house, animal care center, or other related websites My dog is the best to choose from the list.
This theme is well-designed that can use for multiple domains as well as industries. It is simple and easy to understand, so it doesn't require any third person to solve your queries and complete the website setup.
This theme is primarily created for the pet trainer's related website. However, My dog theme is just perfect for veterinaries and pet shop related websites as well.
With the help of its documentation, you can easily set up the codes and create your website without any need for technicians.
Besides, it includes post layouts, header, footer, and pre-build shortcodes that help to create your website appearance smart and attractive. Also, it has an in-built Woocommerece plugin that helps you run your online store related to animal husbandry.
According to an SEO perspective, MY dog theme is SEO and SMO optimized that help you engage potential users on your website in a short time.
On the other hand, it can reduce the load of ranking your site on the SERP's as it is a mobile-friendly and user-optimized theme. Try its demo to look into the depth of the theme.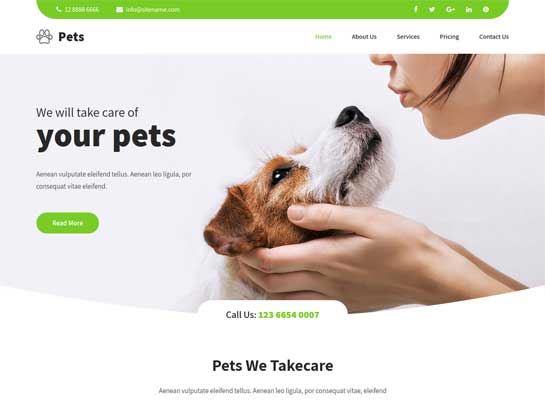 Ele Pet is yet another best dog walking WordPress themes to showcase your love and care for the wild animals. This theme is loaded with high-quality features that will help to get leads on the search pages with little efforts.
This theme is designed with an elementor page builder, thus it has a clean design that describes your thoughts simply to the users. For an online store, the Ele pet theme is compatible with the WooCommerece plugin.
The best of this theme is it comes along with 24*7 customer support, so whenever you need advice and assistant they will always there for you.
On the other hand, the theme includes a gallery and testimonial plugin to showcase your incredible work and achievements to your audience. Plus this theme provides the best tips on increasing your growth of the website.
The coding of the theme is easy to understand, so you can do it easily. Also, the theme is easy to load that naturally reduces the bounce rate of the website, and boosts user-experience.
Some of the best features of Ele pet themes are easy to upload new plugins, call to action buttons, easy navigation, customization, and many more.
More than that, it has a footer and header section that enhances the effectiveness of the website. It is a complete theme that helps you have outstanding performance on the web. Download it now!
An SKT cat is a top-selling theme that comes with handy features. This theme is dedicated to designing a multipurpose website related to its cat protection, cat training, cat products, cat's clinic, and many more.
If you would like to design the same theme with your dog, you're free to do this. It is a full color changing the theme to make your design for better engagement with users. This theme is best designed for pet lovers as it features are simply best to explore.
Additionally, the SKT cats theme is developed with elementor page builder-which is super fast to load on the web.
Also, it has several features to showcase videos, gallery, photos, and more to extend the user's engagement with your content. This theme is easy to work on all plugins that naturally reduce your workload and provide you animated features.
Some more features you can check on SKT cats are technical support, attractive templates, SEO and SMO plugins, 5 level drop-down menus, and more.
Pet Care is one of the leaders in the animal related business industry and comes as a fully fledged and comprehensive template of WordPress authorship.
As one of the top rated and frequently installed dog walking WordPress themes, Pet Care is totally competent and highly responsive, quick in customization and management.
Performance and speed of your dog walking and grooming website will do wonders for the premium quality web user navigation through your posts and pages.
The preloaded structure of the theme grants you with beneficial conditions to generate your content and add it to the relevant content and image zones.
From about us and services sections to sidebar layout location variables, from inner pages banner availability to homepage slider for welcoming photos, Pet Care celebrates it all.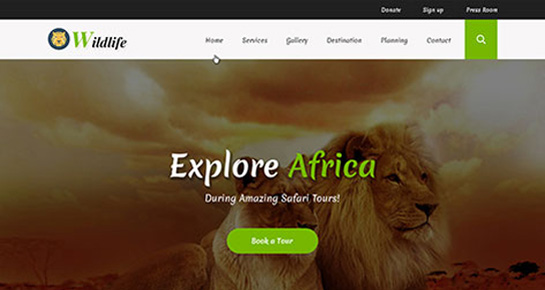 Wildlife is also the best dog walking WordPress theme that supports your love and care for the dogs and other wild animals. This theme is based on various plugins that help you reach the audience across the globe.
The header and footer section has 4 types of layout-you need to choose that best fit for you. More than that, it has standard pages like 404, sitemap, searches, and archives.  
Wildlife theme is also supportive of the WooCommerece plugin that helps you run an online store with ease. The more features you can explore with the theme such as a forum, sliders, site layouts, speed, social media icons, and more.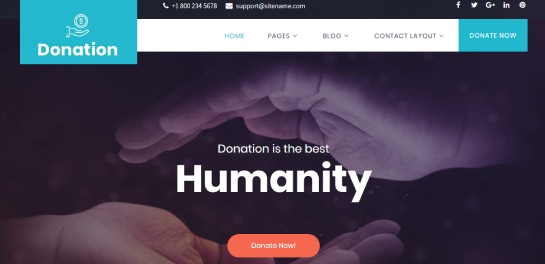 If you are looking for a multilingual, responsive, and color-changing non-profit theme then a donation is the best theme you can pick for pet care services.
Moreover, this theme includes all elements to manage your support for pets. Also, it includes Google fonts, layouts, sidebar, and widgets that help you reach your targeted audience with ease.
The donation theme is also compatible with events plugins that help all NGOs and charitable trust who are fighting for protecting wild animals.
This theme has been tested with Google and multiple browsers, so your users won't find any issues to relate to your services. Try this theme now to support your genuine cause.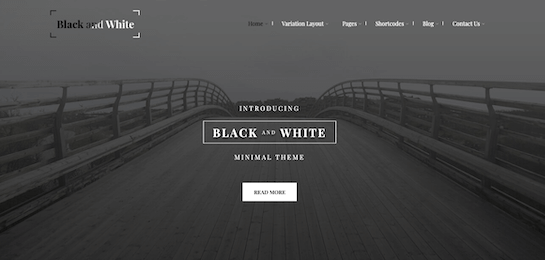 Classy and elegant, Black and White is a serious looking and well prepared template to cater to a wealth of topics and niches.
This multipurpose template is suitable for showcasing any association or company engaged in animal protection and prevention of cruelty to animals, shelters and rescue centers, pet protection and veterinary services and more.
People are looking for comfort and smooth navigation that will let them scan your content or quickly get in touch with you for more questions.
Black and White is checked for its hassle free navigation levels and user centric approach with responsiveness and cross mobile compatibility.
There are also color and font changing settings, translation readiness for translating your website whenever needed, prebuilt shortcodes for more freedom in your actions, etc.
Colorful and inspiring, Adventure will be perfect in making your profile highly appealing and presentable for the large masses of audience.
Showcase all your services pertaining to animals and pets in a nicely categorized fashion and let your website onlookers find the needed offer in the blinks of an eye.
The theme is also HD and retina ready aimed at guaranteeing the pixel perfect visualization of your profile across a myriad of modern devices, gadgets and browsers.
The commercial ready layout of the theme is wonderful in running an online store and selling pet related accessories and care products, clothing and more. Just find the relevant ecommerce plugin and make it go smoothly with your profile.
Your website based on Adventure will remain dynamic and legible with the right font and color choices, as well as homepage sliders spanning the full width of the main page of your site.
SKT Trust is another motivational and caring template among the best dog walking WordPress themes for making the creation of any animal protection center or donation campaign website a breeze.
Any modern and competitive website should be optimized for diversified usages and correspondence to the requirements of different browsers and devices.
SKT Trust shares all the essential characters to prove your website is powerful enough to meet any kind of user demand, from mobile browsing to online inquiries and sales.
SKT Trust will make your website truly adaptive to change its layout and proportions to look accurate on any modern smartphone or gadget.
Other digital world standards that SKT Trust follows include HD readiness, HTML5 and CSS3 coding, customizer based performance and SEO compatibility.
Handy is doctor and patient related template and as such can go effectively with veterinary and pet clinics, oncology and dermatology, animal diagnosis and treatment, emergence and critical care services online and not only.
Designed by the professional staff for professional animal based centers and organizations, Handy comes rich with inbuilt sections and pre enabled control features, among them font and color ones, shortcodes pack, page and post layout controls, preview options to check the final result of your work, etc.
If you are going to publish tons of content on a daily basis in order to keep your site both informative and SEO optimized, don't worry. Handy knows how to handle heavy content and large scaled images in an excellent manner.
Go Fishing is the last lovely and lightweight template one can use to explore any kind of niche specific website.
All in all, this user and customer optimized and easy to control website builder is suitable for fishing and outdoor hunting, pet training and grooming, sitting and keeping, animal care and protection services, as well as zoos and exotarium activities, etc.
Thanks to the strong optimization of Go Fishing for SEO and SMO purposes, this template will bring more qualified results and website guests from search engine inquiries and social media platforms.
The theme also has a demo version for you to check before purchasing the theme, as well as comes with professional support once you become the owner of this template.