Credit repair WordPress themes listed here for reference of relevant websites.
A handpicked collection of credit repair WordPress theme for credit repair companies, agencies, as well as service providers, financial advisors, universal credit organizations, credit bureaus, banks, credit improvement companies and others.
In today's economic and financial climate, it's really a mind blowing problem to have bad credit or loan. The negative consequences arising out of bad credit or credit history can inevitably act against you when it comes to your financial reputation, application for new credit lines, increased interest rates and much more buzz around it.
This is where one needs professional credit repair services to fix a wide range of problems and issues concerning his or her credit.
In this article, we have jotted down some of the premium credit repair WordPress themes for credit repair industry and its institutions, managers, specialists and service providers.
Moreover, each and every template you can find in this article is ready to cater to the needs of any other financial structure or company, including credit organizations, banks, financial ombudsman and others.
They are unique in their serious and intelligent look and are established on clear coding matching the modern WordPress standards.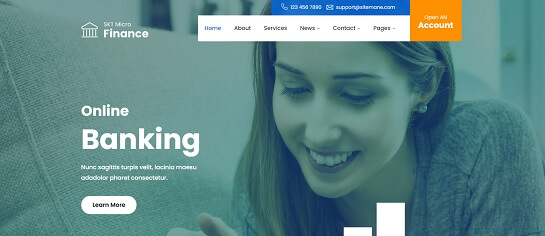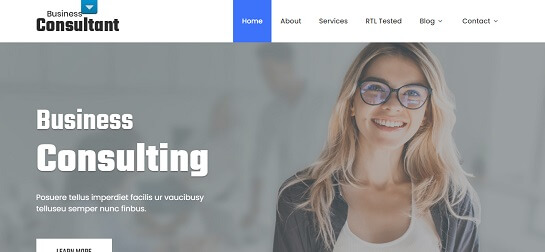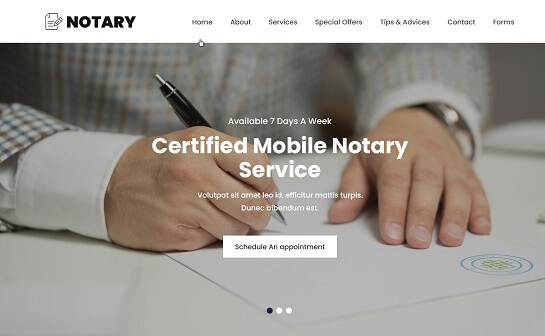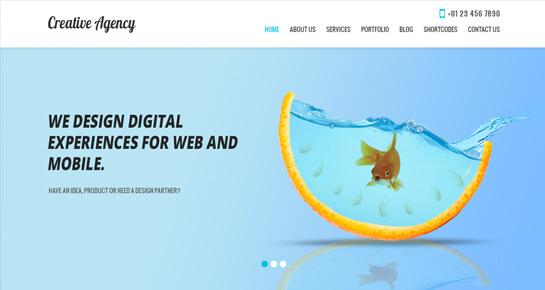 Creative Agency is the easiest template from the list of credit repair WordPress themes. It is even very easy to manage by a non-technical person.
It is a different, peculiar, and user-friendly template as compare to the others. It comes with some remarkable features that will help you to showcase your services throughout the world.
It has demo content which is included with a powerful slider and few WordPress plugins to enhance the functionality of a website easily.
It also comes with a one-click demo import option that helps you to import the demo content in one click.
This will help you to create a website that showcases your portfolio projects, services, customers, and products in the best possible way.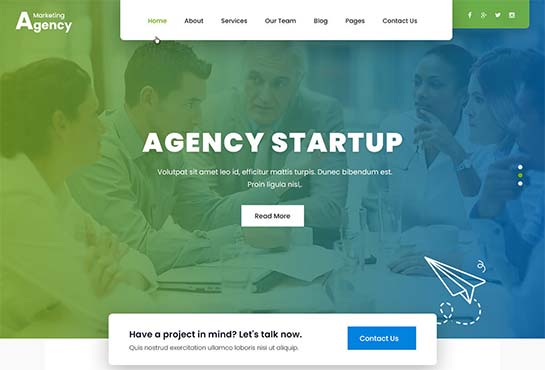 If you are looking simple yet impressive template to create a website for finance, consultancy, corporate, or accounting-related niches then Marketing Agency must be your first choice.
This template was created by considering and understanding the complete requirements of finance and accounting-related companies. Thus, the template comes with the demo that is just ready to use.
While checking its demo you will notice that its layout is so clean make sure your website visitors are able to interact with your website easily.
In this template, highly quality images have been used so that it provides a very rich look to your website.
Because the theme is fully compatible with the top free and paid WordPress plugins it will put more value on your website.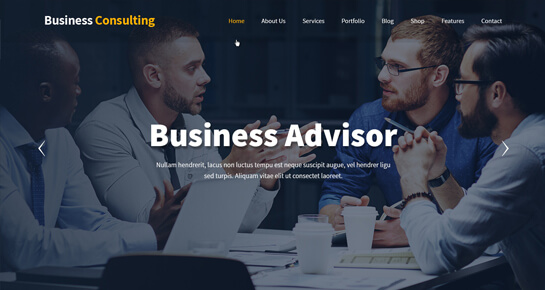 Business Consulting template has the right combination of colors and fonts which makes it the bestest credit repair WordPress themes among the others.
It has a beautiful menu bar where your visitors will be able to view all required and useful pages.
By choosing the Business Consulting theme you will ensure that you got the access to a 100% responsive design that also offers HD-ready and retina-ready features.
The template is included and supported with a very easy-to-use website builder i.e. Elementor. with this page builder, you can start customizing the appearance of a website as soon as you import the content on the website.
The theme contains all standards codes to make your website more reliable and functional as much as possible.
Cryptocurrency will look appealing on every device and browser that your website visitors prefer. The template comes with a number of sections that are arranged perfectly with the best colors and fonts.
Your website's header will look more alluring because it is followed by the best banner images. With the default slider plugin and the bright banner, you will be able to advertise your website services in a great way.
The template is suitable for creating any kind of consulting or any corporate business website.
The template also suits well for large or small-scale-based credit repair websites. It has a neat and clean design that will help you to explain your business's services and methods to solve user's credit reports very easily.
The top page builders such as Elementor, WPBakery, SiteOrigin, etc are all compatible with SKT Consulting Pro. Including this, the template comes with the inbuild slider i.e. Nivo that makes your header section more impressive.
This template and its demo content can be used to create a quick consulting website but its features can be used to add different functionalities to the website such as appointment functionality, booking functionality, eCommerce functionality, and so on.
This theme comes with some extraordinary features that help you to generate leads and run campaigns. Even you can start an email marketing campaign by integrating the MailChimp plugin.
The next template in the list of credit repair WordPress themes is Ele Attorney. This template is actually based on a law firm but can be modified to create a website related to credit repair business websites or consulting related websites.
Its demo also goes well with a financial advisor, insurance, advisors, professional consulting companies.
The theme will not only provide the features to enhance your business's online presence but also helps you to impress most of the potential clients.
Using this template you will be able to offer different kinds of services to different customers in the easiest manner.
IT Consultant Pro is the most professional-looking credit repair WordPress themes that ensures your business motto is understandable by your visitors.
This template is more suitable for quick loans bureau, baking card companies, finance sites, financial product selection agencies, marketing agencies, SEO marketing experts, web development companies, financial packages, corporate online payments, and banking-related niches.
The key features of IT Consultant Pro are revolution and layer slider support, color scheme options, 800+ Google fonts, lots of custom shortcodes, social networks such as Twitter, Facebook, Instagram, etc availability.
Using this template you can also offer some products of your company. And this is possible by integrating the WooCommerce plugin start uploading the products with a short description.
I Am One Pro can be used as a single-page template for creating freelancer or CV-based websites or it can be used as a multi-page template to create a website for an agency or a company. Thus it also supports custom blog posts and different gallery options.
It is coded well with the latest HTML5 and CSS3 code. This is most useful for creating a small-scale or large-scale based website.
Free installation is provided. Its free version is also available but it will come with restricted functionality.
However, the template is powered with some inbuilt features and SEO tools. Few animations are also used which will make your website more engaging.
This template is best for building an online presence for solicitors, law firms, lawyers, financial consultants, etc. It comes with a lawyer-friendly demo. However, its features can be utilized for different niches.
While exploring its features you will find that the demo comes with some most useful elements. Some of the elements that you can use to interact with your customers are Google maps integration, feedback section, free consultation form, etc.
It works great with Elementor so if you would like to edit its inner pages you can do it very easily by integrating it through the WordPress dashboard.
If you are running a corporate agency and working hard to avail the services to your customers it may be a hectic schedule for you because you would not like to lay down your customers towards your competitor's business hence you will need to think something outside the box.
Hence SKT Corp Pro is for you. It is a credit repair WordPress theme which will avail your services to your customer 24*7 hours. You don't have to worry about your customers because even if you are out of the office, town, the country then also your customers can experience your services and feel better.
We are in the modern age where competition between corporate, commercial sector is growing rapidly. Each and every company looking for a good solution so that they can offer their services and sell their product throughout the world. For making your dream possible only online presence is the solution.
So don't waste more time and get started with your business online with the help of credit repair WordPress theme i.e Finance.
With the Finance template, you can attract more customers towards your business and can generate the high number of leads very easily. If you don't know how to set up the website then documentation is given with the theme access.
SKT Banking is a highly responsive credit repair WordPress theme that will go best for different corporate firms and banking sectors.
Each page of a website created with SKT banking will look perfect to every devices including small and large screens too. The themes will come up with a theme installer so that you can set up a theme and start creating without within a second.
The theme package will be included with the most awaited elements and components such as countless sidebar options, custom widgets, color, and fonts options, etc. Finance and banking related agencies can use the demo content to create the presence of creating for their businesses.
Exceptiona deserves special attention in the repository of credit repair WordPress themes. Offer your consultation services to those you care about their money and want to be smart with their money related choices.
Showcase theme your professional team and its members, stress all your achievements and satisfied clients and do with best through the given sections and content areas.
Use the prebuilt widget friendly footer and header areas to provide the target client based with contact details, social media links, summary of your profile and much more.
Blisteringly fast loading time and performance rate together with ultimate responsiveness and cross mobile compatibility are what make Perfect Banking so trustworthy and much demanded.
SKT Perfect is well based and universal solution for banking world and its representatives. Whether you run a seasoned and famous bank website or represent the local branch of it, credit repair company or agency, this template will be your trump card.
All inclusive and multiservice, it comes bundled with pre built content and image zones to insert your web materials in a nice format.
It is one of the proficient credit repair WordPress themes to build a customer trust through your online profile. SKT Perfect is powered by the ultimate functionality dealing with visual composers and page builders, as well as translation plugins including Polylang, qTranslate X, WPML, commercial and shortcodes, as well as contact form plugins.
Designed by the flat web design touches and depicting all the philosophy of such streamlined design, Flat Pro is the next serious and clean looking business platform for the financial world. Create an unbeatable online presence and give details of all kinds of credit repair and customer care services.
There is a nice looking homepage slider to speak instead of you and show off the best offers or successful cases in your practice.
Each and every single element or part of Flat Pro is fully customizable. Let the color scheme of your theme shine bright with the right typography. All you need to do is to dig into the preloaded packs of fonts and color changing options.
In case you have a modern looking miniature of your future website in your mind and are looking for a contemporary niche specific template, look no further than Gravida. Inspired by the modern design and graphical web solutions, it diffuses eye catchy charm and uniqueness to leave all your competitors behind you.
If we break down this world class template, we'll find valuable pieces of it which are all well optimized for the admin usage. Supported by a modern Customizer, you are powered to manipulate with the web design, make structural changes and more.
Add your specific touches and controls to the theme and enjoy the preference to see the result before your web viewers can see.
Having a reputable and reliable credit repair agency is one case, having an enviable online reputation and taking your professional credit solutions to the large masses is quite another case. Condimentum is coded and processed to be the harbor of all your efforts to establish and run a successful financial profile.
As one of the clever and neatly arranged, inherently adaptive and pliable credit repair WordPress themes, Condimentum serves your web content with smooth navigation controls and levels. It is also equipped with minimalistic and clear design to be precise and legible across all kinds of platforms and portable devices.
Spirited Pro is elegant and businesslike, deeply appealing and highly customizable financial and banking, business and corporate template of WordPress production.
Whether you are publishing your content and services, changing the overall look and feel of your website, you will feel like you are supported by a team consisting of professional developers and designers.
This top rated template is never bewildering when it comes to arming the slider with beautiful images, adding your contact details and logo, playing with shortcodes and Google fonts.
Moreover, where the necessity arises to expand the working scope of your website with the help of plugins, you are capable of adding the required one to the given template.
Kraft is the last energetic and zealous sample among credit repair WordPress themes to share your best experience online and "educate" your current and future clients. This simple yet effectual website building tool disseminates 100 % responsiveness and mobile friendliness.
It means that you are going to have one and only website for all kinds of desktop and mobile accesses, of course, with all the required changes to keep its accurate look and usability.
With this template you can also make a broad use of animated columns, slider, and its animation effects, more than 100 pre enabled shortcodes, compatible plugins and much more.
Credit Repair WordPress themes FAQs
How to handle WordPress Credit Repair themes customization?
You will find the easiest way to customize the WordPress Credit Repair themes mentioned in this blog. To start with WordPress theme customization you will have to follow these steps
Login to the WordPress dashboard
Go to appearance
Click on themes
Now on the page, go to the active theme
Now hit the mouse button on Customize which is accessible just next to the title.
Now a will page will get appear which allows you to modify the template in real-time.
On the left-hand side, you will get access to a number of options that you can choose to customize the template.
Also, you will find an option i.e. "live preview" to check the changes you made in real-time.
Are Credit Repair WordPress themes SEO-friendly?
Yes, all WordPress templates listed in this blog are totally optimized for SEO. This features will help you in boosting your users as your website's content will load much faster on every browser and device.
Thus, these themes will help you to rank your website on the top of Google search results.
However, these all themes work best with the major WordPress SEO plugins such as Yoast SEO and RankMath. So you can optimize your website easily and effectively.
What Credit Repair WordPress theme to choose for a startup?
If you are a beginner user and looking for the best theme so that you can start website creation for your startup on your own then you must choose Creative Agency from other templates available in this list.
Creative Agency should be your first choice because this template is very easy to use and maintain. It comes with the minimalistic functionality which is required and sufficient for creating any type of startup website.
Even a non-technical person will be able to create a website without any type of help from experience developed.
How to install one of the Credit Repair WordPress themes?
Visit the sktthemes.org
Go to the themes page
Either in the theme search field type the name of a theme you know or select the 'corporate' from the Theme category and hit the search button.
Now check the demo of a theme and click on the download button.
You will get a zip file that can be uploaded on the WordPress dashboard.
To upload the zip file click on 'upload theme'.
Here choose the zip file and click install now.