Let's have a look at some of the most technologically advanced and dynamic creative digital agencies WordPress themes to provide everyone with an intuitively designed framework to render a wide range of relevant services in all the available digital environments.
Today's digital agencies with their creative marketing suggestions and their further realizations are of priceless value for every professional company and organization to target a specific audience, as well as ensure the overall strategic advancement of its operational directions.
Under such conditions, every creative digital agency must for sure have its own exceptional and powerful online profile to let all its clients be aware of all its potential and foresee all the business profits they can enjoy.
In this relation, WordPress content management system comes forward as one of the most accessible and flexible products of digital medium to cover any creatively heavy content, including strategic ideas and plans.
Technological innovations, diverse marketing objectives for specific categories of businesses and many more, presented by digital agencies.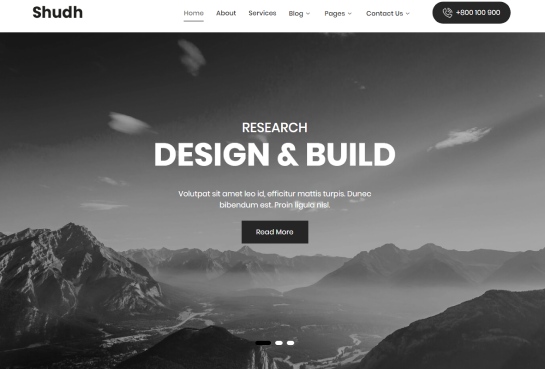 Shudh is well – developed and clearly designed, minimalistic and simple, yet engaging, visually eye – catching and expressively stylized.
Totally responsive and cross mobile compatible, incredibly resourceful and intuitive, HTML5 and CSS3 – based and e – commerce ready which can definitely guarantee fast loading and easy to use website structure irrespective of the heavy content to be created and managed.
This premium – quality and developer – friendly template is loaded with tons of customization and edition options to utilize in relation to every single aspect of the website and precisely showcase all the relevant information about the proposed services and marketing plans for screen – based products and items.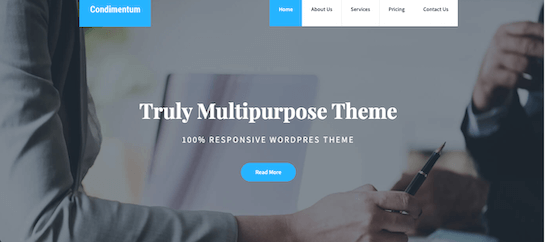 Condimentum is another top – rated creative digital agencies WordPress themes, which is established on flexibility and adaptability, simplicity, yet all – inclusiveness to reveal all the dynamics of any such online phenomenon.
By the dependable assistance of this truly smart and secure creatively heavy content – based website builder you will be able to get in touch with all the potential clients and customers from every corner of the globe without any additional and unnecessary spending.
As well as to contribute to the development and retention of their loyalty.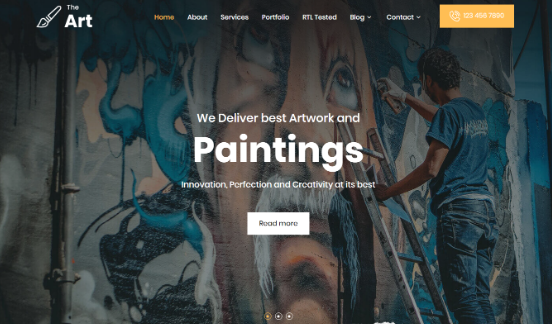 Multipurpose and multi – use in nature, quick and lightweight in performance, totally user and developer – directed, intuitively and wonderfully thought – out and professionally – designed, modernly and uniquely stylized, SEO – optimized and effortlessly customizable, digital content – centric and digital agency – friendly.
The Art catches the visitor's eye with its purposeful and elegant appearance which perfectly fits the website responsive functionality and technological performance, when browsed on diverse mobiles and tablets or when supported by diverse commercial or gallery plugins for advanced website opportunities.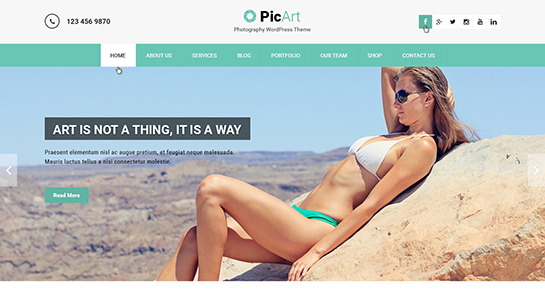 PicArt can turn to be a great framework, where all the creatively modern and productive business promotion ideas, all the marketing strategies to drive the client acquisition, company popularity or revenue growth will exemplify the strength and stability of any target creative design agency.
This highly recommended bright and elegant, technologically advanced and refined, immensely polished and pliable digital agency – centric template maximizes the convenience when dealing with diverse processes of website creation and customization to fit all the foreseen personal or commercial objectives in the nearest future.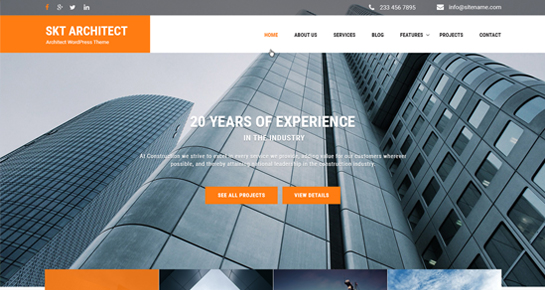 Crafted and developed with minute attention to details, SKT Architect Pro with its durable and stable platform, attractive and presentable external design, expressively feature – rich structure.
And tons of customization controls is another perfect creative and sophisticated digital agency template of WordPress to measure all the profits that any such business initiative may reap and improve all the working directions to reach out better results.
Along with the technologically cutting-edge performance and all – inclusiveness, this theme is no way a product to hamper the fast loading and smooth navigating nature of any website running on its basis.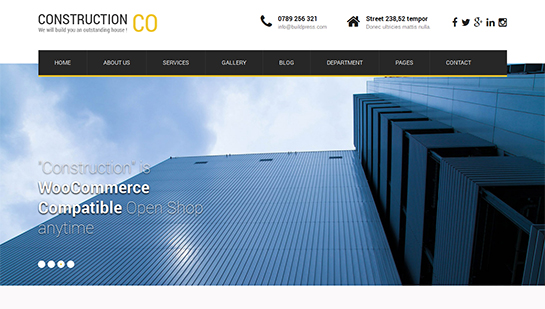 SKT Construction Pro is deeply innovative and entirely customizable, visually stunning and graphically precise, intuitively responsive and mobile – friendly creative digital agencies WordPress theme.
It have been repeatedly installed and checked by thousands of customers worldwide for its successful composition stimulating more profitable and prosperous business perspectives.
Power – packed with all the essential theme features and options, this amazing template is ready to highlight all the creatively heavy content any such agency may share online.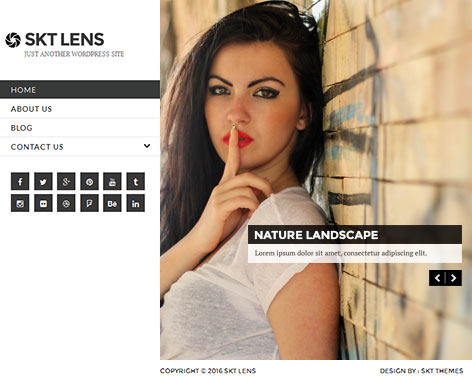 Beautiful and elegant design, incredibly responsive framework, all – inclusiveness and multilayout template and technologically powerful structure are what make SKT Lens Pro as another top –rated digital product to explore the wide variety of advancement options any WordPress powered theme may come with.
This aesthetically polished and impeccably crafted template is 100 % responsive and adaptable when browsed on any mobile or device window, as well as is easy to use and modify, thus providing excellent customization experience for every user.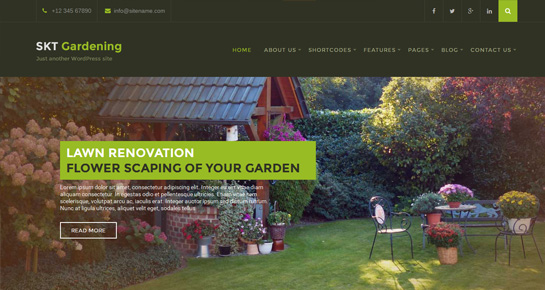 SKT Gardening flawlessly balances between bright and awe – inspiring, motivational and purposeful external touches and super functionality and professional customization possibilities available with this completely intelligent and stylish WordPress – based creatively saturated website maintenance and control toolbox.
With this multipurpose and multiniche, modernly and seriously coded, translation and multilingual ready theme, all the peculiarities of responsive design and cross mobile functionality, SEO optimization and plugin compatibility have been professionally taken care of.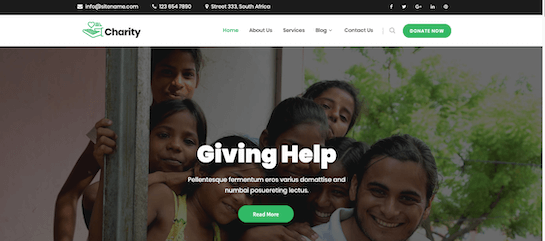 Smart and clever, minutely worked out and inspiringly designed, responsive and WooCommerce compatible, Charity Pro is intended for all those individuals and company representatives or agents, who are looking for an easy to use and exercise platform.
Which will be at next to nothing purchase cost, but will give rise to a unique and highly competitive online product.
With this creative digital agencies WordPress theme, every single person will be able to take total control over his online profile without any specialized knowledge in web programming or WordPress and undertake all the relevant activities that are within the scope of his agency.
In this age of digital agencies with various types of creative marketing people with their strategies, they need tools that are very much magnificent and powerful, so that they could fully showcase their talents.
It's very much important for these agencies to make their clients aware of the work they do and the quality they perform. Any creative laden content needs a good amount of support to back them up, and that's what Creative Digital Agencies WordPress Themes will provide you with.
For starters, you first need a target and a strategic approach for things like this. Then you need to first build the platform so that your clients could see your potential and thereafter, the business will start to rack in more profits.
For example, if you want your site to be very simple, perfectly designed, with a minimalistic solution and still looks very eye-catching, Creative Digital Agencies WordPress Themes will help you on this one.
It optimizes the use of HTML5 and CSS3, giving you more cross-device and responsive website, along with immense resources. It will also make sure that your website also remains E-commerce ready when it's needed.
This means the loading times should be very low, and the website should be ready to manage heaps and heaps of content. The website will be made very much developer in a friendly way, and thus will also support lots of customisation and provide all the required information, just when it is needed.
Creative Digital Agencies WordPress Themes also provides you with other options, for example, if you want a website with the maximum simplicity, yet very very adaptable and flexible to the users' needs.
It will help you meets customers all over the world and also help in showcasing content that are very much creative worthy as well.
On the other hand, if you want something lightweight and more performance oriented, there is an option for that too also. There is support for various kinds of plugins and types of galleries, that can be browsed when your clients will be on their mobiles and smartphone browsers.
Addition of SEO or Search Engine Optimisation makes it all the more worthy now. With SEO, prospective clients will be able to find your website in no time, and thus your creative content will grow more popular.
Creative Digital Agencies WordPress Themes also helps in supporting websites that are geared towards architecture or construction businesses and such, which very much needs the maximum of a very stable and trustable platform.
It should function in such a way that it will showcase the architectural talent, along with huge customisation options.
Creative Digital Agencies WordPress Themes also helps in supporting websites that are made exclusively for recreational purposes, like gardening or even for charity purposes. With lots of functionality, support for WooCommerce and endless customisation – nothing gets better than this.
This is the reason why you need Creative Digital Agencies WordPress Themes, to manage your digital life so that you can concentrate elsewhere on how to expand and think more creatively.