Are you thinking about creating your own news and magazine website and becoming a media mogul? Well, it is definitely a great idea. Most people love to hear about new things. Due to this reason, most magazines and news websites get a high amount of web traffic. However, starting a news-based site is not easy.
To create news magazine website and make it popular, you would have to design an authentic article page first. After that, you will also need to make multiple layouts and a lot more.
Thus, as you can already understand, doing everything all alone can be quite strenuous for you. Additionally, if you make even the simplest of mistakes, they can lead to a big blunder. Therefore, to help you with it, we have come up with a compilation of straightforward yet quite vital tips.
If you follow them as meticulously as possible, then we can assure you that you will not encounter any difficulties while setting up your website. So, without any further ado, let's get started with it.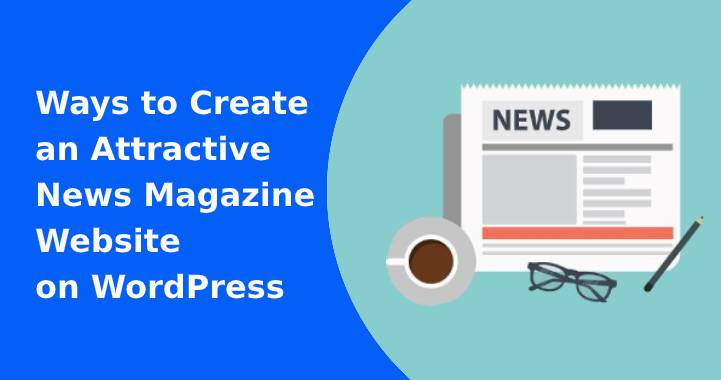 Top 5 Ways to Create an Attractive News & Magazine Website on WordPress
1. Select the Correct and Proper Platform
As you probably already know, there are several different types of platforms available out there that can help you to make a website. However, among the huge pile of them, WordPress definitely seems to be the right choice. Known as one of the popular CMS in the market, the platform is quite easy to use. So, if you do not have any knowledge about coding and all, you can still operate it quite effectively.
Read: Why WordPress is the most versatile CMS ever?
Furthermore, as it is actually a self-hosted platform, you can get a lot of things, such as themes and plugins, here for free. They can help you to create news magazine website that is both aesthetically beautiful and awe-inspiringly professional.
Besides, WordPress is also highly flexible. So, if you want to make some taps and tweaks on your website on the go, then only this platform can help you with it. Additionally, the CMS platform is also absolutely free. In addition, you would also not have to pay any extra fees to get access to some of its exclusive features.
Due to all these reasons, most people consider WordPress to be the best website builder in the market. So, we would really suggest you to opt for this platform, especially if you are just starting out.
2. Choose an Attractive Domain Name
Believe it or not, your website's domain name can make or break your business as well as your purpose. Therefore, you definitely do need to pick up an attractive and proper name for your cause.
Most times, people generally set up their target audience first before deciding the name. This helps them to come up with a better name to attract potential clients. So, once you have found out a platform for your website, next you will have to find the right domain name for it.
Related Post: Reasons Why Your Domains and WordPress Should Be Kept Separate
After choosing the domain name, you would have to opt for a reliable source to buy It. Make sure to not opt for an unknown agency, as they can be frauds.
In addition, you would also need to choose a proper hosting plan that will suit both your requirements and budget. You don't really want to run out of all your saved money in the middle of your business, do you? So, make sure to opt for the right decision to create news magazine website and make it popular.
3. Include Relevant Content and Pages
While making a magazine and news website, you should always try your best to make it as responsive as possible. Moreover, if you want to reach a broader audience, then you would also have to make the display eye-catching and the design user-friendly. This will help almost anyone to access and operate through your website.
Moreover, you would also have to add some relevant content and pages on the site to help your readers connect with you. Yes, you have understood it right.
We are talking about making a proper contact form. Besides that, you should also need to add some testimonials on your website to let your readers know why you are the best in the market. A little self-bragging can sometimes be quite helpful.
Lastly, you should also add an about us and a contact us page too. The About Us page would help your readers to learn more about you and your team (if there's one). On the other hand, the Contact Us page would aid them in contacting you whenever a problem arises.
4. Opt for the Perfect Theme
One of the most reasonable advantages of opting for the WordPress platform is that it lets you use themes on your website. The themes are a type of plugins that can enhance the aesthetics of your site. Moreover, if you can apply them perfectly, they can also improve the functionality of the webpage.
Hence, your client would not have to wait for a prolonged period to go from one section of your website to another. However, when searching for a WordPress theme, you may find a lot of options on the web.
Thus, it might get a little bit confusing for you to find what you need. So, to assist you to create news magazine website, we have picked up one of the best themes in the market, the SKT Magazine Pro. It is both easy to use and can aid you in creating the most professional websites ever. But, that's not the end of it. There's a lot more in this theme. Do you want to know about it? Then, let's go through its features together.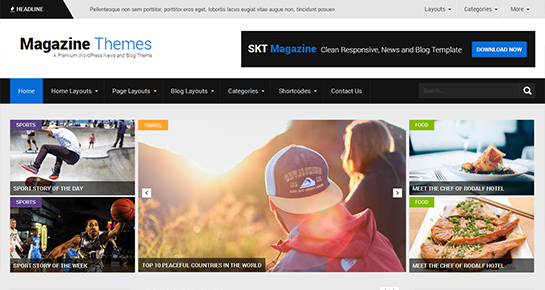 Wide Range of Fonts:
The SKT Magazine Pro has a wide range of fonts (more than 650, to be precise). So, you will surely be able to find one among them that suits perfectly with your website's design and purpose.
Responsiveness:
To keep your website highly functional, you would need to opt for a clean and responsive theme. However, this is something that most of the cheaper theme-based plugins generally lack. Nevertheless, that does not happen in the case of SKT Magazine Pro.
It comes with a fully responsive design and can help you to create news magazine website that I perfectly functional for both PC as well as mobile devices.
Compatible with Woocommerce:
The SKT Magazine Pro is also compatible with Woocommerce. Therefore, besides publishing news blogs, if you also want to do some business on your website, then this theme would be perfect for you.
Several Homepage Layout Design:
Do you want to make your homepage look more glamorous and visually aesthetic? Then, only the SKT Magazine Pro can help you with it. The theme comes with five different homepage layouts. So, you can choose between them to find out the one that suits your overall web design perfectly.
Multilingual:
One of the best things about this theme is that it is multilingual and supports almost all the major languages in the world. So, with this plugin, you can set up your website in such a manner so that you can cater to your clients from all around the world.
A Plethora of Icons:
The icons are a type of small images that can help your clients to distinguish between an article to the other. The SKT Magazine Pro has more than 500 different icons, which you can use to classify the levels of your files or blogs. This will surely help your readers find out whatever they need in a jiffy.
Blog Ready:
If you want to make your news website successful, then you would have to post blogs on it regularly. Furthermore, you will also have to publish new content every day to keep your readers hooked with the site.
Hence, in that case, you would need to implement a blog-ready theme on it, just like SKT Magazine Pro. Otherwise, it will be difficult for you to release a high amount of blogs on the site.
So, as you can see, using a theme is a must to create news magazine website and keep it highly functional at the same time.
5. Use Generation Tools
To make your website more handy and efficient, you should also use some generation tools on it. They can help to both make your website look good and boost the growth of your business. You can use various social media buttons on your site to increase your mailing list.
Furthermore, you may also use the popups to spread your company's name to a bigger audience. With them, you can also encourage your readers or the visitors of your website to share its link to the social media platforms.
However, make sure not to use too many generation tools on your website. It might make its overall design look more congested and complex. Moreover, you would also have to keep their placements in mind while putting them in. Otherwise, they might invade the essential parts of your blogs or articles.
So, these are some of the most useful tips that can help you to create a high-end news website in no time.