Running a successful food blog can be challenging, especially in today's competitive online marketplace. However, one of the best ways to stand out from the crowd is by using the right WordPress theme.
Whether you want to share your favourite recipes, review restaurants, or offer cooking advice, a well-designed blog theme can help you achieve your goals and attract more visitors to your site.
In this post, we'll take a look at ten of the most stunning cooking blog WordPress themes available today. From clean and minimalist designs to bold and colourful templates, there's sure to be a theme that will perfectly complement your content and help you spice up your food website.
Cooking Blog WordPress Themes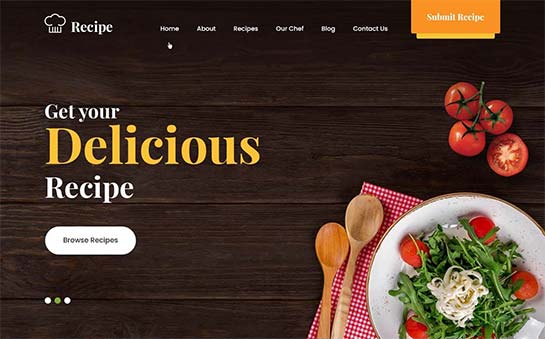 SKT recipe is a food and recipes WordPress theme that has been developed to appeal to the food and recipes sector as well as chefs and other food bloggers. The themes main target people is those who can write regarding food and recipes.
This is a fresh and creative style that allows for a wide range of colors to be included, and it also makes your pictures seem fantastic. It is coding that is optimized for search engines and validated using codex.
The visual appeal of the plugin is noteworthy, as it seamlessly integrates with the recipe plugin and facilitates the presentation of exceptional dishes both on the blog and inside the recipe list.
SKT Restara Pro is an easy-to-use, adaptable, and flexible restaurant WordPress theme that is also responsive, google mobile friendly, and a multipurpose WordPress theme. Its name comes from the word "restara," which means "rest," in Indonesian.
Websites catering to businesses such as restaurants, hotels, coffee shops, lodges, corporations, and commercial enterprises may make use of this feature. Additionally, this free responsive restaurant WordPress theme comes prepackaged with a customizer that enables you to verify changes live as you make them. Single page template nonetheless pages such as 404, exploration, grouping and records also coded.
The responsive multipurpose Cooking blog WordPress themes Bakery Blocks Pro is suitable for a variety of uses across many sectors. Therefore, you may make a picture gallery, portfolio, business, blogging, etc. Links and other components may be made to match the color of your logo by using this feature.
Additionally, the theme is replete with many homepage blocks that allow users to put whatever they want on the homepage. Additionally, it makes advantage of very user-friendly theme settings that make it simple to put up social icons and other components without the need for HTML expertise.
SKT Bakery is a pixel-perfect, 100% responsive WordPress theme with a variety of page layouts and widgets to make managing and editing the theme simple.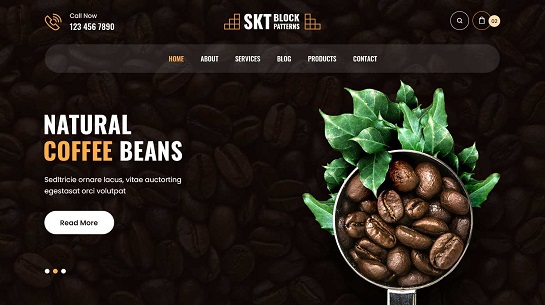 The GB Coffee Blocks Pro WordPress theme is fully compatible with several languages and can be easily translated. The WordPress theme in question is equipped with a color picker tool, giving users the capability to modify the color of almost all elements included inside the theme.
This theme is compatible with the vast majority of plugins available for WordPress. The pattern may be used with either a dark or light color scheme. You are provided with an effective navigation system, allowing you to easily access all of the available features of this theme.
Pizzeria Pro offers a user-friendly reservation system, ensuring that your customers can easily book a table and indulge in an authentic dining experience. With its responsive design, Pizzeria Pro looks stunning on all devices, making it convenient for your customers to browse and place orders from anywhere, at any time.
Whether you own a small family-run pizzeria or a bustling Italian restaurant, Pizzeria Pro is the ultimate theme to showcase your passion for pizza and create an unforgettable online presence. Users of this WordPress theme will have access to an incredible aesthetic appeal as a convenient feature.
The GB Sandwich theme is an excellent choice for websites dealing with food in any capacity, including online pizza delivery, pizza restaurants, fast food services, cafés, and restaurants. This successful WordPress theme for food websites offers compatibility for over one hundred and fifty different different social media networks and the icons associated with each of those services.
Your readers won't have any interest in visiting your website if the theme you choose for it isn't very appealing, so give careful consideration to this decision.
Therefore, you should make sure that the topic you choose is not lacking in any way in terms of its appeal. This Cooking blog WordPress themes for pizza restaurants has support for social media promotions. This incredible WordPress theme is retina-ready and the devices of multiple resolutions are compatible it is even a fast-loading theme.
SKT Sushi is intended for use by proprietors of restaurants or other food service providers that sell Japanese specialties such as sushi, ramen, and other gourmet treats. Due to the theme's adaptability, it may be used in a diverse selection of commercial contexts.
The WordPress theme that you are using was developed with the help of the Elementor page builder. A large recipe area is provided so that a number of different recipes may be shown in an organized manner. The SKT Sushi WordPress theme complies with the right-to-left language standard (RTL), and it is also fully compatible with both NewsLetter and MailChimp.
The Elementor page builder was used in the development of the Restro. This section of about us contains information on the history of the organization, as well as the members of the team and the founders. The gallery section is used to showcase the many foods and delicacies that are available for purchase, as well as the ambiance and the decor of the restaurant or café.
There are more than one hundred shortcodes at your disposal, and you can use them to build up your material in an effective and appropriate manner. The home page slider, which has slider effects and transitions that may be customized, in order to create a website that is visually appealing.
SKT Ele Restaurant is a restaurant type of a theme craeted on top of Elementor. The theme is regularly updated to the most recent versions of WordPress, including the most recent versions of PHP and MySQL, as well as the most recent versions of the real and secure code.
Due to the fact that elementor page builder was used in the development of the Ele Restaurant WordPress theme, you will have the ability to create multi-page layouts for any kind of website.
You are also able to vary the margin padding and the size of the column sliders, in addition to readily modifying the settings, which include width and height. You may get the results you want by using the page builder editor that comes with a Restaurant theme. This editor enables you to construct a website with the same appearance as the one you want.
With SKT Cafe Pro, you can create a color scheme using a variety of different CSS Menu styles, complete with smooth motion effects and the mixing of a wide range of color options. You are welcome to get in touch with us if you have any questions or concerns about the design of your website.
After the first purchase of the theme, support will be offered for a period of one year. You are welcome to get in touch with us if you have any questions or concerns about the design of your website. After the first purchase of the theme, support will be offered for a period of one year.
The best way to target the market and reach the greatest number of consumers is to establish your company online. Bistro is the platform designed for you if you want to build a website for your restaurant-based business.
The example material includes a WordPress theme for a bistro, which is a restaurant. Selling a lot of burgers is the primary goal of demo content. You may redesign your website anyhow you want and add any services you'd like to provide with Bistro.
It's extremely practical nature enables you to efficiently personalize the website. Using the multitude of short codes available to enhance functionality may save you a great deal of time and work.
You may substantially benefit from SKT Food, which is prepared to fulfill all of your expectations, if you value flawless operation and easy-to-navigate solutions. This dynamic and elegant template is designed to make an amazing job of accommodating your content classification, making it simple for every website visitor to locate and search through.
With a pre-installed shortcode package and responsive and mobile-friendly design, SKT Food is the only theme that offers the website administrator a bird's-eye view directly from the theme backend for any kind of management intervention.
Bottom Line
These Cooking blog WordPress themes are designed to not only enhance the visual appeal of your website but also provide a user-friendly experience for your visitors. Whether you're a food blogger, restaurant owner, or culinary enthusiast, there's a theme on this list that will perfectly suit your needs.