Whether you want to start a website for your artistry work, office, paint house, or a simple blog. Your theme should be based on a particular concept so that it can engage your audience quickly. After all, your primary motive is to earn and sell your services. 
Hence, your primary goal should be choosing a suitable conceptual WordPress theme that creates an epic impression on your audience.
Eventually, they start following you. For instance, if you're a photographer, so obviously, you will publish all fantastic pictures that appeal to your customers, so they give their projects to you. 
Therefore, a theme plays a vital role there. It must have the power to showcase your skills in a better way. However, the primary goal should be quality.
So, for you readers, we have hand-picked 16 best conceptual WordPress themes that indeed help you get the best out of your business.
Best Conceptual WordPress Themes 2023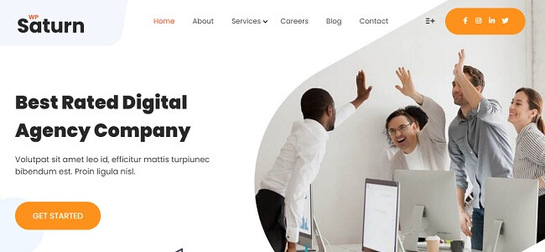 SaturnWP Pro is the most demanded conceptual WordPress theme in the market these days. It is a well-optimized and Google mobile-friendly theme. It is based on Elementor page builder, which quickly launches a website on the web.
SaturnWP Pro is compatible with Polylang and Wpml. Also, the theme is WooCommerce compatible and works on every design, whether it be for digital or configuration files. Further, it includes 650 + Google fonts, an easy-to-use slider option with the blog area, and eight-plus page templates.
Also, it is tested up to 5 dropdown levels. Further, it is compatible with the latest version of WordPress. Try it now!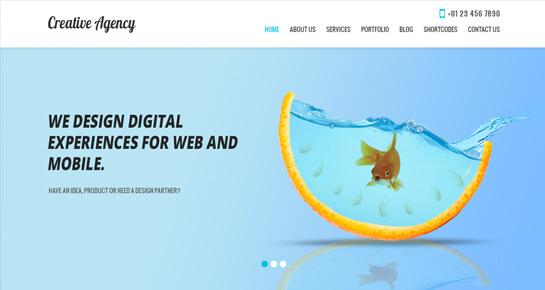 Creative agency is yet another powerful option to pick as a conceptual WordPress theme for your Business. It is simple and easy to use for every user.
It comes along with complete documentation and responsiveness. Further, it includes a step-by-step working setup process that is inhabited in the documentation. The header and footer section comprises five layout variations.
Thus, you can represent the inner header and banners and the image slider with various elements. Moreover, the coding with this theme has been done and is based on the WordPress Codex theme standard.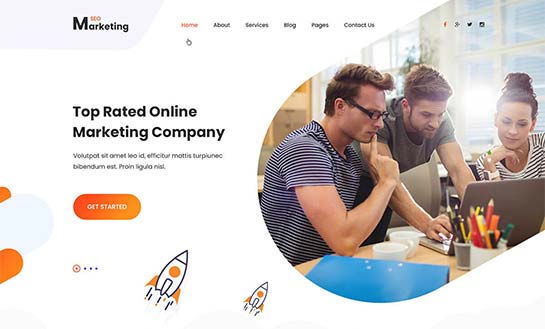 Digital agency WordPress theme is best for website owners who want to create and creative website for a marketing group, advertising company, freelancing, branding, online advertising, digital products, mobile app development, and others.
This is specially designed to allow web admins to create a professional and fantastic website for their audience.
The theme comprises demo content so that you can customize the website easily. In a couple of seconds, you can easily apply for the changes and see it easily.
The theme has an in-built and innovative page builder that comprises a premium option to load your website faster on the internet. Further, by integrating some of the best SEO plugins, you can easily focus on your Search Engine Optimization features.
Apart from that, comes with an easy-to-use interface so that users won't find any trouble. The Jetpack plugin, along with HD and retina-ready features, is just awesome to make your website the best in the competition. Try now!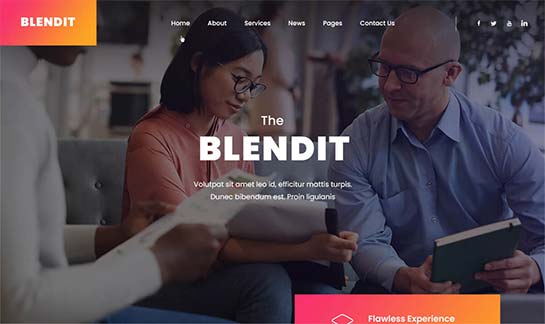 Blend is a multipurpose and warm online shopping portal that comprises spectacular features. It grows your website impressively on the internet.
Further, it is a responsive page theme integrated with awesome font icons along with Google fonts. Also, it is combined with social media that have social media files such as social sharing plugins and icons.
Furthermore, it includes many shortcodes and is based on multiple plugins like Contact Form 7, WooCommerce plugins, and many more. Not only this, but the theme is also based on the inbuilt gallery, services, and section pages. The theme is also clean and provides an elegant and professional look.
Moreover, the theme is very compatible with the latest version of WordPress and coded with HTML5 and CSS3.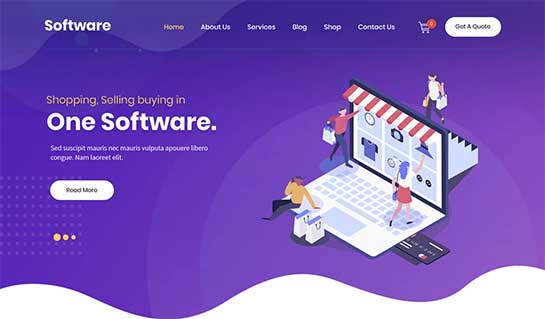 SKT software Pro is a professional WordPress theme that can be used to create an eCommerce business portfolio, creative industries, and more. It is a perfectly suitable and easy-to-import demo content website. The theme is beautifully designed, which makes your website alluring.
SKT Software Pro contains four headers and footer layout options that give your website an ideal look. Apart from making the theme compatible with the Gutenberg editor. It provides Full support on every page builder that makes a website perfect looking.
Also, it has countless color options that provide a greater sensitivity to make the home page and other pages more attractive.
The different layouts for posts help to stick with your users on your website. If you want to add social media share buttons on the website, then use the plugins excessively.
The theme is straightforward to install and use by any unknown professionals. Also, it has the availability of detailed documentation to know the technical quality of the website. Furthermore, it is easy to read data from multiple browsers such as Safari, Firefox, and Chrome.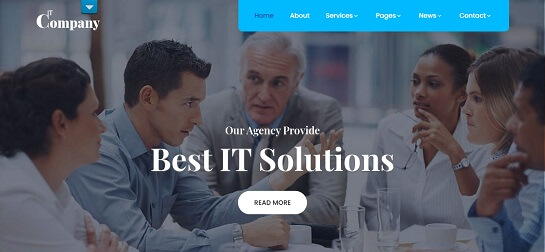 GB IT Company is a powerful IT WordPress theme, a well-coded so that everyone can use it effectively. It is super constructed by developers will full care. Also, the GB theme is a single-click website theme based on fluid, dynamic, and professional-looking IT company websites.
It offers unique and impressive results. The template is equipped with a portfolio and an engaging blog layout style. So, you can easily engage your visitors to the website.
The header and footer sections will allow you to reveal more information about the reference. The quality task of featuring high-quality images will be easier for you.
However, the backup option is also provided in case of a mishap. After installing the website, you have a free customization tool to the best out of your website.
This is one of the flexible WordPress themes that clients usually want to work on. Instead of choosing a symbol and a complicated theme, choosing one adjustable for every agency is better.
Thus, helps you to provide all kinds of features needed for building your creative website.
Customizations, Prebuilt- pages, multilingual options, user-friendly design, and demo content are available. So, if you want to boost your productivity and make the best of your website, then you indeed choose Posterity Pro for this.
However, it is considered a multipurpose theme. Based on more straightforward functionality and the requirement, this multipurpose theme is coded and can convert your dreams into reality.
Furthermore, it gives you assessable support and provides you with many options to have a professional design website.
Complete Pro is an entirely colour-changing conceptual WordPress theme based on font-friendly approaches. It integrates 600 + legal fonts such as Latin, commerce, Cyrillic subsets, and special characters.
Also, the theme is based on ready-to-use sections and easy shortcodes. Further, it is comprised customizer that allows you to change whatever you like. This is also based on multipurpose layout choices.
Despite the fact, that the theme is multilingual ready, it makes it easier for users to access your website, no matter what the language is. The theme is also fully documented, and easy-to-use documentation is available.
So, anyone can access and customize the website accordingly. The GPL license will be shared with the customers and compatible with all the latest versions after WordPress.
Shudh Pro is a minimal conceptual WordPress theme that is tested for responsiveness with Google mobile friendly and also experimented with various mobile devices. It is color-changing and easy to customize theme reports for yourself.
Further added, it helps you to showcase your work skills impressively. The theme is translation-ready and based on a multilingual plugin so that any customer can read your website without hassle.
The theme comes and is integrated with several options, a Contact Us page, homepage, unlimited pages, dropdown navigation panel, standard pages, and easy-to-use theme features.
Also, it is compatible with the latest version of WordPress and coded under the newest WordPress standards theme and review standards. The theme is based on complete documentation and is extensively created for users who want to develop and professional-looking website.
The marketing agency WordPress theme is also a conceptual WordPress theme based on captivating features. Once you purchase the theme, you can install it quickly because it is available free of cost. At the same time, you can easily do so by buying its premium features, starting at dollar 29.99.
The theme includes five layout variations for both the header and footer sections, so you can easily opt for that particular representation on your website. This marketing agency theme design is based on creating a blog, business-related website, corporate websites, marketing Agencies, accountancy, and likewise.
Moreover, it includes standard pages like categories 404 and standard pages. The design is very convenient to the users, which makes it easier for your customers to shop from the websites and grab the best User experience.
If you're looking for a simply elegant and modern-looking website, pick SKT start-up pro conceptual WordPress theme. It is based on Elementor page builder; the most impressive start is a WordPress theme that helps your users find your content easily on the web.
The theme is fully integrated with an easy-to-use theme, optimized with the WooCommerce plugin, translation-ready features, easy to embed videos, podcasts, and more.
Besides, it is coded with WordPress standards, suitable for all kinds of Business. In a nutshell, it can be the best WordPress theme that helps you to take your Business online profitably.
Naturo highly responsive and conceptual WordPress theme that can be suitable for all devices and browsers. It comes with a blog area, 100 + shortcodes, and 600 + Google fonts. The theme is SEO and SMO friendly and comes and is integrated with awesome font icons, and social media plugins that support your website on various channels.
Nature has default contact form testimonials and shortcodes available. Also, it has dropdown-ready navigation and is compatible with the latest version of WordPress. Naturo is a very nice and best theme to get started with.
IT Consultant Pro is a powerful responsive conceptual WordPress theme based on Elementor page builder. It comes with SEO plugins, Google forms, shortcodes, and a contact form that helps you to make a website more appealing.
On the one hand, the theme is based on inner pages with inbuilt breadcrumbs, while the theme is fully responsive and cross-browser compatible. These features are just amazing to make your users more engaged with your content.
Apart from that, the WooCommerce plugin can help you have the best shopping experience on your platform. Furthermore, the full documentation is available so you can set up the website easily.
We are looking for a multipurpose and robust conceptual WordPress theme, then check Condimentum. It is a minimalistic approach theme that includes backgrounds in different sections to have a colored approach. Also, it comes with a nice Nivo slider.
However, you can easily do it as per the conditions. The several boxes of the team, testimonials, and picture galleries are also available with a theme. It is compatible with the latest version of WordPress, so there will be no issues at all.
SKT Pathway Pro is a fully compatible and best WordPress theme that helps you to take your Business online. It includes 450 plus icons, several features, and 20 sections on the home page.
Further, 5-page templates, SEO support, and one-year customer support features can give your website the best approach to make leads and success.
Ele agency is also one of the fantastic conceptual WordPress themes you can choose from. It is a fully animated theme that loads quickly on the CSS effects.
Moreover, it is granted for customizing every small part. As a beginner, it won't be difficult for you because it is based on documentation.
The theme is retina and HD-ready. Further, it allows users to explore the website in a great way because it comes up with five different variant options that help you make the website more appealing and attractive in every way.
Ele agency is an easy solution for everyone. Also, it provides you complete WordPress solution that helps you to notify of every feature update. So what are you waiting for? Pick your best website theme today and get the fruitful benefits!