Catering WordPress Themes round up for food caterers
The best assortment of catering WordPress Themes is considered in this article for food catering services and "walking restaurants", mobile and wedding caterers and other relevant businesses.
The Internet exploded as a revolutionary business and marketing practice linking potential clients and consumers to target suppliers and service providers.
And whatever the nature of your business, you are obliged to advertise or otherwise promote it through various digital channels to result in customer satisfaction and growing loyalty.
As for the food and culinary world, it is no longer associated merely with restaurants and cafes. Food preparation and services are currently centered also around parties and evenings, celebrations and festivals, holidays and feasts.
And with growing popularity of food and beverage catering industry across the globe, digital spectrum acts as a comprehensive and optimal guidance for suchlike services and undertakings to deal with a virtual audience spending much time on the online platform.
We have taken the trouble out of searching for the most popular and future scalable catering WordPress themes for newly launched or already existing food caterers and catering service representatives to greatly monetize their digital profiles with ease.
Be sure that each of below – specified templates is hot – blooded enough to stabilize the workflow in relation to your website creation and further management.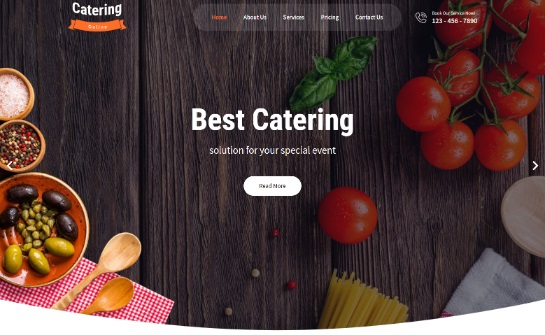 Fascinate your audience with the best description and images of your professionally catered events and parties through your posts when supported by Catering.
Not any single aspect or functionality has been left behind or forgotten while developing and updating this template to function at a near – perfection level.
Moreover the theme has been created with an average website admin in the authors' mind so that even if you are clueless about all the ins and outs of website creation and customization, you will be authorized to complete everything loosely.
Balanced between elegant look and top – notch inner operational framework, this user and customer – optimized template shares simple and lightweight character as well preventing any food caterer from any major technical obstacles.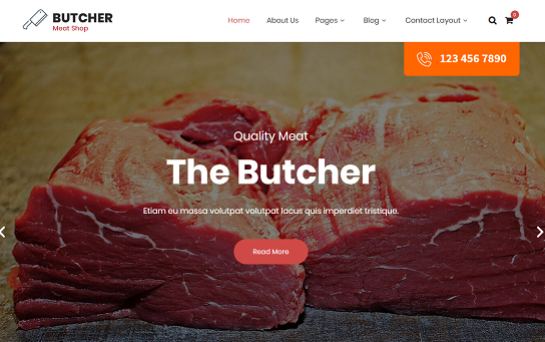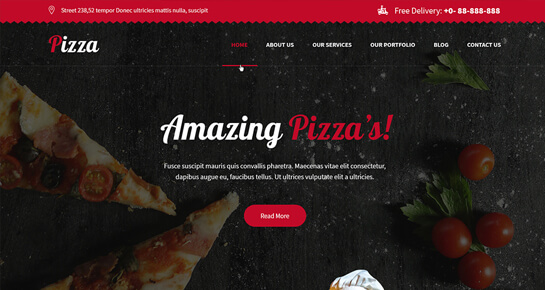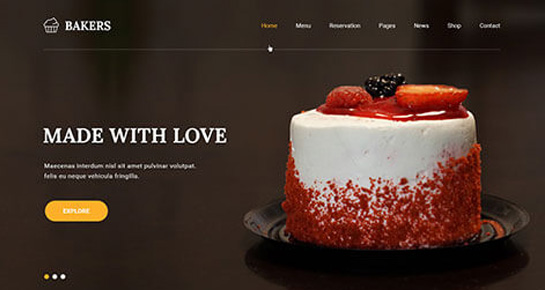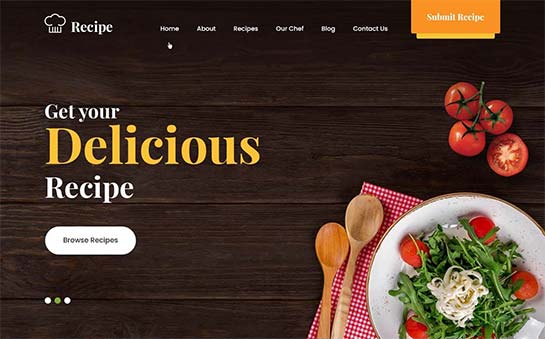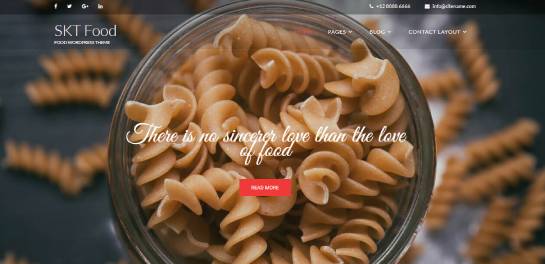 Boom your catering services through a presentable and entertaining website based on SKT Food as one of the top – rated catering WordPress themes. General – purpose at its true nature.
This template can be used to cover any kind of food and drink – centric websites and to grab the visitor's attention with drool – inducing photos.
Powered by out – of – the – box features and high–end functionality, SKT Food comes packaged with more than 100 shortcodes, color changing options, contact forms, page layouts with total control on the sidebar area, custom post types, Google fonts and social icons inclusion and yet much more to be loaded with this template.
Coded with modern HTML5 and CSS3 coding and styling combination, SKT Food comes ready to respond to any suggested screen size or resolution thanks to its ultimate responsive layout.
All kinds of vending, event catering and cafe services can be wrapped up and served online by the application of smooth and subtle, elegant and eye – catchy while surprisingly valid and complete Ele IceCream.
As one of the strongly – advisable catering WordPress themes, this template is capable of identifying all the technical roadblocks leading to better visibility and increased traffic.
Otherwise stated, the theme comes with full SEO integration making it easier for the relevant search engines to see and read your website and its content.
Color changing options, homepage slider for the most creative and original images of the events and occasions your participated in, preloaded icons to stylize and decorate your profile, as well as shortcodes are integrated within the theme as well.
Meet your customers at the point of their need and provide them with all the important information and details with Ele Restaurant.
Whether you provide pick up meal services on this or that occasion, fine or other foods catering, wedding, rehearsal dinners, showers, corporate or any other catering services, this template will satisfy all your needs to proudly present a wide array of your services.
However, the theme is flexible and intelligent enough to undergo any changes and deliver the smell of your restaurant or cafe, pizzeria or other food – centric place.
Footer area with social media integration and other useful details, blog availability for daily updates and gallery section for the best visuals will also be at your disposal to exercise fully.
Cozy and enthralling, simple and inherently versatile, challenge –ready and well – managed, Coffee Shop is another catering website management solution having its place in our list of catering WordPress themes for foods caterers.
Rather than starting everything on your own or hiring professionals to work on it, with this wonderfully pliable and polished template you won't need to write a single line of code, but will be capable of adding your preferred touches and functionality to it.
Even if you are far away from electronic commercial relations and activities which are drawn on digital marketing, mobile commerce, etc it will not be a tough gig for you to run a website with e–commerce potential since responsive and mobile – friendly Coffee Shop celebrates readiness to cooperate with WooCommerce plugin to sell your services and products.
Equip your goal – oriented presence with We Bake and enjoy boundless privileges coming along. Creating and styling your exclusive food and drink catering website will be neither fiddly nor expensive with We Bake since this template is easy to use on the one hand, and cost – effective on the other.
Easily drag and drop your way to the ideal design and adapt the given platform to your specific claims or business objectives.
Ready to give delicious and elegant associations to your web visitors, the theme includes default slider with animation controls, commercial – ready nature, social media integration, contact form to get in touch with you, widget – friendly footer and header areas and shortcodes inclusion.