There are billions of vehicles worldwide, which is why many automotive repair shops are thriving. However, if you want to expand your business following a franchise model or gain more customers, you should consider getting a website for your repair shop.
When you start building a website, you can choose different CMS like WordPress, Wix, Squarespace, etc. WordPress is the most popular CMS in the world because its plugins allow users to design freely, and it is probably the most SEO-friendly CMS out there.
Ranking on search engines like google is the ultimate goal of your business, because that is how you will get organic traffic. Some of those visitors will become paying customers. Before you start building your website, you need to check out some killer car repair WordPress themes that you can use.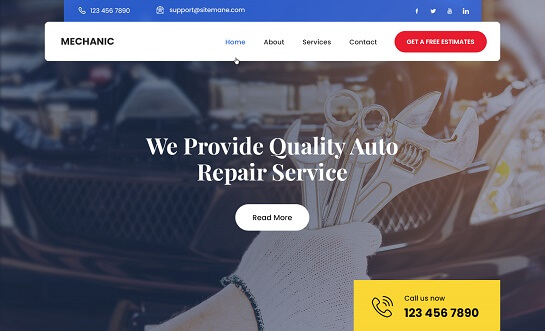 This is an incredible theme if you run a mechanical repair shop. The call to action is displayed on the website's header, so if someone is in immediate need of assistance, they can call your business.
You can publish your unique selling proposition in the section below the header. You can publish that information if you provide fair pricing or have been recognized with any awards. Describe your services with images of your facility.
If you want to use something other than images of your repair shop, this theme already comes with free images.
Show off the positive customer feedback that you have received from customers.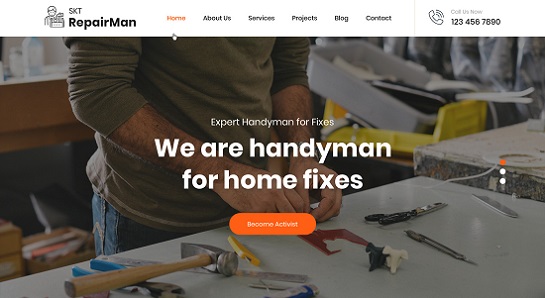 This theme is a perfect choice if you want your repair shop website to be more customer service oriented. This theme displays your working hours, location, and phone number on the header.
Your potential customers will know all the important details of your business once they visit your site. If your facility is closed or has been shifted to another area, they will know that too. SKT Repair Man is an amazing theme you can use to keep your customers informed.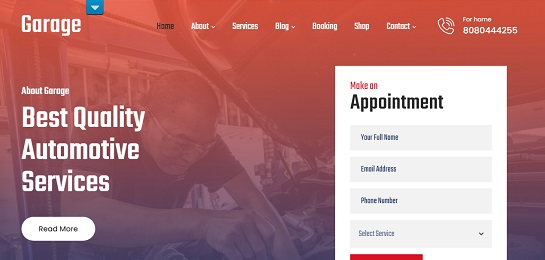 This theme allows you to display your garage's services with simple images. Add the name of the service and then add the image related to the service. Now making a website for your garage is easy, thanks to the SKT Garage theme.
People should always know what benefits they will get if they choose you for service, there is a lot of space in this theme to mention such benefits.
There is a get-a-quote option, where customers can select the type of service they want for their vehicle, and you can send them an estimated quote.
This way, all your customers will know how much it will cost to repair their vehicle, and there will be no payment-related hassles later.
Auto Car is a car dealer WordPress theme or a garage-related theme. If you have any business related to automotive, you can use this theme to promote your business.
It uses a simple and effective theme options panel that can be used to change colors, write custom CSS code, and make other changes.
Adding CSS code can make your website powerful if your growth exceeds your expectations. This theme stores more than 600 google fonts, and you can describe your business in any way you want and style.
It is also translation ready, which means you can target a global market. This theme is friendly with all the WordPress plugins, which means you can take bookings online and sell products with the help of WooCommerce.
There is an amazing map at the end of this theme, where you can point your location. If someone is driving to get their car checked, that map will help them a lot.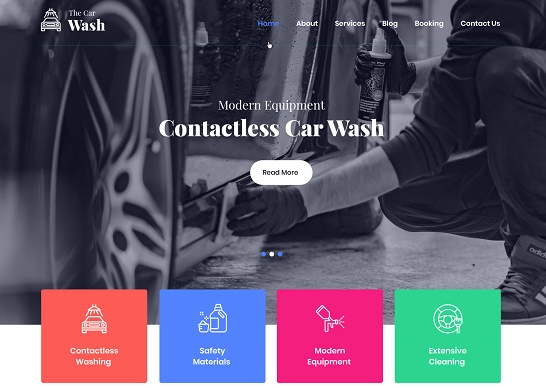 This theme is perfect if you run a car wash. It has a modern, sleek look which will give your business the boost it needs. It is similar to the other repair themes, which is why you can also use it for your garage.
You can highlight the face of your company, which is your team. This feature makes it one of the best car repair WordPress themes.
If you have a strict pricing model with different plans, you can highlight them here. This makes your business more efficient as customers already know what they have to pay and do not have to wait for a quote.
This theme is designed for refueling stations, but other automotive-related businesses can also use it. The design of this theme is simple, as it lets the content truly speak to the user.
An entire section highlights your services and why they are better than the competition. This is one of the car repair WordPress themes that will help you compete in business.
Numbers are always interesting for the consumer, if you highlight numbers that show your company positively, you can win a lot of business online. The internet is filled with different content, so creating a website alone is not enough.
If you wish to rank on search engines, you need content which is why this theme comes up with a blog posts sidebar. It will be great for your business if you uploaded relevant blogs.
SKT eAuto is a modernistic single-page website that can showcase your electric vehicle business. This theme can be very useful if you run charging stations, sell electric cars, or repair them. It has a unique layout, you can build this site with elementor, and it is also video friendly.
People are always searching for parking spaces while having a vehicle is great. One big problem you may face is searching for a parking space whenever you are out.
If you have faced the issue, it is time to help others by publishing all the parking spaces your company has on this website. This way, others can look up the nearest parking space.
If you have a taxi company, it is better to have a website because the market is competitive. However, there is no need to worry, as, with the help of this website, you can do everything to promote your business.
You can add the contact details if your customers want a taxi and describe the detailed services you provide. The WordPress booking plugin is extremely helpful here.
People can just make taxi bookings online, and you can accept them. If your website gets organic traffic, it can be great for business as it creates direct revenue. You can also create different plans for people.
If someone prefers a sedan, they should be able to book that compared to other economic models of cars. This gives your user more control over what their travel experience will be like.
If you also have an app for your business, you can promote them in the footer section. Your customers can also check out possible fares before making a booking. In short, this theme provides everything that a taxi company's website might need.
People travel a lot, and they prefer to drive on their own. That is why car rentals have become extremely popular throughout the world. What better way to let local tourists know about your car rental than with a well-designed website?
This theme deals with cars, so you can also use it for automotive repair shops. After editing, it can become one of the most powerful car repair WordPress themes.
Do you run a towing business? You can use this website to let others know about your tow truck services. With a few edits, you can use this theme to highlight your list of services, details about your company, and your long-term vision.
Towing services are needed immediately, which is why this theme allows you to leave your phone number on the header or the footer. You can also customize it with the help of shortcodes.
If you have already been serving customers in your area, it is important to establish authority with the help of positive reviews.
You can publish these reviews in the website section with the help of this amazing theme. Potential customers are more likely to trust you if they see positive customer reviews.
If someone needs maintenance services, they are in the sense of urgency. This theme starts with business, as you can highlight your business number.
If someone is in a hurry, they can dial up straight away. Other customers will likely trust you if they know how your process works.
You can describe the same with this theme. It is important to highlight your accomplishments, which is why this website has a dedicated section for your past projects. Visitors can check out if what you have done in the past suits their requirements.
You can use a form plugin to collect information from users. This way, your maintenance agency can know the project's requirements before you send your team to the site.
Conclusion
Running a car repair business can be profitable or a venture that will sink your money. To scale up your business, you need to have an attractive website. There is nothing better than a website made by WordPress in the market.
However, you also need a theme tailored to your business needs. The themes discussed in this article are perfect for automotive repair shops.