We have handpicked the best bunch of butcher WordPress themes for small, medium – sized and big industries, dealing with meat products and industry altogether.
In order to run a high – income butcher business and target all the relevant groups of an audience by having a credible and highly popular website presentation is a must.
Exercising all the respective strategies and communications with the local and international market, displaying the quality meats and products in the most hospitable environment will speak to the favor of any meat shop or steak house.
So that all the website visitors will be able to taste and feel your advantage over many other competitive businesses.
If you are a butcher, meatman, meat shop or steak house owner, and your primary focus is to sell your tasty products at a premium level.
Each template in our list of the butcher WordPress themes will create a bridge for the relevant business representatives, who constantly searching diverse optimal ways of promoting their websites at limited resources and financial means.
Those butcher WordPress themes have been developed and launched with professionalism, ultimate care and concern towards every single part and aspect, so that thousands of people from diverse locations will beat a path to any website established on it.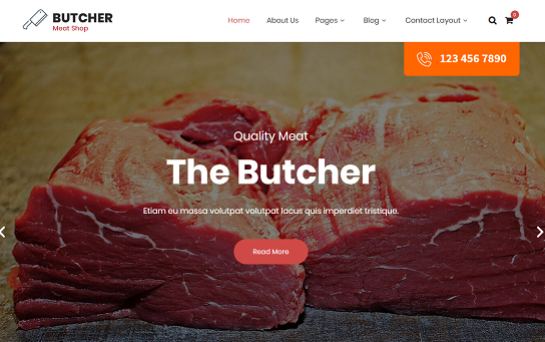 If you want to celebrate a two – sided victory, that is to say, fulfill all your prerequisites and expectations in one hand, and provide the customers with client care and relevant information they are seeking, then Butcher is all that you will need right from the start.
This error – free and top – rated, quick in installation and performance meat shop, chicken shop, butcher WordPress theme is a step forward in website creation, management and option control practices.
Hence, every butcher can use the precisely demonstrated structure and sections of the theme to render his services and products, delivery and booking, or whatever his business may include.
Butcher is also fantastic in its responsive, SEO – optimized, plugin compatible and e – commerce ready manifestations.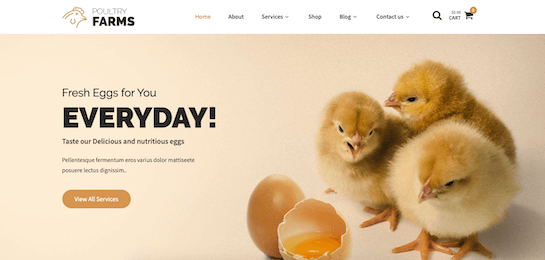 Poultry Farm is one of the most famous options from butcher WordPress themes list as it has an ideal and clean layout which fit well for Quail, Chickens, Ostrich, Duck, Turkey and other birds poultry farms businesses.
You can not only use this theme to sell meat but also it can be used to sell eggs and other dairy items.
Very beautifully you will be able to showcase all your services like poultry management, automatic feed delivery, consultancy, poultry management, egg and meat supply, growth monitoring, and much more.
Using this same you can group different chicken breeds such as Brahma, Cornish, broilers, and so on. Not only this but also you can share some management and production tips with wide audiences to get your business more highlighted.
Another alternative option is to choose Dairy Farm which also allows you to sell and promote your offerings in a great manner.
The theme comes with the slider section where you can showcase the most highlights of your business such as featured product, or in-demand service, Google map, or contact form.
To share information about maintenance, management, and production, a separate blog page or a section can be used. Promote all your services and impress them with a unique blog layout.
Some core features of Dairy farm are the responsive layout, compatibility with the latest WordPress version, powerful admin panel, W3C validated code, retina-ready, custom logo upload, and much more.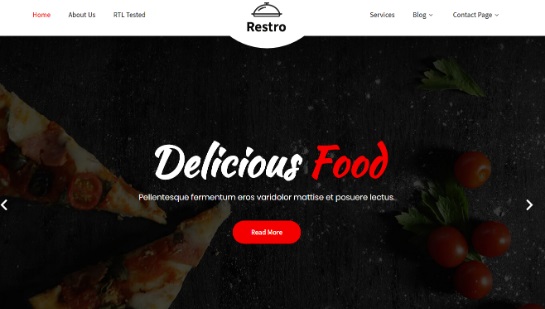 Restro is quite unique and exceptional, entirely customizable butcher WordPress theme with easy to digest functional philosophy and easy to use admin panel for absolutely every kind of usage.
It is the template that will for sure set you apart from any type of obstacles and technical errors within the whole process of the website building and further exploitation.
Get your steak house or chophouse website off the ground with a reasonable investment, show off all your services, starting from organizing cuts of meat and preparing them for sale in diverse restaurants, bistros and other food establishments and even for individuals from your community or outside of it.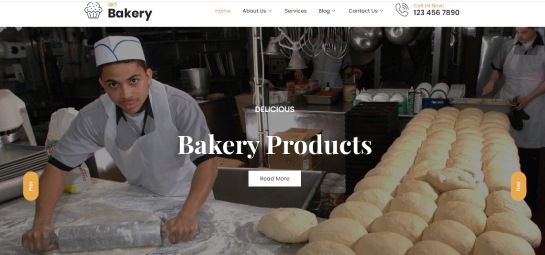 In case you primary aim is to create a profit – generating website, which will strike the visitor's eye with its customer care nature, entertainment and the overall high – quality and informative content, We Bake as another butcher WordPress theme, which has deservedly appeared in our list, is ready to fix all the butcher needs.
Based on the strongest coding and technical support, this toolbox has all the potential to give rise to a website at a pace hard to imagine and provide the webmaster with the simplest administration controls, so that the latter can grasp the theme potential in its entirety.
Responsive and mobile – friendly, SEO – ready and e – commerce – based theme composition will induce higher ranking results and will win the desktop and mobile client's satisfaction.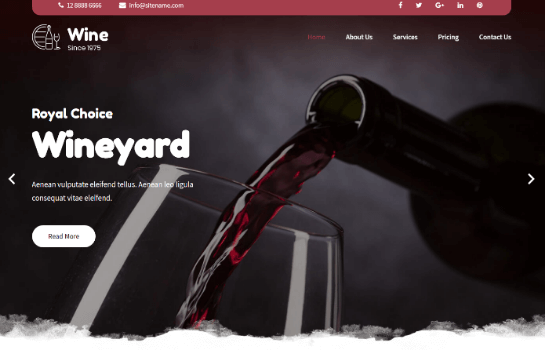 Wine Pro is a modern and alluring, user and customer –oriented and do – it – yourself theme, which is in compliance with all the norms and standards prioritized by the WordPress community.
If you want to have your butcher, meat shop, steak house, bistro or restaurant – related content custom – published in properly adjusted web pages, achieve your design and graphical ambitions and spread the smell of your tasty dishes all around the site, Wine Pro seems to be an ideal variation for you.
The more stimulating fact is that you don't have to modify or write a single line of code. Rather, you can fully rely on the prebuilt shortcodes for various usages and setup your details easily.
As a bonus, the theme will intuitively satisfy all the requirements of your mobile users and get your content adjusted and formatted according to this or that mobile screen dimensions.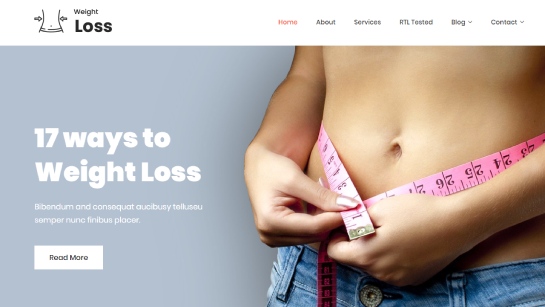 Fit has long established itself as a truly dependable website creation block to build an online reputation of every butcher and his brand.
By the application of this extendable and comprehensive, complete and stable product, it will be possible to create a stunning profile of every meat and specialty grocery and maximize your sale opportunities and rates.
The sophisticated authors of Fitt have done a huge backend job, so that each and every single element of the theme has been developed in isolation and with dedication.
Thus, only a pretty little part of the work has been left to the website admin to organize and take the target website to another level of performance. On the whole, this self – guided product will back up all your respective marketing strategies catering to the butchery business.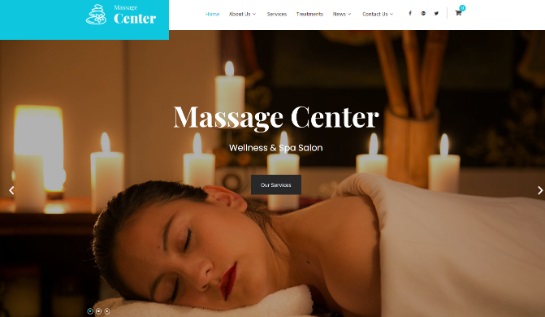 Much more from multipurpose design, speed enhancement to very intuitive admin dashboard, Massage Centre is a highly recommended WordPress theme for all those butchers, who want to have their content and services fit into their pages without looking disarranged or cluttered.
The theme has been checked for its responsive and perfect mobile browsing experience, so that your customers on – the – go can scan your content all the time.
It also leverages color changing scheme, a bunch of preloaded pieces of code in the form of practical shortcodes, beautiful slider on the homepage for letting the website viewer feel the quality of your meat products, inbuilt contact us section to publish all your contact details, captcha form and much more.
SEO standards have also been followed in order to get the relevant content of the website shared and talked about.
If you are a butcher who's aiming to sell prime meat and for a profit then you should know that it is not just important but downright essential that you set up a website on WordPress at the earliest.
You can choose from one of our many butcher WordPress themes, and as for the question why WordPress, well, simply put there's no other platform that comes close to matching it in terms of flexibility, cost or the fact that it is an open resource platform.
You are planning to become a vendor who specializes in selling premium meat so what do you think that your online customers would want to see?
They would naturally want to be assured on the quality of your meat, and that your shop is clean enough and moreover, the end products are thoroughly cleaned and packed.
This is exactly the reason why you need to choose from one of our butcher WordPress themes as soon as possible. Here's why you need to opt for the same to make sure that you retain an edge over your competition.
Marketing: One of the effective ways of getting the word out regarding your premium butcher services is to run dedicated marketing campaigns and direct customers to your website.

But there's a catch, you need to make sure that your website is professionally designed and the layout is perfect and guess what, with these themes which incidentally comes loaded with various templates, you should be able to do just that.

Information: Since you are a service vendor, you need to make sure that your website does not appear too cluttered and instead adopts a minimalistic approach.

Most of the top ranking websites already do the same and therefore it makes sense for you to utilize the white space strategically so as to direct the users' attention to "call to action" part of the website.

You need to make sure that your front page has some attractive high resolution images of your shop so as to reassure your customers that your shop is indeed clean and well sanitized.

Ease of use: It goes without saying that you need to make sure that your prospective customers are able to check out the various pages with ease and that all the pages load on time. Here's a free tip, you may want to cut back down on some of the features so as to ensure that all the pages load on time.

With ease of use, your customers should be able to have an enhanced customer experience and this can help boost your online rankings as well.

Rolling testimonials: Make sure that you include a widget for rolling testimonials from your actual clients and their feedback regarding your services. This can help you net more customers in the long run.
These are some of the reasons as to why you need to make sure that you have the right theme installed on your website at the earliest.