This article showcases and round ups several templates which satisfy the black and white WordPress themes category.
Black and white websites are an inspiration as they can be used for building stunning portfolio websites.
Most of the designers nowadays build colorful websites however black and white combination can be really impactful.
Also the images can be placed either on black or white background depending on their setting and hence can bring in more visual appeal.
We call black and white designs as monochromes and most of the designers do not use them together as a combination most of the times and use either black or white along with other colors.
When the background is entirely white or black then colors also reflect more brighter and better and hence mostly for information websites we see the background tone as white with black fonts on top of it or vice versa so that the text is better readable.
Most designers when they can't choose colors would like to keep the tone of the website based on white and black.
Similarly when the concept of the website is only photographs or visuals with video or animation or an art gallery website then the focus should be more on the visuals and representation than the colors and hence to remove the obscuring factor we keep the tone of the background either white or black.
Some of the best black and white WordPress theme have been listed here: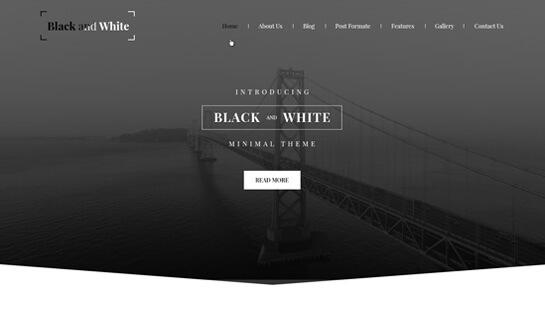 Black and white wordpress themes is primarily created for a business that mainly focuses on images and pictures to attract more users to make orders. Black and white is a theme that is build using 2 colors i.e. black and white.
Usually simple and plane website helps you to gain attention from users as they like simple but elegant theme option.
This Black and white theme is created by default for WordPress designing company by mentioning their business features but you can easily update the website by adding your business features and services. Hence you can create a website with unique style look.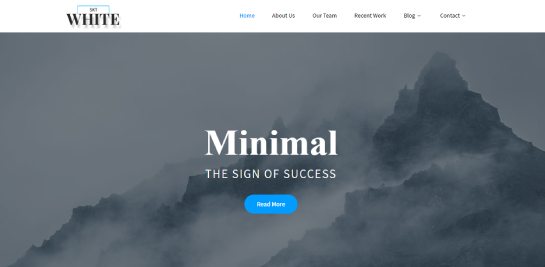 SKT White Pro is fully white mostly with black fonts displayed on top of it and hence is one of the black and white WordPress themes useful for displaying a website information with minimal intrusion of colors.
Only call to actions like buttons and links are shown by other color which of course can be changed. A large slider based on black and dark images greet you when you visit the demo of this theme which gives an impression to anyone about what the website is all about.
We hope the above black and white WordPress themes and templates can justify your requirement of finding a perfect black and white website template and design as per your choices and preferences.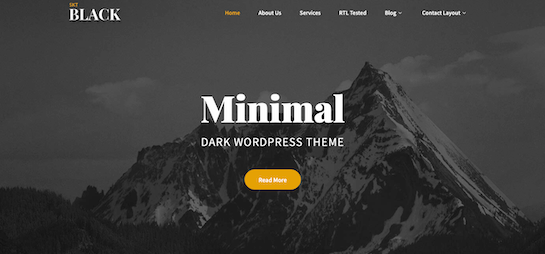 SKT Black Pro although was initially created to cater to photographer websites but however due to its features it has gained widespread acceptance as amongst multipurpose black and white WordPress themes.
Hence this black and white template can give your website a real fly with the features and the responsiveness for mobiles and tablets as well as the animated sections on the homepage which make it a killer template for all sorts of website usage.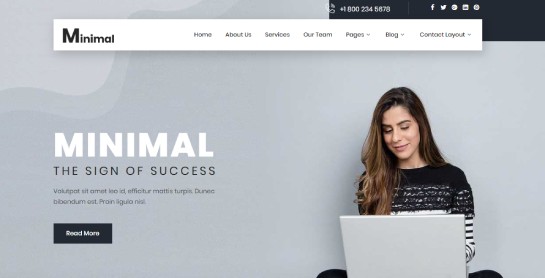 Naturo is a true black and white WordPress themes category template. The site uses 2 colors naturally and that are white and black.
Hence people who have serious business like lawyers, medical websites or those who like minimalistic style of websites can get an advantage using this website.
This minimal template based on black and white can surely make any picture, video and as well as information readable and with its crisp and sharp appearance it is suitable to be viewed in any screen or browser whether old or new.
Design agency pro although appealing more to the creative and designer styled websites is surely a package to be considered for anyone looking to have a website with black and white WordPress template.
The lack of color is visible and only a blue color is used to showcase and differentiate the links from the rest which of course can also be changed and made black or white or to any other color depending on the user choice.
This template just like others displays a nice overall footer which is based on black and black fonts used everywhere on top of white background.
Shudh pro just like design agency pro has a black overall footer to add to the appeal of the website with minimal design and white background and overall black and white theme.
Hence this type of website again can be used for any business, personal or portfolio type of website usage and can be used to display any professional website information with ease.
BeFit Pro is although meant to be useful for a personal trainer but can be used for any personal website purpose and like photographs and visual video gallery as well because this stands into one of the black and white WordPress themes.
BeFit Pro is very nice looking professionally designed theme which can showcase services, gallery and other parts of any type of website be it art gallery or any other type of exhibition website and event website as well can be catered to using this template. This theme has all the features to be useful for such a stream of website.
Visually impressive black and white WordPress theme this template really does a good job when it comes to representation of this category.
Since the basic idea of this template is to showcase photographs hence this black and white scheme does the maximum benefit for users who are viewing the visuals and also the portfolio showcase person or the photographer who is showcasing their portfolio using this black and white template.
Panaroma Pro is all the way a slideshow and gallery type of template with focus more on showcasing video and gallery type of websites.
The template starts with 5 slides on the homepage and can be used to have a corporate website or a personal website as well focussing on the 5 USP of any personnel. Hence panaroma pro also features into this black and white WordPress theme category due to its overall appeal.