Are you looking for creative and inspirational WordPress themes for authors? WordPress author themes allow flexibility and freedom for authors to build their websites as per their needs and requirements.
Before you even begin, you have to make sure you're using the right type of WordPress Theme. Author WordPress themes are designed for reading and, accessibility-reading and layouts that support readability features. These templates have exact, minimal and exciting structures to give users exactly what they want.
There are many passionate reader websites filled with lushly photographs, quill and quote icons. This theme makes the website look and feels like what writers are supposed to be. This WordPress Theme exudes every pore of the reader's expectation and beautifully showcases your e-book cover page.
Getting Started With Author WordPress Theme 2022
This author WordPress themes comes with customer color styles and themes with background layouts standing out from the rest of other websites. Consisting of the customizable header area, description buttons and impressive reading layouts, Author WordPress Themes are best suited for bookworms.
Well, there are millions of website templates relating to Authors and Readers in WordPress. Picking out one best Author WordPress Theme template from the million might set you off in minutes; hence we've got your back by listing down below the top 12 best Authors WordPress templates in 2022.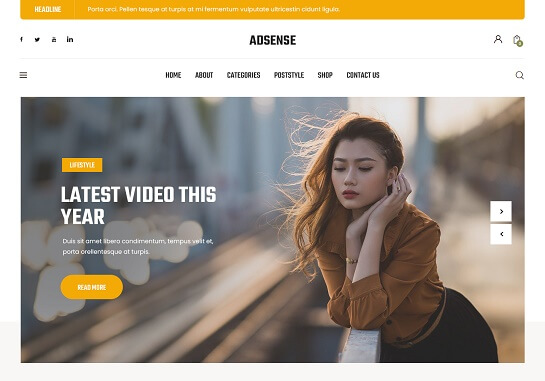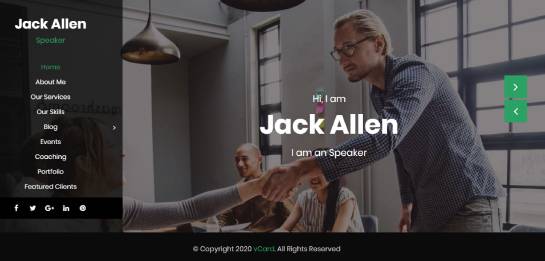 By choosing vCard WordPress Theme template, you'll be able to launch your website quickly. If you want to build a resume or personal CV on the online platform, get the Author WordPress template. This template helps to promote appearances, layouts and sidebars of the website.
Its easily transported into the WordPress website by giving a lot of options. It also incorporates stylish homepage design, pre-built demos and over 100+ plugin to personalize your website. It eases the functionality of the website and enables you to add content to the pre-built boxes.
Its features:
Designed perfectly to be compatible with tablets, mobile phones and laptops and other screens.
It has got customization options to set your site right!
You can select any tone of color for your site from several site colors.
You also have the possibilities of navigation to the bottom of the area with exciting layouts for different page.
Being a web developer to build and modify resume websites isn't necessary today. It is one of the most user-friendly page builders for WordPress with user-friendly interface panel.
This WordPress Theme is best suited for professionals, Programmers, Developers, and any other digital professionals to create the best functional website. It has a transitioning facility to ease the navigation and make it a friendly page.
Authors WordPress Theme Resume pro is very versatile, can be easily installed into the website without any issues.
Its features:
The plugins offered is very professional friendly and enhance the outlook of your portfolio.
Shortcodes are available
Social media widget to link your account with third-party apps.
Localized app advantage
It has over more number of sub-themes like children theme support.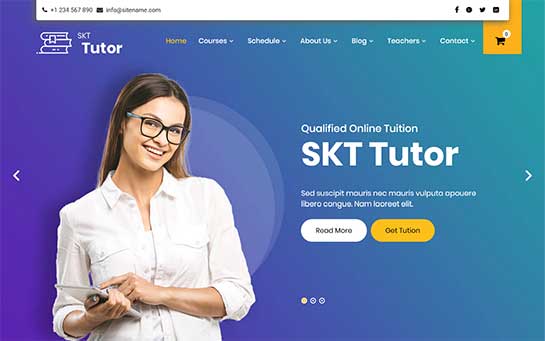 SKT Tutors is modern, responsive, and most affordable made with the most popular WordPress tools. The template works for educational purposes very customizable with a learning management system. Other third-party apps used to add new functionalities to the website.
It works with no issues in android programs and iOS with utmost navigation easiness. It offers a one-click installation facility for better user experience. Author WordPress Theme considered providing multi-lingual expertise with the help of GTranslate, Multilingual Press, etc.
Its features:
Its RTL tested
Cyrillic and Latin fonts are available.
Easy to add a review from parents with easy to run campaigns and Ad-sense
Allowing video content
Supported by WordPress24/7.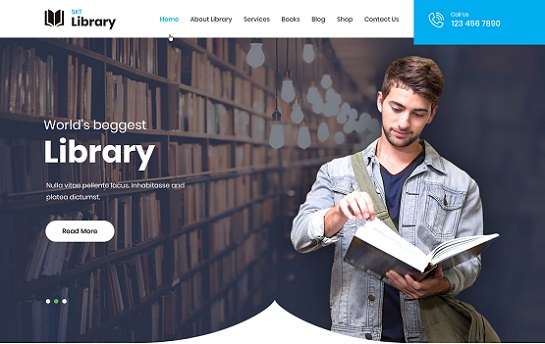 Enabling people to view different contents of the single topic in the available site itself, SKT library is an open book portal. If you own a library or book store and thinking to get clients online, then using SKT Library, those from Authors WordPress themes will be perfect.
Suppose you're looking for a platform where you can set-up attractive websites and raise your business sales. Good Author WordPress Themes are the only substitute. SKT is superior and multiple templates boosting the business sales, functionality and business sales with professional support and documentation.
Its features:
Animations can be added to the sliders
Works fantastic with different languages like Arabic and Hebrew.
Supported by the latest WordPress versions.
Color changing option is provided from multiple color picker.
SEO plug in like RankMaths, All in one SEO pack and Yoast SEO works seamlessly.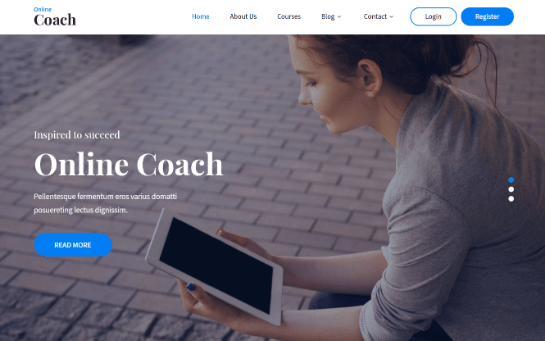 Online coach pro WordPress Theme is suitable for coaches, personal trainers, Speakers and lecturers who hold up various conferences around the world gets benefited from these theme templates. The homepage sections showcase testimonials and different event calendars for selling tickets and upcoming educational events.
It has been tested on multiple platforms like the iOS, Mac and Windows, not of android devices. Online coach Pro is compatible with various portfolio plugins and short code plug ins to make it easier to set up the content on the website. The theme is fully translational with PO available devices with WordPress Codex.
Its features:
Customizable coding with the elementor page builder for ease
Various colors to pick and fix with the right color from the color pickers.
It's functional, friendly and blog-friendly for attracting users.
Cross-device and compatible with every platform.
Fully widget, header, footer and side all digitized.
Ele e-Book is a beautiful author WordPress template used to showcase ideas, stories and written fictions online. Plus it's very flexible in connecting with third party social media applications and is compatible with Social Media marketing.
There is never a need for a book which never sold. The Internet is a vast place to sell your book, including social media platforms.
This website template makes your website look more professional in a way it reaches people. The Author WordPress theme helps people easily navigate through the website, and very easily installed into the website.
The author can also control the eCommerce feature by integrated user-preferred gateways. Also, it's compatible with SEO strategy, Contact form and information provided on the contact page enabling your customers.
Its features:
Shipping can be organized in proper format by using a commerce plugin.
No extra adjustments can be provided to explore books.
Publisher WordPress theme is configured with layouts prettily and secure the look yearn.
With powerful feature for eBook articles with more than 100 elements and unlimited fonts options as per choice.
It has more than 900 fonts and icons.
Minimal Blog is a modern, clean, responsive and retina-ready WordPress theme for websites. The theme is consisting of excellent features like include featured posts and slide share contents on the website.
The Author WordPress Theme is compatible in almost all the browsers. Minimal blogs can include snippets from magazines into their two-columned layouts.
Its features:
It's very responsive with embedded various aspect ratios.
Cross Browser styled form elements.
It has more than 20 social media icons
It has 3 Blog layout forms which have a sidebar, top bar and Masonry.
With the readability plug in, it's more straightforward for the users to navigate through the website.
Newspaper WordPress Themes is very responsive and works well for digital newspaper and journalism with ticker news online. People love to watch the information on the tip of their fingers and with installing SKT Newspaper Pro theme template to your website makes It work like a pro.
This theme has several numbers of spots on its homepage and the inner pages to store ads and links probably for generating monetary benefits out of this site.
The template is tested and made several compatibility tests with several key platforms and operations. This template has compatibility with several page plugins and SEO plugins, helping the website ranks to increase.
There are several other advantageous plugins like gallery plugins, widgets in the sidebar and social media icons on the site.
Its features:
The SKT News Paper pro is entirely compliant with SEO with proper alt tags and heading tags.
This Author WordPress theme is Compatible with contact form plugins like Ninja Forms, Contact forms, and Gravity forms.
With its easy functionality and flexibility, you can change the backgrounds as per the requirements.
It also has eCommerce experience with providing compatibility and testing done on Woo Commerce shop experience.
It has four types of page layouts to view two view categories both in grid and list view.
SKT Magazine Pro is a responsive WordPress theme used for catering to various magazine and newsletter experiences. It's compatible with even Uber menu and fancy menu set up with Google mobile-friendly app with all consistent translational advantages like qTranslate X, WPML and PolyLang.
Super hassle-free to be installed into the website and very user friendly enabling easy navigation and location of things that people search on the site.
It has convenient layouts, compatible with user-friendly plug ins to enhance the features of the website. The author WordPress template is a go-to when you want something creative, manageable and time supporting platform for the users.
Its features:
It has 100 plus shortcodes, which makes the site super customizable.
It has room for various ads and revenue-generating products links inside the inner pages.
The flexibility of choosing the best layout which best suits your website out of all.
Very user friendly, with enhanced lug-in codes and easy navigation.
Compatible with e-commerce and tested with the latest version of WordPress
Girlie Pro is a responsive girly template mainly constructed for girly kin of websites. This template is colorful, adaptable and multipurpose when it comes to its functionality with businesses and e-commerce.
Girlie Pro is a lovely and modern approach to code with HTML and CSS for websites related to girly subjects. This WordPress templates continuously upgraded with the latest versions of WordPress to keep users Up-to-date.
It also supports various compatibility factors like SEO, Location and customizes the design and content layout on the website.
Its features:
It has compliance with standard W3C XHTML, CSS AND TRANSLATIONAL 1.0
Includes support for various popular plug ins and another compatibility
There are several colors from which you can handpick the one you want.
Actual and secure code, the latest versions of PHP and JavaScript.
Charm is customizable with modernistic touch WordPress Template. This Authors WordPress Theme has a contemporary and modern touch to it and makes it more millennial with showing off the latest pictures in the gallery layout. And videos in another slide share layout with customizable colors and fonts.
The site is compatible with all browsers, mobile-friendly works best with all browsers. Customizable Charm WordPress Theme has arrangements and spaces for incorporating minimal blogs, which is very much cherished by portfolio users.
There is no convoluted or confusing them in regards to the website; the theme fits perfectly with the website and adapts all its features.
Its features:
Super quick to install, absolutely lightweight compared to other themes.
Super user friendly, functions seamlessly with any age-group.
It incorporates third-party apps, Social media for brand visibility.
Its blazing fast to adapt the features and customize concerning the website it's installed upon.
It has multiple plugin support with the gallery, Videos and is Icons retina ready.
This WordPress Theme is travel-related, suitable for travellers, explorers and used for blogging as well. People use it for personal purpose as well, including lifestyle, fashion and even affiliate blogging.
Its features:
These Author WordPress themes have appealing visual representations.
Compatible on mobile devices, computers and even tablets.
Compatible with more than 300+ shortcode plugins
Its compatibility with Woo commerce can enable it to become an e-commerce store.