Today we will leave you with audio WordPress themes which are strong and flexible enough to be appreciated by all to a man and to be exercised by myriad musical bands and singers, artists and music producers, e- book writers, publishers, writers, etc.
Tuning into the world of audio marketing can be one of the most reasonable steps to make. The digital world is the best medium of choice for those individuals and bands.
Groups and musicians, publishers and authors who want to stand out from the crowd and serve their audio files, books, publications, concerts, productions, songs and compositions to the public at large.
Tapping into the power of rising online population with minimum financial resources is easier than ever. Additionally, the transition of all your efforts into the digital mainstream can be done in the simplest way and within a short period of time with the assistance of WordPress CMS and its output.
In this article you can find some of the most affordable exploring ways in the form of audio WordPress themes to make your musical and audio content the central part of your working strategy.
And since the details are what separate the good from the bad, let's discuss each of the proposed templates separately.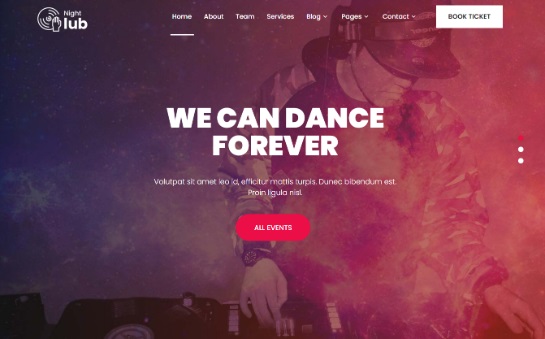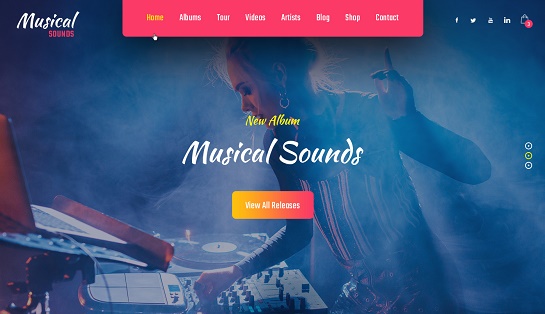 Musical Sounds is one of the ultimate audio WordPress themes and template and the ultimate tool to create playlists and as many audio players compatible with modern browsers and other devices like mobile and smartphones as well as tablets.
This template has in built audio player non dependent on any plugin which lets a user to have what he wants.
Can be used by metal bands as well as metal rock concerts and music lovers and music industry websites to have talent management companies and other website users as well who want to have a perfect music website.
For themselves to host several songs as well as display several players and different playlists and also the ease of use of using WordPress along with several features of Customizer and making changes as they want to the theme page by page.
Thus the above template is the road for all those seeking to build a music website out of audio WordPress theme and for podcasters as well.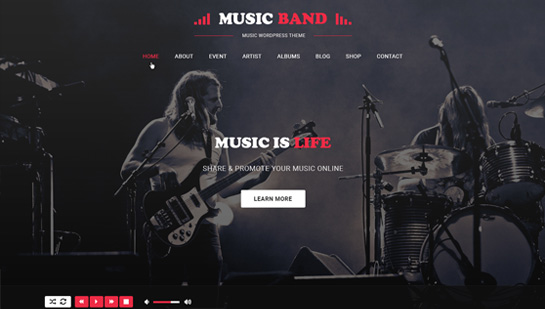 Music Producer is the best Audio WordPress theme for musicians and creative person to make their career by reaching out most of the people and showing their talent. The template is responsive so a person can watch or listen to individuals even through mobile phones.
It is completely customizable from each aspect including background, fonts, pages, colors, posts and more. With cool features you can showcase your talent in a unique way.
You can target international visitors too. With this template you can create countless events within few minutes. Event manager plugin will work perfect with the theme.
Plus it is eCommerce ready means WooCommerce plugin can be added very easily to sell your songs, albums, movies DVD, CD's etc.
As one of the top – rated and actively utilized audio WordPress themes, Melody comes as a personification of beauty and power to result in unbeatably positive website user experience.
In case you are serious and persistent about building your popular music business and disseminating it through different applicable channels, Melody is what you need now and forever!
If we try to get into the meat and soul of this world – class audio and music website builder, we will discover a homogenous unity of exclusive form and function armed with Google mobile friendliness and 100 % responsiveness.
The nice – looking and eye – catchy visuals of the theme are closely combined with cutting – edge technical readiness to reduce the possible errors to the critical minimum.
Your audio materials will make a great team with Complete Pro. Have you ever wondered what you would need to run a successful website? Complete Pro has all the reasonable answers to such questions.
Based on the reliable and durable platform, this website builder is also resilient enough to respond to all your changes, customizations and interventions aimed at keeping your site updated, up and running all the time.
Install this cost – effective and easy to use template, change it the way you want, put your stamp on your profile in the form of logo and enjoy the fantastic atmosphere nurtured by your personality and unique identity.
Nicely – arranged homepage sections, default full – width slider for the best images and cover photos, more than 600 Google fonts and more than 580 icons are at your disposal to manage.
In case you want to get creative on your audio streaming platform, look no further than The Art is an elegant and top – notch pattern among audio WordPress themes accessible at present. Team up with this artistic and attention – grabbing website builder and enjoy host of benefits coming along.
Based on the modern Customizer, this theme can be the best marketing tool for a wide range of companies, studios and individuals, starting from experienced audio software companies and digital agencies to private singers and musicians.
Ready to help you in sifting through the good and bad, this template incorporates all the primary controls and handy toolbox rich with valuable features.
Page and post templates, footer and header variations, preloaded shortcodes, readily responsiveness and multilingual – ready nature are all wrapped up in one – time affordable template.
Multilingual and multi – faced, visually awe – inspiring and beautiful, CutsNStyle Pro seamlessly balances between influential look and impeccable inner functionality to please all your website visitors.
A bustling construction of the template has all the potential of bringing tons of people around your audio and other files, images and texts, posts and publications.
Make your website your home – your hub and take care of its neat and hospitable nature easily with CutsNStyle Pro as with this theme you don't need to start everything from scratch. The authors of this theme have already taken care of the hard part leaving you only with the fun part to enjoy.
Whether you are starting a completely new profile or want to revamp the old – dated one and kick it back into gear, you will be authorized to do so.
Master the musician and audio side hustle with SKT Black Pro as another valuable contribution to your future progress and social proof.
You don't need to give up on your dreams just because youf financial means are restricted. SKT Black Pro is too inexpensive as compared to which it offers to you as compensation.
When it comes to winning new clients and customers, followers and fans, or selling your audio files, books or albums, it all depends on how your represent yourself for the target groups of audience.
By the application of SKT Black Pro you can appear in front of your potential clients with pride and give them total access to your interactive files so that they can appreciate your talent easily.
The last way with the help of audio WordPress themes to promote your audio – based business effectively comes launched as Photo World Pro. The theme is general – purpose initially which means that absolutely any kind of content will find the way to its end – user when based on this template.
This modern theme with breathtaking visualization and design celebrates totally energetic functionality with responsive touches so that your website will effortlessly respond to any mobile or device screen sizes.
Full documentation, professional support of the specialists, as well as completely customizable framework are the bonuses of Photo World Pro for anyone to reap a good profit from.
If you are planning on setting up a music sharing website or one that rents or sells out music, then you definitely need to check out our audio WordPress themes to set your website. These themes have been engineered specifically to cater to the audio industry and come loaded with several features that make them indispensable.
You need to make sure that your website supports multiple plugins for added functionality and the great thing about these audio WordPress themes is that they do and much more.
Your website needs to be set up in such a way so as to enable users to register or login by using their other credentials so that they can check out your music without any hassle.
As a result of added functionality, your website should be able to provide a better user experience and even improve in rankings as well. Here are a few reasons as to why you may want to opt for these themes –
Built in audio player: What makes these themes stand out is the fact that some of them come with built in audio player that does not depend on any external plugin to operate.
Now your users can use the built in audio player, adjust the various metrics from fidelity to bass, listen to the music of their preference and even play it on a loop.
That makes them outstanding and one of the reasons why your website could well become popular with the right theme.
Playlist: Some of the themes come with built in templates and add-on pages and even make it possible for you to host interactive playlists.
You can list out the music by genre, and even artist name or the niche itself and the users can then choose the one that they want to listen to from the interactive playlist. With the playlist, they can listen to their preferred music and even replay the same frequently or as much as they prefer.
Layout: Some of these themes come with advanced layout structure with eye catching designs that make them perfect for audio websites.
These templates come in various designs and as most of them are completely customizable, you can tweak, redesign the lot so that your website is unique, stands out from the rest of the crowd for all the right reasons.
The layout is simple enough and as most of these themes come loaded with various shortcuts, you can use the same to customize your website.
These are some of the reasons as to why you should choose these themes; it is important that you use these themes and do a demo so as to determine which one would be a good fit for your website.
Please remember to double check the theme in question and make sure that it is 100% responsive as well. With the right theme in place, you should be able to give a boost to your website as well as reach out to more prospective customers than before.