Although the whole structural and design components of the website are of great importance, menu deserves special attention.
It acts as a guideline for each website visitor and subsequently, suitable website navigation and usability attracts theme, providing with satisfactory visitor experience.
Exactly for those purposes, lots of authors and developers have taken every possible care to create handy, high-quality and super functional menu plugins, which shine with their uniqueness and accuracy in the performance.
Luckily enough, those extensions are accessible to every interested person and are ready to reveal their full potential while running on the relevant online platforms.
They come with free or premium versions, but all of them are among the top WordPress menu
management platforms and support a lot of basic features that each website user or admin may find necessary and useful in order to enhance the web navigation, customize and modify it according to his needs and objectives.
Here are 8 of the most well-developed and user-directed menu plugins for your attention and review!
WordPress Already Has Menus – Why Would I Need an Extra Plugin?
The first thing while opting for the menus for WordPress, you might think why you should need an extra menu when you already have menus?
But most importantly, the menus present in WordPress are limited in number. Here are the reasons that are enough to opt for the menu plugins in WordPress:
The default WordPress menus do not let you create more extensive mega menus.
Some of the WordPress menus are not responsive enough, which increases the user-experience problem.
Sometimes the menus do not look good on mobile devices, which can impact your user experience.
Many WordPress default menus come with the supporting problem with various media such as – product images.
There are minimal options for technical support for the default WordPress menus that come for free.
The WordPress menu comes with only one standard layout.
Menu building on WordPress is much frustrating and not so simple.
There are no transition effects and animation available with the WordPress menu.
What Features Should You Look for When Researching WordPress Menu Plugins?
While looking for the proper and top WordPress menu plugins, you need to look for several features that let you have total integrity with your WordPress site; having a plugin option for WordPress comes with a large number of options and possibilities.
However, to ensure it, you need to pick the useful features that go compatible with your site. Here are the essential features that you should look for when opting for a WordPress Menu Plugin:
Useful template to help you with constructing menus
A responsive menu design that opens correctly in the mobile devices
Proper media and icon support for better visibility of your menus
Better options for constructing more extensive and mega menus
Customizable tools that include colors, font, size to create appealing menus
Drag and drop or visual designers for automated visualizing on the backend of WordPress
Creative menu styles for vertical and tabbed formats
Various integrations for all WooCommerce and WordPress themes
My Header Footer is one of the most efficient free WordPress Menu plugins that lets you create seamless mega menus with drop-down buttons. With this plugin, you can easily create your own header with the help of the intuitive content builder.
You can also create your own footer using the content builder. It enables you to remove your listing header and footer for easy menu creation. Also, you can build appealing headers using the drop-down button and mega menus.
The plugin enables you to create complicated menus along with columns, rows, sliders and carousels, maps, and many other additions.
Moreover, it also lets you add buttons and for creating more stylings. Set seamless colors, fonts, borders, and device-specific visibility for a friendly, intuitive WordPress site.
WP Responsive Menu is a simple and easy plugin that enables you to add a customizable and responsive menu to your WordPress site. You can easily customize directly from your setting page without the need for any coding knowledge along with this top WordPress menu plugin.
The WP Responsive Plugin enables you to create a beautiful slide menu within seconds. Thus, the menu it makes works better on the various mobile devices.
The menus are very easy to customize using the direction shifting to top/bottom/left/right that goes suitable with your site.
You can easily add logos to the menu bar and specify links for the menu. There are various options to change the menu icon animation that goes suitable for your site. Moreover, the menu plugins comes with multiple display options that go suitable for your site.
You can also hide the unwanted elements on your active menu to make it more responsive. You can also easily configure the font size and style from the setting area.
If you are searching for a free plugin for your WordPress site, then the Groovy Menu Plugin is the most efficient one.
The Groovy Menu is responsive and comes for free, with which you can add various attractive menus to your site for better navigation, which makes it a top WordPress menu plugin.
The plugin is too easy to customize and that you can easily do by logo unloading and adding fonts, colors, and sizes. The large and extensive range of features includes the vertical and mega menu.
You can also create a page menu, sub-menu, toolbar menu, DIVI compatibility, mobile menu, GDPR compliance, Responsive full-width mega menu, and many more.
Besides that, the plugin comes with the 2 hover types, RTL support, WooCommerce Mega Menu, preview mode, WPML ready service, and Smooth scrolling features, etc., which enhances the better menu addition to your WordPress site.
At the same time, the plugin comes with a premium plan that you can opt for more advanced features.
Related Post: How to Add Icons to WordPress Custom Menus Without Plugins
The AP Mega Menu comes as a free WordPress plugin for Mega Menu. If you want to create various widgets column wise on your site and configure them for making the horizontal and vertical mega menu, then this one is ideal.
This plugin supports Flyout or Mega Menu and lets you easily create the menu through drag and drop. You can easily select them for matching templates and various layouts and themes that go suitable for your WordPress site.
The free version comes with an extensive range of features. Also, it comes with the hover or clicks trigger effect for opening the menus. There are general settings for per menu options along with an Active menu link and disable menu text.
You can easily align the menu items from left to right precisely for the search type menu. It comes with a fade or slide transition.
From horizontal mega menu position to the extra top-bottom section with options for uploading images, this plugin boasts all the essential features to add a menu to your WordPress site.
The WordPress Mega Menu plugin is efficient for creating a mega responsive menu for designing themes developers along with various customizable menu layouts. Therefore, it comes with megamenu drag & drop fields.
QuadMenu allows you to integrate menus easily on your project theme. You can create simple menus, mega menus, and carrousel menus in a very simple and native way of converting the existing one.
It boasts simple and Automatic integration from the simple to mega menu. The intuitive design lets you quickly set the mega menu. You can easily remove or add fields and modify the options using drag and drop.
Besides that, it lets you create menus that come easier and highly responsive to the mobile. It has various layouts and a drag and drop option to customize the menu setting.
To improve your mobile website experience, this plugin helps you in various ways. This plugin is efficient for creating multiple user-engaging, responsive mobile menus for your WordPress site.
A large number of features lets you create a 3-depth menu level, naked header. You can also create an overlay mask. There are options for the logo and text branding. You can also add a background image for the menus.
The plugin lets you hide the specific elements when the mobile menu is visible. It comes to switch Google fonts, customizable styling for the mobile menus, various display types, etc.
Moreover, it also features the live header search, header banner, disabling of mobile menus in specific pages with the premium version.
For building an efficient mega menu on your WordPress site, this plugin comes with various options and features as a top WordPress menu plugin. This menu plugin lets you create various attractive navigation menus on your website.
The plugin comes with a variety of options for customizing the styles of the menus using various drag and drop tools.
You can easily beautify items using the various attributes, colors, fonts, etc. The features of this plugin contain the drag and drop menu builder panel, various themes, and skin options, importing and exporting of themes, the search bar in the menu, dash icons, and font icon support.
It also introduces to you the google fonts, variety of colors, responsive support, mobile menu support along with unlimited options, and menu background images for an intuitive WordPress site.
Max Mega Menu
Max Mega Menu is a powerful, well-supported, feature-rich and user-friendly menu plugin for WordPress based websites, which is grounded on fully responsive layout to provide exceptional user and visitor practice irrespective of the device or mobile used.
This awesome menu extension includes a bunch of reliable and easy to use plugin components, including more than 100 customization options, drag and drop menu design, Flyout support making everything one-click, sub-menu inclusion, the availability to add diverse icons to menu items.

Fade and slide transition effects, hide text and disable link options, dispose menu items and sub menus to the left or right of the menu bar and other features. Max Mega Menu also comes with perfect support and documentation, as well as cross browser compatibility.
Responsive menu
This free menu plugin for your WordPress website is well-optimized for being complete customizable by offering about 70 customization and management options to provide the best look and comfort of your relevant website, irrespective of its nature or type.
Apart from that, this product is praised for its complete responsive design. Having this professionally developed plugin at your command, you will be able to change the menu title and its image, button title and its image, control and customize the menu and sub menu depths.
Hide certain elements with the help of CSS options, modify the colours of lines, texts, menu button background, as well as fonts, colour of menu title, hover colour of menu title and not only. Pro version is also available with its premium features.
WR Mega Menu

The next dependable, feature-rich, highly customizable and entirely responsive free menu plugin, which will give us access to unlimited number of relevant customization and set options, is WR Mega Menu.
It will cover all the default inconveniences and will turn your website menu into a very easy to use tool, by means of which you will be able to control profiles by creating menu settings into different profiles for diverse purposes.
Live preview for feeling all the changes undertaken immediately, choose whether you want to showcase your menu icon or text, select between available vertical and horizontal menu orientations and yet much more to come with this outstanding WordPress plugin.
DW Menu
By choosing and installing DW Menu plugin for your WordPress supported website, you will have all the potential to obtain the maximum from your menu area and its execution, and hence, admire your website visitors and guests with super functionality and content.
This perfect template lets you add icons to menu items, select the view of sub menus, insert shortcode or HTML in Menu description, utilize transition effects, choose among the proposed 4 column styles or activate full width dropdown navigation.
Uber Menu
The next top menu plugins, which is highly recommended for its complete functionality and tons of customization options is Uber Menu for free, with suitable and handy crafted slideout menu builder.
Create as many items and as many menus on diverse pages as you wish, locate menu items on the left or right of the page, activate social share, print and back to top buttons, design and style your menu items according to your taste by changing colors or transparency, insert links in the menu and open them in a new window, use side menu in conjunction with inbuilt UMW form to enable extra functionality of your menu, etc.
Hero Menu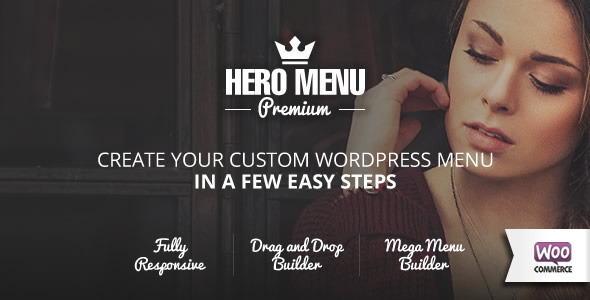 Hero Menu is the next perfect menu solution tool to get and implement to the best of your skills and knowledge. This premium plugin will allow you to advance your website technical characteristics in an easy way.
Hero menu provides perfect optimization for looking awesome on any device or mobile screen sizes thanks to its responsiveness.
It is up to you to formulate your menu structure by enabling and disabling whatever you need, choose from preloaded 60 color shades and from 270 suggested icons to create the most wanted look, add your own shortcodes and Contact Forms and many other functions available.
Superfly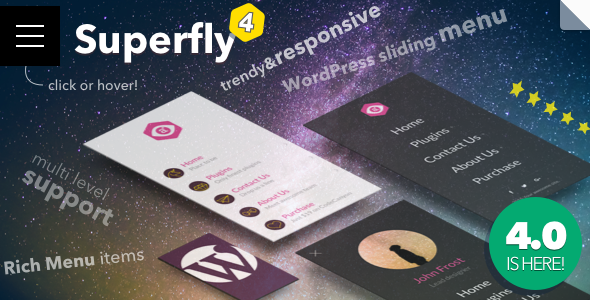 Super fly is among the top menu premium plugins corresponding to any WordPress website as well. This highly intuitive and smart product, like the majority of the plugins presented here, is based on a completely responsive design, thus being compatible with diverse popular devices, smartphones and tablets.
Superfly comes with polished scrolling and easy navigation, content and shortcodes adding and design availabilities, customizable menu widgets, menu items styling, up to 4 level menu support, bright animations with CSS3 and other diverse controls and displays coming along this flexible plugin.
Noo Menu
The last top menu plugins which deserves special review is premium Noo Menu with its exceptionally suitable and intuitive design. It features all-inclusive plugin package for your website full customization and interface design- complete responsiveness.
Noo menu builder to switch on and find dozens of dynamic customization elements, user-friendly and very easy to use menu structure, sub menu management controls, real time preview of modifications, menu height, border, box and text shadows and other customization possibilities, content insertion in sub menu, horizontal and vertical orientations among them.
Any website that becomes popular is mainly due to the experience of the users. The business takes a lot of efforts to ensure that the website reaches a point where the visitors find it truly useful.
The websites are thus designed with a lot of functions that makes it popular and useful for the visitors or users.
The image of the website which comes with the functionalities is enhanced and the users are happy with the experience.
This creates a market image which attracts more crowd to the site which is every site owners dream.
We all know that many of the functionalities are important but something thing that makes an edge is the use of the menu. The has many menu plug-ins which can be used to make the website suitable for visitors.
The best WordPress menu plugin can be chosen from the long list which goes well with the website designs and other functionality.
The number of options for the users is many and hence they should make a though after choice about what is it that will make the cut.
We all know that the best WordPress menu plugins can be added to the WordPress site with ease. All these plug-ins are created in a way that they can be included with a single click.
This is a great source for the non-technical users who do not want to get involved in coding. These comments section can be added without having to write a single code.
There are a lot of plug-ins which are available for the users. These robust reviews can be added in no time and create an impact almost immediately. The WordPress is popular as it has support for the non-technical users as well.
The other advantages part of the best WordPress menu plugin is that they are available in two main categories- free plug-ins and premium.
Now, WordPress is known to be a platform for all and thus this added advantage cannot be ignored. Most of the business websites which are new cannot afford to add the large variety of premium features.
This is because the cost of creating the website will increase. This problem can be resolved with the use of free plug-ins which are highly functional and at the same time very popular.
The added benefit from the premium plugin can be enjoyed by the business when they have a very popular website which is also generating revenues for them.
This does not mean that the website owners should not use a premium plug-in for new websites. If they find the functionality that will enhance the business image then they should definitely go for it.
Since the best WordPress menu plugin are listed by the WordPress platform the users are advised to go through the features. They will find that most of them are designed with the functionalities which will help them create a great website. They must choose wisely.
The plug-ins are designed to improve the performance of the website and the WordPress themes are highly supportive of the use which makes it a great choice.